Beyond Likes and Shares: 5 Facebook Strategies for Modern Student Housing
Generation Z has become synonymous with online interactivity. Having grown up during the rapid expansion of the internet and with smartphones always within reach, they are a generation that prioritizes digital communication over traditional methods. For Gen Z renters, expressing themselves through text or sharing weekend escapades on social media is the norm.
Struggling to connect with them? It's a two-way street. Just as you might find their digital-first approach bewildering, they might be equally puzzled by older communication methods.

Dive Deep Into the Digital World of Gen Z Renters
If you're in the realm of student housing development and wondering why social media should be your go-to communication tool, consider this: the window to engage with these students is relatively short. Missing out on the platforms they frequent means missing out on key interaction opportunities. 
Let's talk about Facebook to start. About 70% of American adults use Facebook. And you might be thinking, are any of those users even Gen Z renters? Recent studies show only about 7% of Gen Z users plan to quit Facebook in 2023. While this isn't the "first choice" social media platform for this demographic, they still use it.
So, what's the best way to tap into the heart of Gen Z's digital life, especially on platforms like Facebook?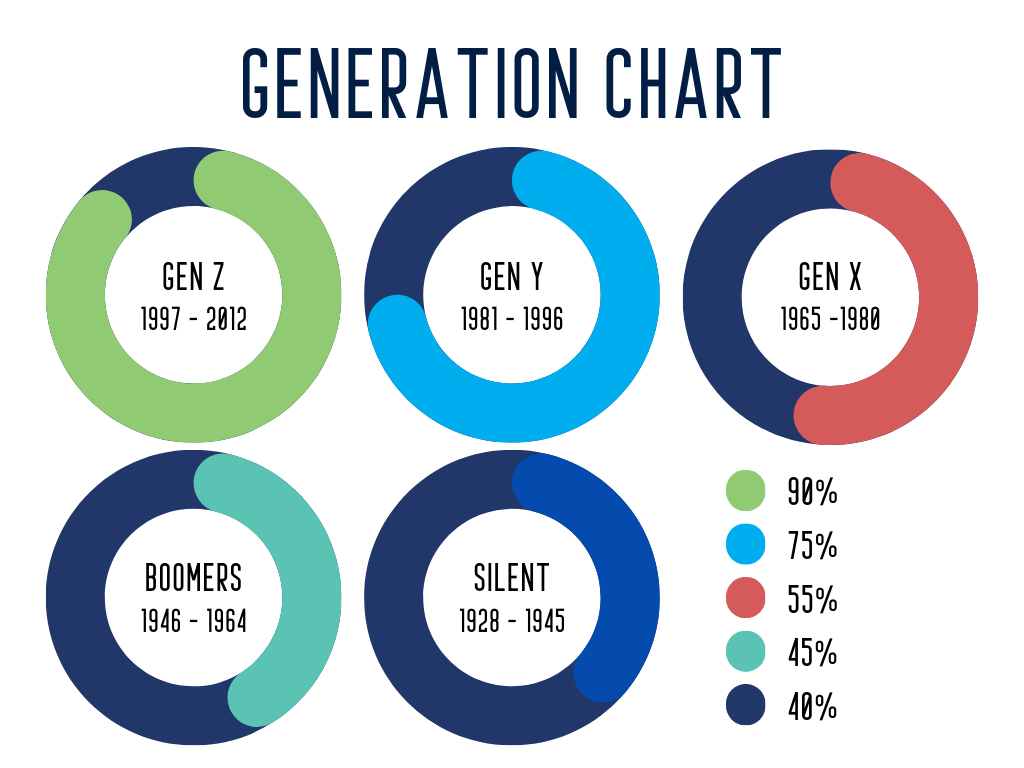 1. Promote On-Campus Events Digitally
If you've observed dwindling numbers at on-campus events, it might be time to rethink your promotional strategy. Traditional flyers might not just be environmentally unfriendly but might also not resonate with Gen Z renters.
Instead, create Facebook event pages to promote these events. Showcase visuals from previous iterations (if it's an annual event) to blend tradition with contemporary outreach methods.
2. Quick Weather Updates
Imagine a scenario where unforeseen weather conditions, like heavy snowfall, disrupt regular schedules, and classes must be canceled. Instead of relying on email notifications that might go unread, why not use Facebook? 
With Gen Z constantly scrolling through their newsfeeds, timely posts about weather alerts ensure immediate dissemination of crucial information.
3. Disseminate General Announcements
Got updates about the residential facilities, changes in semester timelines, or items in the lost and found? Facebook is your platform! Craft concise posts enriched with visuals (images or videos) to swiftly inform your student housing community.
4. Foster a Community With User-Generated Content
User-generated content is one of the most genuine ways to boost engagement and build a sense of community. Encourage your residents to share their unique experiences, be it a quiet study session in the lounge, a fun community event, or even a serene sunset view from their apartment window.
Launch monthly challenges or themes where students can share photos or stories about a particular topic or hashtag. Not only does this provide fresh, authentic content for your Facebook page, but it also allows residents to actively participate in creating the narrative of their community. Celebrate and showcase this content by sharing selected posts or creating monthly highlights. This validates your residents' efforts and paints a genuine picture of life in your housing facility, which can be an invaluable tool for prospective students evaluating their housing options.
5. Utilize Facebook Groups for Direct Engagement
Did you know that 1.8 billion people interact in Facebook groups every month?
Beyond your primary Facebook page, consider setting up dedicated groups for different blocks, year groups, or special interest communities within your housing complex. Facebook Groups offer a more intimate setting for discussions, feedback, and announcements specific to group members.
For instance, a group dedicated to residents interested in fitness could have announcements about gym timings, fitness challenges, or even resident-led yoga sessions. Similarly, a group for a specific block or building can discuss maintenance issues, attend community meetings, or even organize block parties.
You can offer tailored content and create a more personalized resident experience by segmenting your audience. Additionally, these groups foster peer-to-peer interaction, helping residents connect over shared interests or concerns. It's about broadcasting messages, facilitating conversations, and building a supportive community.
Social Media Isn't Just a Tool
While the digital landscape and preferences of newer generations might seem complex, remember that platforms like Facebook were ironically first conceptualized for college students. Embracing such platforms for your multifamily marketing can bridge the communication gap, foster a vibrant community spirit, and attract new apartment leads. If done right, social media isn't just a tool — it's a transformative force.

Maximizing Occupancy & Revenue: Strategic Insights for Multifamily Property Success
High occupancy rates are the golden ticket to success in multifamily real estate. But how do you attract and retain tenants consistently?
Today, we're diving into some tactical tips that aim to boost occupancy and increase your net operating income (NOI). Through the lens of property management marketing and multifamily branding, let's unlock the potential of your property.
1. Revamp Your Online Presence
Modern tenants scout online before they visit in person. And there is nothing worse than an unresponsive, slow-loading multifamily website. A modern web design can be the difference between one lead and dozens. Ensure your website is mobile-responsive, user-friendly, and provides comprehensive information, all while encapsulating your multifamily branding essence.
Our multifamily branding agency will deliver a high-quality, responsive website and handle all of your apartment marketing so you can focus on what matters most — nurturing your leads.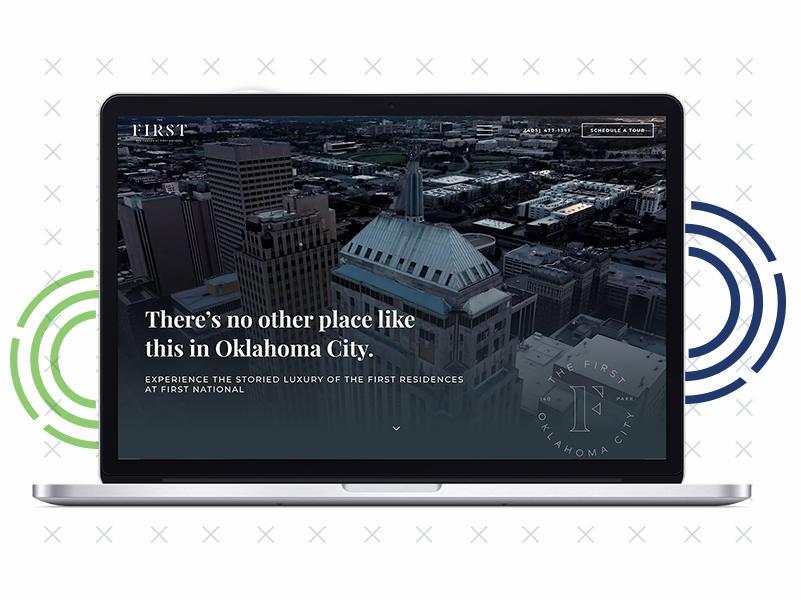 2. Dive Into Social Media
Social media is indispensable in property management marketing. Platforms like Instagram and Facebook can showcase your property's amenities, community events, and testimonials.
We treat your social media as an extension of your website — by embracing your customers and serving them relevant content. Our team of social media experts will help adhere to your brand voice to concept, publish, and manage daily social media content — including Stories, Reels, and lead-generating ads.
3. Hire a Multifamily Branding Agency
Are there inconsistencies in your multifamily branding? Are you ranking low in search results — or even not at all? Are you losing leads to your competitors? Has your multifamily marketing plan fallen by the wayside? Don't let sporadic multifamily marketing and branding stunt your NOI.
An expert multifamily branding agency can help refine your brand, ensuring it aligns with your target audience and stands out from competitors. An agency can also offer invaluable insights and solutions to uplift your brand. Our seasoned perspective ensures your brand resonates with your target audience, distinguishing you from competitors. Moreover, with our comprehensive market knowledge and analytical approach, we can identify and rectify hidden challenges or overlooked gaps that might be hindering your brand's full potential and stunting your NOI.
4. Host Community Events
Community BBQs, game nights, or workshops can provide a sneak peek into the vibrant life prospective tenants can expect, driving occupancy. We recommend hosting small, more affordable events every month (at least) and larger events every quarter. You should also aim for one significant event that is open to the public each year, such as a large Battle of the Bands, a Christmas celebration, or some sort of charity event with raffle prizes. These large events are what will draw in the broader community and spread the word about your property.
5. Offer Referral Incentives
Encouraging your current residents to refer friends or family is a strategic move in resident acquisition. Many people trust recommendations from those they know, making this a reliable method to attract potential renters. Offering your current residents a discount on their next month's rent or a bonus, such as a gift card to a popular local restaurant, can incentivize them to promote your property actively.
6. Professional Property Photos
High-quality photos can make a vast difference in online listings. Consider hiring a professional for both interiors and exteriors to put your best foot forward. A multifamily branding agency can also help you coordinate a professional photographer, so there is no sweat off your back!
7. Revise Your Marketing Materials
Update brochures, banners, and flyers. Ensure all marketing for property management showcases the latest amenities, resident testimonials, and any recent renovations. If you recently rebranded your online presence, you need this to reflect in your marketing materials as well.
A multifamily branding agency can help you pinpoint all the different collateral pieces that need to be updated and upscale those branding elements to match the look and feel of your new brand experience. From rack cards and brochures to banners and event flyers, we can help you generate apartment leads with premium collateral.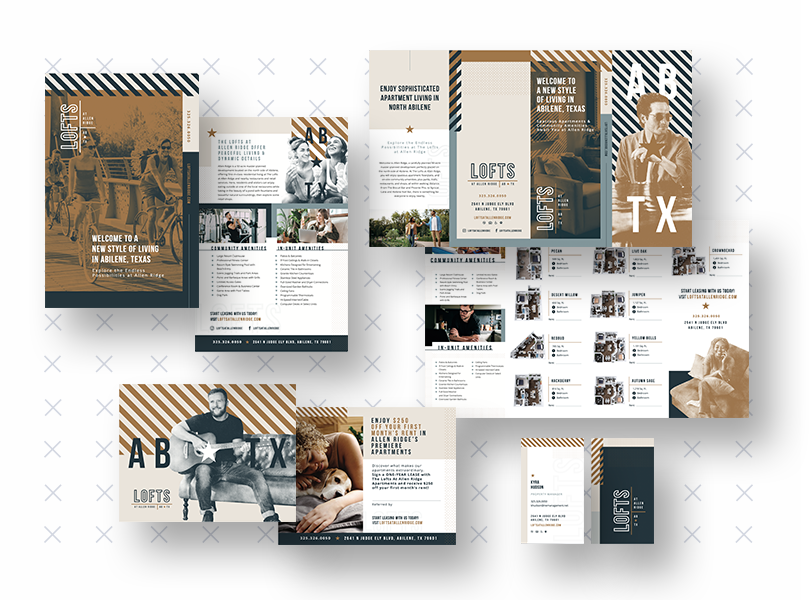 8. Enhance Security Measures
Safety is a top priority for many renters. Implement security cameras, keyless entries, or 24/7 security personnel to boost your property's appeal. Once these are all updated, promote them with pop-ups on your website, add them to social media, and send out an e-blast newsletter to current and prospective residents on your email list. This can show current residents you are bettering the property for their benefit and show prospective renters that you prioritize a safe community.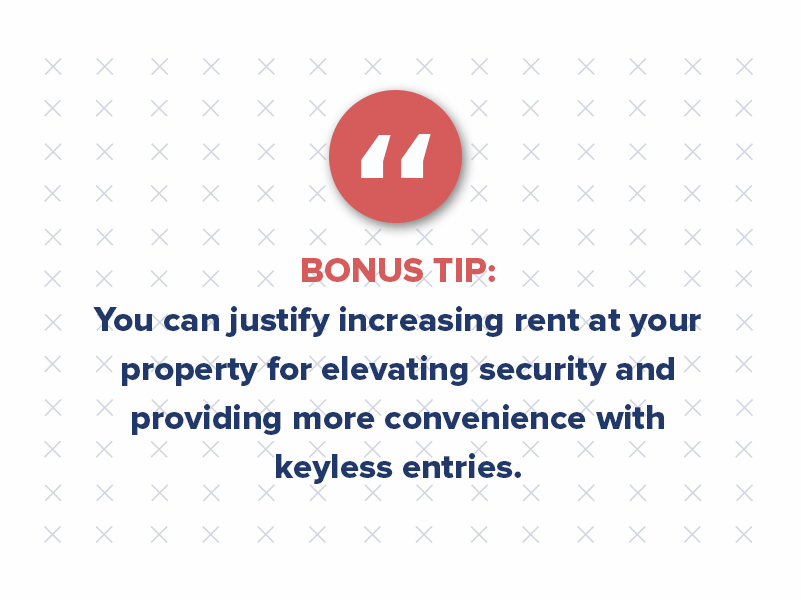 9. Offer Flexible Lease Terms
While not ideal for all properties, consider short-term leases or rent-by-room options. Flexibility can attract a wider range of potential residents. The short-term rental industry has seen an unprecedented surge in growth in recent years. In fact, the short-term rental market is expected to reach a valuation of $8,907.1 million by 2026. If your property has the means and logistics in place to tap into this market, you could open the door to some lucrative NOI.
10. Pet-Friendly Policies
Did you know that 72% of renters have pets, yet problems finding and keeping rental housing is a leading reason dogs and cats wind up in shelters?
Despite pets being prevalent in two-thirds of American households and integral to communities, many renters face challenges in securing pet-accommodating residences. Shockingly, this housing dilemma leads to over half a million pets being surrendered to shelters annually, with many failing to find new homes. Even though the rental housing sector claims that about 78% of apartment complexes are pet-friendly, the reality often contrasts starkly. Many properties impose weight restrictions, such as no dogs over 25 lbs., or have breed limitations. Hence, the term "pet-friendly" doesn't truly represent most of America's pets.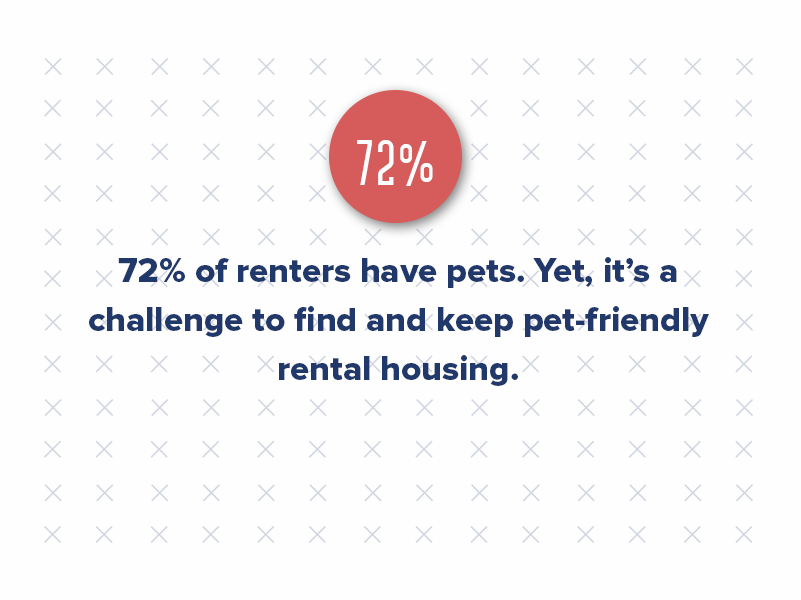 With more people adopting pets, offering a true pet-friendly policy (with appropriate rules) can be a significant attraction. Massive bonus points for the properties that also offer up pet-friendly amenities like dog washing stations, pet parlors, dog parks, and more. (p.s. This is also another way you can justify a rent increase!)
11. Implement Tech Upgrades
In today's digital age, properties need to adapt to the ever-evolving technological demands of residents. Smart home features, such as voice-activated lighting, automated thermostats, and advanced security systems, offer convenience and modern living standards that appeal to a wide audience. High-speed internet has transitioned from a luxury to a necessity, especially for remote workers, avid gamers, or streaming enthusiasts.
Additionally, app-based service requests provide residents with a seamless way to communicate their needs directly to property management without the hassle of calls or in-person visits. As most people, regardless of age, have become adept with technology, integrating these features can significantly enhance the living experience and make a property more attractive to potential renters.
12. Maintain Immaculate Common Areas
First impressions matter. A visitor's initial encounter with a property often sets the tone for their entire experience. Lobbies, hallways, and other shared spaces are the first touchpoints for prospective residents. Regularly cleaning and updating these areas is crucial for aesthetics and communicating the property's commitment to maintaining a high-quality living environment. A clean and modern space exudes professionalism and care, making it a no-brainer for properties aiming to attract and retain residents who value such attention to detail.
13. Engage in Local Collaborations
Forming partnerships with local businesses can be a game-changer for multifamily properties looking to enhance the resident experience. Here are some ideas to get you started:
Collaborate with the neighborhood café to offer exclusive morning coffee discounts for residents.
Strike a deal with a nearby gym, providing discounted memberships or trial sessions.
Local spas or wellness centers could provide tailored packages or special rates for residents.
Coordinate with nearby bookstores, theatres, or artisanal shops to host monthly events or offer promotional deals to your residents.
By intertwining with the local business ecosystem, properties boost the appeal of community living and foster a deeper sense of belonging and convenience for their residents.
14. Actively Gather and Showcase Testimonials
Testimonials play a pivotal role in property management marketing. To encourage satisfied residents to share their experiences on platforms like Google, Yelp, or even Facebook, properties can implement a few thoughtful measures.
Create a simple and straightforward process for leaving reviews, perhaps by sending out periodic reminders with direct links to the review platform.
Consider hosting community events or appreciation days, and during these events, set up kiosks or dedicated spaces where residents can quickly drop a review.
Offer small incentives, such as entries into a raffle or discounts on community amenities, to motivate residents to share their feedback.
Regularly spotlight and thank residents for their positive reviews in community newsletters or on social media to foster a culture of appreciation and engagement.
By actively seeking out and celebrating testimonials, properties build trust with potential tenants and reinforce their commitment to current residents.
15. Offer Move-in Specials
Properties need to think creatively to catch the attention of potential tenants. Limited-time offers can be a game-changer in this regard. By providing reduced deposits, properties can appeal to those who might be budget-conscious or hesitant about the initial financial commitment. Offering a free month's rent generates buzz and can provide the gentle nudge a prospective renter needs to choose your property over another. 
Additionally, bundled utilities simplify the living experience, removing the hassle of multiple bills and presenting a more streamlined approach to monthly expenses. When combined, these incentives showcase the property's commitment to providing value and position it as an accommodating and tenant-centric choice in a sea of options.
16. Efficient Response Systems
Prompt and clear communication is a cornerstone of building trust with potential renters. In an era where expectations for quick responses have been set by instant messaging and rapid customer service, any delay in addressing queries can reflect how the property operates. 
When potential renters reach out with questions or concerns, they are not just seeking answers; they are gauging the responsiveness and reliability of the property management team. Addressing their queries promptly provides clarity and showcases a property's commitment to tenant satisfaction.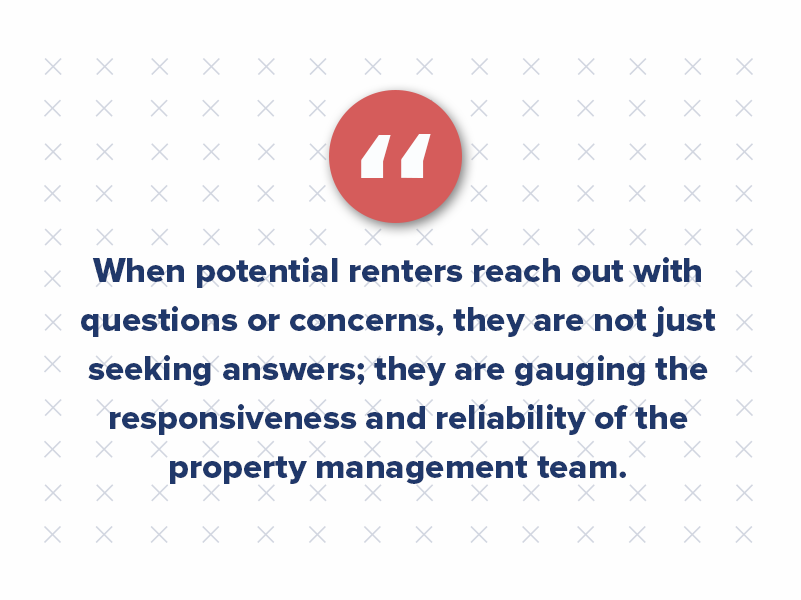 Efficient communication can often be the determining factor in a renter's decision-making process. It bridges the gap between initial interest and final commitment, ensuring that potential tenants feel valued and understood, ultimately making it more likely for them to choose your property over others.
17. Regular Market Analysis
Being attuned to the pulse of the local rental market is paramount for property managers and owners. With fluctuations in demand, economic shifts, and seasonal variations, rental prices can be highly dynamic. Staying updated on local market trends can help you gain insights into what competitors are charging, what amenities are in demand, and what potential renters prioritize in their housing search. 
Proactively adjusting pricing in response to these multifamily trends doesn't just ensure you remain competitive; it also demonstrates to potential residents that the property is in touch with the community's needs and is adaptable. In a market where every edge counts, this level of responsiveness can be the difference between a fully occupied property and vacant units.
18. Enhance Green Spaces
An oasis of greenery in the form of well-maintained gardens, terraces, or even strategically placed indoor plants can significantly elevate the aesthetic and ambiance of a multifamily property. Beyond just their visual appeal, these green spaces and elements contribute to a sense of tranquility and well-being, offering residents a respite from the hustle and bustle of urban life.
The presence of plants can also improve air quality, acting as natural air purifiers. By investing in landscaping and indoor plants, properties not only enhance their visual appeal but also create a healthier and more rejuvenating environment. Such thoughtful touches signal a property's commitment to providing residents with a holistic living experience, making it more enticing for potential renters who are seeking more than just four walls and a roof.
19. Invest in Upscale Amenities
Multifamily properties that offer more than just living spaces are capturing the attention of discerning renters. Common areas such as state-of-the-art gyms equipped with the latest fitness technology, co-working spaces catering to the growing number of remote professionals, or entertainment zones complete with gaming areas and mini-theaters can truly set your property apart. These unique amenities serve as value-added propositions, providing residents with convenience, luxury, and diverse lifestyle options right at their doorstep. 
These premium features offer a richer living experience, which warrants a justified increase in rent. When residents perceive tangible value in these amenities, they're more likely to understand and accept a slightly higher rental cost. Ultimately, by elevating the standard of living through these specialized common areas, properties can significantly enhance their NOI while fostering a greater resident experience.
20. Continuous Staff Training
Investing in thorough training for your staff, especially in customer service excellence, is not just a box to tick; it's a strategic move for the longevity and success of your multifamily property. Cutting corners in staff training can lead to missed opportunities, miscommunications, and unsatisfactory resident experiences, all of which can negatively impact your property's reputation and occupancy rates.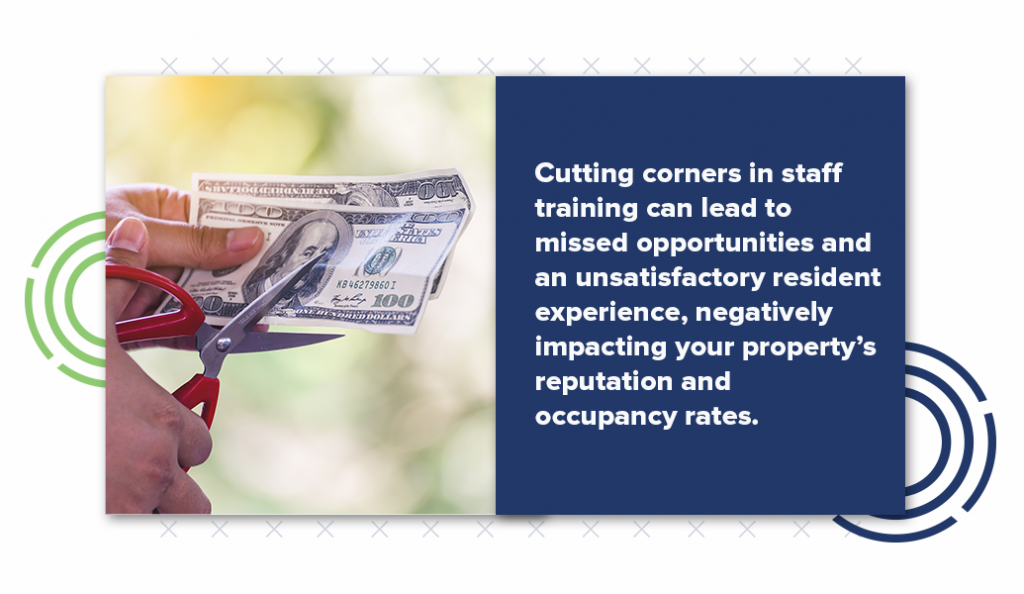 When residents see familiar faces in the management team and service personnel, it fosters a sense of community and trust. Familiarity can often translate to increased comfort and security, essential components in a resident's decision to renew their lease.
On the flip side, frequent staff turnover can incur additional costs in hiring and training, and it may disrupt the seamless operation and rapport built with residents. In essence, by prioritizing staff training and retention, properties ensure smooth operations and a positive environment and enhance their bottom line by minimizing unnecessary expenses and optimizing renter satisfaction.
Boosting Demand with Comprehensive Multifamily Branding
Increasing occupancy and NOI is a blend of strategic multifamily branding, robust property management marketing, and understanding tenant needs. Armed with these tips and the expertise of a multifamily branding agency, property managers can navigate the challenges of the rental market, ensuring their properties remain in high demand. Remember, in the world of real estate, multifamily branding isn't just a name — it's an experience.
Pin to Win: Boosting Social Media Marketing and Multifamily SEO One Board at a Time
In today's digital age, traditional methods of finding multifamily properties, like scouring the classified sections of newspapers or searching through Craigslist, have taken a backseat. The spotlight now is on dynamic and interactive platforms for social media marketing, and Pinterest is leading the charge as an unexpected yet potent tool.

For those still unfamiliar with this platform, Pinterest is much more than just another image-sharing site. It is a powerful repository of visual inspirations and ideas, neatly organized into "Boards." Unlike many other platforms, it's a place where users don't just scroll and like; they engage, plan, and dream. This unique behavior makes Pinterest a compelling channel for social media marketing, particularly for multifamily properties.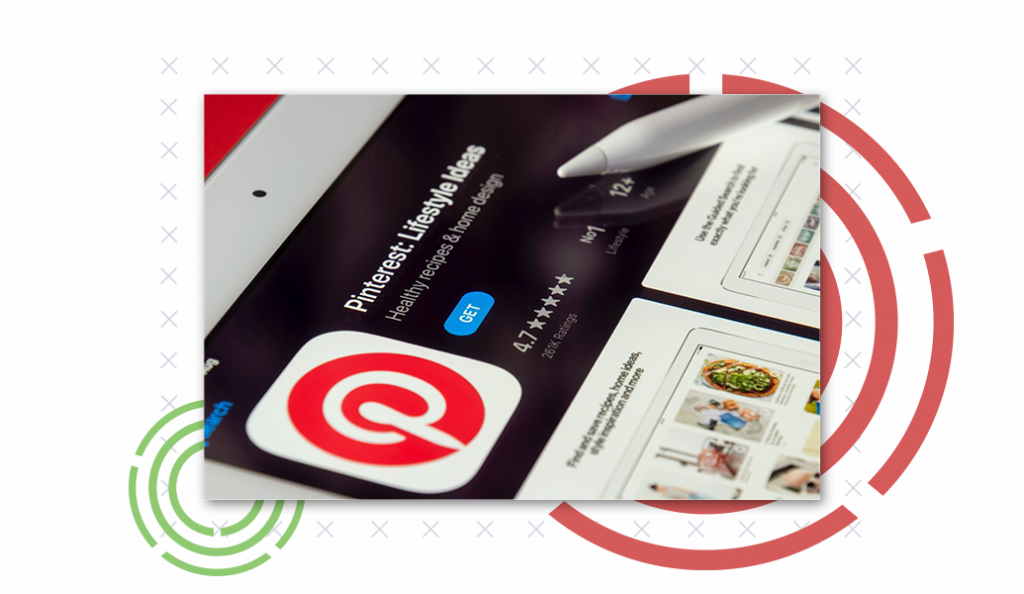 Pinterest and Its Influence on Multifamily SEO
For multifamily property marketers, the crux lies in ensuring that your property website ranks high in search engine results. High multifamily SEO ranking translates to increased traffic, more leads, and a bolstered brand reputation. Here's where Pinterest comes into play, acting as an unexpected booster for multifamily SEO. 
Let's explore how:
1. Setting Up Your Pinterest Profile
Your first step in Pinterest marketing is creating an account representing your business. Use your full business name and ensure that your Pinterest bio gives an immediate sense of who you are, complete with logos and essential contact details. Remember, a Pinterest marketing agency would stress the importance of consistency across platforms.
2. Board Creation and Management
Think of boards as visual chapters of a book. While the temptation is to create many, quality trumps quantity. A handful of well-curated boards can do wonders for your Pinterest marketing strategy. 
Categories to consider include:
Showcasing your property: Highlight rooms, amenities, and events.
Tips and advice: From interior decoration ideas to space-saving hacks.
Local guides: Offer insights into the neighborhood and local attractions.
Lifestyle: Share easy recipes or DIYs for apartment living.
3. Harnessing Multifamily SEO
Keywords are the pillars of any SEO strategy, and Pinterest marketing is no different. Integrate relevant multifamily SEO keywords into your Pins' titles and descriptions. This ensures search engines recognize the relevancy of your Pins, propelling them (and your property) to a wider audience.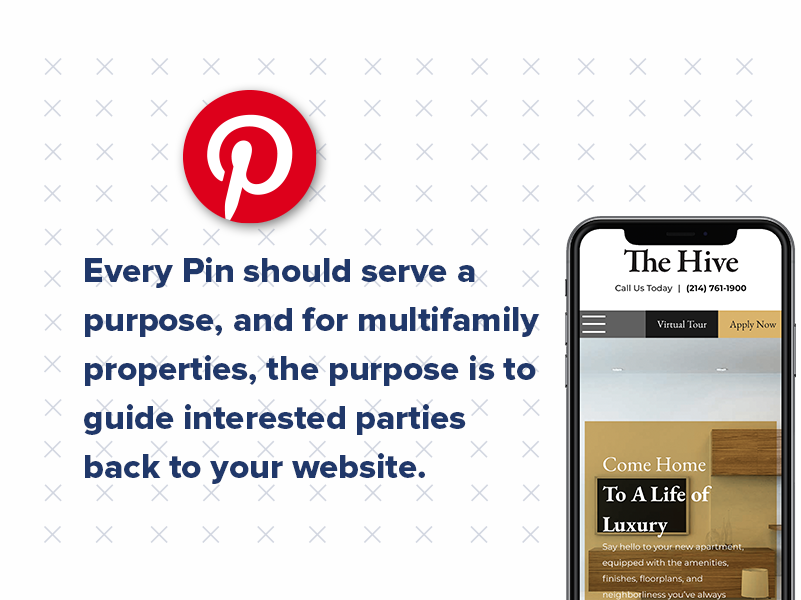 4. Steering Potential Renters Your Way
Every Pin should serve a purpose, and in the case of multifamily properties, it guides interested parties back to your main website. Edit the source link of your Pin to ensure it leads back to your site. An engaging caption can further tempt users to make that all-important click.
Bringing Pinterest Into Your Social Media Marketing Fold
With its visually-driven platform and engaged user base, Pinterest offers multifamily properties a unique avenue for social media marketing. Collaborating with a Pinterest marketing agency can further refine your strategy, ensuring you harness the platform's full potential. 
As the digital landscape evolves, staying adaptive and innovative is vital. And, in the realm of social media marketing, Pinterest might just be the secret ingredient you've been looking for to elevate your multifamily SEO. So, why wait? Dive in and pin your way to success!

How to Launch Threads: Exploring the Next Frontier in Social Media Interactions
In the dynamic world of social media, new platforms continually emerge, aiming to redefine how we connect and interact. One such platform that has garnered significant attention is Threads.
Launched on Wednesday, July 5, 2023, Threads offers a fresh approach to social networking, focusing on fostering meaningful conversations and intimate group interactions.
Facebook has tried to compete with Twitter for years, including copying signature Twitter features such as trending topics and hashtags. But now Meta is taking a swipe at Twitter with this new platform.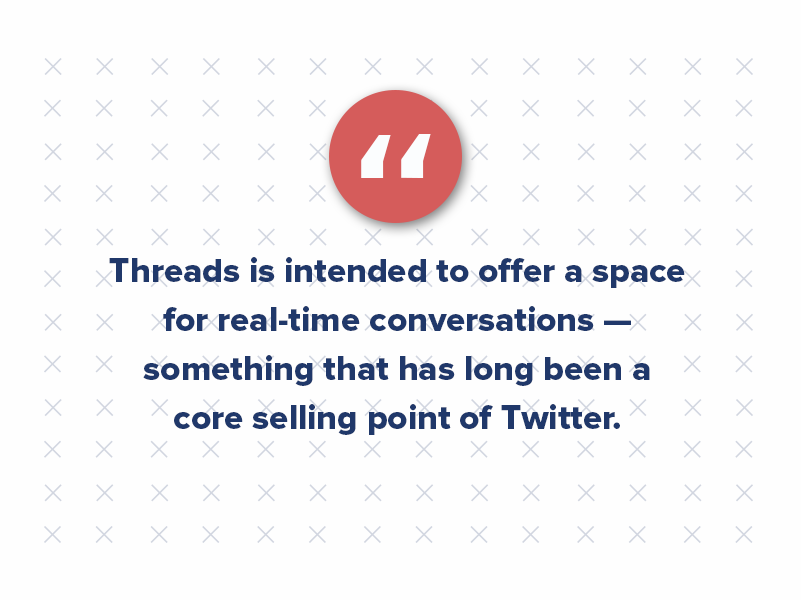 Threads is intended to offer a space for real-time conversations — something that has long been a core selling point of Twitter.
The app has garnered 100 million active users (and counting) as of July 2023.
So, is Threads worth it? Should we dive into yet another social media platform? And how do you use it properly?
Introducing Threads: Redefining Social Connections
Threads is a social platform designed to create focused and intimate conversation spaces. It differs from traditional social media platforms by emphasizing privacy, close-knit groups, and meaningful interactions. With Threads, users can connect with friends, family, and communities more personally and engagingly, enhancing the quality of their social interactions.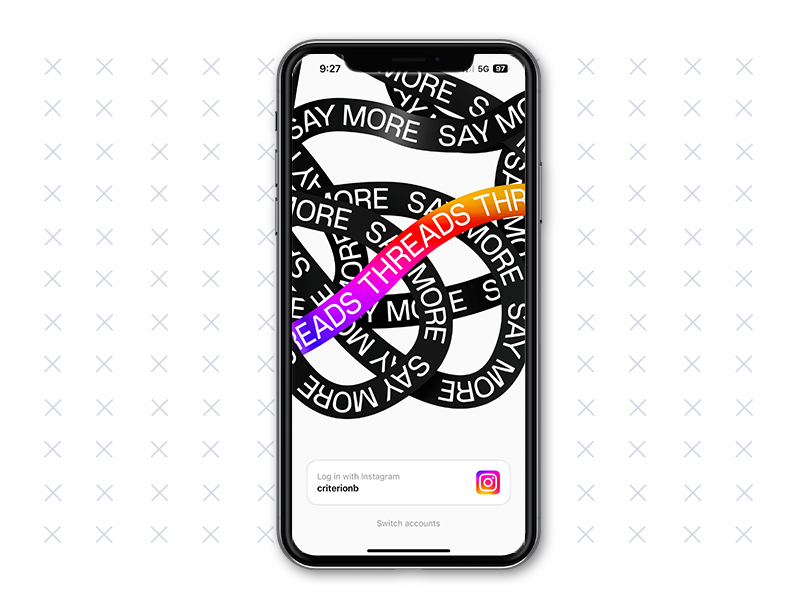 Businesses can engage with their customers in real-time offering answers to important FAQs, customer support, and more personalized responses — similar to Twitter. Since its launch, Threads has gained momentum, attracting users who enjoy platforms like Twitter but seek change.
Getting Started With Threads
How to launch a Threads account
Joining threads is an extremely simple process — all you need is an Instagram account and the app! To join Threads, you need to download the mobile app on iOS and Android devices. You can also scan the QR code on the Threads website, redirecting you to App Store.
Once downloaded, follow the simple registration process to create your Threads account. You will then be directed to a screen where you can set up your profile. If you manage multiple business accounts, be sure to sign into the account you want to launch on Threads.
Please note that your name on Threads is automatically synced with your Instagram account and cannot be edited. You can manually add a profile photo, link, and bio or utilize the convenient "Import from Instagram" feature, which seamlessly transfers your existing details, including your profile picture, from your Instagram account.
Next, you can choose between a Public or Private account setting. Opting for a Private profile ensures that only approved followers can view and engage with your posts. It's important to note that your choice on Threads does not impact your Instagram profile. You can maintain a private profile on one platform while having a public profile on the other, providing flexibility in managing your online presence.
After selecting, you will be presented with a list of Instagram accounts you currently follow. At this point, you can choose to follow all accounts on Threads or manually select specific ones. If you choose to follow an account that has not yet joined Threads, they will be automatically followed if they sign up later.

How to build your following on Threads
One burning question we hear is, "Can I import my Instagram followers on Threads?" Threads does not currently offer a built-in feature to import followers from other social media platforms or external sources. However, they can follow you when they join Threads.
You can also promote your Threads profile on other platforms or to your existing followers through various means, such as sharing your Threads username, posting about it on your social media accounts, or including it in your website or email signatures. This can encourage your existing audience to join you on Threads and potentially become your followers on the platform.
It's important to note that the availability of features and functionalities on social media platforms may evolve. Therefore, it's always a good idea to stay updated with Threads' latest announcements, updates, and documentation to learn about any new features or possibilities, including the ability to import followers in the future.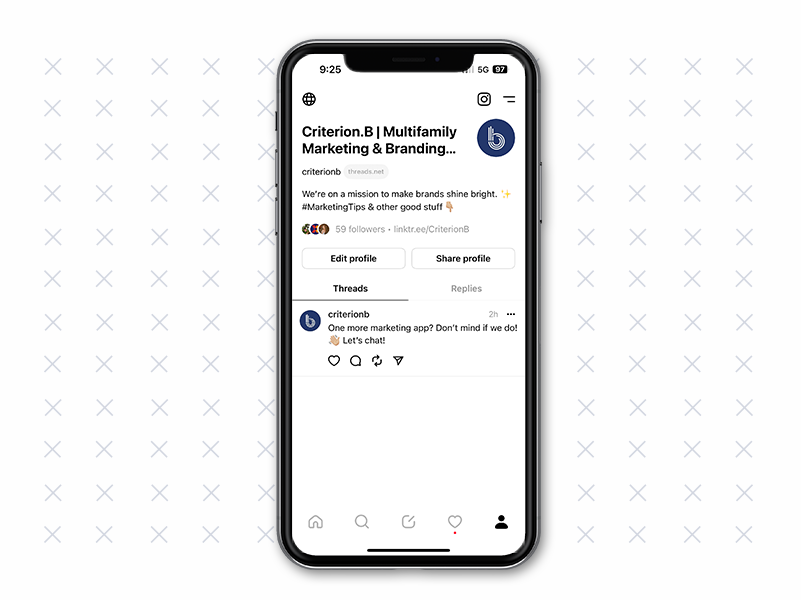 How to post on Threads
To post on Threads, follow these simple steps:
Launch the Threads App: Open the Threads app on your iOS or Android device. If you haven't downloaded the app yet, you can find it in the respective app store for your device.
Log in to Your Account: Enter your login credentials to access your Threads account. If you are a new user, you can sign up for an account following the app's registration process.
Explore or Create Threads: Once you are logged in, you have two options: explore existing threads or create your own. To explore threads, you can browse through different categories or search for specific topics or communities of interest. Join threads that capture your attention and align with your preferences.
Contribute to Threads: To make a post within a thread, navigate to the specific thread where you want to share your thoughts or media. Look for the option to create a new post or participate in an ongoing discussion.
Craft Your Post: Depending on the capabilities of the Threads app, you will typically have options to type out text, upload images, videos, or share links. Use the available tools and features to create your post, ensuring it aligns with the thread's topic and intended purpose.
Engage With the Community: After crafting your post, take a moment to review it for clarity, relevance, and appropriateness. Once you are satisfied, submit your post within the thread. Your contribution will become visible to other participants, who can respond and converse with you.
Respond to Replies and Interact: As other users respond to your post, be sure to engage with them by replying to comments, sharing further insights, or asking follow-up questions. Threads are meant to foster meaningful discussions, so active participation and interaction contribute to a vibrant and engaging community experience.
Follow Thread Guidelines: Like Instagram, remember to adhere to the community and thread-specific rules. Respect the privacy and preferences of other participants, maintaining a friendly and constructive environment for conversations.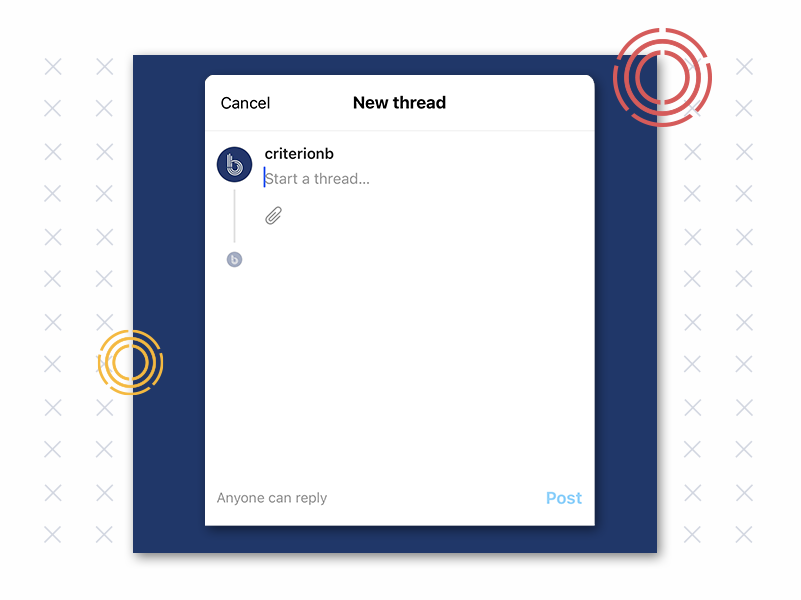 FAQs: Answering Your Burning Questions About Threads
Q1: Is Threads a public platform?
No, Threads is designed to prioritize privacy and close-knit interactions. Users can control who can join their threads and access their conversations, allowing for a more intimate social experience.
Q2: Can I use Threads to connect with existing friends?
Absolutely! Threads provides an opportunity to deepen your connections with existing friends by engaging in focused and meaningful conversations. You can create private threads exclusively for your close group of friends or join threads initiated by others.
Q3: Are communities available on Threads?
Threads allows users to discover and join communities that match their interests. Communities unite like-minded individuals, fostering discussions and connections around specific topics or hobbies.
Q4: Can I share media files on Threads?
Yes, Threads supports sharing various media formats, including photos, videos, and links. This enhances the visual and interactive aspects of conversations within threads, making interactions more engaging and dynamic.
Q5: How does Threads prioritize user privacy?
Threads prioritizes user privacy by providing control over who can access conversations. Users have the ability to create private threads, invite specific individuals, and manage their thread settings to ensure a secure and trusted environment for communication.
Q6: Can I schedule posts in advance?
No. Currently, the platform is all app-based, and you can only post manually. We assume this will change very soon as Meta incorporates it into the Meta business platform.
Q7: Can I edit a Thread I've already posted?
Not yet. However, you can limit who can reply to your post or hide the number of likes even after you've shared a post.
Q8: Can you use hashtags on Threads?
Threads doesn't support hashtags yet. There is no point in including them in your caption and wasting your character count (as of now).
Q9: How do I repost a Thread?
If you want to repost the content, click on the double arrow icon below the post, which is the same as the retweet icon on Twitter.
Q10: Can you manage multiple accounts on Threads?
Threads only allows you to log in with a single account at a time. You can switch profiles only by logging out of the current Thread account.
The Future of Threads: Is It Here to Stay?
Threads' popularity and evolution presents exciting opportunities for individuals, communities, and businesses alike. But is it here to stay? Will it take off or flop after a year? Only time will tell. But we are here with you to help navigate this new platform and explore all the multifamily marketing opportunities it provides!
As Threads continues to evolve, it has the potential to reshape the social media landscape. Could it be the undoing of Twitter? Will Twitter still reign supreme? Only time will tell…

The Do's and Don'ts of Social Media Interaction for Multifamily Apartments
Long gone are the times of stranger danger. Well, at least that's true if you're doing social media for apartments. Nowadays, it is common — and almost expected — for a property to interact with its residents, employees, and community online.
Multifamily property managers must engage and connect with their residents and prospects online to establish an authentic and interactive brand presence.

While social media for apartments is an excellent tool for building your multifamily brand, it is essential to follow specific rules of interaction to ensure that your social media marketing efforts are practical.
Here are our top rules for marketing social media for apartments:
Rule #1: Use Humor Sparingly
Take a look at Whataburger's Twitter account (@whataburger). You don't have to be a writer for Saturday Night Live to run a strong Twitter account; sometimes, you must be a bit random. Whataburger focuses on how life would be depressing without it in your life.
Regarding social media for apartments, showing a little personality and personalizing your property's feed is essential. It allows you to be seen as more approachable and have more engagement with your residents, potential residents, and the community.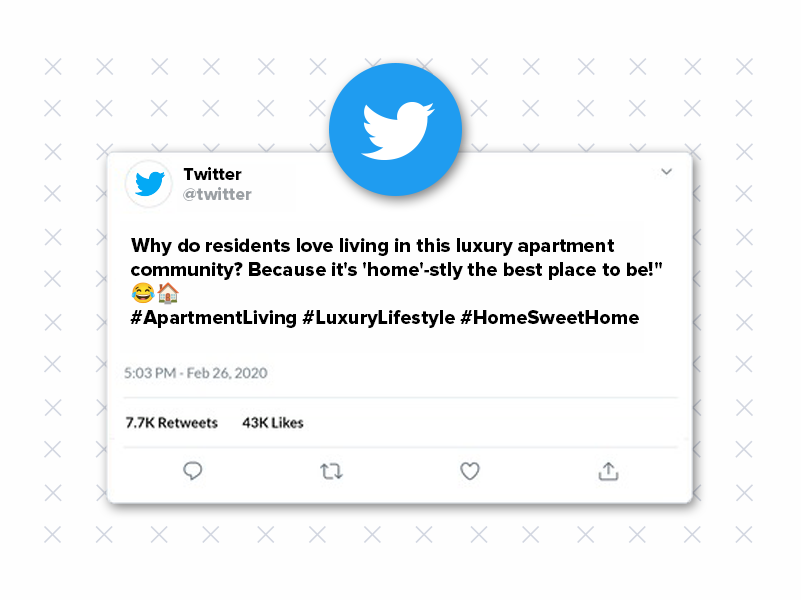 Humor can be an excellent tool for engaging your audience and creating a fun and friendly brand image. However, it is important to use humor sparingly and appropriately. Always consider your target audience and avoid offensive or insensitive content. Keep your humor light and relevant to your brand and community.
Rule #2: Don't Be Afraid of Negativity
In the multifamily industry, negativity is plentiful online. Sometimes things don't go as planned with your property, and you may receive a bad review online. Don't worry. Instead, think about how you want to respond.
In almost every case, it's the best strategy for companies to reply to these reviews and address the problem with a possible solution. What's impressive with social media, and the Internet in general, is that you can talk one-on-one, so reach out to them. The reviewer's negative experience may shed light on a more significant problem, which, once discovered, can be resolved so higher-quality service can be experienced by all.
When potential residents surf the net for a place to live, they look at reviews. While bad reviews may affect their choices, properties engaging with reviews and offering solutions to the negativity will reassure them.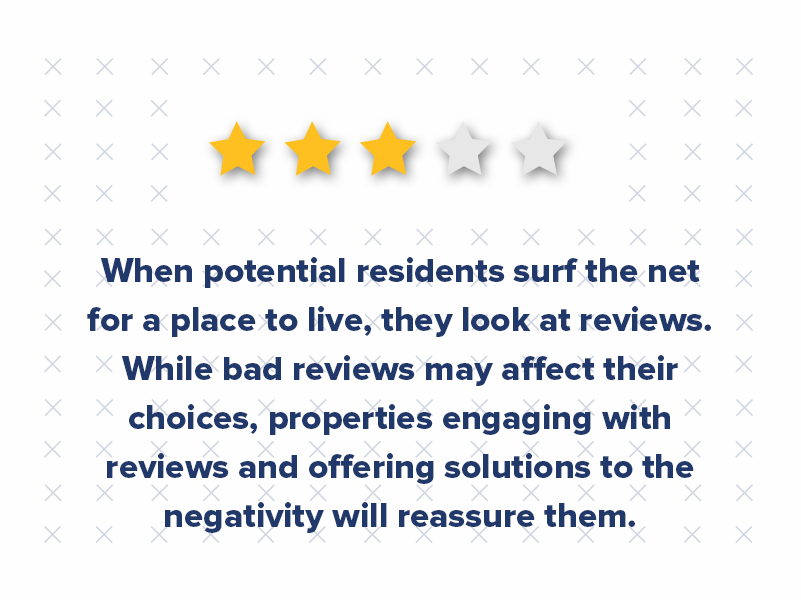 Rule #3: Use More Than One Brain
"Two brains are better than one" is not exclusively used for academic endeavors. One of our favorite social media accounts is Vogue's Instagram account. They always have beautiful photos, and they're not afraid to collaborate.
They've reposted photos and had budding artists take over their accounts, and they've done all of this while sticking true to the core of their brand. For your multifamily marketing, you can collaborate with the community to showcase events, people, and issues that connect your property with your audience.
Collaboration is crucial when it comes to social media marketing for multifamily apartments. When creating content, property managers should work with the entire team to ensure that all aspects of the community are represented accurately. This may include input from the leasing agents, maintenance team, and residents.
Collaboration is also essential when it comes to managing social media accounts. Ensure you have a designated social media team responsible for managing and responding to social media inquiries and comments. Ensure that all team members are on the same page and understand the overall strategy for social media marketing.
Rule #4: Be Timely
Posting timely is a critical rule for social media marketing for multifamily apartments. Your content should be relevant and timely to your audience. For example, if there is an upcoming event in your community, post about it beforehand to encourage residents to attend. Also, consider current events and trending topics when creating content to stay relevant and connected with your audience.
Sometimes we don't do things on time. And that's okay. However, with all social media, time is of the essence, so don't be like that friend that tells you "Happy Birthday" a month late. If someone mentions you in a tweet, and you decide to favorite all mentions as a company, handle it immediately. More likely than not, it will make that person smile because getting some love from one of your favorite companies is always excellent.
Rule #5: Focus on Quality, Not Quantity
High-quality content is essential when it comes to social media for apartments. Your posts should be visually appealing, easy to read, and informative. Always use high-quality images and graphics to enhance your content. Ensure all posts are proofread and edited before posting to ensure the content is error-free and professional.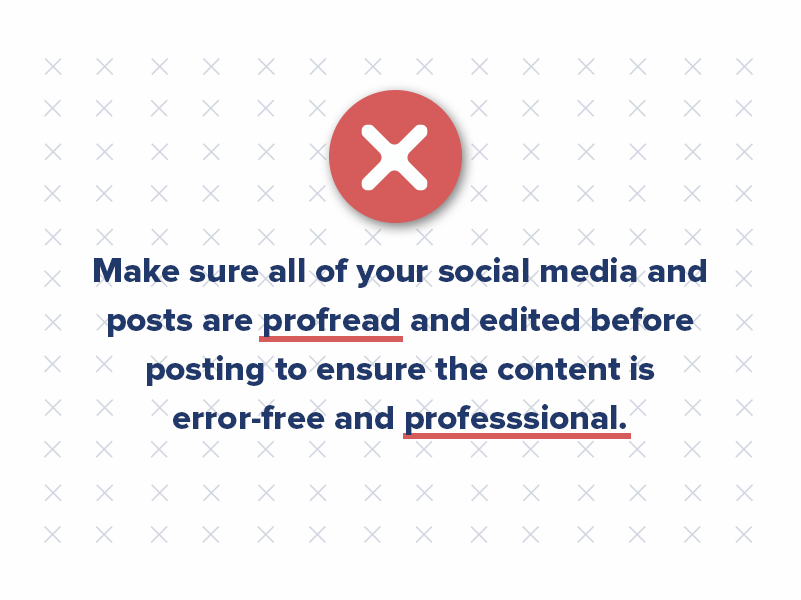 Rule #6: Respond to Residents
Social media for apartments is all about engagement, and it's important to respond promptly to comments and messages. This helps build a positive relationship with your audience and demonstrates that you are attentive and responsive to their needs.
And don't forget to check your notifications (and message requests folder) regularly. Read, respond, and engage with your residents online daily. This shows them that you are not just a "posting machine" on social media but that you care about your residents.
Rule #7: Encourage User-Generated Content
Encouraging user-generated content is an excellent way to increase engagement on social media. You can create a sense of community and authenticity by asking residents to share photos or stories about their experiences in your apartment community. Be sure to repost and share user-generated content to encourage further engagement.
Rule #8: Monitor Your Online Reputation
It's essential to monitor your online reputation on social media. Be sure to respond to negative comments or reviews promptly and professionally, addressing any concerns or issues. This demonstrates that you take your residents' feedback seriously and are committed to resolving any problems that may arise.
Rule #9: Be Consistent
Consistency is vital when it comes to your social media marketing. Be sure to post regularly and consistently to establish a routine and keep your audience engaged. Also, ensure that your multifamily brand messaging and visual style are consistent across all social media marketing platforms to create a cohesive apartment brand image.
By following these additional social media marketing interaction rules, property managers can create a strong and effective strategy that engages with their audience and builds a positive multifamily brand image.

Is a Snapchat Marketing Strategy Right for Your Multifamily Property?
If you don't use Snapchat, you've probably heard of it. It's an app that allows you to share photos and videos with friends, but there's a catch: within a few seconds of viewing the content, it disappears! Gone forever.
Seems a little silly, right? And yet, millions of people are using Snapchat.

In today's digital age, social media has become an essential tool for businesses of all types, including multifamily properties. With a multitude of social media platforms available, choosing the right one can make all the difference in effectively marketing your multifamily property. 
One platform that often gets overlooked is Snapchat. But is Snapchat still a relevant social media marketing tool for multifamily properties? And how can you effectively market your multifamily property on the right social media platforms? 
Let's dive in.
Is Snapchat Still Relevant for Multifamily Marketing?
When Snapchat first emerged, it was largely known as a platform for personal use, with its primary feature being ephemeral messaging. However, over the years, Snapchat has evolved into a powerful social media marketing tool, with features allowing businesses to connect with their Snapchat target market effectively.
As if you didn't already know, Snapchat skews young. While Snapchat may not have the same user base as Instagram or TikTok, it still has an impressive number of users.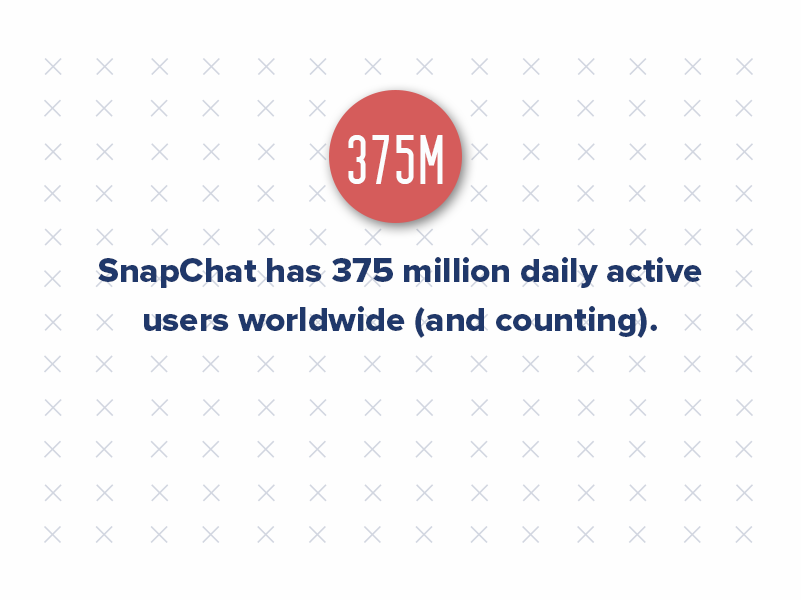 According to Demand Sage, Snapchat has 375 million daily active users worldwide as of March 2023. That is an 18.6% increase year over year. And the number of users is up from 265 million back in January 2021. 
What's more, Snapchat is particularly popular among younger demographics, with most users ages 18-24 using the platform.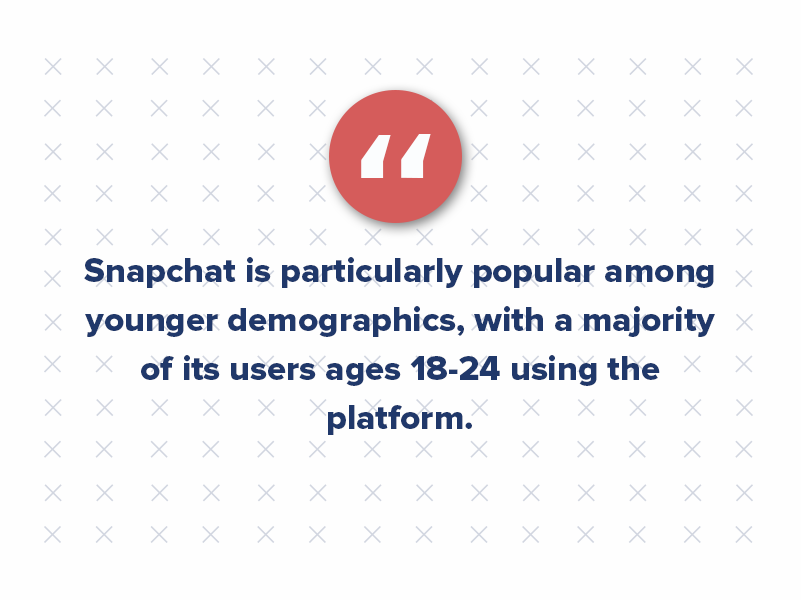 So, yes, this platform is still a relevant social media marketing tool for multifamily properties, especially if your Snapchat target market is a younger demographic.
(Pssst… If you are a student housing multifamily property, we highly recommend you jump on the Snapchat for marketing bandwagon!)
What's the Value of Snapchat for Marketing Properties?
Although it seems counterintuitive, Snapchat content (photos and videos) is among the most engaging of all social media platforms. You probably wonder how disappearing content can be engaging, but that's it! Viewing a "Snap" requires your undivided attention for a few seconds because if you don't pay attention, you've missed the message (it's gone).
Compare to platforms like Facebook and Twitter, where we may passively "like" photos, doom-scroll our feed, or "save" articles with the best intentions of reading them later. But Snapchat is in the moment. It's immediate. It's succinct. It's convenient. And in return, Gen Z renters find it reasonable to invest a few precious seconds of their time.
It's this disposability that makes Snapchat so unique. It's the fleeting nature of Snapchat that drives such high user engagement.
Should You Hire a Snapchat Marketing Agency?
Do we recommend hiring a multifamily marketing agency for your Snapchat marketing strategy? Typically, we always want to promote our multifamily marketing services, especially our work on social media for apartments. But we also pride ourselves in being transparent and good stewards of your marketing budget and time — so no, we recommend you keep your Snapchat marketing strategy in-house. 
Why?
Snapchat is a highly personal platform. It's not the type of platform where you share Stock images or promotional information about your property. This is the platform to offer behind-the-scenes content or promote things like resident events, local happenings, and funny anecdotes in your leasing office.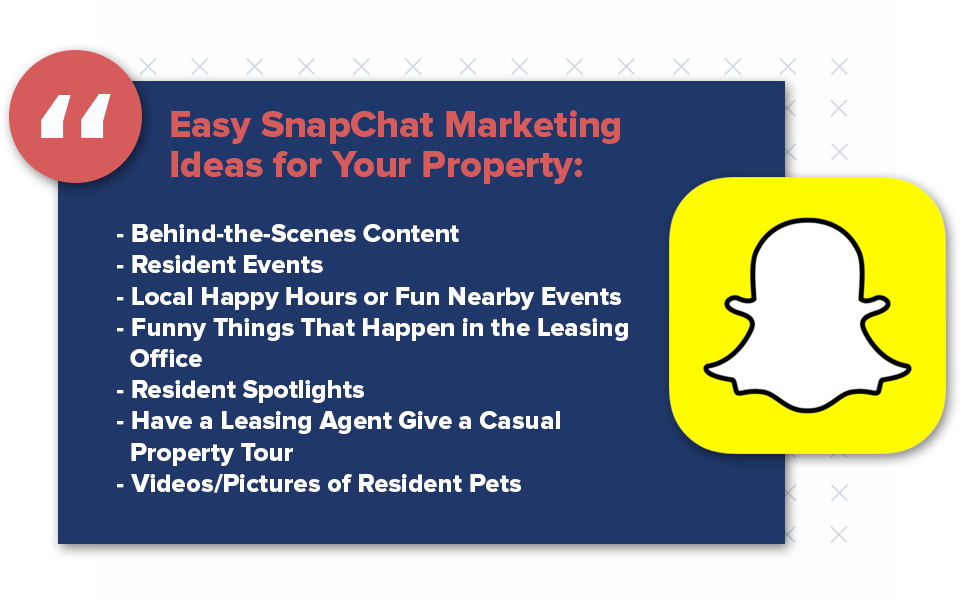 This is the type of platform you'll want to hand over to your leasing agents and let them have some (professional and appropriate) fun with the platform! Let them use their creativity and share on Snapchat during downtime throughout the day. An agency will not be able to be at your property to share the type of personalized content your leasing agents will be able to. So leave the platforms like Facebook, Instagram, and LinkedIn to your multifamily marketing agency and let your leasing team take the reigns on Snapchat!
How to Market on Snapchat (and Across Other Social Media Marketing Tools)
Now that we've established that Snapchat is still a relevant social media marketing tool for multifamily properties, here are some tips for marketing your property effectively on the right social media platforms.
1. Define Your Target Audience
Before you start marketing your multifamily property on social media, defining your target audience is essential. Who are you trying to attract to your property? What are their interests, needs, and preferences? Once you have a clear understanding of your target audience, you can choose the social media platforms that will be most effective in reaching them.
2. Choose the Right Social Media Marketing Tools
As mentioned earlier, numerous social media platforms are available, each with unique features and user base. To effectively market your multifamily property, choosing the right social media platforms is essential. 
If your target audience is primarily younger demographics, then Snapchat, TikTok, Twitter, and Instagram may be the best platforms to focus on. On the other hand, if your target audience is more mature, platforms like Facebook and LinkedIn may be more effective.
>> Want some Instagram inspiration? Check out the Top Instagram Accounts for Multifamily!
3. Use High-Quality Visuals
Regardless of which social media platforms you choose, using high-quality visuals to showcase your property effectively is important. This includes professional photos and videos highlighting the property's amenities, location, and overall vibe. On Snapchat, you can also use filters and lenses to create fun and engaging content that will appeal to your target audience. You can even create and sponsor your filter that nearby users can utilize in their Snapchat photos.
4. Engage with Your Audience
Social media is all about engagement. To effectively market your multifamily property, it's important to engage with your audience regularly. This includes responding to comments and messages, reposting user-generated content, and creating interactive content like polls and Q&A sessions.
With a unique platform like Snapchat, you will want to make sure you don't have any missed Snapchat messages, photo tags, or mentions from your residents and prospects. Be sure to check your notifications and respond when applicable regularly.
5. Measure Your Success
Finally, it's essential to measure the success of your social media marketing efforts regularly. This includes tracking engagement rates, follower growth, and website traffic. Regularly analyzing your social media metrics can refine your marketing strategy and optimize your efforts for maximum effectiveness.
To find your Snapchat analytics data, tap your Bitmoji/avatar in the top left-hand corner. This will take you to the home screen. Click the "Insights" tab to see your Snapchat analytics data.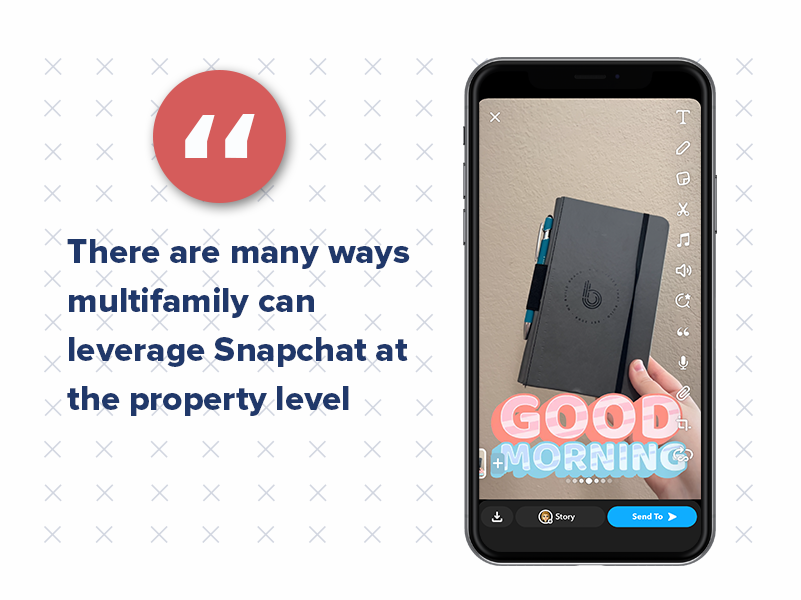 Opportunities for Multifamily Marketing on Snapchat
There are many ways multifamily can leverage Snapchat at the property level; let's take a look: 
Direct snaps to and from residents: Once a property begins to connect with residents on Snapchat, they can send and receive ephemeral messages from one another. Likewise, sending quick and private messages to the management team can be a suitable medium. This feature is a fantastic way to empower your leasing office and the property staff to connect with residents. As the face of the property, these employees will be able to get to know residents uniquely.
Geofilters: Geofilters allow users to create custom-branded artwork that will appear as an optional filter within the app, in a specific geographic region. Users within that region can then add the geofilter to their messages and videos to friends. Aside from affordability, geofilters create an opportunity to reach and communicate with your residents within seconds. Properties should consider leveraging geofilters within their geographic area to take advantage of an event or holiday and target future residents.
SnapStories: In addition to the traditional disappearing direct messages, Snapchat also includes a "story" feature that allows users to post public messages and videos that last for 24 hours. This allows property managers to create a story about their property and those living and working there. This can impact the way current and potential residents view your brand and, more importantly, how they view your property as a potential home.
Develop a Snapchat Marketing Strategy to Attract Residents
While Snapchat for marketing may not be as popular as Instagram or TikTok, it's still a relevant social media marketing tool for multifamily properties, especially if your target audience is younger demographics.
The bottom line for apartment marketers: Snapchat is here. The multifamily industry has seen the rise and adoption of other burgeoning social media platforms, but why? Because that's where their renters are. That's where their renters spend time; that's where they consume information; that's where they interact. If you can't speak Gen Z, it's time to learn.
By defining your Snapchat target market, choosing the right platforms, using high-quality visuals, engaging with your audience, and measuring your success, you can effectively learn how to market on Snapchat to promote your multifamily property and attract new residents.

Who Should Be in Charge of Social Media for Apartments?
By now, we've established that social media is another platform for communication.
Renters want information anytime, anywhere, and they want it at their fingertips. Their need for information is instantaneous, and social media for apartments is the only marketing source to deliver that.
Residents are increasingly connecting with properties online throughout all phases of the renting process, from research to retention. As a result, property managers need to be able to do their jobs online, requiring them to have a certain amount of autonomy. Social media for apartments presents several opportunities for leasing, multifamily marketing, and building relationships. However, it also presents many risks.

A Balancing Act Between Corporate and Property-Level Marketing
Online word of mouth and one bad resident experience can taint an apartment brand. Property managers (not just corporate) must be present, helpful, and interactive on social media to read, respond, and act on any negative resident feedback.
It's natural for corporate management to want complete control over their properties' online activity, as doing so would limit risk and maintain consistent apartment brand messaging across all properties. However, this isn't realistic.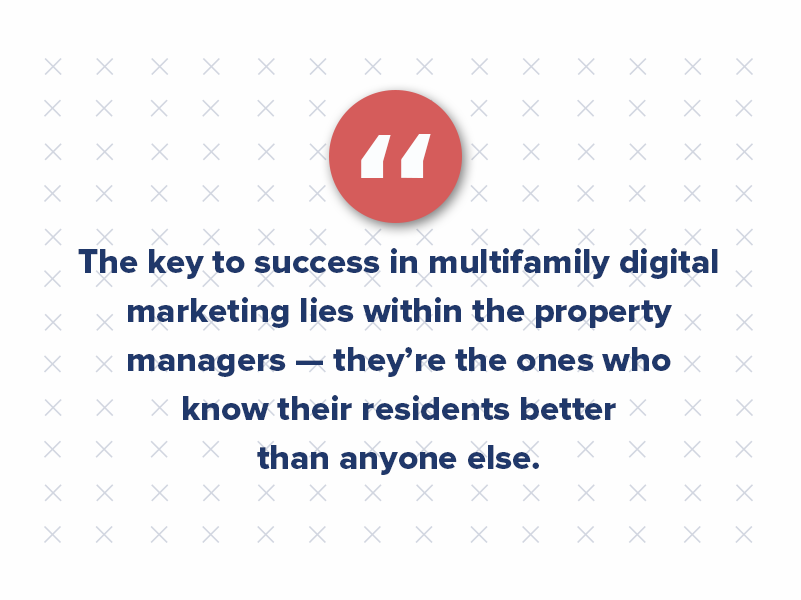 The key to success in multifamily digital marketing lies within the property managers — they're the ones who know their residents better than anyone else. They live and work in the communities they serve, and they're the ones interacting with residents daily.
So, how do we balance apartment brand consistency (corporate-level) and local content/personalized service (property-level)? The answer is quite simple. It just calls for a little training and education.
Corporate Responsibility: Training
Resident interactions on social media must be handled at the property level. Corporate management needs to take the necessary steps to train property managers. They need to provide resources (e.g., content guidelines, tone), that property managers can customize according to their residents. Employees should feel empowered to communicate on social media — that is the corporate's responsibility.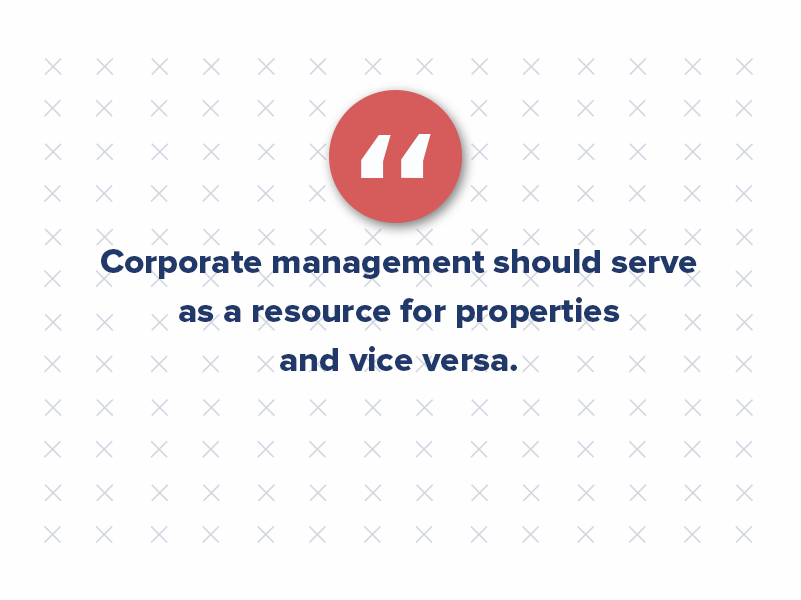 We recommend providing your properties with standard corporate messaging via a "Voice and Tone Guide" for social media and all content marketing, then allowing each property to personalize its content.
Focus on keeping messaging simple and consistent. By providing guidelines for use, you can strengthen corporate apartment branding across all properties while still allowing local social media to take the shape of its own at the property level.
The most important thing to remember is that corporate training should be ongoing. Organizations like the National Apartment Association (NAA) make that easy for corporate management to implement.
The NAA Education Institute offers the National Apartment Leasing Professional Program. The course includes six modules, which corporate management can license and provide for employees, either online or in the classroom. The curriculum includes everything from monitoring your online reputation to optimizing content for search engines.
Property Responsibility: Open Communication
Successful training requires an earnest effort on the part of each property and its employees. Without their commitment, an effective digital marketing strategy is impossible to implement.
The property manager must consult their regional or national corporate representative anytime they have questions, feedback, or insight regarding social media use.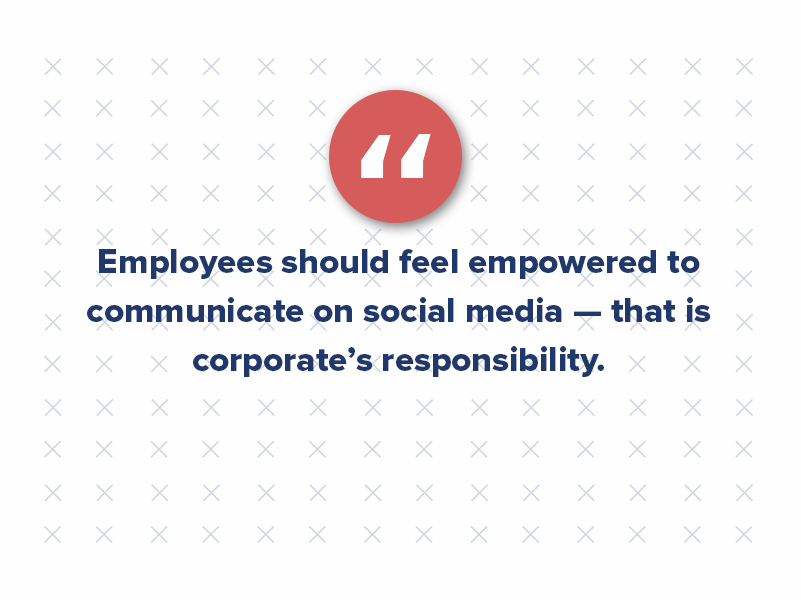 Corporate management should serve as a resource for properties and vice versa. Property managers should provide feedback on local apartment marketing efforts (What works, what doesn't?). They should also be able to ask corporate representatives for help in unfamiliar situations and provide them with insights from their resident community.
Open communication is the key to balancing strong apartment brand messaging on social media with local personality and service.
Tying It All Together
To sum it up, here are some common threads in establishing multifamily brand development and character: A customer-centric approach is essential to the success of any multifamily digital marketing effort, whether that's differentiating your property, meeting millennial expectations, designing your multifamily website, and so on. The most successful properties are capitalizing on the relationship-building attributes of social media for apartments and intercepting prospective renters in the places they're already searching.
Technology is fast-changing the apartment marketing environment, and it's up to you to respond or risk falling behind.

3 Twitter Social Media Marketing Features You Should Already Be Using
As a multifamily property manager, staying on top of the latest Twitter marketing trends and social media platforms is important. Twitter is one of the most powerful and widely used social networks in the world, offering multifamily marketers an excellent opportunity to reach potential residents. From engaging with prospects to showcasing your properties, Twitter marketing services can provide you with various benefits.

With Twitter, engagement is directed toward a broader community: residents, local businesses, other properties, corporate management offices, the multifamily industry, etc. While Facebook is predominantly B2C (business to consumer), Twitter social media marketing incorporates more B2B (business to business).
Understanding the basics of Twitter
Twitter is a social media platform that allows users to share short messages limited to 280 characters. Users range from individuals to major corporations, and they can follow or subscribe to each other's updates.
Hashtags allow users to carry on conversations with larger groups, and Twitter's retweet feature enables messages to bridge networks of people quickly. You can also use trending hashtags that are related to current events or popular topics, which can help get more eyes on your posts and boost engagement levels as well.
Twitter marketing lends well to news-like updates, quick conversations, and viral messages. Several multifamily properties have found their way onto Twitter, and our Twitter marketing agency is frequently asked for direction on its use.
What are the use cases for Twitter?
Important updates: While residents are one of many audiences on Twitter, they're still important. Twitter is an excellent tool for sharing information updates, including upcoming resident events, inclement weather, or reminders about daylight savings time. Quick thoughts and well wishes (e.g., Happy holidays! Safe travels, everyone!) are also conducive to the platform.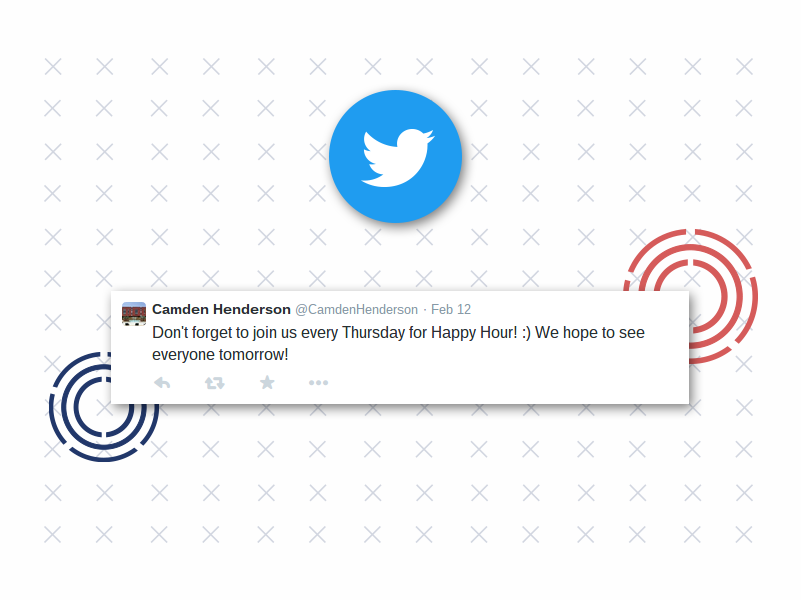 Community engagement: Begin following and interacting with local businesses. Your multifamily property is part of a larger community, so it's important to be a good community member. Support local events by spreading the word, and sharing business specials when they're relevant to your residents or your community. You'd be surprised how much support you'll receive in return, both online and off.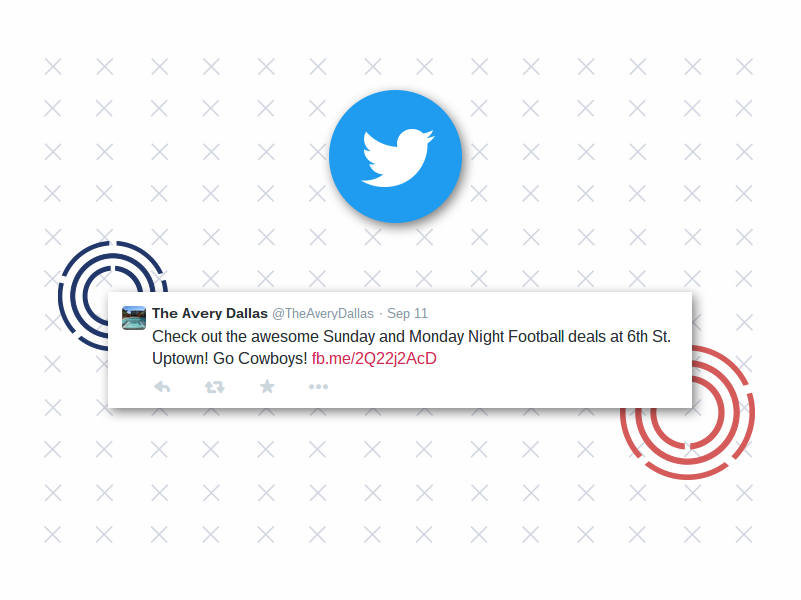 Environmental scanning: Twitter marketing is a wonderful tool for monitoring conversations surrounding your property, city, and industry. What are people saying about your property? Banter the good, and address the bad. It's important always to respond. Is someone searching for apartments in Uptown Dallas? Perhaps you could be the one to reach out and offer to answer any questions they have about the neighborhood. A simple keyword search allows you to keep an eye on conversations that might be relevant to you.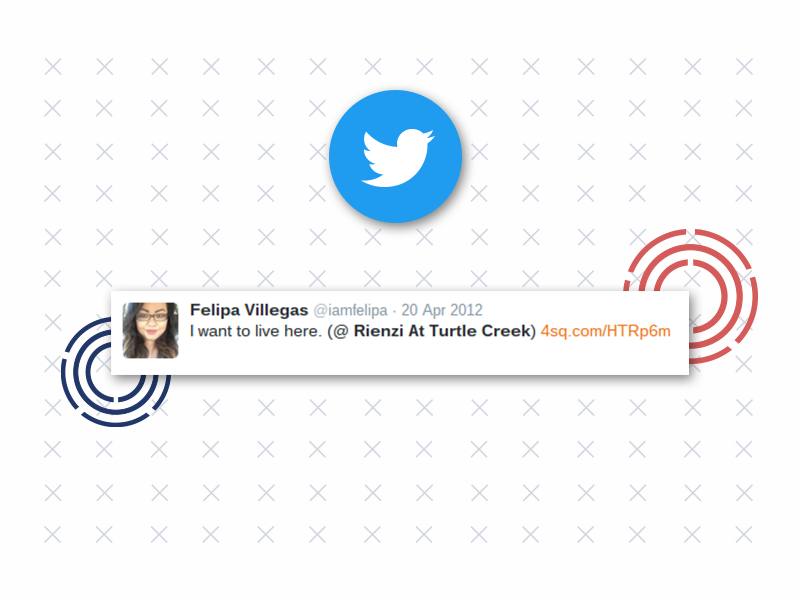 Cross-platform promotion: Twitter is a great way to spread the word about your actions on other platforms. If your property keeps a blog or if you're holding a contest on Facebook or Instagram, Twitter is a great platform for sharing links or sending out reminders.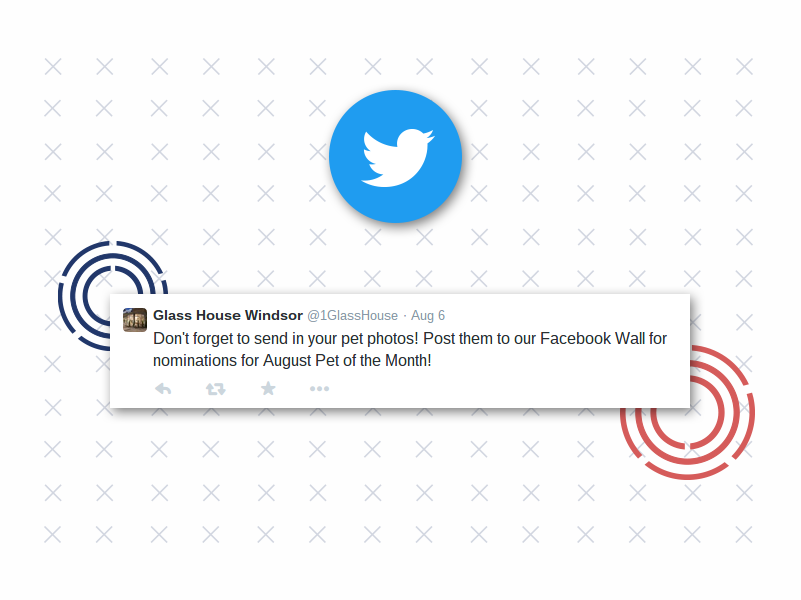 Displaying your personality: When interacting on Twitter, people should feel like they correspond with a person, not a business. Be friendly, be personable, and be neighborly. Remember that social media is a cocktail party, so take the time to get to know the other party members. The customer-centric approach pays off through relationships, the foundation for referrals, retention, and leasing. Trust us on this one.
Lead generation: You can also use Twitter's targeted advertising features to reach new audiences interested in renting an apartment home at your property. With targeted ads, you can select certain demographic criteria such as age, location, gender, etc., which allows you to target specific users who are likely interested in renting from your property. This helps ensure that your ad spend is efficient and effective by focusing on users who are more likely to convert into leads or tenants for your property.
Don't forget that social media activity improves your SEO (search engine optimization) — that is, the likelihood that your property will appear near the top of search engine rankings. This is important because it helps more people find your property.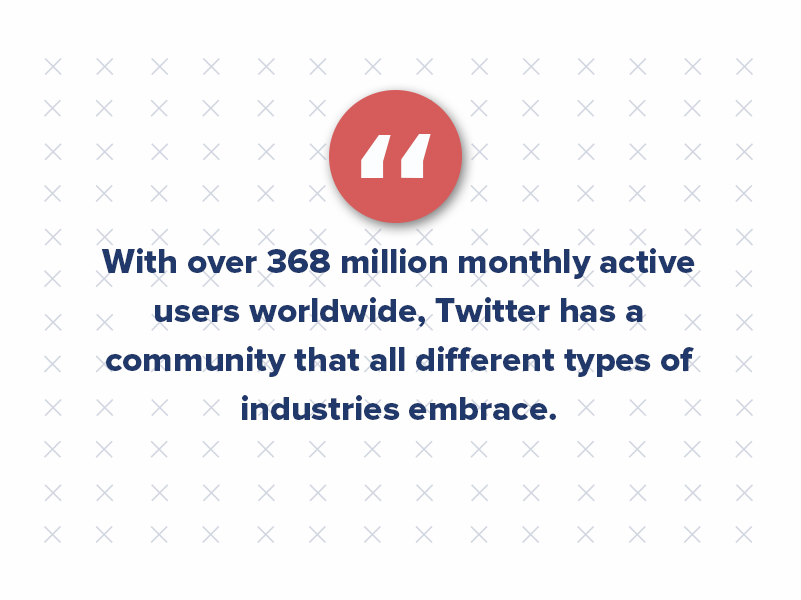 Who is using Twitter?
Twitter is an amazing place. With over 368 million monthly active users worldwide, Twitter has an active community that all different types of people embrace.
Almost every type of industry has a community on Twitter, including engineers, multifamily marketing professionals, fashion designers, lawyers, and even realtors. But how can these industries use Twitter to their benefit and gain something positive out of a social network?
We've talked a lot about social media and how it benefits the multifamily market, but let's talk about one specific thing that may interest realtors, developers, and everyone: Tweetchats.
What are the benefits of Tweetchats?
Twitter (Tweet) chats have been around for years and are continually rising in popularity.
Tweetchats are scheduled, moderated conversations about a specific topic. Any Twitter user is welcome to join any Tweetchat of their choice, but it's a chance for users to connect with influencers and other uses and converse over similar interests. For instance, a Tweetchat about community fitness will probably bring groups of social runners and yoga lovers together to talk about health and wellness in community settings.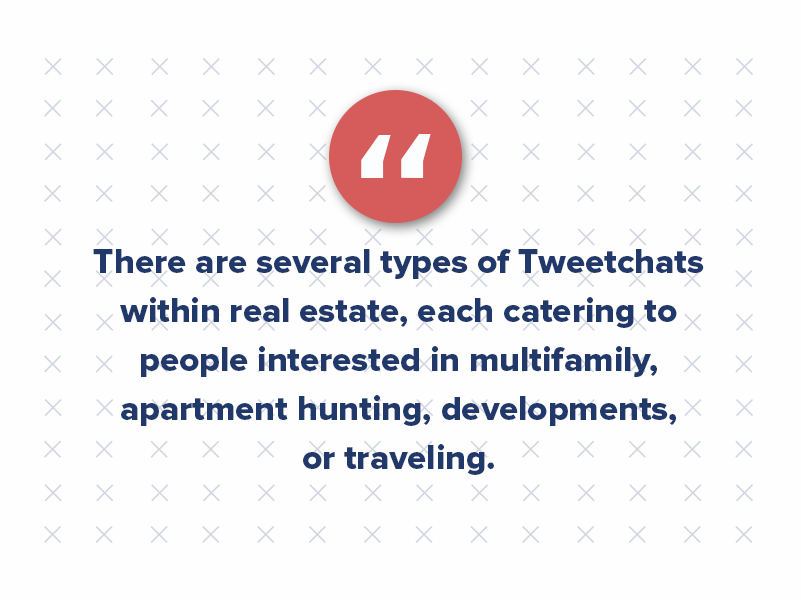 How to get involved in Tweetchats
There are several types of Tweetchats within real estate, each catering to people interested in multifamily, apartment hunting, developments, or traveling. However, Tweetchats are scheduled at a certain time each week. Make sure to find out when exactly your chat is and add it to your calendar. There are a few websites out there that list almost every Tweetchat created and their time.
Questions & Answers
The format for a Tweetchat is fairly simple to understand: a moderator from a single Twitter account usually tweets out questions for other users to respond to. Using the form "Q1" or "Q2", moderators can let you know what question they're on, and you reply to those questions with "A1", "A2", or whichever number corresponds to the question. This makes it easy for other participants to understand what everyone is responding to and ultimately helps everything stay organized.
Engage With Others
So you're answering the questions and getting favorites on your Tweets and maybe a few replies. What do you do now? Engage with them! This is when you can interact with the rest of the community, reply to interesting answers you see, and favorite some tweets that catch your attention. Overall, it's your chance to get your name out there, grow your following, and make some connections.
While you may think Tweetchats won't help people in the industry, it's still important to know that a social presence benefits all types of professionals. With the digital age constantly evolving, multifamily must stay on their toes; engaging with the community through social media is one way to stay up-to-date.
Beyond Tweetchats: What are the latest Twitter features you should be using?
With countless tools and features at your disposal, it's no wonder that many businesses are taking advantage of Twitter social media marketing to boost their reach. So what are some of the newest features? And how should your property be using them? Let's take a look.
Tweet Threads
The tweet thread feature allows you to create longer messages by connecting multiple tweets in one thread. This is great for sharing lengthy stories that would otherwise be too long for a single tweet. To do this, hit the "add another tweet" button when composing a tweet and start adding more content. You can also add images and videos to make your threads more engaging.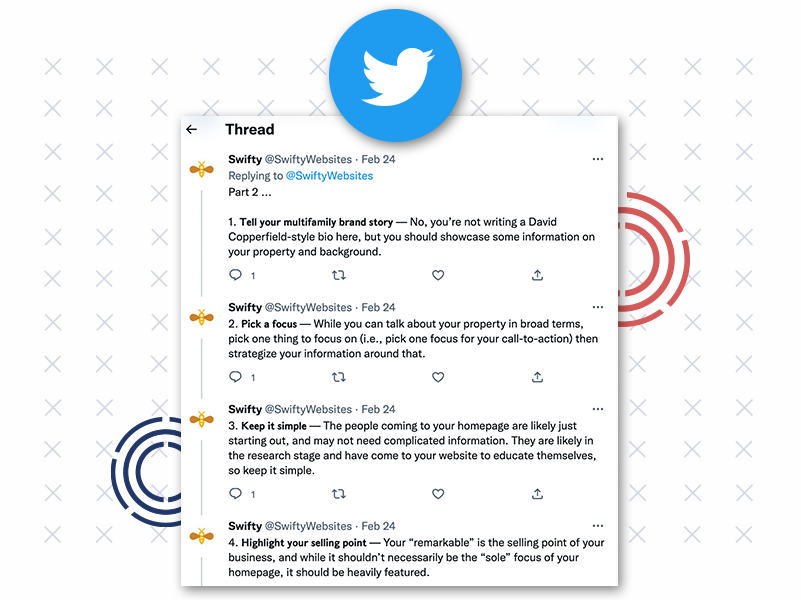 Twitter Polls
Twitter polls allow you to gather feedback from followers quickly and easily without having to send surveys or contact people directly. You can ask simple questions with a few options for responses or complex ones with up to four answers each. This is a great way to get valuable insights into what potential renters may be looking for in an apartment complex or what amenities they prioritize if given a chance.
Moments
Moments are collections of related tweets about noteworthy topics, such as events, trends, or announcements from around the world or within your community. They can be shared through links and hashtags, and embedded on websites, making them highly visible and easy to access. This is an excellent opportunity to showcase some of the events happening at your property, like upcoming concerts or weekend activities, so that you can reach new audiences who may not already be following you on Twitter.
Add Twitter to your multifamily marketing toolbox
Twitter marketing services is simply another tool in your multifamily marketing toolbox, and it has the power to foster relationships and positive word-of-mouth. With the ever-growing community on Twitter, it's important to put yourself out there and interact with your residents.
Twitter social media marketing has endless possibilities for getting your message out there — but only if you know how to use its tools effectively. By taking advantage of new features, you can unlock powerful opportunities that will help get your property noticed by potential renters who may not have been aware of it.

The Secret to a Successful Multifamily Marketing Strategy: Influencer Marketing
Millennial and Gen Z renters no longer consider commercials or ads the major influence in their decision-making process. Many brands know this, using their marketing tactics to focus on influencer marketing to reach beyond the typical leasing billboard.

From reviews to thought leadership, social media for apartments offers a unique outlet to build fans as an influencer. Social media influencers in the real estate world are recognized for their large following and insights covering all aspects of the multifamily space.
A strong social presence is necessary to hold an influencer status in addition to quality posts. Turning to these influencers as a voice within the industry will result in valuable relationships that companies can leverage.
So who exactly are these valuable assets?
Social media influencers are users with a large following and are "influencing" the community. They are often viewed as a more trustworthy resource than advertisers, thus better capturing an audience. 
According to Nielsen, 92% of people trust recommendations from individuals (even if they don't know them) over brands. It makes sense, right? Who sounds more reliable, a brand trying to sell you something or an individual just stating opinions?
Influencer marketing has become an increasingly important tool for businesses in recent years, and the multifamily industry is no exception. Influencers are social media users with a large and engaged following who can help to promote your brand or product. When done correctly, influencer marketing can be an extremely effective way to reach new prospects and generate apartment leads.

What does influencer marketing mean for multifamily?
As property managers take to more nontraditional methods for reeling in renters, social media influencers hold an interesting opportunity for multifamily. Influencer marketing is an indispensable asset as it allows a third party to promote your property.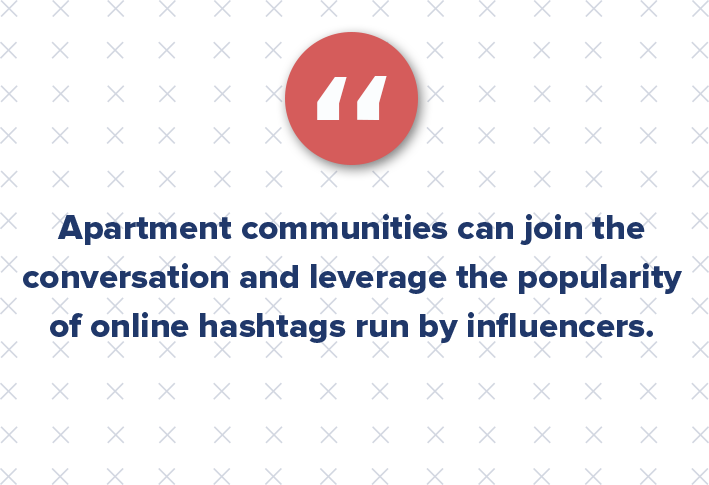 For instance, influencers have brought attention to properties through guest blogging and social promotion, like TweetChats. Most of them participate or host weekly Tweetchats, like #AptChat and #REOnline, where real estate professionals exchange ideas while networking. Apartment communities can join the conversation and leverage the popularity of online hashtags run by influencers.
Leveraging influencer marketing for your property
There are a few key things to remember when leveraging influencers for social media.
First, it's important to identify influencers who are a good fit for your multifamily brand and who have an audience that overlaps with your target market.
Second, you'll want to develop a clear strategy for working with influencers, including what type of content you'd like them to create and how you'll promote it.
Finally, ensure you measure the results of your influencer marketing campaign to continue improving your multifamily marketing strategy over time.
Connect and Engage With Influencers
Connecting with real estate professionals is the first step to becoming aware of how influencers can help your marketing. Engaging with these professionals in relevant topics will help develop a network that can be used to get involved with the community.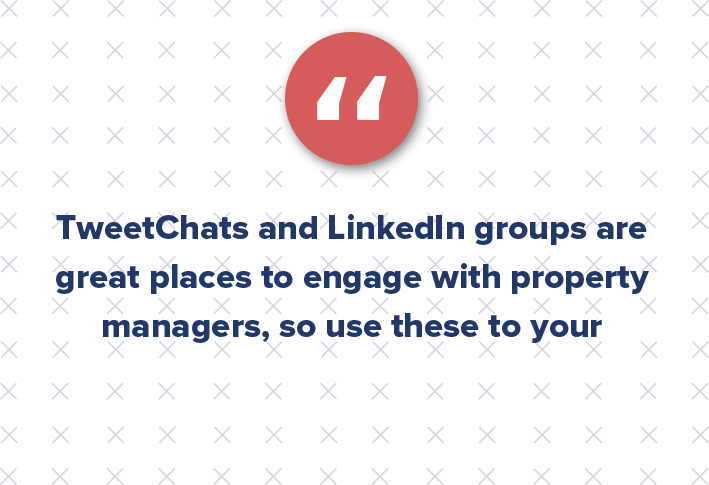 Twitter, Pinterest, and LinkedIn have a large commercial real estate community, so it's important to know where to go to connect with the right professionals. TweetChats and LinkedIn groups are great places to engage with property managers, so use these to your advantage. As long as you're getting your name out there, other professionals will start to see you as a reputable source.
Socialize With Quality
Focusing on sharing quality content is important to real estate influencers. Social media should be an outlet for property managers to be themselves and talk with other professionals. Sharing relevant content and using popular real estate hashtags will elevate your presence. Further, voicing opinions on certain trending topics will show a positive interest in building an active, involved community.
Boost Your Multifamily Marketing Efforts
Influencers are great marketing tools because they know the ins and outs of the industry. Connecting with these professionals allows property managers to market their property simply by becoming visible to their followers.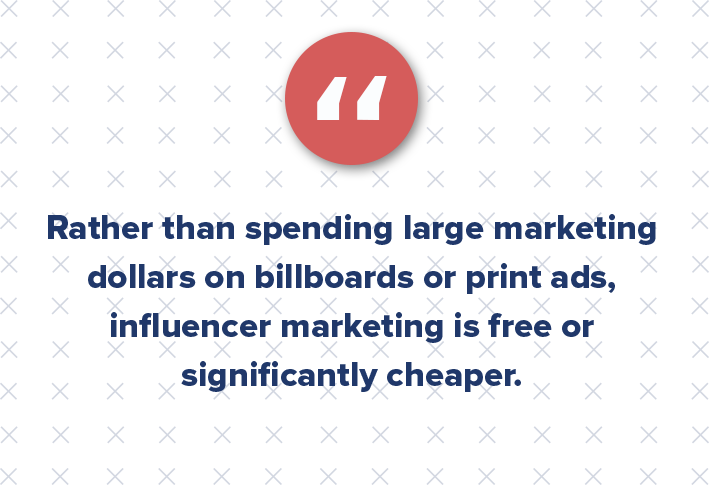 Rather than spending large marketing dollars on billboards or print ads, influencer marketing is free or significantly cheaper. Consider allowing one of these professionals to guest blog on your property's site, for example. They can share your article with their followers, and you have more content to add. It's a win-win!
By following these tips, you can maximize the impact of influencer marketing for your multifamily business.

Understanding the Relationship Between Multifamily SEO and Social Media
Did you know that multifamily SEO matters on social media?
More and more multifamily properties are hopping on social media, which serves as another channel for them to share and interact with renters and the community. But perhaps you don't see the appeal of a social media presence?

Well, we're here to give you another very important reason to be on social media, and that's search engine optimization (SEO). Multifamily SEO is essentially the process of optimizing your content for search engines.
For most platforms (i.e., Instagram, Facebook, Twitter, Pinterest, and Tumblr, to name a few), there are a few simple steps you can take to move your multifamily property up in search engine rankings:
How do you optimize your social media profiles?
1. List Basic Information
All social media platforms have a place for users to list basic information: Company Name, Location, About Us, Address, etc. Make sure to fill out all the information sections on your profiles with specific keywords. The more information you share, the more chances you have to be indexed by Google. Besides, you want to make sure that anyone who comes across your property online knows exactly where it's located and how to contact you.
2. Anticipate Popular Keywords
Brainstorm words or phrases that are relevant to your multifamily property. Perhaps it's "lofts in downtown Dallas" or "Houston apartments with a dog park." What is your property or multifamily business offering? What would your target audience search specifically? Use these keywords at a high density throughout your social media profiles and bios; include them in your social media captions when it's natural to do so. You also might want to use them in hashtags (within the caption and not the comments) to get users on social media to find you more easily.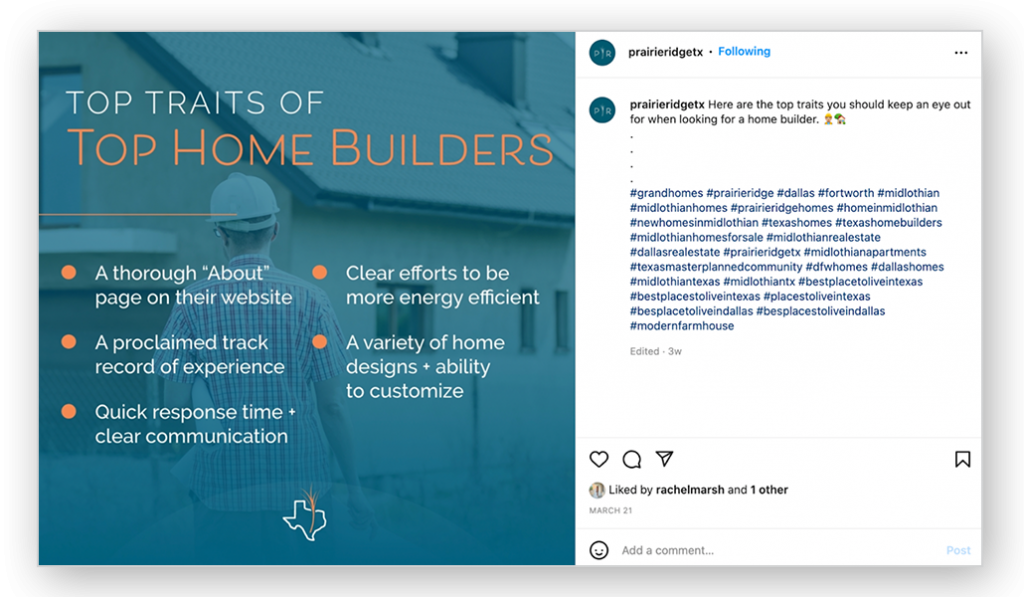 3. Invite Reviews
Display a section for reviews when possible. Facebook pages have a review section on the left side panel with 1-5 star ratings for the user to evaluate and post comments. It shows real people living in your multifamily property, providing real feedback. Again, it's more opportunities to be indexed by search engines. This also allows you to publicly address any issues that your residents may be having, ultimately showing potential residents that you're on top of handling problems.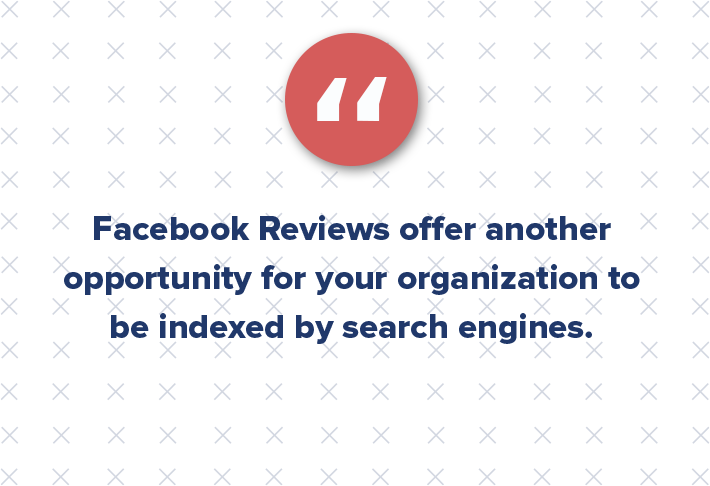 4. Link Often
Outbound links are one of the most important aspects to multifamily SEO, so be sure to link to other sources! In your use of social media, provide links to relevant blog articles and neighborhood events. Spread the word out about the great happenings going on around your neighborhood and property. Not only is it good for multifamily SEO, but "linking" is a great way to connect with people and businesses in your community.

5. Create Shareable Content
Inbound links are equally as important to SEO, yet you have to earn them. When people link back to your multifamily website or social media pages, it means you're sharing content that is high quality, compelling, and helpful.
Some ideas include:
Make and share a weekly newsletter with information about what's going on at your property.

Post interior design tips for small living spaces.

Write about apartment decorating and storage hacks.

Promote local events and happy hour specials in your community.
Creating shareable content starts with knowing your audience and what they would find interesting and resourceful.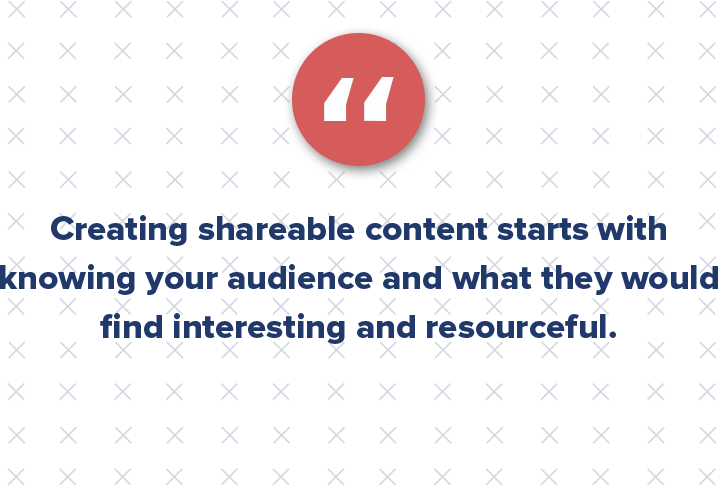 6. Utilize Multifamily PPC
While SEO is the organic approach to driving traffic, multifamily PPC is the paid. PPC ads display at the top or in the sidebar of search engine results. A successful multifamily PPC campaign combines your keyword research and your insights to design highly targeted ads that drive traffic to your website. It's important to note that well-qualified traffic is the result of research and continued testing. Understanding your residents should be an ongoing learning process and the foundation of any SEO or PPC campaign (not to mention, all digital marketing).
7. Update Your Instagram Bio
Potential renters don't just use Google to find new apartments, they use Instagram too. They go to the search bar on the explore page a type in "apartments in [city]" and maybe even include a descriptor such as "affordable" or "luxury."
The way you give your property's account the best chance of showing up in a related search is by adding keywords right into the "Name" of your profile's bio. While the label for this section might make you assume you're limited to just having your property's name, there are actually no rules for this section. You can put whatever you want for your bio's name. There's also quite a bit of space you have to work with.
Here are some examples:
Rio Villa Apartments | San Angelo, TX

LVL 29 | Luxury Apartments in Plano

Willow Creek | Affordable Apartments in Austin

Prairie Pride | New Homes in Midlothian

If you feel like your Instagram handle is enough to communicate the name of your property, you could even remove the name entirely and focus more on longer or multiple keywords.
Following these simple steps is a great way to improve your search engine ranking with the social media platforms you're already using. It ultimately makes your content easier to find, allows you to connect with your audience, and helps you build the brand that you're striving towards.