Exploring the Benefits and Drawbacks of Hiring an Inbound Multifamily Marketing
Should I hire an inbound marketing agency? This is a question that comes up naturally as businesses discover the inbound process.
Inbound marketing is a complex and intensive marketing methodology that offers a strong ROI when implemented but can be difficult to navigate. While several businesses opt to utilize the inbound methodology in-house, many others prefer to employ an inbound marketing agency.
As an inbound marketing agency, we admit to being biased in this area. However, the points can be viewed objectively despite this.

The Complexity of Multifamily Inbound Marketing
To take on a multifamily inbound marketing approach, you must first understand what it takes to run a successful campaign. A campaign is comprised of multiple bits and pieces working together to accomplish a specific goal. That goal may vary but should still utilize the same fundamental resources and tools.
Being fundamentally content-focused, people need clarification on multifamily inbound marketing with content marketing. In reality, inbound is much more complex. This methodology utilizes content but relies on a strategy to target that content and use tools like forms, landing pages, and offers to gather pertinent information from prospects to convert them.
The success of inbound content, however, is dependent on other aspects. For example, comprehensive knowledge of your buyer persona's journey and lead qualification for your business is important. Without these factors, your content could fail to attract the desired audience. Or, you may be able to attract the audience but fail to convert and qualify them properly due to asking the wrong questions.
Items like content creation are also heavily dependent on the processes you have in place. Without methods and consistency, you could fail to build a strong foundation. This, in turn, could impact the success of any ongoing campaigns you choose to operate.
What does this mean for your multifamily inbound marketing endeavors? Potentially nothing. Or potentially everything. Several businesses can adopt and enact inbound with great success. Others try and end up using an inbound marketing agency or abandoning this process altogether. The most important factor in your outcome is the level to which you understand the complexities of this strategy.
Taking the Inbound Marketing Agency Approach
If you choose to take the inbound marketing agency route, there are many things to consider: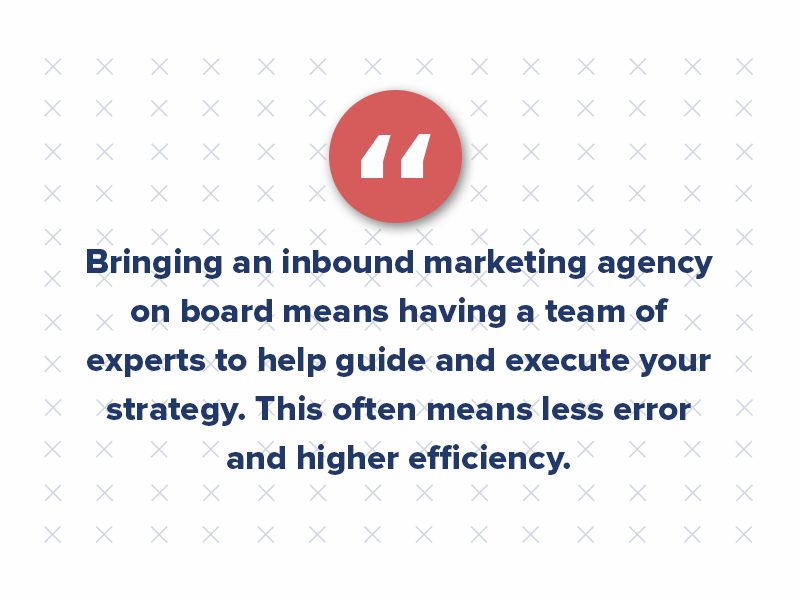 Pros
Bringing an inbound marketing agency on board means having a team of experts to help guide and execute your strategy. This often means less error and higher efficiency.
Hiring a team rather than an individual means having the best of the best to generate your content, including designers, writers, and strategists.
Utilizing a multifamily marketing agency allows you to focus on other business factors.
Using a team of experts ensures that all knowledge in the field is current and up to date.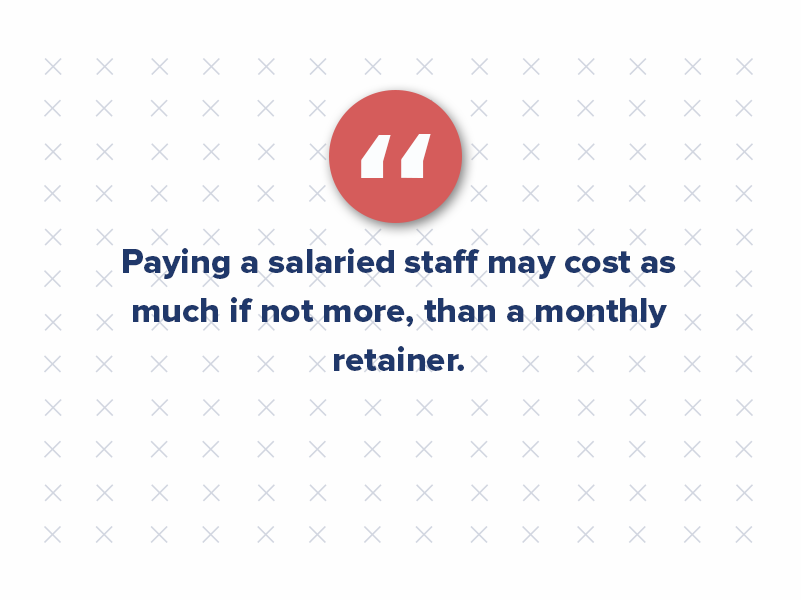 Cons
An inbound marketing agency has the perception of being more expensive than in-house marketers. In reality, if you require hiring a team to implement your strategy, it might be comparable in cost. However, agency retainers tend to cause sticker shock.
When working with an inbound marketing agency, communication gaps may exist. An agency will need time to develop knowledge in your field and to execute your needs, as they are away from the office with you.
Negotiating project scope can be challenging, as agencies must balance their work with other clients. This means that issues may arise when a project is underestimated in hours. This could impact the project and/or your costs.
Agencies require kick-off time to educate themselves on your industry. They must learn about your company to ensure your marketing system is in place.
Taking Inbound In-House
Taking multifamily inbound marketing in-house can be tempting, but this approach has several positive and negative factors.
Pros
In-house marketing communication is much simpler and quicker. You will not have to onboard an agency or worry about passing along the correct information. Instead, the team working on the marketing is local and aware.
Using a marketing manager or a small in-house team means more easily aligning your strategy with other business efforts.
An in-house team may be able to implement strategy more quickly because there's no learning curve.
Your team controls the related decisions, successes, or failures.
Cons
This type of marketing takes time to learn and even more time to perfect. This can be difficult for a team to start.
Paying a salaried staff may cost as much if not more, than a monthly retainer.
If key staff members leave, much training is lost, and replacements may have a different knowledge base.
Your staff will have a different skill depth than professionals to produce top content and design.
An in-house team may also be spread too thin, especially starting. Without a full team, your in-house department will likely wear multiple hats.
The Deciding Factor
If things look pretty even to you now, they are. Choosing an in-house team vs. an inbound marketing agency is simple enough for some companies based on their needs. For others, it's too early to determine which will work best for their company. What is the best thing to do when choosing? Remember your goals, timeline, budget, and plans for scalability to determine which options will meet and support your business.
The True Cost of Doing Inbound In-House
Many businesses need help with the choice of choosing an agency vs. doing the inbound marketing in-house. Some factors impact the success of each option. However, what most businesses need to take into account is cost.
When we discuss cost, we don't necessarily mean the monetary costs of running a campaign (though that certainly is a component). Instead, we mean non-monetary costs like time, resources, staff training, etc. Knowing the significance of these costs on an organization is challenging when deciding which option is best for you.
To understand this, you must first know what your costs are or will be.
Hiring and Training an Apartment Marketing Team
The highest cost to companies looking to do inbound marketing in-house is staffing. This impacts teams without a marketing department and those with an established one. Businesses' most significant concern is bringing a team to use a new strategy like inbound or finding the talent to implement it.
If you already have a team, it means spending money on training. And the training and transition of your team to inbound methods can easily take months. It means hiring and onboarding new staff to implement your plan if you still need a team.
Additionally, adding staff salaries is pricey. The national average wage for a marketing manager is $74,532, per Glassdoor. If you hire a director, that salary can cost you $169,058. Then you must account for the rest of the team — designers, copywriters, strategists, and developers.
Factor in the two to three months it will take for onboarding and add that to those costs. Then consider turnover, additional hiring as needed, and additional training.
Quality and Quantity of In-House Marketing
Another factor to consider is understanding the costs related to workflow variance. There are busy times and lulls, which will impact your team's efficiency and productivity. This can affect the overall return on your apartment marketing investment.
Quality is trickier to quantify or put a number value to directly. However, it is an equally important cost. The quality of your efforts impacts the effectiveness of your strategy. With a newer team, a dip in quality will recover over time but may cost you apartment leads or require additional efforts to meet goals. Ultimately, this means more time spent on the campaign than originally budgeted.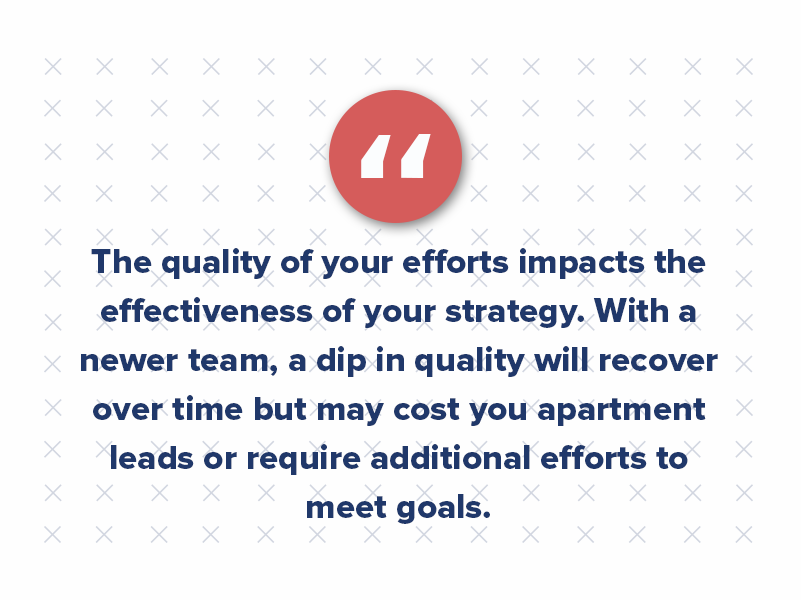 Managing Resources
An inbound marketing agency will have several proven resources, services, and software that are efficient in its processes. Usually, the agency covers these costs and will split and pass the cost amongst each client. However, when doing your marketing in-house, you will be forced to learn which resources work for you and cover the entire cost yourself. This will likely be more than what the agency charges you for its resources.
The reasons for this are widespread. First, you'll likely have more trial and error associated with these resources as you learn the effectiveness of different tools over time. In addition, while an agency will pay a high cost for a high-level tool, that cost spread among many clients will mean a small cost to you. There's also the cost of learning and developing processes for a tool. Finally, the time that goes into finding and researching a tool, learning that tool, and training staff is a cost to you.
Know Your Capabilities
While all these costs aren't necessarily deterrents from bringing multifamily inbound marketing in-house, they are often overlooked. Therefore, when calculating the value of an inbound marketing agency vs. taking it in-house, it's important to analyze the cost and time factors to determine the true impact on your company. You will only truly capture the differential and determine the most effective method.