The internet has officially changed the way potential residents begin their search for a new place to call home. As consumers, we all buy products and make big decisions in a way some never thought was possible. Online has become the front door of all purchase decisions. Blogging, social media, and multifamily marketing are now a must, not an if.

Criterion.B multifamily marketing agency has always been about "bringing the human element" back to the apartment marketing space. Now it's time for property managers and marketers, to build a foundation that embodies this approach — one that humanizes properties in the eyes of its residents, both present and future.
How Your Property Can Stand Out in a Cluttered Market
What are the most general and universal pain points of multifamily marketing?
Differentiating your property from the rest, especially in what can be a rather cluttered market. In a new digital environment, the implications for multifamily marketing are huge.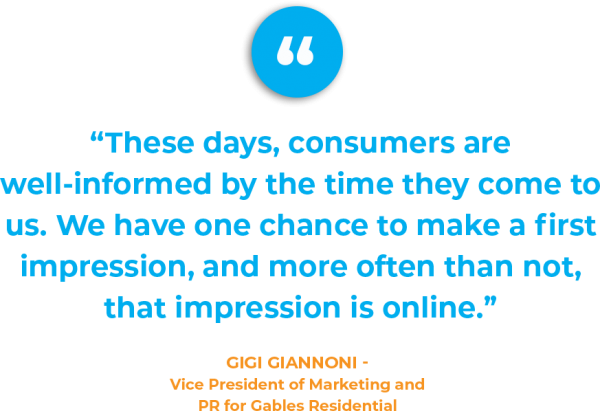 How your property is perceived is determined by several touchpoints: ease of multifamily website navigation, online reviews, responsiveness, tone, and personality conveyed through social media.
What's the number one way to differentiate yourself online? Customer service. No, we're not talking about mediating a resident's maintenance complaint (although that certainly falls under this much larger umbrella). We're talking about "customer service" as a proactive approach to leasing and community engagement.
Here are six things to consider as you change the way you promote your properties to differentiate yourself in the market:
1. Inbound multifamily marketing is here and quite frankly, it's the future.
The digital advertising world has changed and inbound multifamily marketing is a shift in the way business is being done. 
Not sure what inbound multifamily marketing is exactly? Learn more here.
2. Residents are more connected and opinionated than ever before.
Potential residents are coming to us more informed, more connected, and more opinionated than ever before. That means our multifamily marketing tactics and methodology needs to change too.
3. Multifamily marketing should never be an interruption.
We are done with interrupting the lives of potential residents and shouting the loudest in an effort to have advertising messages heard … it's rude! We get it. We are all human beings who want relevant content delivered when we want it, on our terms. Meet your prospective residents where they already are and serve them informative, relevant content on their terms.

4. People matter. They're not just another statistic in a database.
Potential residents should never be looked at as an entry in a database or a contact in a CRM (Customer Relationship Manager). Multifamily marketing messaging is meant to connect and provide powerful content that is useful and relevant to their problems. All the while, it's helping transform your properties through real and honest data.
What renters perceive is reality to them, which is why it is important to ensure your residents feel comfortable and welcome at your property. This requires properties to anticipate the needs of community members, and the best way to do that is to get to know them.
5. Service and resident experience outweigh material amenities.
Amenities are not the point of differentiation in today's saturated market; amenities have become a necessity. Properties need to take a customer service approach that permeates every aspect of their operation: prospecting renters, leasing, community engagement, and planning resident events.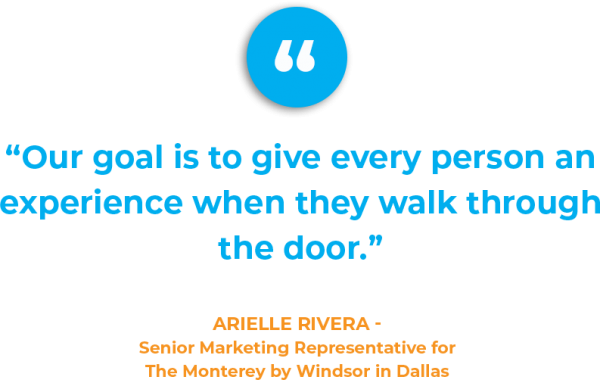 6. Trust is key in building the tools for a sustainable future.
Earning trust is important, every step of the way. Trust is essential for building relationships, which are the essence of inbound multifamily marketing. By building relationships with your residents, you're building a sustainable future.
Instead of spending budgets heavily on the traditional multifamily marketing tactics of trade shows, print campaigns, direct mail, and cold calling, we need to shift rapidly towards a medium that allows for an inbound approach to targeting, interacting, and influencing consumers' decisions. After all, content is king.
The multifamily marketing world has changed. It is time to embrace the future.
A Digital Multifamily Marketing Foundation
Here's the key takeaway: When you know what's important to your residents, you can serve them better than anyone else. Whether we're talking about web design, social media, online advertising, or meeting millennial expectations, this internalized customer-centric approach will be the common thread.
The shift towards becoming a truly customer-centric organization is both complex and long, however, even the smallest changes can have a significant benefit on your property management team, as well as your residents.
Being a customer-centric property is the Holy Grail towards unlocking the true potential of resident value. Always put yourself in the shoes of potential and current residents, and soon your property will stand out from the rest.