Why You Should Invest in Professional Multifamily Branding Services
Multifamily branding is not just a "destination." But it's also not just a "journey."
We've said it before, and we'll say it again: multifamily branding involves way more than an apartment logo or flowery brochure.
It's about telling a brand story that resonates with your residents, building a brand identity that stands the test of time, and creating an honest brand from the inside out that your residents and prospects will trust.

If you want to be on the right side of multifamily branding, you need to invest in the services of a professional multifamily branding agency.
Hiring a top-tier multifamily branding agency can be stressful. We know from our clients that deciding to bring on an outside agency in the first place — let alone deciding which one to hire — is a big decision.
First of all, it's a marketing cost that you might not have included in the initial budget. Secondly, shifting work on something as integral to a property as its multifamily brand raises fear of losing control to a team that's not in your property management office.
Key to making a case for hiring a multifamily branding agency is recognizing that an agency with the right experience and creativity will help generate more apartment leads in the long run, and can be one of the most important investments you make.
Here are a few more reasons why hiring our multifamily branding agency to take you on this branding adventure (or "brand-venture," if you will) could be the best decision you've ever made for your property:
1. We're truly passionate about multifamily.
Criterion.B is a digital marketing and branding agency specializing in the multifamily industry. We got our name in 2017; however, our story began nine years earlier in 2008. Known as Canonball Creative at the time, we started as a digital agency serving ad agencies. Digital marketing was starting to take off, and the larger agencies needed help navigating the market. This provided us with invaluable experience as we were able to work on some of the world's largest brands, including Coca-Cola, McDonald's, Samsung, and Pepsi, to name a few.
We specialized in building out difficult online assets in a way that would stay true to the agencies' rigid creative guidelines. By 2014, we had already worked with a few big names in the multifamily market, such as Amli and UDR, due to the relationships we made through our ad agency connections. Then, we decided to pivot into building our direct client base with a focus on multifamily.
Over the next few years, we invested heavily in the multifamily industry. We attended every conference we could find, joined associations, wrote for as many association publications as we could, interviewed key marketing professionals on the client side, and wrote hundreds of blogs focused on multifamily marketing.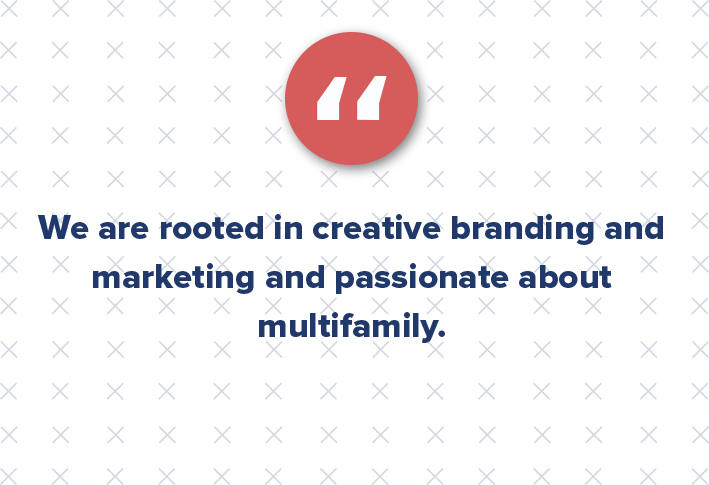 In 2017, we made it official by changing our business name to Criterion.B and pivoting our focus entirely to serving the multifamily market.
In short: We are rooted in creative branding and marketing and passionate about multifamily. It's the perfect pairing that makes us the perfect partner for your property.
2. We're backed by the best clients.
Whether you need marketing collateral designed and printed, new swag for your property, or a full brand development package, our multifamily branding agency is ready to serve as an extension of your team to ensure consistency and positive results.
We don't work for our clients; we work with them to create an honest, recognizable, and beautiful brand from the ground up.
Take NE Development as one example. NE Development is a premier multifamily developer in the North Dallas area. Their high-rise project in Dallas' exploding Legacy West area, LVL 29, offers luxury living like no other. Criterion.B has worked with NE Development from the early phases of the project to the high-rise coming on line in early 2019 — through to today.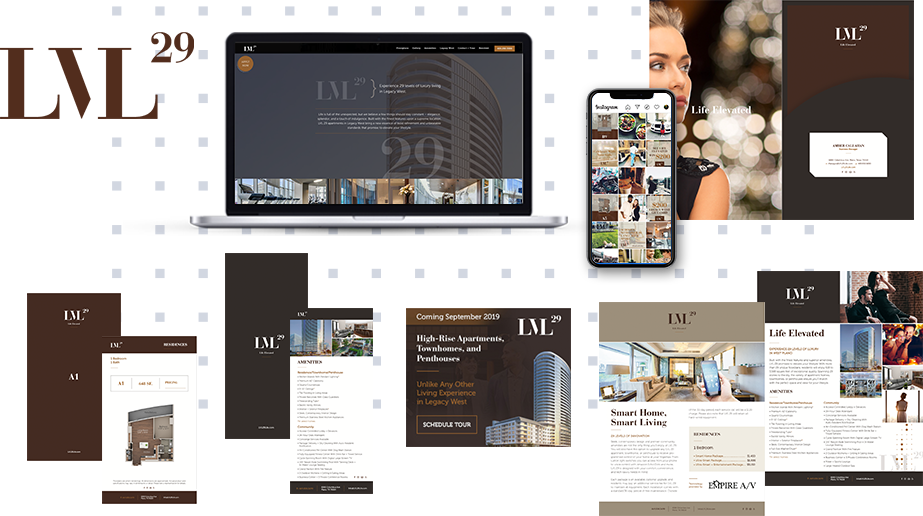 Our multifamily branding agency was tasked with helping NE Development inspire elegance, splendor, and a touch of indulgence in all brand elements of LVL 29, from naming and brand development to website, collateral, social media management, and signage design.
Criterion.B has worked with the LVL 29 team from groundbreaking and development to lease-up and beyond. From building the brand elements to managing social media content, we continue to help LVL 29 grow to new heights — and it all started with building a bold brand.

3. We offer more than just one-off multifamily branding projects.
Looking for a jack of all trades agency that specializes in exactly what your property needs? You've come to the right place.
We know that a great brand and name is recognizable, unique, meaningful, and can stand the test of time; it goes beyond just the apartment logo stamped across promotional items. Through research and brand strategy, we help build a multifamily brand that connects with your customers.
At Criterion.B, we take your mission, vision, and goals and translate that into a design that will fuel the direction and growth of your new property. Investing the time into the development of your multifamily brand will not only align your internal and external audiences but will drive tangible results to your bottom line.
Here is a quick snapshot of the multifamily branding services we offer: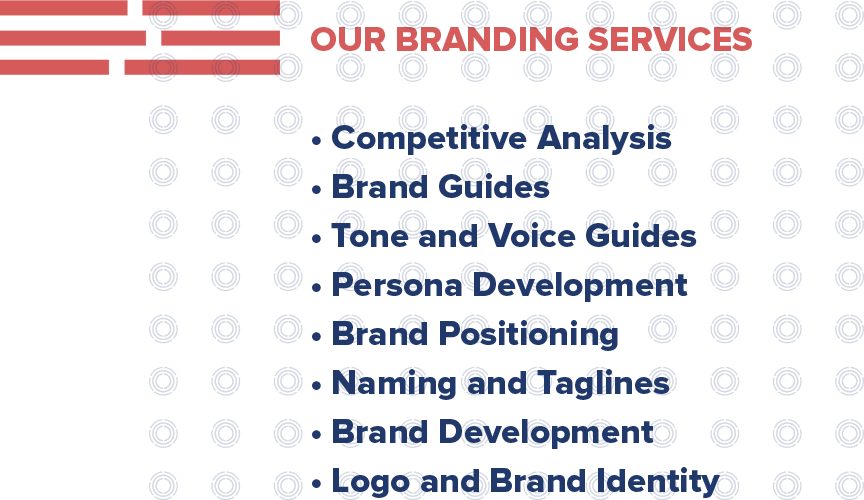 4. We bring 100 years of combined experience to the table.
Our multifamily marketing agency is backed by a passionate team of creative professionals. We specialize in multifamily branding new developments from the ground up. Ultimately, we believe in building your brand into one that residents can trust and love.
We've seen a thing or two as professional marketers with more than 100 years of combined experience. We know what makes your organization tick and the best branding elements to edge out the competition. We are passionate about creating a brand that exceeds your expectations (and ultimately your goals) because your success is our success.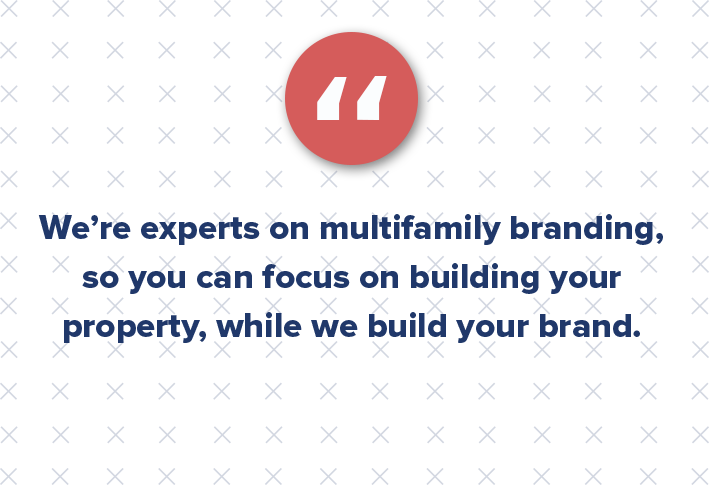 Essentially, we're experts on multifamily branding, so you can focus on building your property (and leases), while we build your brand. No muss, no fuss, no hassle!
5. We understand that branding is about the journey AND the destination.
At Criterion.B, we maximize the multifamily branding potential of your real estate portfolio — whether as a developer, investor, owner, or property management company. Our passion is to blend restless creativity with remarkable multifamily branding to drive awareness, and apartment leads to your property.
We're here for you with anything you need — whether that be branding and marketing help, printing, or even just a friend to brainstorm ideas with.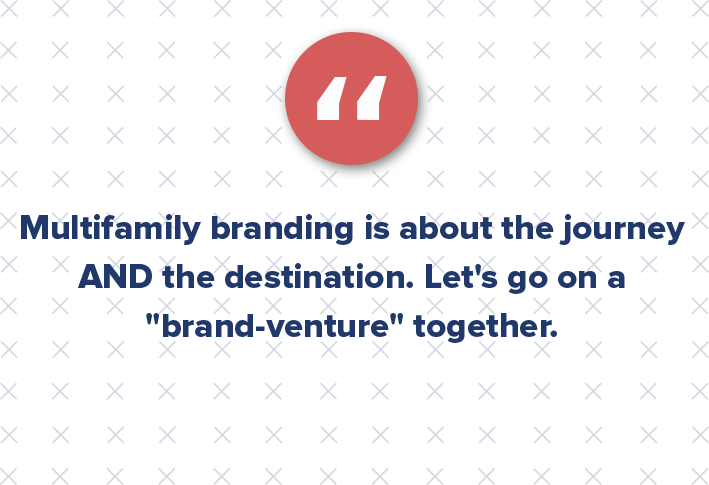 Because we know that building a multifamily brand is a journey that must be traveled (no matter how complex it may be) and we were built for this adventure.