Winning Tactics to Attract More Gen Z Renters to Your Property
The oldest members of Gen Z are turning 25 this year. They were only seven years old when Facebook launched; they have never known a time before the internet.
And guess what else? They're going to be the largest generation of apartment renters the industry has ever seen.
We just adapted to millennial renters, and now here comes Generation Z in full force. Before long, it will be time to adapt again to Generation Alpha (AKA "mini millennials") but let's not get too far ahead of ourselves.

Meet your Gen Z renters
First, who are your Gen Z renters? They're the buzzed-about generation, and rightfully so, with $360 billion in disposable income. And Gen Z's spending power is continuously on the rise.
While millennials have historically garnered all the attention from multifamily apartment properties, Generation Z has started to overtake the rental market. This age group is typically born between the mid-1990s and 2010.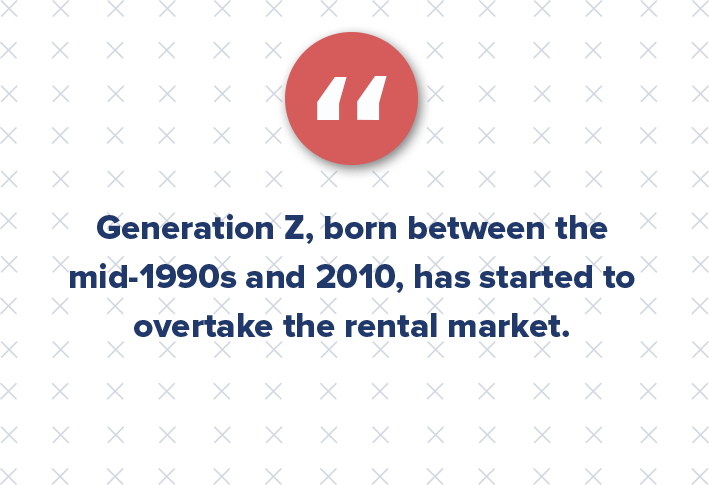 When comparing them to previous generations, online connectivity emerges as the defining characteristic. As such, this young population should definitely be an extremely important part of your apartment marketing strategy.
Gen Z by the numbers
Let's consider a few stats from a recent rentcafe.com survey of 2,500 Gen Z renters:
39% of Gen Z renters searched Google for their next apartment while 27% specifically went to apartment search websites.

52% of Gen Z said they prefer non-agent apartment tours (e.g., self-guided or virtual tour options).

30% of this generation check ratings and reviews first as compared with 28% of millennials and 25% of Gen X.

62% of Gen Z said apartment technology is either "extremely important" or "very important."

The No. 1 most important amenity to Gen Z renters is high-speed internet, followed closely by garage and parking.

36% of Gen Z renters said

Instagram

is their No. 1 social media platform of choice.

Smart locks and smart thermostats are twice as important to Gen Z as they are to millennials or Gen X.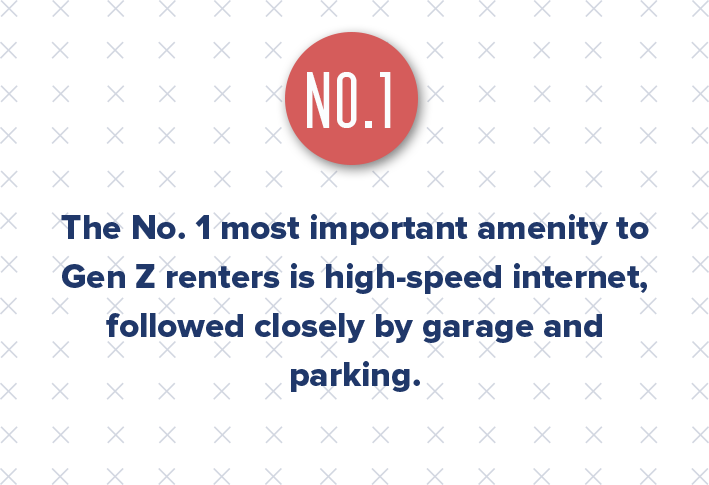 What do Gen Z renters want?
Gen Z renters are looking for efficiency in the leasing process, new communication channels, and enhanced amenities. As these young adults continue to enter the rental market, it will become increasingly important for you to understand their expectations.
1. Smart technology
Now is the time to get ahead on your smart apartment technology and high-speed internet connectivity, as these amenities are more important to Gen Z renters than gyms, pools, and coffee bars.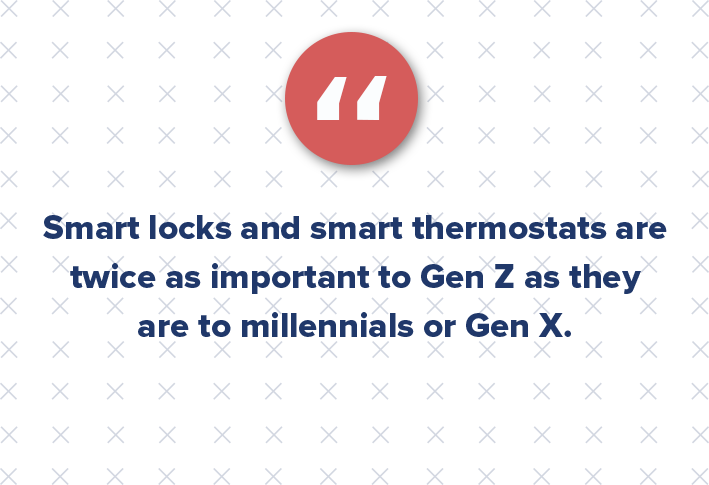 2. Mobile-first strategy
Gen Z's technology use is fast-evolving both consumer marketing and the real estate industry as a whole. Smartphones are considered an extension of the body. Gen Z touches their smartphones 45 times a day on average for communication, entertainment, and informational purposes. About 29% of Gen Z are on their phones after midnight every night, and 31% said they feel uncomfortable if they are without their phone for 30 minutes or less.
If these stats don't tell you to prioritize your mobile-first website, we don't know what will!
3. More activity on social media
Social media is a natural forum for Gen Z to interact with their friends and with companies. In fact, their preferred method of communication is on social media rather than in person (even when it comes to their friends and family). This generation's lifestyles and technology habits are causing us to rethink the way we approach brand development, particularly in real estate.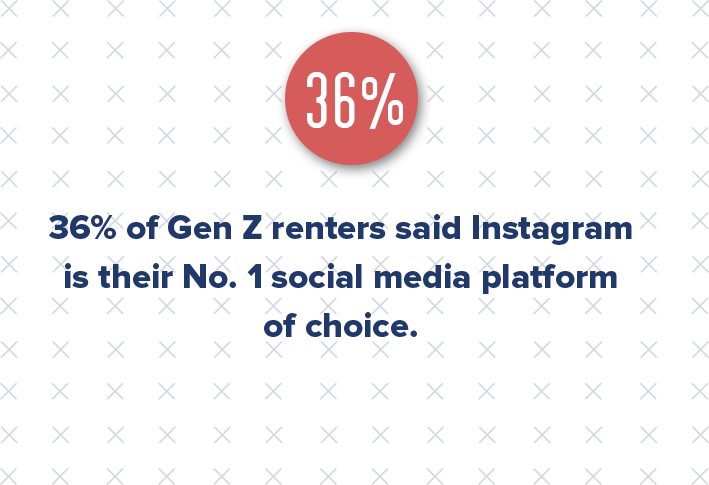 With technology at their fingertips, everything of interest to Generation Z is connected to social media. Your apartment marketing should focus extensively on the most popular social media platforms (i.e., Facebook, Instagram, Snapchat, and TikTok) and continually adapt as new social tools gain popularity.
While these young adults are known for their multitasking abilities when juggling various social platforms at once, they are also known for "scrolling." Your social media ads should, therefore, be attention-grabbing and specific. Hone in on your core message quickly or risk losing engagement. For best results, focus your apartment marketing efforts on videos and other visually appealing content. 
4. Rent longer. Rent by choice.
Aside from being the most coveted demographic, they're also the most baffling for a traditional multifamily industry to understand. Compared to the generations before them, changing lifestyle preferences are beginning to propel several trends in multifamily development.
Gen Z is poised to rent longer than generations before them, and oftentimes by choice. If you compare it to the millennial generation, who waited longer to get married and start a family, Gen Z is expected to follow in a similar path. This trend will undoubtedly extend their rental lifetime well into their professional years.
5. More tour options and an adaptable leasing process
With over half of Gen Z renters preferring non-agent apartment tours, it will be up to your property to adapt and offer a mix of in-person, self-guided, and virtual tour options to increase conversions.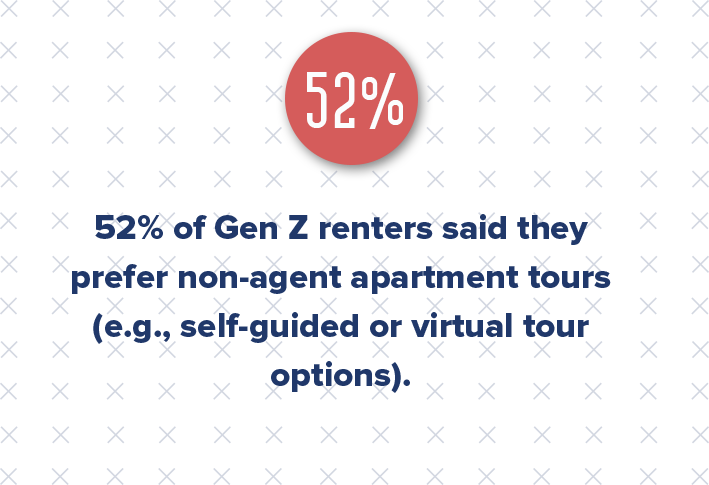 A mobile-first strategy is also important to consider when it comes to communication and the leasing process. Gen Z is unlikely to hand-write a rent check or manually fill out a leasing application. They expect everything online, which includes leasing paperwork and payments.
Marketing to Gen Z renters
Gen Z lifestyle preferences are driving key changes in multifamily development, but what does that mean for multifamily marketing? Quite simply, if you understand what's important to them, then you can understand how to attract them. This is how to maintain a customer-centric approach.
Keep in mind, however, that being familiar with multifamily marketing trends is only a starting point. Your greatest demographic insights will come from the research you do yourself. The best way to conduct research about your target market is to develop resident personas. You can learn all about developing personas on our blog.
Again, when we know what's important to prospective residents, we can understand how to attract and engage them.