3 Twitter Social Media Marketing Features You Should Already Be Using
As a multifamily property manager, staying on top of the latest Twitter marketing trends and social media platforms is important. Twitter is one of the most powerful and widely used social networks in the world, offering multifamily marketers an excellent opportunity to reach potential residents. From engaging with prospects to showcasing your properties, Twitter marketing services can provide you with various benefits.

With Twitter, engagement is directed toward a broader community: residents, local businesses, other properties, corporate management offices, the multifamily industry, etc. While Facebook is predominantly B2C (business to consumer), Twitter social media marketing incorporates more B2B (business to business).
Understanding the basics of Twitter
Twitter is a social media platform that allows users to share short messages limited to 280 characters. Users range from individuals to major corporations, and they can follow or subscribe to each other's updates.
Hashtags allow users to carry on conversations with larger groups, and Twitter's retweet feature enables messages to bridge networks of people quickly. You can also use trending hashtags that are related to current events or popular topics, which can help get more eyes on your posts and boost engagement levels as well.
Twitter marketing lends well to news-like updates, quick conversations, and viral messages. Several multifamily properties have found their way onto Twitter, and our Twitter marketing agency is frequently asked for direction on its use.
What are the use cases for Twitter?
Important updates: While residents are one of many audiences on Twitter, they're still important. Twitter is an excellent tool for sharing information updates, including upcoming resident events, inclement weather, or reminders about daylight savings time. Quick thoughts and well wishes (e.g., Happy holidays! Safe travels, everyone!) are also conducive to the platform.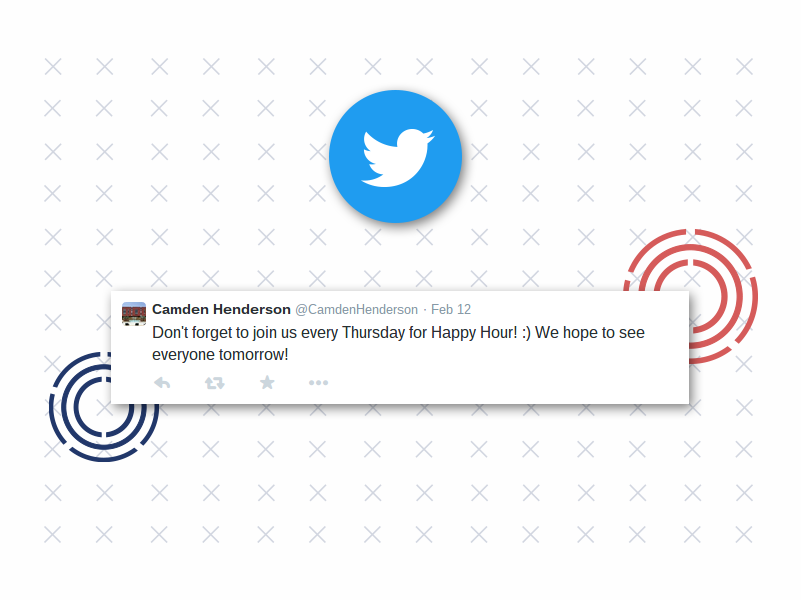 Community engagement: Begin following and interacting with local businesses. Your multifamily property is part of a larger community, so it's important to be a good community member. Support local events by spreading the word, and sharing business specials when they're relevant to your residents or your community. You'd be surprised how much support you'll receive in return, both online and off.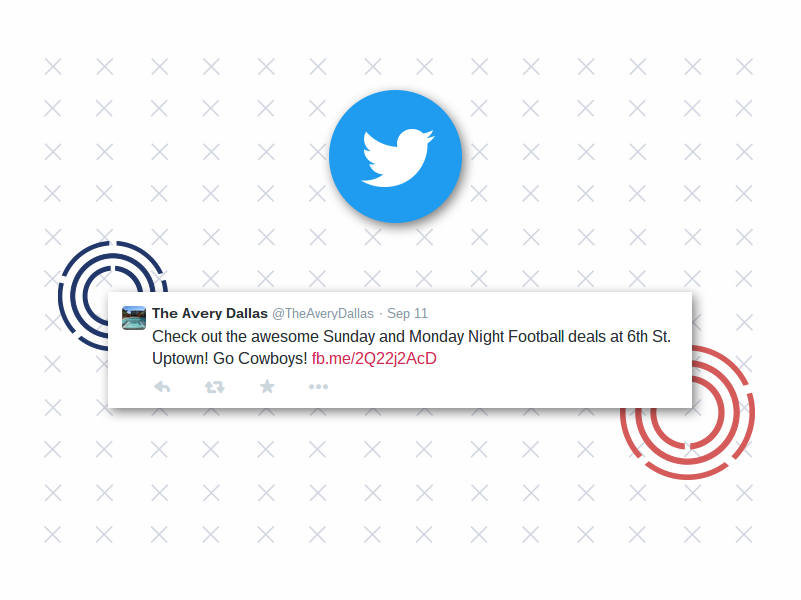 Environmental scanning: Twitter marketing is a wonderful tool for monitoring conversations surrounding your property, city, and industry. What are people saying about your property? Banter the good, and address the bad. It's important always to respond. Is someone searching for apartments in Uptown Dallas? Perhaps you could be the one to reach out and offer to answer any questions they have about the neighborhood. A simple keyword search allows you to keep an eye on conversations that might be relevant to you.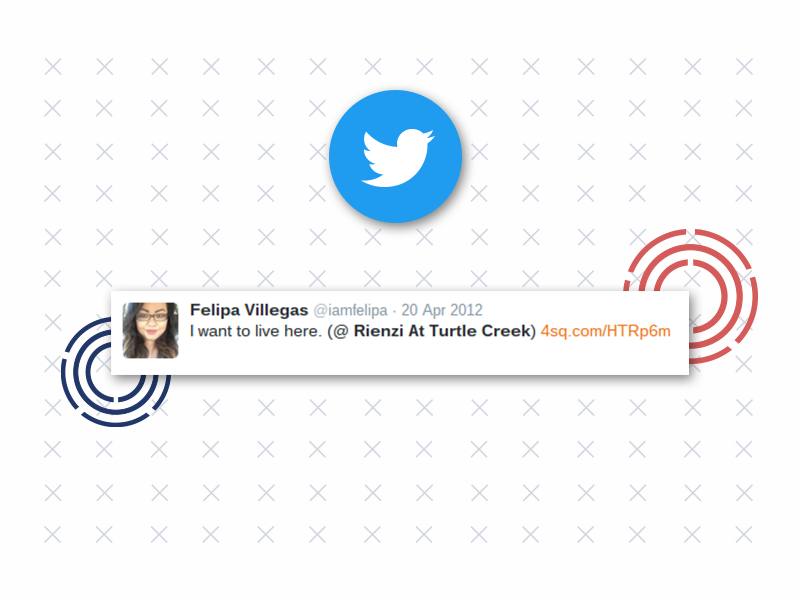 Cross-platform promotion: Twitter is a great way to spread the word about your actions on other platforms. If your property keeps a blog or if you're holding a contest on Facebook or Instagram, Twitter is a great platform for sharing links or sending out reminders.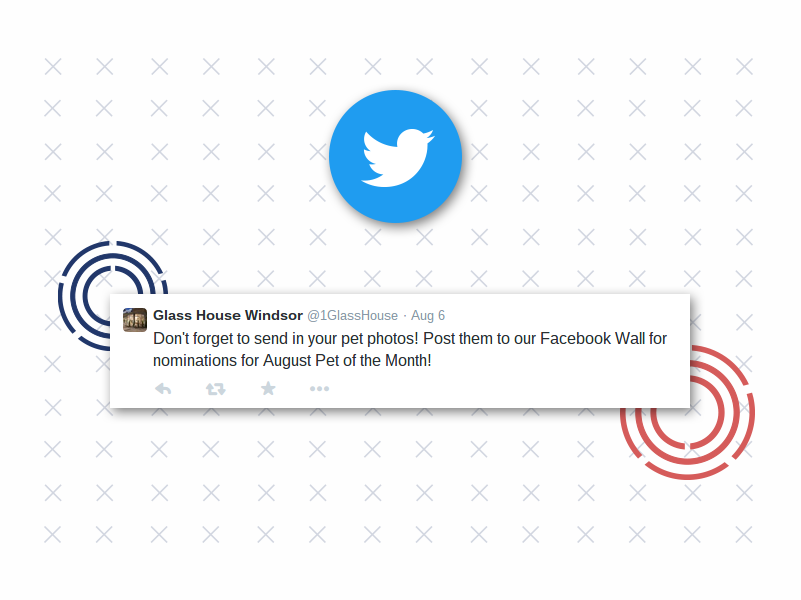 Displaying your personality: When interacting on Twitter, people should feel like they correspond with a person, not a business. Be friendly, be personable, and be neighborly. Remember that social media is a cocktail party, so take the time to get to know the other party members. The customer-centric approach pays off through relationships, the foundation for referrals, retention, and leasing. Trust us on this one.
Lead generation: You can also use Twitter's targeted advertising features to reach new audiences interested in renting an apartment home at your property. With targeted ads, you can select certain demographic criteria such as age, location, gender, etc., which allows you to target specific users who are likely interested in renting from your property. This helps ensure that your ad spend is efficient and effective by focusing on users who are more likely to convert into leads or tenants for your property.
Don't forget that social media activity improves your SEO (search engine optimization) — that is, the likelihood that your property will appear near the top of search engine rankings. This is important because it helps more people find your property.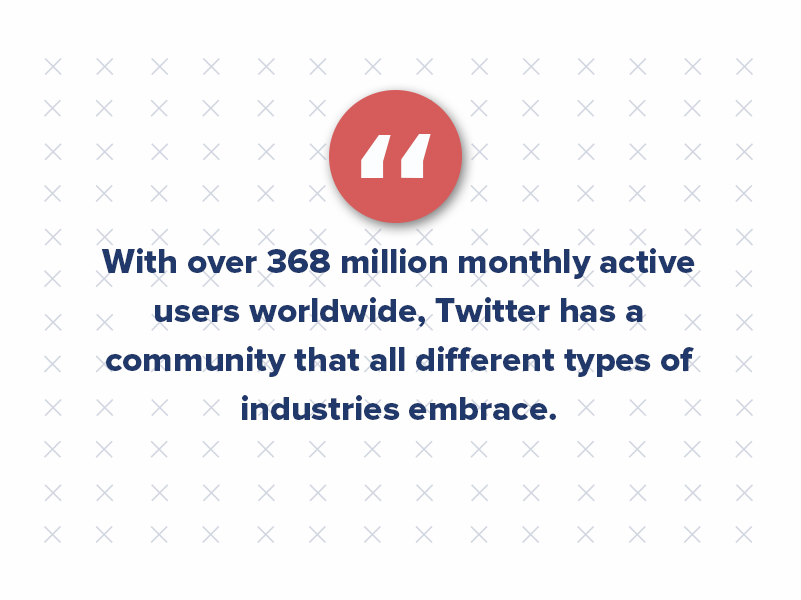 Who is using Twitter?
Twitter is an amazing place. With over 368 million monthly active users worldwide, Twitter has an active community that all different types of people embrace.
Almost every type of industry has a community on Twitter, including engineers, multifamily marketing professionals, fashion designers, lawyers, and even realtors. But how can these industries use Twitter to their benefit and gain something positive out of a social network?
We've talked a lot about social media and how it benefits the multifamily market, but let's talk about one specific thing that may interest realtors, developers, and everyone: Tweetchats.
What are the benefits of Tweetchats?
Twitter (Tweet) chats have been around for years and are continually rising in popularity.
Tweetchats are scheduled, moderated conversations about a specific topic. Any Twitter user is welcome to join any Tweetchat of their choice, but it's a chance for users to connect with influencers and other uses and converse over similar interests. For instance, a Tweetchat about community fitness will probably bring groups of social runners and yoga lovers together to talk about health and wellness in community settings.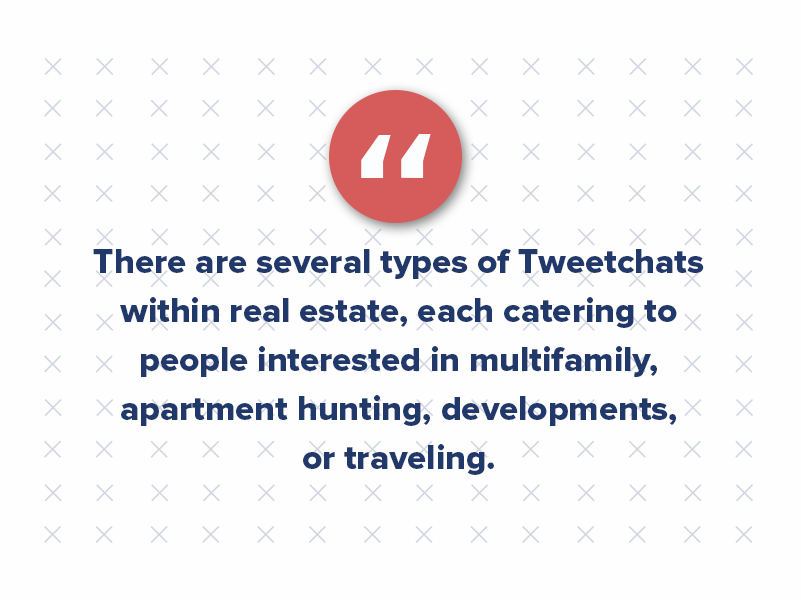 How to get involved in Tweetchats
There are several types of Tweetchats within real estate, each catering to people interested in multifamily, apartment hunting, developments, or traveling. However, Tweetchats are scheduled at a certain time each week. Make sure to find out when exactly your chat is and add it to your calendar. There are a few websites out there that list almost every Tweetchat created and their time.
Questions & Answers
The format for a Tweetchat is fairly simple to understand: a moderator from a single Twitter account usually tweets out questions for other users to respond to. Using the form "Q1" or "Q2", moderators can let you know what question they're on, and you reply to those questions with "A1", "A2", or whichever number corresponds to the question. This makes it easy for other participants to understand what everyone is responding to and ultimately helps everything stay organized.
Engage With Others
So you're answering the questions and getting favorites on your Tweets and maybe a few replies. What do you do now? Engage with them! This is when you can interact with the rest of the community, reply to interesting answers you see, and favorite some tweets that catch your attention. Overall, it's your chance to get your name out there, grow your following, and make some connections.
While you may think Tweetchats won't help people in the industry, it's still important to know that a social presence benefits all types of professionals. With the digital age constantly evolving, multifamily must stay on their toes; engaging with the community through social media is one way to stay up-to-date.
Beyond Tweetchats: What are the latest Twitter features you should be using?
With countless tools and features at your disposal, it's no wonder that many businesses are taking advantage of Twitter social media marketing to boost their reach. So what are some of the newest features? And how should your property be using them? Let's take a look.
Tweet Threads
The tweet thread feature allows you to create longer messages by connecting multiple tweets in one thread. This is great for sharing lengthy stories that would otherwise be too long for a single tweet. To do this, hit the "add another tweet" button when composing a tweet and start adding more content. You can also add images and videos to make your threads more engaging.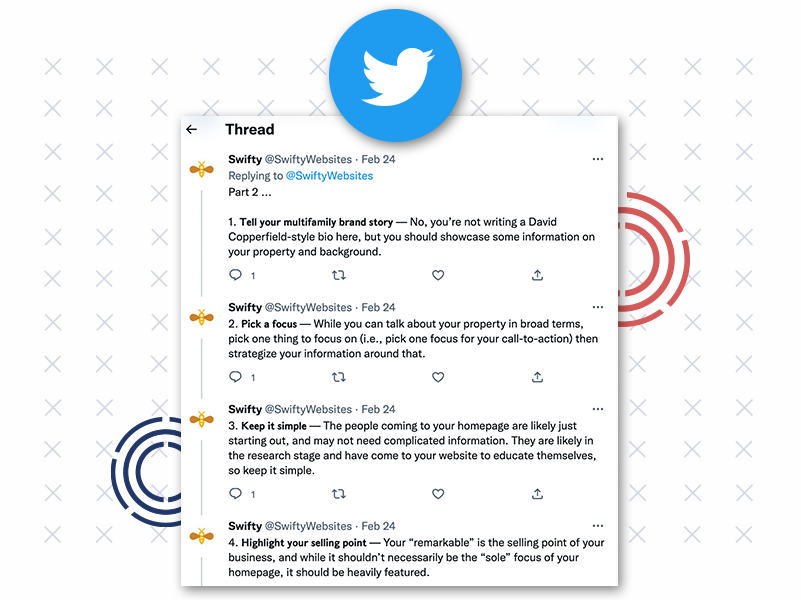 Twitter Polls
Twitter polls allow you to gather feedback from followers quickly and easily without having to send surveys or contact people directly. You can ask simple questions with a few options for responses or complex ones with up to four answers each. This is a great way to get valuable insights into what potential renters may be looking for in an apartment complex or what amenities they prioritize if given a chance.
Moments
Moments are collections of related tweets about noteworthy topics, such as events, trends, or announcements from around the world or within your community. They can be shared through links and hashtags, and embedded on websites, making them highly visible and easy to access. This is an excellent opportunity to showcase some of the events happening at your property, like upcoming concerts or weekend activities, so that you can reach new audiences who may not already be following you on Twitter.
Add Twitter to your multifamily marketing toolbox
Twitter marketing services is simply another tool in your multifamily marketing toolbox, and it has the power to foster relationships and positive word-of-mouth. With the ever-growing community on Twitter, it's important to put yourself out there and interact with your residents.
Twitter social media marketing has endless possibilities for getting your message out there — but only if you know how to use its tools effectively. By taking advantage of new features, you can unlock powerful opportunities that will help get your property noticed by potential renters who may not have been aware of it.