6 Marketing Ideas for Apartments to Incorporate Into Your Facebook Strategy (#3 Might Give You a New Perspective)
Despite the economic climate, now is not the time for apartment communities to ignore social media.
In fact, Atlanta-based RangeWater Real Estate decided not to cut its budget in early 2020 at the start of the COVID-19 pandemic — a risky decision for an apartment marketer to make during a global crisis.

However, this seemingly "big risk" reaped big rewards for RangeWater Real Estate. The company saw a 35% increase in overall impression share across most of its submarkets between April and May 2020. Additionally, the company's apartment communities appeared on Page 1 of search results more frequently than before — the ultimate win for any property.
In short, RangeWater was able to attract a larger percentage of leads using the same budget despite a huge upheaval in the economy. How did they accomplish this?
Below, we've compiled some of our best marketing ideas for apartments and how to effectively use Facebook to bolster your apartment marketing strategy.
Making the Most of Your Facebook Strategy
Facebook connects more people with businesses than any company ever has in the past. Businesses know this fact, which has caused brands to constantly rethink their Facebook strategy every year.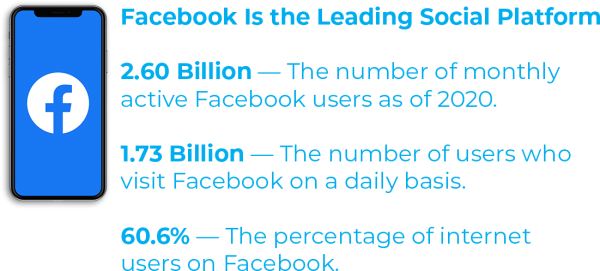 Are Your Residents Still on Facebook?
Despite trendy platforms like Snapchat and TikTok gaining popularity among young adults, Facebook is still a relevant social media channel among your renters. According to Statista data, 65% of Facebook users are under the age of 35. This means your millennial and generation Z residents still use Facebook actively.

However, as the multifamily market shifts and renters' needs evolve, so too does Facebook. It's critical for multifamily marketers to stay ahead of the game to ensure they make the most of their Facebook strategy.
But even knowing how important social media is, how can you best use Facebook to your marketing advantage? Below, we've outlined some of our top marketing ideas for apartments and how to incorporate these tips into your Facebook strategy:
1. Always remember the 80/20 Rule.
Social media management should be treated like a cocktail party. You need to take the time to meet the other people at the party (residents, neighborhood businesses, new millennials, Gen Z renters, etc.) rather than monopolize the conversation. Only when the conversation presents itself should you share what makes your community so great.
From recommendations and leasing details to customer service and reviews, renters are turning to social media for property information, and this trend will only continue as a younger, social-media-savvy generation gets older.
In the meantime, be a resource for your residents. Publish fresh, helpful content to inspire and engage your current and prospective residents.
2. Practice patience and consistently engage with your followers.
Years ago, you were finding residents. Nowadays, residents are finding you. People are searching online for places to live, and it has become the apartment's job to intercept them. You do this by providing fresh content, sharing helpful information, and having conversations.
Multifamily professionals who have dabbled in social media will claim that it doesn't bring them any conversions. However, keep in mind that social media is not about the sale; it's about engagement and customer experience. When you successfully and consistently engage with your residents online and share quality content, their byproducts are relationships, referrals, leases, and retention.

Any good salesman will tell you that relationship-building drives sales. And Facebook is an optimal relationship-building platform.
3. Focus on the qualitative aspects of your residents.
Who are your residents? We don't just mean demographically, although that too can be important. Instead, you really want to focus more on the qualitative aspects of your residents.
What kind of lifestyle do they have?

What are their hobbies?

What are the things that cause them stress or trouble as residents?
This is where your resident buyer personas come in handy. If your community is home to several working professionals, helpful content may come in the form of quick-and-easy dinner recipes. If your community is home to several dog owners, you could share an interactive map of the dog parks in your city. The information you share should be a mix of content you create and content you aggregate.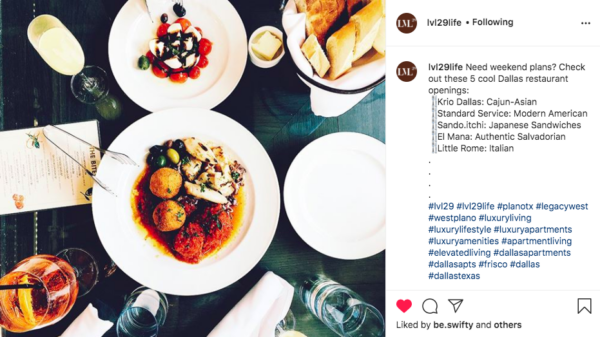 4. Share community events and partner with local businesses.
Your residents shouldn't have to rely on the local news for happenings. Are there any upcoming events that you can pass along to your residents — festivals, charity events, happy hours? Find things that are within walking distance or close proximity to your property.
Sharing helpful content could be as simple as re-posting farmer's market hours, sharing restaurant specials, or providing tips and tricks for navigating the local flea market. Searching Facebook events for local on-goings is another great and easy way to find shareable content your residents will find useful.
You could also try partnering with local businesses to arrange special discounts for your residents; this provides great content for sharing on Facebook.
5. Publish property updates.
Yes, we know we've advised against talking about yourself, however, this form of self-promotion is very different. Instead of telling everyone how great you are, show them.
Try posting photos from last week's movie event showcases, or get some shots of residents enjoying a nice day by the pool. Are you giving away free donuts and orange juice in the leasing office? Share that, too! Your property's social calendar paints a picture of resident life and engagement, and it gives insight into your property culture. Isn't that what you'd like new residents to stumble upon when they're researching your property?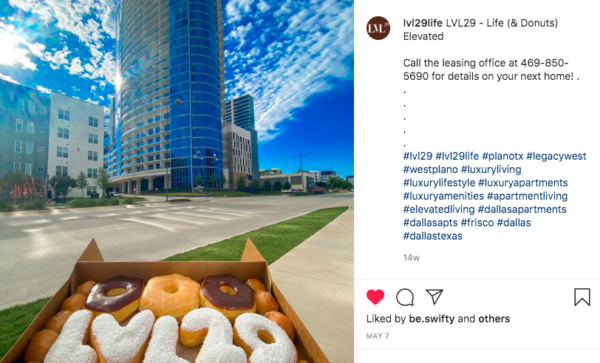 6. Take advantage of Facebook Advertising to bring in more apartment leads.
A social presence is a great tool for properties looking to improve their lease-up. But sometimes, just posting and sharing isn't enough. Without a decent following or active residents, your social media efforts might be falling on deaf ears. Thankfully, there's Facebook Advertising to help.
Facebook brought in $17.44 billion in ad revenue in the first quarter of 2020, a 17% year-over-year increase from the first quarter of 2019.
Facebook did experience a "significant" fall in the demand for advertising in March amid COVID-19, but data from April indicates that demand is already returning to normal.
Paid social media ads can seem overwhelming or a huge investment, but Facebook has done a great job of making its ads cheap and available to a wide audience. There is any number of ad types to run, and they can make a difference in giving your social media reach.
If your Facebook is new, a "Page Likes" campaign can be key to helping you get followers that will see your content by encouraging them to like your page. This can greatly increase your reach for a couple of dollars per like.

Similarly, if you have a particularly well-performing, helpful piece of content, boosting that post for a few dollars can expand its reach to hundreds or thousands of others in your area. While you should not dump all your time and resources into ads, running some every so often can be key to giving your Facebook strategy that extra edge it needs.
You can also launch a giveaway campaign to promote Page Likes. Last year, Criterion.B hosted a Facebook giveaway for one apartment community client. The giveaway consisted of a swag basket followers could win by liking the apartment community's Facebook Page and tagging their friends in the post to increase awareness.
At the start of the campaign, the apartment community had only 450 Likes. Within two months, that number increased to nearly 700.
Convert More Apartment Leads Into Leases With a Successful Facebook Strategy
The benefits of utilizing Facebook are two-fold: not only does it foster resident relationships (and retention), but it provides a window for prospective residents to peer into your community. With Facebook, we embrace this customer-centric approach that lays the foundation for all of our digital multifamily marketing efforts.
With the right Facebook strategy and these marketing ideas for apartments, you can better position yourself to become a valued resource for followers and ultimately convert more apartment leads into tours and leases.