New Urbanism: Bringing New Life to Urban Living
Trends come and go, but sometimes they turn into a lifestyle. Improved urban living and environmental efforts are rising, but will they last?
As an apartment marketing agency, Criterion.B's expertise in multifamily marketing and real estate gives us great insight into what's coming and phasing out. 

The New Urbanism movement is a trend that is rapidly gaining popularity. This urban planning philosophy seeks to create walkable, mixed-use communities that are sustainable, efficient, and livable.
The trend inspires remarkable change in urban planning, sustainability, and multifamily development, providing an alternative to the traditional suburban living model. And it just might be here to stay.
What are this new-urban renewal plan's challenges, benefits, and concerns?
The Background of New Urbanism
The movement has garnered new life since it gained momentum roughly 25 years ago. Before the late '80s and early '90s, the urban environment was typically avoided and crime-ridden; the suburbs remained the hub for retail, restaurants, and recreation. 
However, New Urbanism changed that by replacing negative city stigmas with fresh architecture, cleaner streets, and green initiatives. As a result, a renewed concept of urban living emerged. New Urbanism brought new life to the city, and Americans flocked to experience this lifestyle.
Benefits of New Urbanism in Multifamily Development
The New Urbanism trend attracts much interest from developers, investors, and homebuyers alike. One of the key benefits of this trend is that it creates a more walkable and livable environment. Residents can walk to work, shopping, dining, and entertainment destinations, reducing their reliance on cars and improving their quality of life.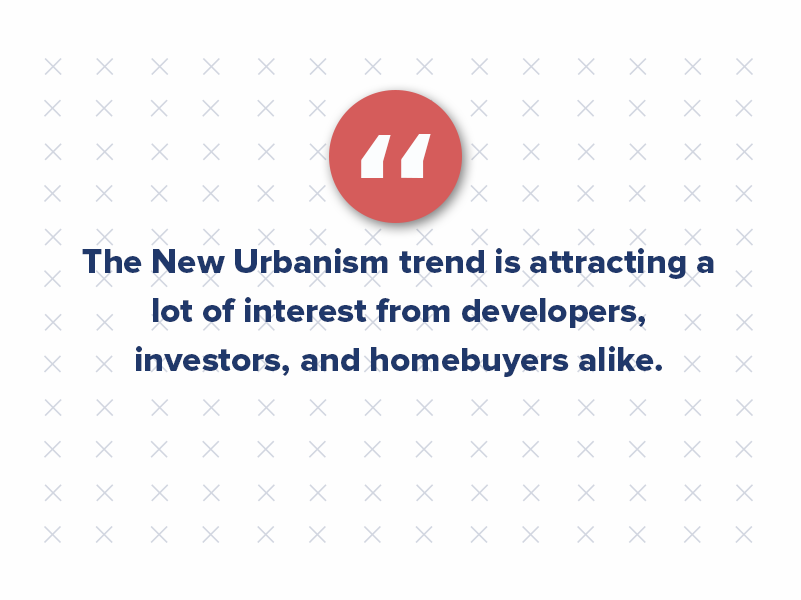 In addition, New Urbanism encourages public transportation, making it easier for residents to get around without a car. This helps reduce traffic congestion and air pollution while also promoting sustainability.
Another benefit of New Urbanism is that it provides a mix of residential, commercial, and retail spaces within the same multifamily development. This creates a sense of community, making it easier for residents to interact with their neighbors and the surrounding environment.
Nowadays, it's unsurprising for young professionals and active individuals to live in the city's heart. Millennials, especially, are driving this movement (whether they know it or not). They clearly desire prime locations, luxurious amenities, and walkable neighborhoods. As a result, these requirements force urban multifamily properties to keep up and stand out. The millennial lifestyle exemplifies New Urbanism and stimulates the evolving urban revival.
A great example of New Urbanism in action is Klyde Warren Park. Take a busy, bustling city, and drop a giant patch of grass on top of an Interstate overpass. That's the exact action Dallas City Planning took to revitalize the city streets. Stop by, and you'll find a line of food trucks, yoga classes in the park, picnic blankets, a playground, and a band playing at sundown. Cities flourish when safety, community, and accessibility are at the forefront of planning.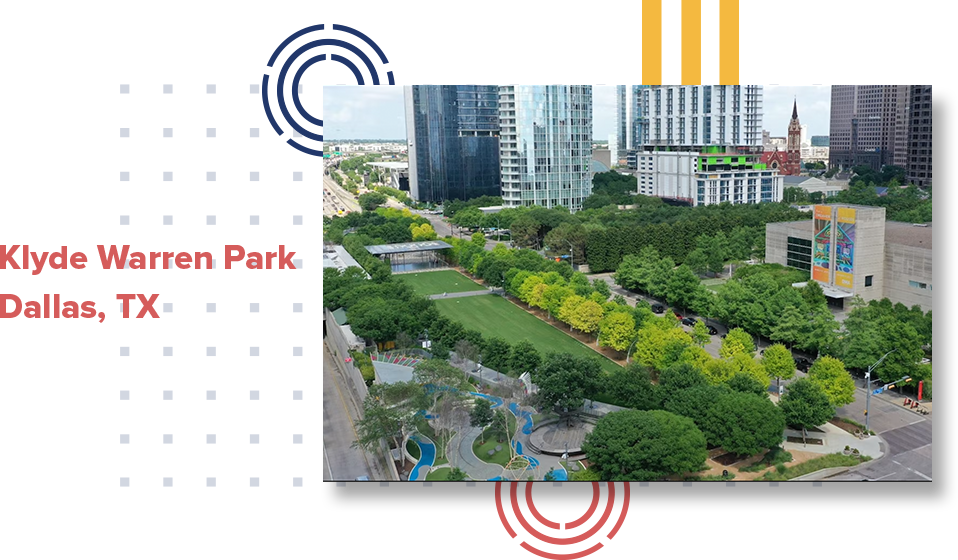 Challenges in New Urbanism Multifamily Development
However, there are also challenges and concerns associated with New Urbanism. One of the biggest concerns is the cost. Developing New Urbanism communities can be more expensive than traditional suburban multifamily developments due to the need for infrastructure such as sidewalks, bike lanes, and public transportation.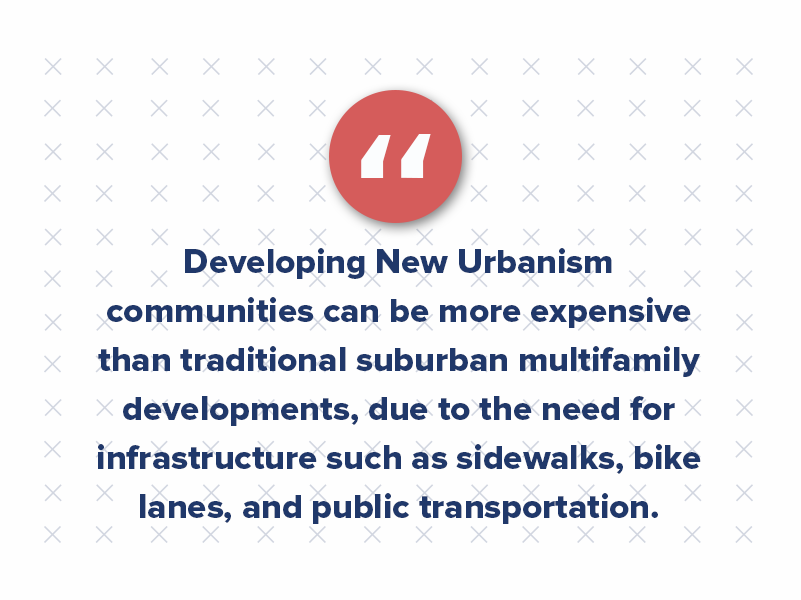 Another challenge is that New Urbanism multifamily developments may not appeal to everyone. Some people prefer the traditional suburban living model and may not want to live in a more densely populated area.
In addition, there are concerns about the potential for increased traffic and parking issues in New Urbanism multifamily developments. While the trend encourages public transportation and walking, some residents may still need to drive, and there may not be enough parking spaces to accommodate all residents.
Will the Trend Last?
Despite these challenges, the trend toward New Urbanism in multifamily living will continue. The demand for walkable, sustainable, and livable communities is growing, and developers increasingly recognize the benefits of New Urbanism.
In addition, the trend toward New Urbanism aligns with the broader trend toward sustainability and environmentally conscious living. As more people become aware of the environmental impact of traditional suburban living, they seek alternative models that are more sustainable and efficient.
What will this living look like? Apartments that blend with the environment; smaller and more thoughtful multifamily projects; carless cities and larger sidewalks; community gardens integrated into multifamily properties; or even smart cities. New Urbanists are working towards building cities that revolve around maximizing space, community, sustainability, and efficiency.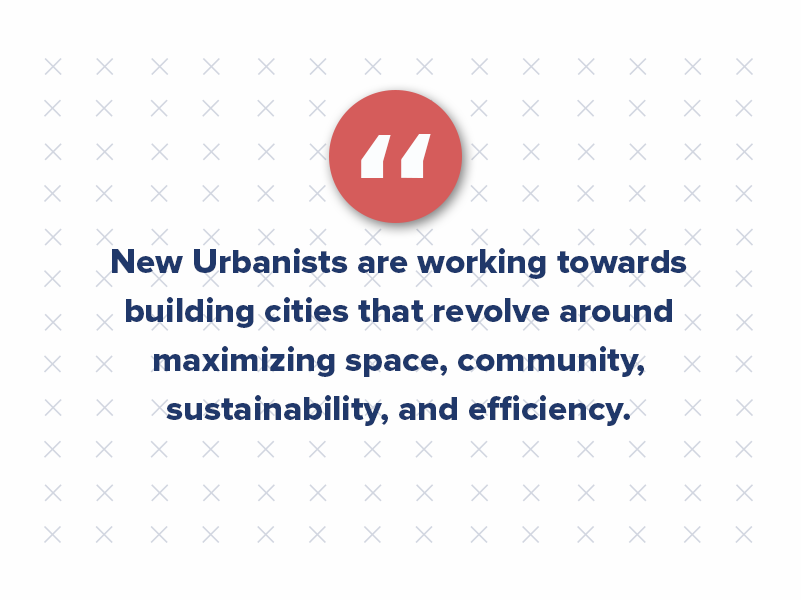 Buildings will no longer be a monument to themselves but instead, to the city streets.
Shaping the Future of Apartment Living
Although the popularity of New Urbanism is widely accepted, "an enormous invisible structure" hinders its full overhaul. To the government, this reinvention of city living is breaking code after code. 
Local zoning codes restrict modernist design, form, and projects, ultimately restricting wider streets and increased walkability. However, there's hope in progress; as this movement gains momentum, its impact will reach public officials and make a difference in urban life.
While there are challenges, the benefits of creating walkable, mixed-use communities are too significant to ignore. The trend toward New Urbanism in multifamily living is expected to continue, and it is poised to play a major role in shaping the future of apartment living.

Winning Tactics to Attract More Gen Z Renters to Your Property
The oldest members of Gen Z are turning 25 this year. They were only seven years old when Facebook launched; they have never known a time before the internet.
And guess what else? They're going to be the largest generation of apartment renters the industry has ever seen.
We just adapted to millennial renters, and now here comes Generation Z in full force. Before long, it will be time to adapt again to Generation Alpha (AKA "mini millennials") but let's not get too far ahead of ourselves.

Meet your Gen Z renters
First, who are your Gen Z renters? They're the buzzed-about generation, and rightfully so, with $360 billion in disposable income. And Gen Z's spending power is continuously on the rise.
While millennials have historically garnered all the attention from multifamily apartment properties, Generation Z has started to overtake the rental market. This age group is typically born between the mid-1990s and 2010.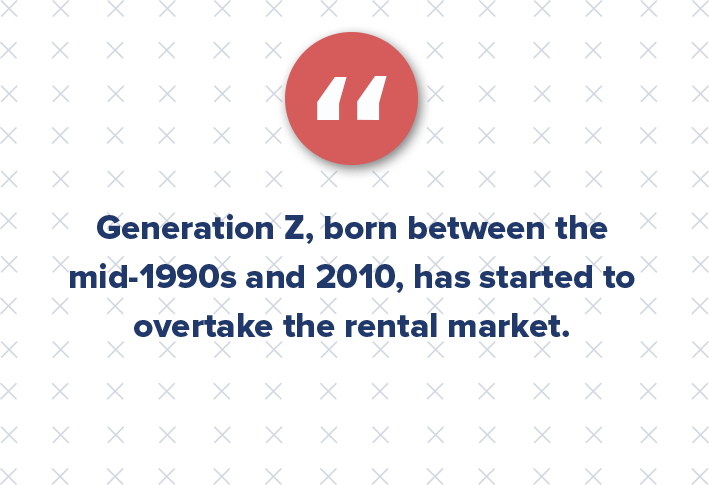 When comparing them to previous generations, online connectivity emerges as the defining characteristic. As such, this young population should definitely be an extremely important part of your apartment marketing strategy.
Gen Z by the numbers
Let's consider a few stats from a recent rentcafe.com survey of 2,500 Gen Z renters:
39% of Gen Z renters searched Google for their next apartment while 27% specifically went to apartment search websites.

52% of Gen Z said they prefer non-agent apartment tours (e.g., self-guided or virtual tour options).

30% of this generation check ratings and reviews first as compared with 28% of millennials and 25% of Gen X.

62% of Gen Z said apartment technology is either "extremely important" or "very important."

The No. 1 most important amenity to Gen Z renters is high-speed internet, followed closely by garage and parking.

36% of Gen Z renters said

Instagram

is their No. 1 social media platform of choice.

Smart locks and smart thermostats are twice as important to Gen Z as they are to millennials or Gen X.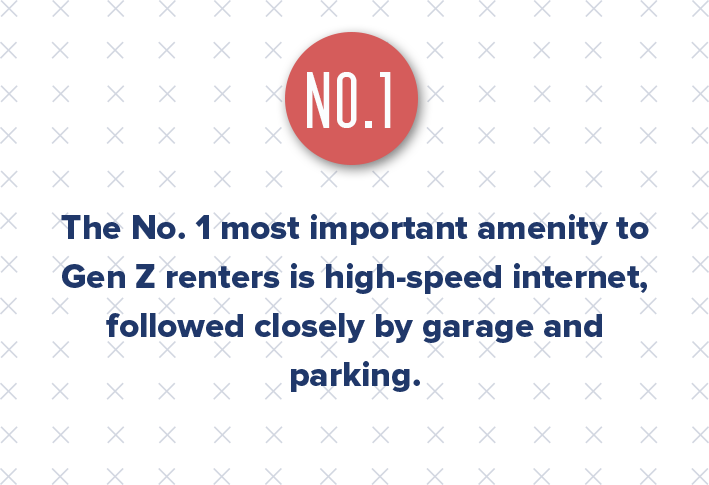 What do Gen Z renters want?
Gen Z renters are looking for efficiency in the leasing process, new communication channels, and enhanced amenities. As these young adults continue to enter the rental market, it will become increasingly important for you to understand their expectations.
1. Smart technology
Now is the time to get ahead on your smart apartment technology and high-speed internet connectivity, as these amenities are more important to Gen Z renters than gyms, pools, and coffee bars.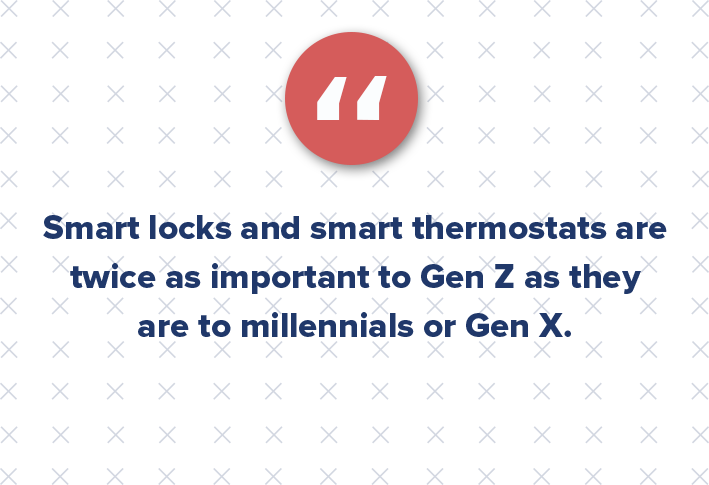 2. Mobile-first strategy
Gen Z's technology use is fast-evolving both consumer marketing and the real estate industry as a whole. Smartphones are considered an extension of the body. Gen Z touches their smartphones 45 times a day on average for communication, entertainment, and informational purposes. About 29% of Gen Z are on their phones after midnight every night, and 31% said they feel uncomfortable if they are without their phone for 30 minutes or less.
If these stats don't tell you to prioritize your mobile-first website, we don't know what will!
3. More activity on social media
Social media is a natural forum for Gen Z to interact with their friends and with companies. In fact, their preferred method of communication is on social media rather than in person (even when it comes to their friends and family). This generation's lifestyles and technology habits are causing us to rethink the way we approach brand development, particularly in real estate.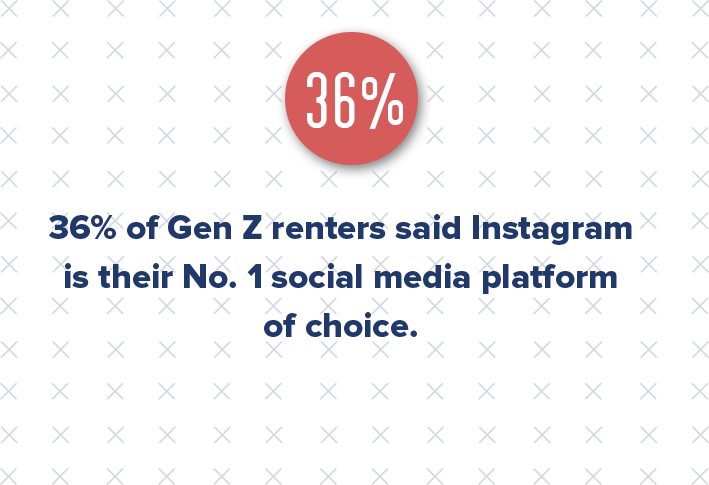 With technology at their fingertips, everything of interest to Generation Z is connected to social media. Your apartment marketing should focus extensively on the most popular social media platforms (i.e., Facebook, Instagram, Snapchat, and TikTok) and continually adapt as new social tools gain popularity.
While these young adults are known for their multitasking abilities when juggling various social platforms at once, they are also known for "scrolling." Your social media ads should, therefore, be attention-grabbing and specific. Hone in on your core message quickly or risk losing engagement. For best results, focus your apartment marketing efforts on videos and other visually appealing content. 
4. Rent longer. Rent by choice.
Aside from being the most coveted demographic, they're also the most baffling for a traditional multifamily industry to understand. Compared to the generations before them, changing lifestyle preferences are beginning to propel several trends in multifamily development.
Gen Z is poised to rent longer than generations before them, and oftentimes by choice. If you compare it to the millennial generation, who waited longer to get married and start a family, Gen Z is expected to follow in a similar path. This trend will undoubtedly extend their rental lifetime well into their professional years.
5. More tour options and an adaptable leasing process
With over half of Gen Z renters preferring non-agent apartment tours, it will be up to your property to adapt and offer a mix of in-person, self-guided, and virtual tour options to increase conversions.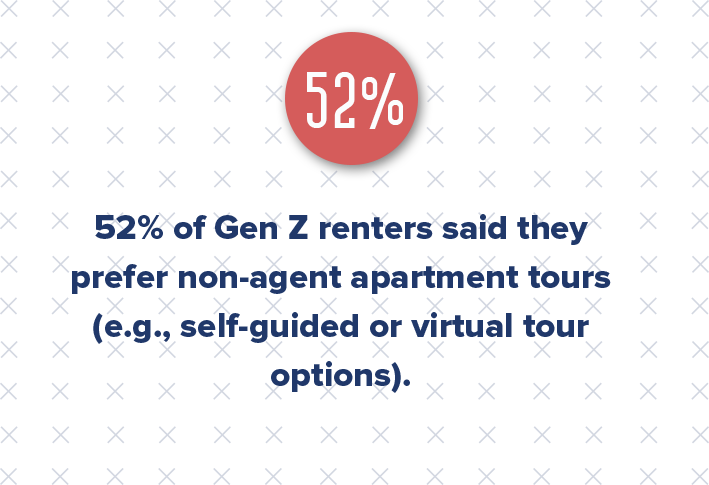 A mobile-first strategy is also important to consider when it comes to communication and the leasing process. Gen Z is unlikely to hand-write a rent check or manually fill out a leasing application. They expect everything online, which includes leasing paperwork and payments.
Marketing to Gen Z renters
Gen Z lifestyle preferences are driving key changes in multifamily development, but what does that mean for multifamily marketing? Quite simply, if you understand what's important to them, then you can understand how to attract them. This is how to maintain a customer-centric approach.
Keep in mind, however, that being familiar with multifamily marketing trends is only a starting point. Your greatest demographic insights will come from the research you do yourself. The best way to conduct research about your target market is to develop resident personas. You can learn all about developing personas on our blog.
Again, when we know what's important to prospective residents, we can understand how to attract and engage them.

We've said it before and we'll say it again: Leasing is no longer an "amenities dump." Your prospects and current renters expect a lot more from you; namely, they expect a full resident experience.
Onsite staff must connect with people to fully understand their audience. Targeting each sale and all corresponding communication to that person is the new norm in leasing.
How Resident Events Impact Your Bottom Line
Did you know that residents who have seven or more friends in their apartment community are 47% more likely to renew their lease? Further, a recent Satisfacts Resident survey discovered that resident events are one of the significant drivers of lease renewals. As such, developing a multifamily marketing strategy around resident events at your property can make a big difference in your bottom line.
That being said, hosting a simple grab-and-go resident event once a quarter is not going to cut it. Resident events need to foster relationships between neighbors and create a unique and welcoming resident experience. Ultimately, you should be consistent and intentional, according to Jackie Ratzlaff, Divisional President of the Apartment Life East Division.
Starting Your Resident Experience Journey
According to Apartment Life's Ratzlaff, "Fostering resident satisfaction throughout the leasing and move-in experience is where the journey starts, but certainly not where it ends. Giving your residents that 'home' feeling involves creating intentional opportunities for them to make lasting, meaningful connections."
As part of Apartment Life's new article series, Ratzlaff details three ways to elevate the resident experience and ensure a happy, loyal resident from the beginning.
Jackie Ratzlaff is the Divisional President of Apartment Life's East Division. She can be reached at jackieratzlaff@apartmentlife.org.
The multifamily marketing industry — and your residents — are changing fast. Are your processes changing with them?
There were countless fantastic panels at NAA's recent Apartmentalize conference, amazing speakers, and quality topics. But one really stood out to us: "Undercover Resident: The Genesis of a Community's Reputation Begins Onsite, Not Online."

But wait, we are a marketing company — shouldn't we advocate for everything online? We do love digital marketing, but we also love people. This panel was a fantastic reminder of why we are in this business.
Too often, companies get sidetracked with what they are selling that they forget who they are selling to. We live in an age where texting supersedes talking. Yet, more than 700 residents across the nation admitted that personalized service goes further in their decision to renew than amenities.
With specialists from Rivergate KW, Apartment Life's Cares Program, and The Franklin Johnson Group, this panel unpacked what residents really want. And it is different than what the staff thinks they want.
Attracting & Retaining Residents
Online marketing can be one of the most effective ways to draw and engage with residents. However, residents will ultimately choose to stay at your property if it feels like home.
Residents surveyed listed "engaging community events" as the No. 2 factor in their decision to renew a lease. They also ranked "sense of community" as a Top 5 reason to rent even when buying a home is an option.
With more generations renting now than ever before — and homeownership decreasing in nearly every age category — competition is ramping up in multifamily. This makes it more critical than ever for properties to both attract and retain residents.
If a property's online presence and social media feed are updated and targeted, residents are more likely to be interested. However, if a prospective resident walks in the door and the leasing professional does not understand their life stage needs, how to adapt their sales strategy, or how to communicate with them most effectively, the prospect will likely flip from feeling impressed to feeling like a number, said Jackie Ratzlaff, Vice President of Growth Initiatives at Apartment Life Inc.
In other words, by upholding the same leasing practices you have always used, it will be less likely that you will be able to sell to multiple demographics successfully.
It's important not to just be experts about your property's physical space, but to know what resonates with each renter. This is called a buyer persona. A well-defined persona helps target your marketing efforts to the right people, at the right time, and in the right way.
Below we explore a few then-and-now comparisons of how renters in the multifamily market are evolving.
Then:
Professionals rented urban apartments until they could buy a house.

Families preferred to live in suburban apartments until they could buy a house or because of better schools.

Retirement homes served as a final-stage home option for the senior population, predominantly due to declining health.
Now:
Urban apartments or apartments with urban qualities attract both millennial professionals and Boomers. Boomers desire walkability and a new experience. Meanwhile, young professionals often place the convenience of their urban rental over homeownership even after starting a family.

Suburban apartments in growing cities rival urban apartment features. They are new, sleek, and geared toward professionals who work away from city centers, or those who work remotely. They are no longer just for families but target a wide variety of demographics.

Boomers and empty nesters desire a shared community with others in their stage of life and the convenience of walkability. Their health is not declining but is the main priority as they want to engage in activities (e.g., fitness, hobbies).
From increased technology and targeted social marketing campaigns to on-demand customer service, an enhanced online presence is essential. However, what is more important is focusing on the people you are selling to, then honing in on what will make them want to live at your property. Residents will renew their lease because of the way they feel, the way they are treated, and the community they have — not because of a great Instagram feed or a new fitness center.

Rethinking Your Customer Experience Strategy
Several multifamily properties are already rethinking how they do business.
Rivergate KW Residential, for example, is partnering with The Ritz Carlton to train their management staff on superior and personalized service that focuses on the people, according to Joya Pavesi, Vice President of Marketing and Strategy and one of the NAA panelists.
Cortland Partners appointed its first-ever Chief Experience Officer to develop a customer experience strategy and bring the brand to life across all touchpoints.
Apartment Life Inc.'s Cares Program helps properties increase retention by enhancing a sense of community through tailored monthly events, personalized visits, and resident care.
Finally, marketing agencies like Criterion.B are partnering with management companies to train staff on target buyer personas. Knowing this information helps you create content, design amenities, and understand the type of customer service needed to attract and retain your residents.
In short: Leasing is no longer an "amenities dump." Instead, the onsite staff must connect with the people. Understanding their audience and targeting each sale and all corresponding communication to that person is the new norm in leasing.

From new regulations to advanced technology, the multifamily industry is constantly changing — and so too are your consumers. This is why it is only natural to change the way you lease as well, adapting to today's renters.

Traditionally, the leasing staff is trained to focus on what they are selling such as high-speed internet, shared community areas, and other amenities. Today, properties are experiencing more success when focusing on who they are selling to — honing in on what's important to the targeted audience.
For example, if a leasing agent offers the same sales pitch to a Baby Boomer and a Millennial, they may only get one lease. It is important not to just be experts about your amenities and physical space, but to know what resonates with each potential renter. This is called a buyer persona. Building a buyer persona helps you target sales around your audience, and makes the difference between one lease and many.
Understanding Buyer Personas
Do you know who your customers are? Where do they work? Where do they shop? What are their interests? While these questions might seem unimportant in the sales process, they are essential characteristics to know in order to understand your prospective renters' purchasing decisions.

A well-defined buyer persona helps target marketing efforts toward the right people, at the right time, and in the right way. Personas help you identify your renters and understand how your product can fulfill their needs and wants.
A buyer persona is a semi-fictional representation of your ideal customer based on interviews, market research, and real data about your existing or target audience. These personas capture the demographics, motivations, behaviors, problem areas, and professional/personal drivers of your ideal customer. Knowing this information helps you create content, design amenities, and understand the type of customer service needed to attract residents.

Building Buyer Personas
When working through our research process for branding new developments, we always start with the creation of personas. Through this research, we interview current and prospective residents in order to obtain a 360-degree view of the organization. It is important to dive deep and gain a thorough understanding of your customers, where they spend time online, what resources they trust, and what pain points they are facing.
As a commercial real estate marketing agency, Criterion.B lives in the world of brand identity. We help multifamily properties understand that such a big part of marketing their communities is tied to knowing their residents and then communicating differently with each target audience in the leasing process.
We begin by thinking through very specific examples of the target residents, identify unique qualities about them, and find out what is important to them. This helps create a more personal connection when the ideal resident walks through your door. We take the information we learn and craft personas for each target. Then we give them a fun name such as Empty Nester Nell or Baby Boomer Bob, making each persona easier to remember.
Consider the following when building a buyer persona:
Memorable name

Job titles and responsibilities

Demographics such as age, ethnicity, family status, education, etc.

Goals you want to accomplish on your website

Pain points (Why is it so easy for residents to leave? What are they struggling with? What are some of the things that frustrate them about the apartment industry?)

Technical experience

Work environment (Do they work a standard 9 to 5 job? Busy stay-at-home mom? Are they on their feet all day in a fast-paced workplace? Is their office located in a large high-rise downtown?)

Photos (Using realistic pictures, rather than celebrities or stock photography, is always best.)
Leveraging Buyer Personas
After establishing your persona, everything about your brand should be angled toward your ideal customer. But what do you do when your perceived customer comes from two different generations?
For example, if your property is located in an urban area, you will draw several different prospects. One might be a Millennial professional who likes to do fun activities and enjoys the convenience of the light rail. Another might be a recently retired Boomer couple who want the relaxed feeling of less maintenance and walkability.
Building a buyer persona gives the entire leasing process a purpose. Otherwise, you are selling the same physical amenities no matter who walks in the door. If the leasing agents are trained to understand each target persona, they can tailor the sale to that person. This means that when that empty-nester couple walks in the door, the staff will focus their sales pitch around the carefree lifestyle the couple can have with a full-service maintenance team or the community spaces they can reserve for family gatherings.
The Key to Commercial Real Estate Marketing
While building a buyer persona may seem tedious, it gives you the ability to humanize your audience and work more efficiently to let them truly envision what they value most as a renter. Download our multifamily persona worksheet to learn how to develop a buyer persona that speaks to your renters' needs and helps align your marketing strategy.
For more information on buyer personas and selling to the person, be sure to attend the NAA's Apartmentalize Conference on June 13-18, in San Diego. The "Undercover Resident" Panel session will delve more into this topic.

Senior living might not jump to the front of the brain when thinking of industries that benefit from inbound marketing. The boomer generation has joined the digital age with heels in the dirt, loudly proclaiming a preference for simpler times.
That's not to say that boomers are digitally inept or that they've developed the philosophy of Luddites. However, it's clear that their preferences lean to tradition, and senior living groups have taken note.
While 87 percent of American adults use the internet, the number drops to 57 percent for those aged 65 and older. This may seem like a clear-cut case for senior living marketers, but when you look at the next demographic group (50- to 64-year-olds), the number jumps to 88 percent.
Suddenly, the issue becomes clear. Not only will the market shift in the next few years to more tech-savvy residents, but the generation of adults seeking solutions for their aging parents are likely looking for senior living groups where they can't or won't be found.
The Newfound Power of Consumer Choice
As the post-retirement lifestyle changes, so do people's purchasing decisions. The internet has shifted the buyer's journey to one where consumers can research their needs without reaching out to sales.
In fact, 72 percent of consumer research occurs on Google before turning to other resources. This is a huge detriment to groups that don't have a digital presence and instead rely on mailers, word-of-mouth, and brochures. A senior living group that can't be found through this methodology is missing out on consumer education opportunities.
Furthermore, digital content has a longer lifespan than physical materials due to the duration of information on the internet. This means the digital content bringing in leads returns a lower lead cost than traditional methodologies.
Targeting the Decision Maker
When thinking of buyer personas for seniors, most people think of the active senior. Active seniors can make their own decisions and support themselves in post-retirement. Many don't consider the growing population of seniors who require assistance and rely on loved ones to make their decisions.
The U.S. Department of Health and Human Services estimates that by 2050, the population of individuals using these types of long-term care services will double to 27 million, over the 13 million found to be using the services in 2000. This is a significant shift that will transform the market completely. And for the children of this growing group of adults, research is key to finding high-quality care.
Given the high turnover that exists because the cost and care quality does not meet the expectations of adult children, representing the ability to meet these needs in your online content is vital to success. Educating leads on these options can build authority with the industry shift from institutionalized care to more community-based services.
Why You Need Digital Leads for the Digital Age
These trends indicate a bigger change across the economic landscape — that both business and demographic trends are shifting to meet a world where technology is no longer an afterthought. This market shift means a necessary shift in strategy as well.
Older Americans shun traditional homes in favor of new alternatives, so senior living groups must be present online. By targeting online content to the appropriate groups, senior living communities can become a strong resource for active or older seniors. Without adopting this new direction toward lead generation, senior living may very well be shifted out of the market.


One of the biggest benefits of working at a small agency is the amount of talent we have packed into a 1500-square-foot office space. Fresh out of college, I don't think there's any better "first job" than the one where you're the least experienced person in the room. Sure, there's a downside to being young. Sometimes a cultural reference will go straight over my head. (What's a facsimile? Who's Carol Burnett?)
In this industry, however, my youth is often considered an advantage. I happen to be an expert on one of the fastest-growing, most-powerful consumer demographics in history (millennials). And that's because I am one.
My Authority on the Subject
I was born smack dab in the middle of the Gen Y, or as we like to be referred, the millennial generation. We are the children of the boomers, and while millennials (age 20-29) are only 48 of the 344 million Americans, in 2018 we will pass baby boomers as the top-spending generation.
Differences between generations fascinate me; they make sense. Culture is a group of people's way of stabilizing itself. Generation culture is interesting because time is the manipulated variable. When new variables are thrown into the mix, other things adjust.
For example, more women are entering the workplace and staying there for longer. Because they expect to work longer, they are investing more in their jobs and education. Consequently, they are getting married later in life. This, in turn, has changed the college and young adult dating culture … We can track generational changes like these across several lifestyle trends.
The Technology Factor
Technology works in the same way: Millennials are the first generation to grow up around the internet. Interconnectivity and information explains a large part of what makes millennials who they are. By looking at specific digital trends among millennials, we can get an idea of what drives their behavior and how they make purchase decisions. Because of their large purchasing power, marketers are changing their tactics to get in front of this generation. New social media advertising tactics have evolved due to millennials spending more than three hours a day on mobile phones.
While millennials are evolving many industries, purchasing patterns, and online marketing, their lifestyles are also defining the multifamily space. As millennials tend to wait longer for marriage, purchasing a house, and having kids, they're staying in the renting sphere longer. Multifamily communities have to adjust their marketing tactics to attract these sought-after renters.
Criterion.B is all about learning, evolving, and expanding our marketing tactics to better reach the multifamily space, so stay tuned as we develop more insights for multifamily managers, developers, and more!

Editor's note: This article was written by Criterion.B's resident millennial.