Beyond Likes and Shares: 5 Facebook Strategies for Modern Student Housing
Generation Z has become synonymous with online interactivity. Having grown up during the rapid expansion of the internet and with smartphones always within reach, they are a generation that prioritizes digital communication over traditional methods. For Gen Z renters, expressing themselves through text or sharing weekend escapades on social media is the norm.
Struggling to connect with them? It's a two-way street. Just as you might find their digital-first approach bewildering, they might be equally puzzled by older communication methods.

Dive Deep Into the Digital World of Gen Z Renters
If you're in the realm of student housing development and wondering why social media should be your go-to communication tool, consider this: the window to engage with these students is relatively short. Missing out on the platforms they frequent means missing out on key interaction opportunities. 
Let's talk about Facebook to start. About 70% of American adults use Facebook. And you might be thinking, are any of those users even Gen Z renters? Recent studies show only about 7% of Gen Z users plan to quit Facebook in 2023. While this isn't the "first choice" social media platform for this demographic, they still use it.
So, what's the best way to tap into the heart of Gen Z's digital life, especially on platforms like Facebook?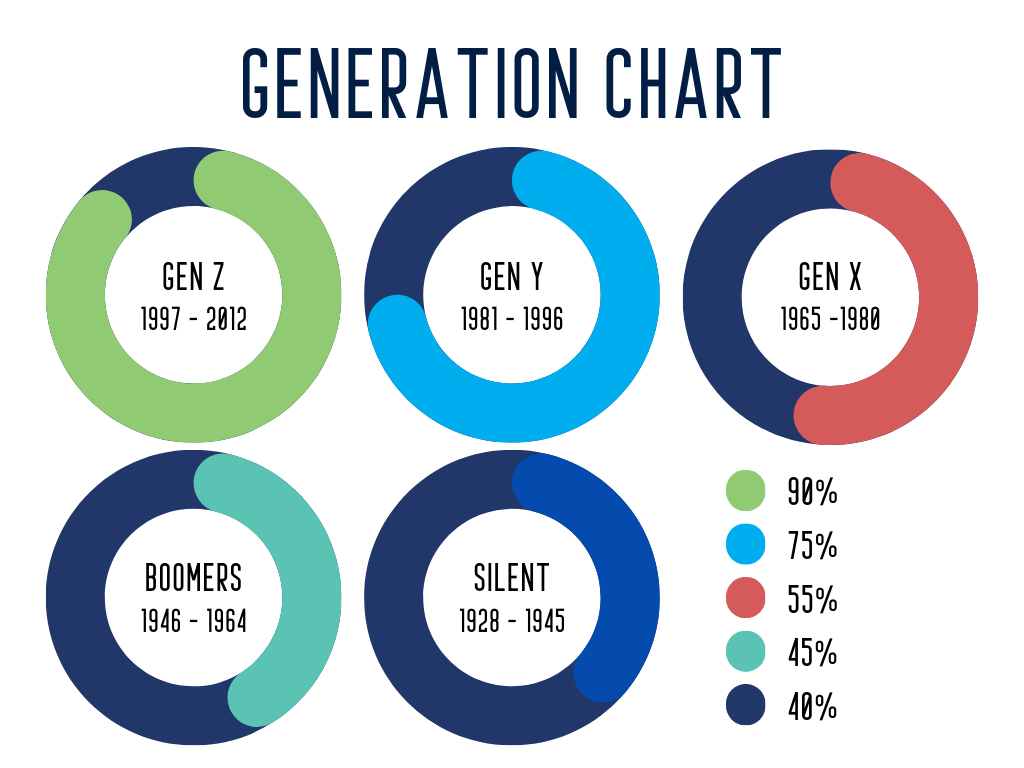 1. Promote On-Campus Events Digitally
If you've observed dwindling numbers at on-campus events, it might be time to rethink your promotional strategy. Traditional flyers might not just be environmentally unfriendly but might also not resonate with Gen Z renters.
Instead, create Facebook event pages to promote these events. Showcase visuals from previous iterations (if it's an annual event) to blend tradition with contemporary outreach methods.
2. Quick Weather Updates
Imagine a scenario where unforeseen weather conditions, like heavy snowfall, disrupt regular schedules, and classes must be canceled. Instead of relying on email notifications that might go unread, why not use Facebook? 
With Gen Z constantly scrolling through their newsfeeds, timely posts about weather alerts ensure immediate dissemination of crucial information.
3. Disseminate General Announcements
Got updates about the residential facilities, changes in semester timelines, or items in the lost and found? Facebook is your platform! Craft concise posts enriched with visuals (images or videos) to swiftly inform your student housing community.
4. Foster a Community With User-Generated Content
User-generated content is one of the most genuine ways to boost engagement and build a sense of community. Encourage your residents to share their unique experiences, be it a quiet study session in the lounge, a fun community event, or even a serene sunset view from their apartment window.
Launch monthly challenges or themes where students can share photos or stories about a particular topic or hashtag. Not only does this provide fresh, authentic content for your Facebook page, but it also allows residents to actively participate in creating the narrative of their community. Celebrate and showcase this content by sharing selected posts or creating monthly highlights. This validates your residents' efforts and paints a genuine picture of life in your housing facility, which can be an invaluable tool for prospective students evaluating their housing options.
5. Utilize Facebook Groups for Direct Engagement
Did you know that 1.8 billion people interact in Facebook groups every month?
Beyond your primary Facebook page, consider setting up dedicated groups for different blocks, year groups, or special interest communities within your housing complex. Facebook Groups offer a more intimate setting for discussions, feedback, and announcements specific to group members.
For instance, a group dedicated to residents interested in fitness could have announcements about gym timings, fitness challenges, or even resident-led yoga sessions. Similarly, a group for a specific block or building can discuss maintenance issues, attend community meetings, or even organize block parties.
You can offer tailored content and create a more personalized resident experience by segmenting your audience. Additionally, these groups foster peer-to-peer interaction, helping residents connect over shared interests or concerns. It's about broadcasting messages, facilitating conversations, and building a supportive community.
Social Media Isn't Just a Tool
While the digital landscape and preferences of newer generations might seem complex, remember that platforms like Facebook were ironically first conceptualized for college students. Embracing such platforms for your multifamily marketing can bridge the communication gap, foster a vibrant community spirit, and attract new apartment leads. If done right, social media isn't just a tool — it's a transformative force.

How to Create an Effective Resident Feedback Program
Properties need more than just aesthetic appeal to compete in today's competitive landscape. Successful multifamily marketing lies in fostering a positive resident experience. While renowned authors and industry leaders routinely share insights on success, the heart of a thriving multifamily property is deeply rooted in its resident service and the effective implementation of a resident feedback program.
"Feedback is the breakfast of champions."

— Brian Halligan, CEO, HubSpot
If you're unaware of the shortcomings in your property's amenities or services, how can you enhance them to benefit your residents? Moreover, you cannot amplify your strengths if you're unaware of what's resonating positively with them.
According to HubSpot, there has been an evident decline in trust in businesses. A staggering 55% of customers have lesser trust in the companies they once patronized, and an even higher 65% cast doubts on official press releases and advertising. Yet, the story changes when it comes to apartment reviews by peers. For multifamily marketing, resident reviews are gold.

Capitalizing on Resident Feedback in Multifamily Marketing
Referrals dominate as the primary source for new leads. Did you realize that retaining a happy resident in your multifamily property costs 5 to 25 times less than roping in a new one? Loyal residents can propel your property to success faster than any marketing strategy or sales pitch. And the journey begins with extracting genuine feedback.
Cambria Davies, Product Manager at HubSpot, aptly says, "To truly delight, understanding the resident expectations and gauging the current resident experience is pivotal." Yet, many in the realm of property management marketing often overlook the real sentiment of their residents, primarily due to the lack of a structured feedback mechanism.
Simply sending out a generic satisfaction survey won't cut it. If you aim to get actionable insights, then crafting a bespoke framework tailored to the multifamily sector is the way forward.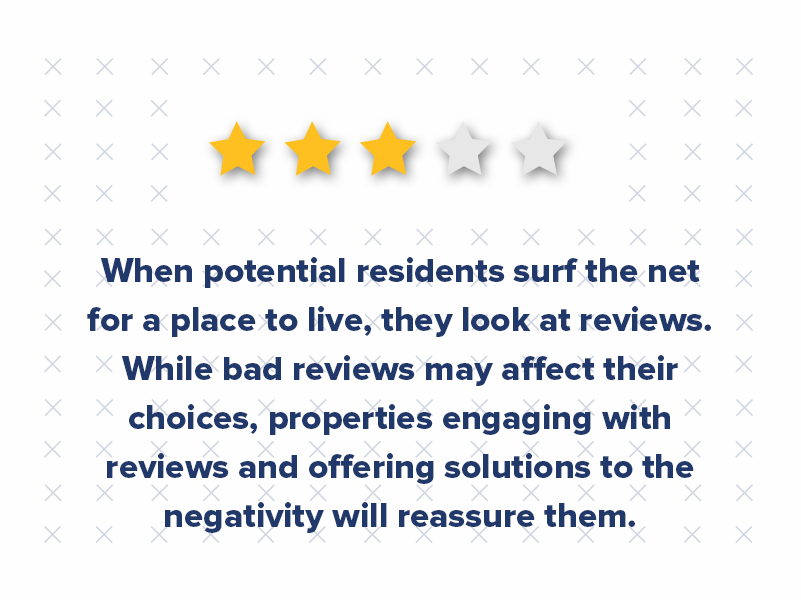 Building Robust Listening Channels
Avoid a one-size-fits-all approach when interpreting feedback. Every resident's journey is unique, and you must respect that individuality. Instead of harping on generic issues like wait times or answering service delays, dig deeper. Listening posts provide a comprehensive method to assess resident experiences both individually and collectively, highlighting areas of improvement and success.
For effective multifamily marketing, align your survey methods with your overarching goals. Harness diverse feedback channels, including:
Online Apartment Review Sites
Engaging with Front-Line Staff
Collating Resident Testimonials
Distributing Tailored Satisfaction Surveys
Direct Resident Communications
Deciphering Apartment Reviews
With a plethora of feedback, the challenge is to dissect and understand this data. Never let resident grievances go unnoticed. It's pivotal to discern recurring themes or concerns. Categorizing feedback can spotlight areas demanding immediate attention, be it issues with amenities, maintenance response times, or the overall resident experience in your multifamily property.
For instance, if numerous residents appreciate the community but highlight persistent problems with parking, you've got a clear feedback theme: "parking," with the specific issue being "availability" or "accessibility."
Elevating the Resident Experience
Upon identifying the focal points, the next step is action. Begin by ranking the areas of improvement. Let's say, if "security" surfaces as a prime concern in multiple apartment reviews, prioritize it over a lesser recurring feedback about gym equipment. Draft a pragmatic timeline and strategize solutions based on urgency.
Incorporate a proactive action plan, monitor its progress, and ensure your team stays aligned with the end goal. Maybe consider establishing a dedicated committee for consistent evaluations and reforms. This emphasizes the significance of enriching the resident experience and addresses potential roadblocks.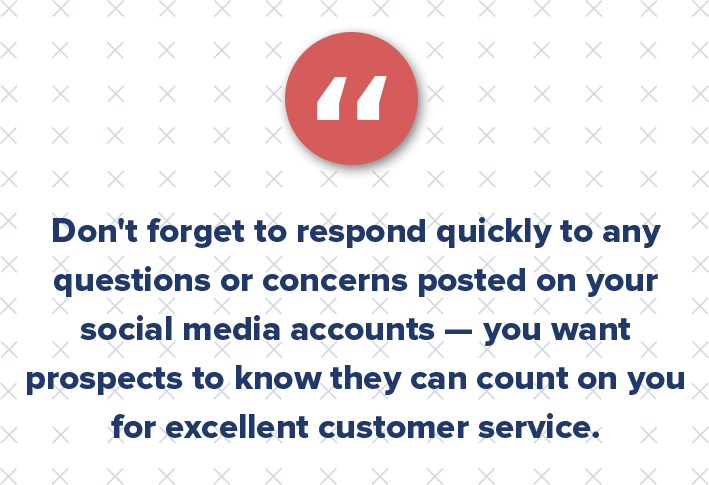 Conclusively, foster a genuine relationship with your residents. Directly engage with those who voiced concerns, assuring them that their feedback catalyzes positive change.
In the vast ocean of property management marketing, the properties that genuinely listen and adapt are the ones that truly stand out. Your resident's voice is more than feedback; it's the compass guiding your multifamily property toward excellence.

Maximizing Occupancy & Revenue: Strategic Insights for Multifamily Property Success
High occupancy rates are the golden ticket to success in multifamily real estate. But how do you attract and retain tenants consistently?
Today, we're diving into some tactical tips that aim to boost occupancy and increase your net operating income (NOI). Through the lens of property management marketing and multifamily branding, let's unlock the potential of your property.
1. Revamp Your Online Presence
Modern tenants scout online before they visit in person. And there is nothing worse than an unresponsive, slow-loading multifamily website. A modern web design can be the difference between one lead and dozens. Ensure your website is mobile-responsive, user-friendly, and provides comprehensive information, all while encapsulating your multifamily branding essence.
Our multifamily branding agency will deliver a high-quality, responsive website and handle all of your apartment marketing so you can focus on what matters most — nurturing your leads.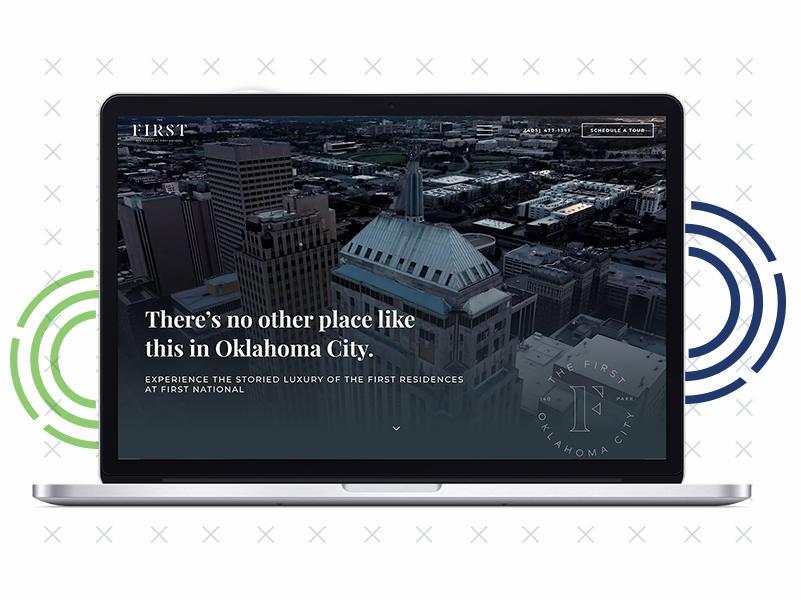 2. Dive Into Social Media
Social media is indispensable in property management marketing. Platforms like Instagram and Facebook can showcase your property's amenities, community events, and testimonials.
We treat your social media as an extension of your website — by embracing your customers and serving them relevant content. Our team of social media experts will help adhere to your brand voice to concept, publish, and manage daily social media content — including Stories, Reels, and lead-generating ads.
3. Hire a Multifamily Branding Agency
Are there inconsistencies in your multifamily branding? Are you ranking low in search results — or even not at all? Are you losing leads to your competitors? Has your multifamily marketing plan fallen by the wayside? Don't let sporadic multifamily marketing and branding stunt your NOI.
An expert multifamily branding agency can help refine your brand, ensuring it aligns with your target audience and stands out from competitors. An agency can also offer invaluable insights and solutions to uplift your brand. Our seasoned perspective ensures your brand resonates with your target audience, distinguishing you from competitors. Moreover, with our comprehensive market knowledge and analytical approach, we can identify and rectify hidden challenges or overlooked gaps that might be hindering your brand's full potential and stunting your NOI.
4. Host Community Events
Community BBQs, game nights, or workshops can provide a sneak peek into the vibrant life prospective tenants can expect, driving occupancy. We recommend hosting small, more affordable events every month (at least) and larger events every quarter. You should also aim for one significant event that is open to the public each year, such as a large Battle of the Bands, a Christmas celebration, or some sort of charity event with raffle prizes. These large events are what will draw in the broader community and spread the word about your property.
5. Offer Referral Incentives
Encouraging your current residents to refer friends or family is a strategic move in resident acquisition. Many people trust recommendations from those they know, making this a reliable method to attract potential renters. Offering your current residents a discount on their next month's rent or a bonus, such as a gift card to a popular local restaurant, can incentivize them to promote your property actively.
6. Professional Property Photos
High-quality photos can make a vast difference in online listings. Consider hiring a professional for both interiors and exteriors to put your best foot forward. A multifamily branding agency can also help you coordinate a professional photographer, so there is no sweat off your back!
7. Revise Your Marketing Materials
Update brochures, banners, and flyers. Ensure all marketing for property management showcases the latest amenities, resident testimonials, and any recent renovations. If you recently rebranded your online presence, you need this to reflect in your marketing materials as well.
A multifamily branding agency can help you pinpoint all the different collateral pieces that need to be updated and upscale those branding elements to match the look and feel of your new brand experience. From rack cards and brochures to banners and event flyers, we can help you generate apartment leads with premium collateral.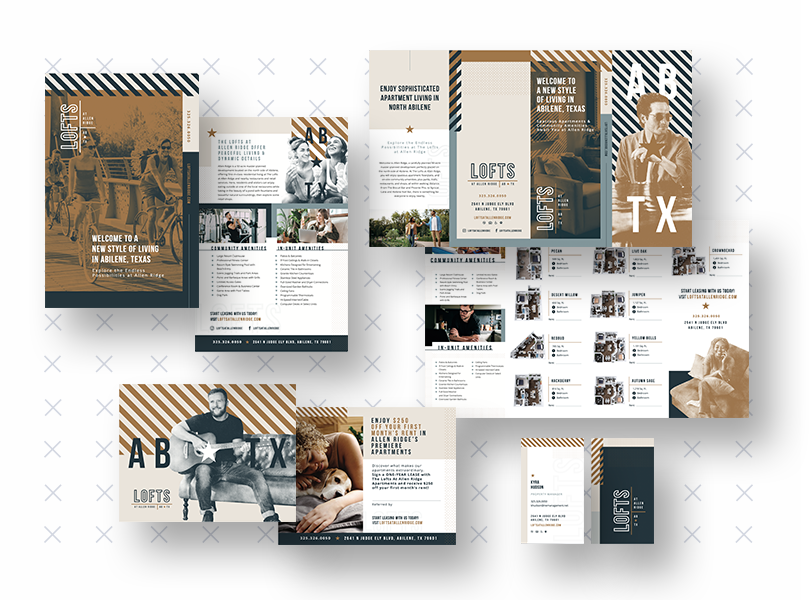 8. Enhance Security Measures
Safety is a top priority for many renters. Implement security cameras, keyless entries, or 24/7 security personnel to boost your property's appeal. Once these are all updated, promote them with pop-ups on your website, add them to social media, and send out an e-blast newsletter to current and prospective residents on your email list. This can show current residents you are bettering the property for their benefit and show prospective renters that you prioritize a safe community.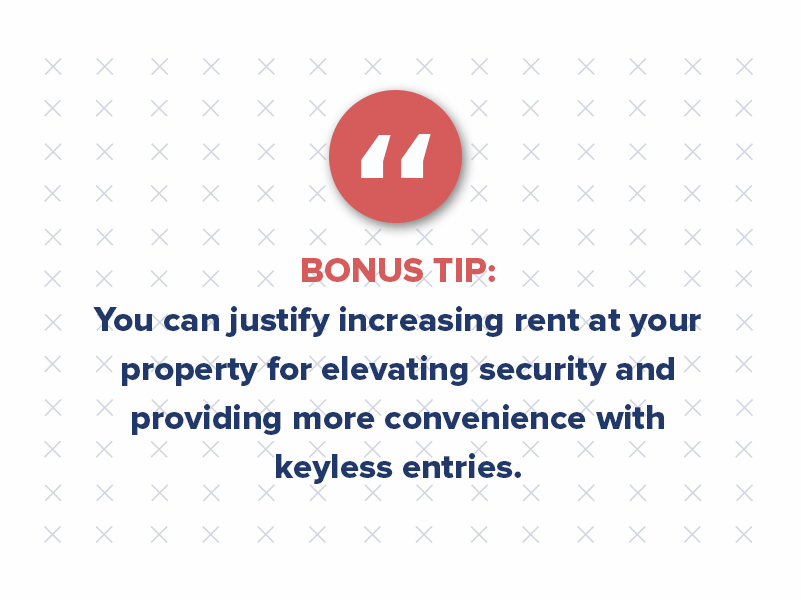 9. Offer Flexible Lease Terms
While not ideal for all properties, consider short-term leases or rent-by-room options. Flexibility can attract a wider range of potential residents. The short-term rental industry has seen an unprecedented surge in growth in recent years. In fact, the short-term rental market is expected to reach a valuation of $8,907.1 million by 2026. If your property has the means and logistics in place to tap into this market, you could open the door to some lucrative NOI.
10. Pet-Friendly Policies
Did you know that 72% of renters have pets, yet problems finding and keeping rental housing is a leading reason dogs and cats wind up in shelters?
Despite pets being prevalent in two-thirds of American households and integral to communities, many renters face challenges in securing pet-accommodating residences. Shockingly, this housing dilemma leads to over half a million pets being surrendered to shelters annually, with many failing to find new homes. Even though the rental housing sector claims that about 78% of apartment complexes are pet-friendly, the reality often contrasts starkly. Many properties impose weight restrictions, such as no dogs over 25 lbs., or have breed limitations. Hence, the term "pet-friendly" doesn't truly represent most of America's pets.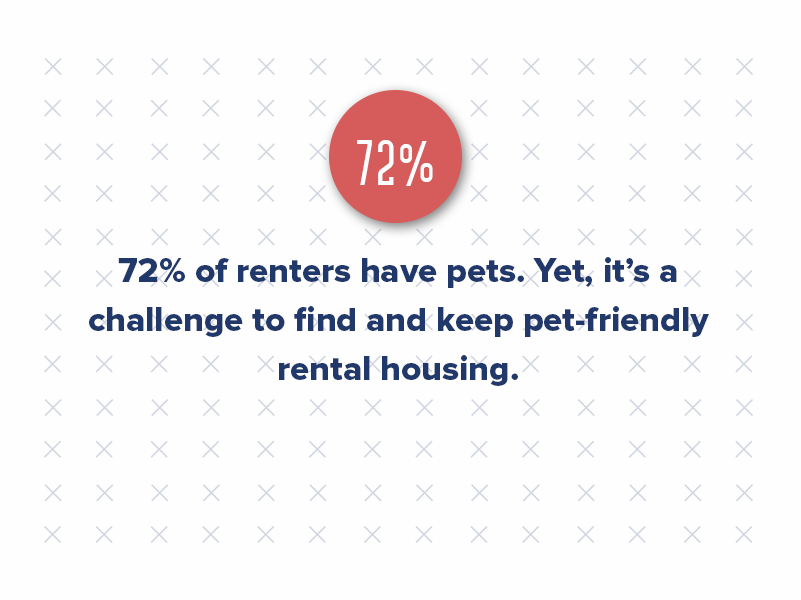 With more people adopting pets, offering a true pet-friendly policy (with appropriate rules) can be a significant attraction. Massive bonus points for the properties that also offer up pet-friendly amenities like dog washing stations, pet parlors, dog parks, and more. (p.s. This is also another way you can justify a rent increase!)
11. Implement Tech Upgrades
In today's digital age, properties need to adapt to the ever-evolving technological demands of residents. Smart home features, such as voice-activated lighting, automated thermostats, and advanced security systems, offer convenience and modern living standards that appeal to a wide audience. High-speed internet has transitioned from a luxury to a necessity, especially for remote workers, avid gamers, or streaming enthusiasts.
Additionally, app-based service requests provide residents with a seamless way to communicate their needs directly to property management without the hassle of calls or in-person visits. As most people, regardless of age, have become adept with technology, integrating these features can significantly enhance the living experience and make a property more attractive to potential renters.
12. Maintain Immaculate Common Areas
First impressions matter. A visitor's initial encounter with a property often sets the tone for their entire experience. Lobbies, hallways, and other shared spaces are the first touchpoints for prospective residents. Regularly cleaning and updating these areas is crucial for aesthetics and communicating the property's commitment to maintaining a high-quality living environment. A clean and modern space exudes professionalism and care, making it a no-brainer for properties aiming to attract and retain residents who value such attention to detail.
13. Engage in Local Collaborations
Forming partnerships with local businesses can be a game-changer for multifamily properties looking to enhance the resident experience. Here are some ideas to get you started:
Collaborate with the neighborhood café to offer exclusive morning coffee discounts for residents.
Strike a deal with a nearby gym, providing discounted memberships or trial sessions.
Local spas or wellness centers could provide tailored packages or special rates for residents.
Coordinate with nearby bookstores, theatres, or artisanal shops to host monthly events or offer promotional deals to your residents.
By intertwining with the local business ecosystem, properties boost the appeal of community living and foster a deeper sense of belonging and convenience for their residents.
14. Actively Gather and Showcase Testimonials
Testimonials play a pivotal role in property management marketing. To encourage satisfied residents to share their experiences on platforms like Google, Yelp, or even Facebook, properties can implement a few thoughtful measures.
Create a simple and straightforward process for leaving reviews, perhaps by sending out periodic reminders with direct links to the review platform.
Consider hosting community events or appreciation days, and during these events, set up kiosks or dedicated spaces where residents can quickly drop a review.
Offer small incentives, such as entries into a raffle or discounts on community amenities, to motivate residents to share their feedback.
Regularly spotlight and thank residents for their positive reviews in community newsletters or on social media to foster a culture of appreciation and engagement.
By actively seeking out and celebrating testimonials, properties build trust with potential tenants and reinforce their commitment to current residents.
15. Offer Move-in Specials
Properties need to think creatively to catch the attention of potential tenants. Limited-time offers can be a game-changer in this regard. By providing reduced deposits, properties can appeal to those who might be budget-conscious or hesitant about the initial financial commitment. Offering a free month's rent generates buzz and can provide the gentle nudge a prospective renter needs to choose your property over another. 
Additionally, bundled utilities simplify the living experience, removing the hassle of multiple bills and presenting a more streamlined approach to monthly expenses. When combined, these incentives showcase the property's commitment to providing value and position it as an accommodating and tenant-centric choice in a sea of options.
16. Efficient Response Systems
Prompt and clear communication is a cornerstone of building trust with potential renters. In an era where expectations for quick responses have been set by instant messaging and rapid customer service, any delay in addressing queries can reflect how the property operates. 
When potential renters reach out with questions or concerns, they are not just seeking answers; they are gauging the responsiveness and reliability of the property management team. Addressing their queries promptly provides clarity and showcases a property's commitment to tenant satisfaction.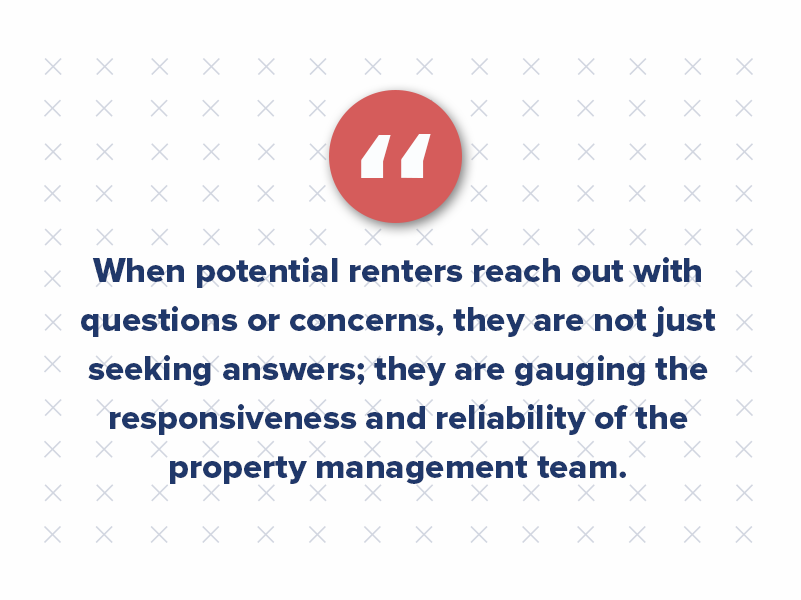 Efficient communication can often be the determining factor in a renter's decision-making process. It bridges the gap between initial interest and final commitment, ensuring that potential tenants feel valued and understood, ultimately making it more likely for them to choose your property over others.
17. Regular Market Analysis
Being attuned to the pulse of the local rental market is paramount for property managers and owners. With fluctuations in demand, economic shifts, and seasonal variations, rental prices can be highly dynamic. Staying updated on local market trends can help you gain insights into what competitors are charging, what amenities are in demand, and what potential renters prioritize in their housing search. 
Proactively adjusting pricing in response to these multifamily trends doesn't just ensure you remain competitive; it also demonstrates to potential residents that the property is in touch with the community's needs and is adaptable. In a market where every edge counts, this level of responsiveness can be the difference between a fully occupied property and vacant units.
18. Enhance Green Spaces
An oasis of greenery in the form of well-maintained gardens, terraces, or even strategically placed indoor plants can significantly elevate the aesthetic and ambiance of a multifamily property. Beyond just their visual appeal, these green spaces and elements contribute to a sense of tranquility and well-being, offering residents a respite from the hustle and bustle of urban life.
The presence of plants can also improve air quality, acting as natural air purifiers. By investing in landscaping and indoor plants, properties not only enhance their visual appeal but also create a healthier and more rejuvenating environment. Such thoughtful touches signal a property's commitment to providing residents with a holistic living experience, making it more enticing for potential renters who are seeking more than just four walls and a roof.
19. Invest in Upscale Amenities
Multifamily properties that offer more than just living spaces are capturing the attention of discerning renters. Common areas such as state-of-the-art gyms equipped with the latest fitness technology, co-working spaces catering to the growing number of remote professionals, or entertainment zones complete with gaming areas and mini-theaters can truly set your property apart. These unique amenities serve as value-added propositions, providing residents with convenience, luxury, and diverse lifestyle options right at their doorstep. 
These premium features offer a richer living experience, which warrants a justified increase in rent. When residents perceive tangible value in these amenities, they're more likely to understand and accept a slightly higher rental cost. Ultimately, by elevating the standard of living through these specialized common areas, properties can significantly enhance their NOI while fostering a greater resident experience.
20. Continuous Staff Training
Investing in thorough training for your staff, especially in customer service excellence, is not just a box to tick; it's a strategic move for the longevity and success of your multifamily property. Cutting corners in staff training can lead to missed opportunities, miscommunications, and unsatisfactory resident experiences, all of which can negatively impact your property's reputation and occupancy rates.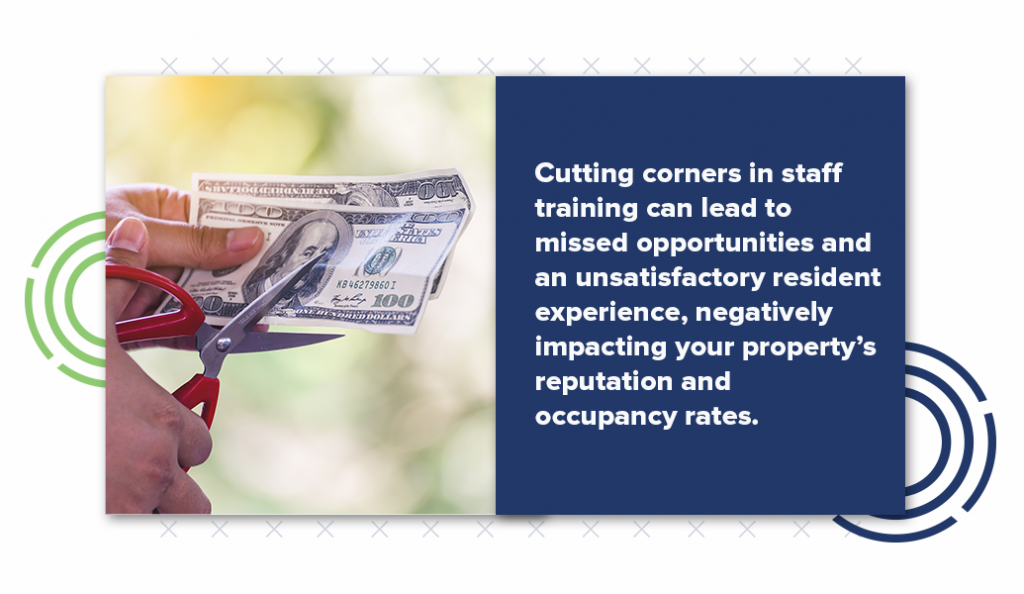 When residents see familiar faces in the management team and service personnel, it fosters a sense of community and trust. Familiarity can often translate to increased comfort and security, essential components in a resident's decision to renew their lease.
On the flip side, frequent staff turnover can incur additional costs in hiring and training, and it may disrupt the seamless operation and rapport built with residents. In essence, by prioritizing staff training and retention, properties ensure smooth operations and a positive environment and enhance their bottom line by minimizing unnecessary expenses and optimizing renter satisfaction.
Boosting Demand with Comprehensive Multifamily Branding
Increasing occupancy and NOI is a blend of strategic multifamily branding, robust property management marketing, and understanding tenant needs. Armed with these tips and the expertise of a multifamily branding agency, property managers can navigate the challenges of the rental market, ensuring their properties remain in high demand. Remember, in the world of real estate, multifamily branding isn't just a name — it's an experience.
Why Senior Living Must Think Differently About Multifamily Leads
Senior living might not jump to the front of the brain when considering industries that benefit from inbound multifamily marketing. The boomer generation has joined the digital age with heels in the dirt, loudly proclaiming a preference for simpler times.
That's not to say that boomers are digitally inept. However, their preferences lean to tradition, and senior living groups have taken note.

While 87% of American adults use the internet, the number drops to 57% for those aged 65 and older. This may seem like a clear-cut case for senior living marketers, but when you look at the next demographic group (50- to 64-year-olds), the number jumps to 88%. 
Suddenly, the issue becomes clear. Not only will the market shift in the next few years to more tech-savvy residents, but the generation of adults seeking solutions for their aging parents are likely looking for senior living groups where they can't or won't be found.
The Newfound Power of Consumer Choice
As the post-retirement lifestyle changes, so do people's purchasing decisions. The internet has shifted the buyer's journey to one where consumers can research their needs without contacting sales.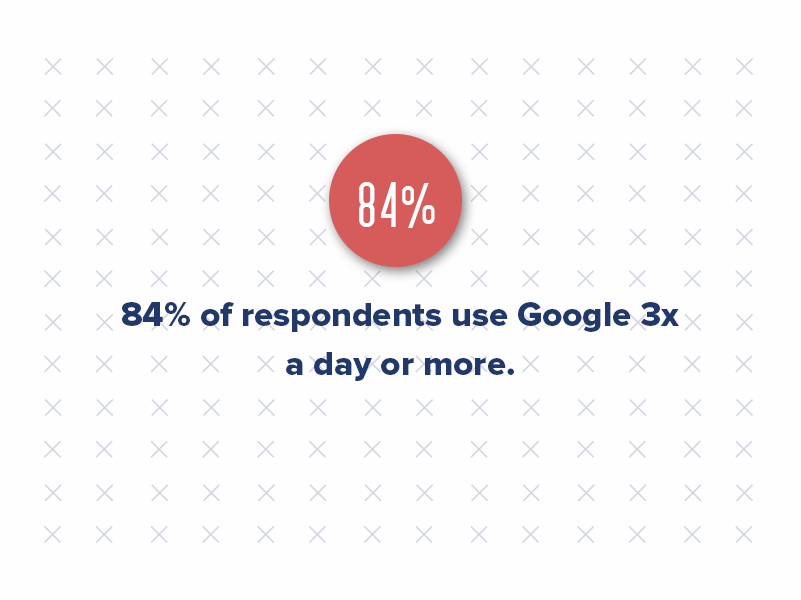 A majority of consumer research occurs on Google before turning to other resources, and 84% of respondents use Google three times a day or more. This is a huge detriment to groups that don't have a digital presence and instead rely on mailers, word-of-mouth, and brochures. A senior living group that can't be found through this methodology is missing out on consumer education opportunities.
Furthermore, digital content has a longer lifespan than physical materials due to the duration of information on the internet. This means the digital content bringing in leads returns a lower lead cost than traditional methodologies.
Targeting the Decision-Maker
When considering buyer personas for seniors, most people think of the active senior. Active seniors can make their own decisions and support themselves in post-retirement. 
Many don't consider the growing population of seniors who require assistance and rely on loved ones to make their decisions. The U.S. Department of Health and Human Services estimates that by 2050, the population of individuals using these types of long-term care services will double to 27 million. This is a significant shift that will transform the market completely. And for the children of this growing group of adults, research is key to finding high-quality care.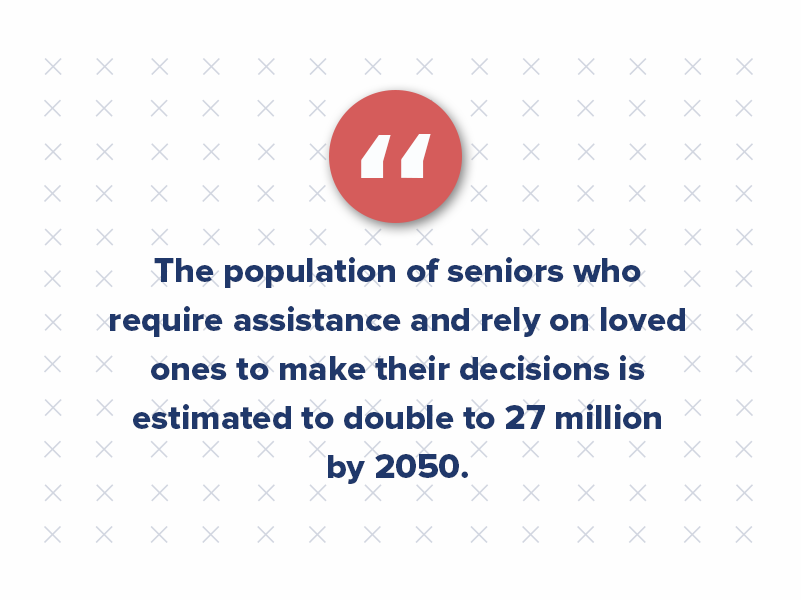 Given the high turnover that exists because the cost and care quality do not meet the expectations of adult children, representing the ability to meet these needs in your online content is vital to success. Educating multifamily leads on these options can build authority with the industry shift from institutionalized care to more community-based services.
The Benefits of Inbound Marketing for Senior Living
Education and Awareness: Establishing a digital presence allows senior living communities to educate potential residents and their families about the benefits of senior living, the different care options available, and the overall lifestyle offered. Through informative blog posts, videos, and social media content, senior living groups can position themselves as authorities in the field and build trust with their target audience.
Building Trust and Credibility: By consistently providing valuable and relevant content, senior living communities can build trust and credibility among potential residents. This trust is crucial in the decision-making process, as families want to ensure the well-being and happiness of their loved ones.
Lead Nurturing: Inbound multifamily marketing enables senior living communities to nurture apartment leads by providing personalized and targeted content based on potential residents' specific needs and interests. Through email campaigns, gated content, and personalized messaging, senior living groups can guide prospects through the buyer's journey and ultimately convert them into residents.
Increased Reach and Engagement: Digital platforms offer a vast reach and the ability to engage with a wide audience. Senior living communities can leverage social media platforms, paid advertising, and search engine optimization to increase visibility, attract qualified multifamily leads, and foster meaningful interactions with potential residents and their families.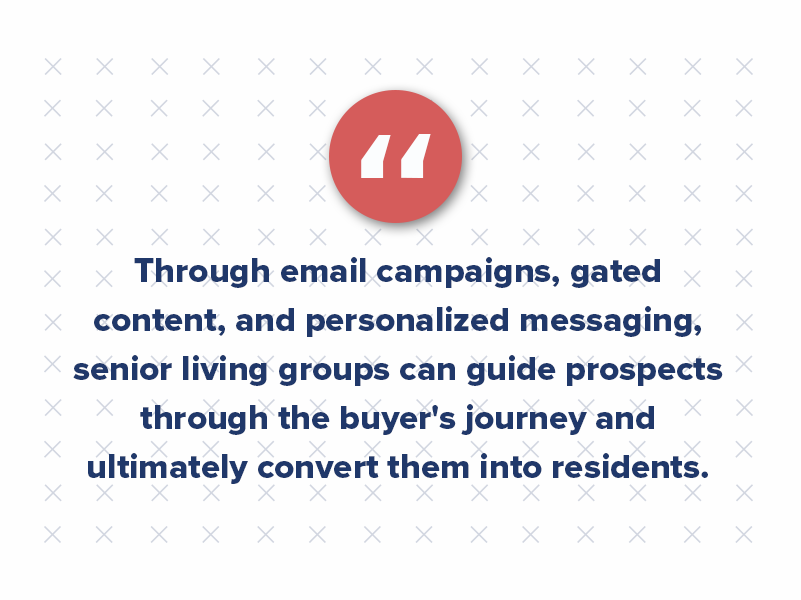 Why You Need Digital Apartment Leads for the Digital Age
These trends indicate a bigger change across the economic landscape — that both business and demographic trends are shifting to meet a world where technology is no longer an afterthought. This market shift means a necessary shift in strategy as well.
Older Americans shun traditional homes in favor of new alternatives, so senior living groups must be present online. By targeting online content to the appropriate groups, senior living communities can become a strong resource for active or older seniors. Without adopting this new direction toward lead generation, senior living may very well be shifted out of the market.

New Urbanism: Bringing New Life to Urban Living
Trends come and go, but sometimes they turn into a lifestyle. Improved urban living and environmental efforts are rising, but will they last?
As an apartment marketing agency, Criterion.B's expertise in multifamily marketing and real estate gives us great insight into what's coming and phasing out. 

The New Urbanism movement is a trend that is rapidly gaining popularity. This urban planning philosophy seeks to create walkable, mixed-use communities that are sustainable, efficient, and livable.
The trend inspires remarkable change in urban planning, sustainability, and multifamily development, providing an alternative to the traditional suburban living model. And it just might be here to stay.
What are this new-urban renewal plan's challenges, benefits, and concerns?
The Background of New Urbanism
The movement has garnered new life since it gained momentum roughly 25 years ago. Before the late '80s and early '90s, the urban environment was typically avoided and crime-ridden; the suburbs remained the hub for retail, restaurants, and recreation. 
However, New Urbanism changed that by replacing negative city stigmas with fresh architecture, cleaner streets, and green initiatives. As a result, a renewed concept of urban living emerged. New Urbanism brought new life to the city, and Americans flocked to experience this lifestyle.
Benefits of New Urbanism in Multifamily Development
The New Urbanism trend attracts much interest from developers, investors, and homebuyers alike. One of the key benefits of this trend is that it creates a more walkable and livable environment. Residents can walk to work, shopping, dining, and entertainment destinations, reducing their reliance on cars and improving their quality of life.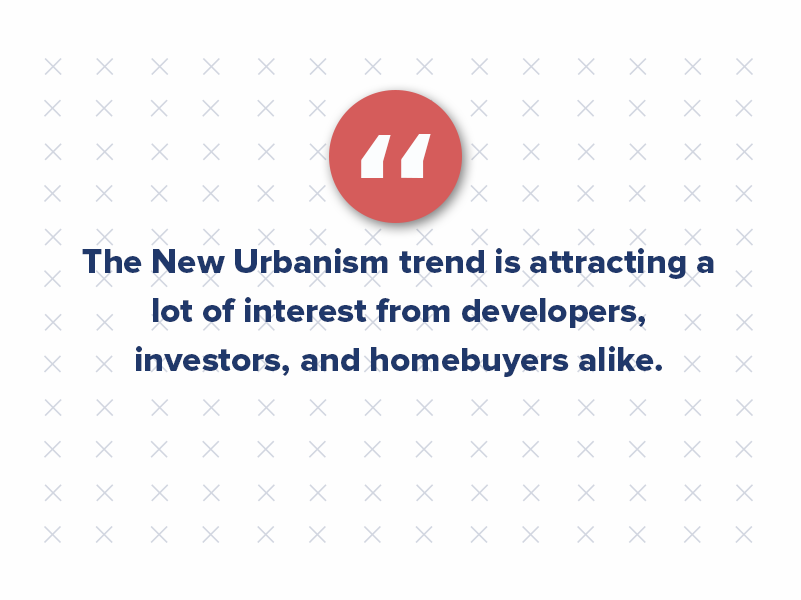 In addition, New Urbanism encourages public transportation, making it easier for residents to get around without a car. This helps reduce traffic congestion and air pollution while also promoting sustainability.
Another benefit of New Urbanism is that it provides a mix of residential, commercial, and retail spaces within the same multifamily development. This creates a sense of community, making it easier for residents to interact with their neighbors and the surrounding environment.
Nowadays, it's unsurprising for young professionals and active individuals to live in the city's heart. Millennials, especially, are driving this movement (whether they know it or not). They clearly desire prime locations, luxurious amenities, and walkable neighborhoods. As a result, these requirements force urban multifamily properties to keep up and stand out. The millennial lifestyle exemplifies New Urbanism and stimulates the evolving urban revival.
A great example of New Urbanism in action is Klyde Warren Park. Take a busy, bustling city, and drop a giant patch of grass on top of an Interstate overpass. That's the exact action Dallas City Planning took to revitalize the city streets. Stop by, and you'll find a line of food trucks, yoga classes in the park, picnic blankets, a playground, and a band playing at sundown. Cities flourish when safety, community, and accessibility are at the forefront of planning.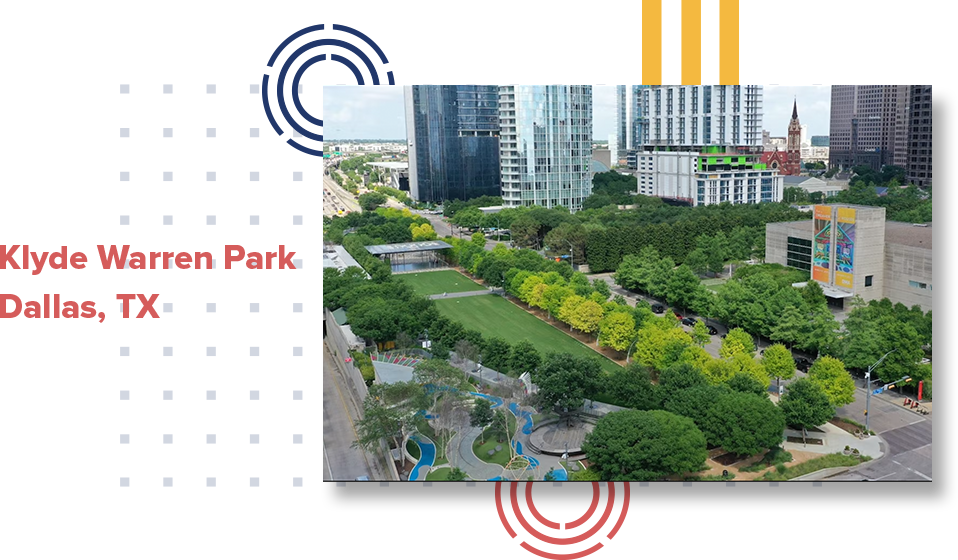 Challenges in New Urbanism Multifamily Development
However, there are also challenges and concerns associated with New Urbanism. One of the biggest concerns is the cost. Developing New Urbanism communities can be more expensive than traditional suburban multifamily developments due to the need for infrastructure such as sidewalks, bike lanes, and public transportation.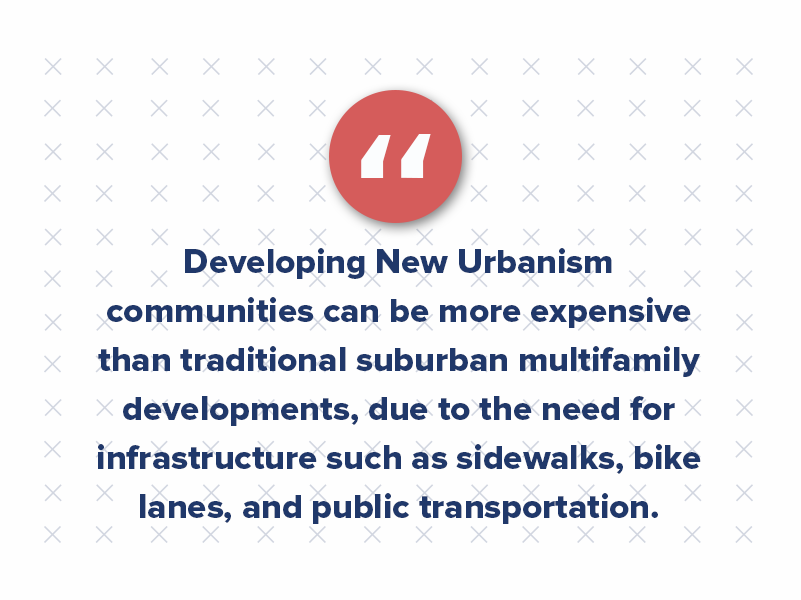 Another challenge is that New Urbanism multifamily developments may not appeal to everyone. Some people prefer the traditional suburban living model and may not want to live in a more densely populated area.
In addition, there are concerns about the potential for increased traffic and parking issues in New Urbanism multifamily developments. While the trend encourages public transportation and walking, some residents may still need to drive, and there may not be enough parking spaces to accommodate all residents.
Will the Trend Last?
Despite these challenges, the trend toward New Urbanism in multifamily living will continue. The demand for walkable, sustainable, and livable communities is growing, and developers increasingly recognize the benefits of New Urbanism.
In addition, the trend toward New Urbanism aligns with the broader trend toward sustainability and environmentally conscious living. As more people become aware of the environmental impact of traditional suburban living, they seek alternative models that are more sustainable and efficient.
What will this living look like? Apartments that blend with the environment; smaller and more thoughtful multifamily projects; carless cities and larger sidewalks; community gardens integrated into multifamily properties; or even smart cities. New Urbanists are working towards building cities that revolve around maximizing space, community, sustainability, and efficiency.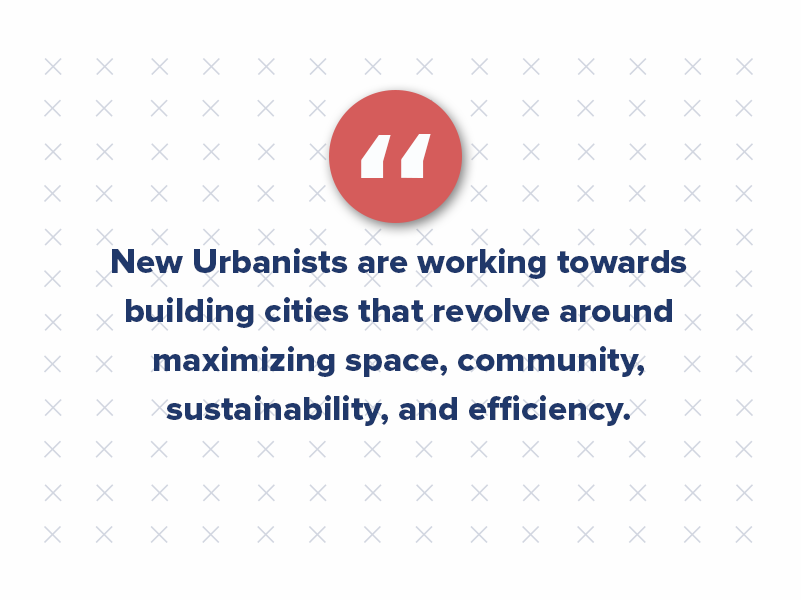 Buildings will no longer be a monument to themselves but instead, to the city streets.
Shaping the Future of Apartment Living
Although the popularity of New Urbanism is widely accepted, "an enormous invisible structure" hinders its full overhaul. To the government, this reinvention of city living is breaking code after code. 
Local zoning codes restrict modernist design, form, and projects, ultimately restricting wider streets and increased walkability. However, there's hope in progress; as this movement gains momentum, its impact will reach public officials and make a difference in urban life.
While there are challenges, the benefits of creating walkable, mixed-use communities are too significant to ignore. The trend toward New Urbanism in multifamily living is expected to continue, and it is poised to play a major role in shaping the future of apartment living.

Winning Tactics to Attract More Gen Z Renters to Your Property
The oldest members of Gen Z are turning 25 this year. They were only seven years old when Facebook launched; they have never known a time before the internet.
And guess what else? They're going to be the largest generation of apartment renters the industry has ever seen.
We just adapted to millennial renters, and now here comes Generation Z in full force. Before long, it will be time to adapt again to Generation Alpha (AKA "mini millennials") but let's not get too far ahead of ourselves.

Meet your Gen Z renters
First, who are your Gen Z renters? They're the buzzed-about generation, and rightfully so, with $360 billion in disposable income. And Gen Z's spending power is continuously on the rise.
While millennials have historically garnered all the attention from multifamily apartment properties, Generation Z has started to overtake the rental market. This age group is typically born between the mid-1990s and 2010.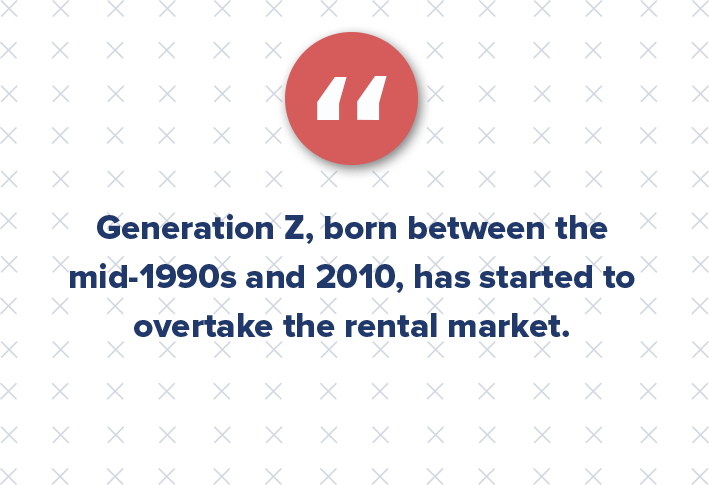 When comparing them to previous generations, online connectivity emerges as the defining characteristic. As such, this young population should definitely be an extremely important part of your apartment marketing strategy.
Gen Z by the numbers
Let's consider a few stats from a recent rentcafe.com survey of 2,500 Gen Z renters:
39% of Gen Z renters searched Google for their next apartment while 27% specifically went to apartment search websites.

52% of Gen Z said they prefer non-agent apartment tours (e.g., self-guided or virtual tour options).

30% of this generation check ratings and reviews first as compared with 28% of millennials and 25% of Gen X.

62% of Gen Z said apartment technology is either "extremely important" or "very important."

The No. 1 most important amenity to Gen Z renters is high-speed internet, followed closely by garage and parking.

36% of Gen Z renters said

Instagram

is their No. 1 social media platform of choice.

Smart locks and smart thermostats are twice as important to Gen Z as they are to millennials or Gen X.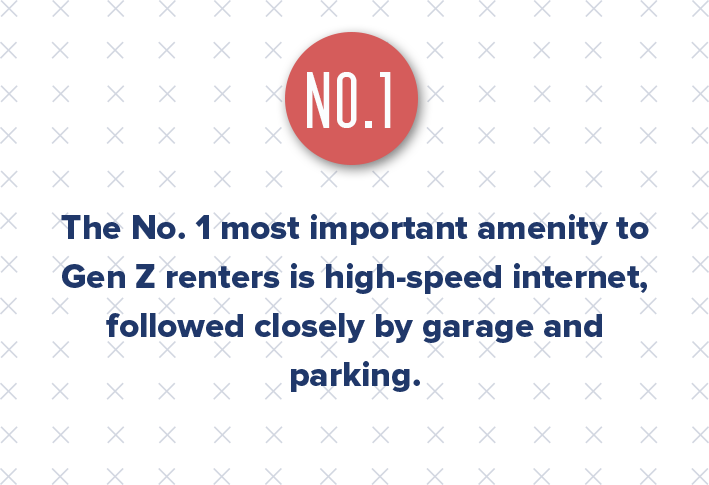 What do Gen Z renters want?
Gen Z renters are looking for efficiency in the leasing process, new communication channels, and enhanced amenities. As these young adults continue to enter the rental market, it will become increasingly important for you to understand their expectations.
1. Smart technology
Now is the time to get ahead on your smart apartment technology and high-speed internet connectivity, as these amenities are more important to Gen Z renters than gyms, pools, and coffee bars.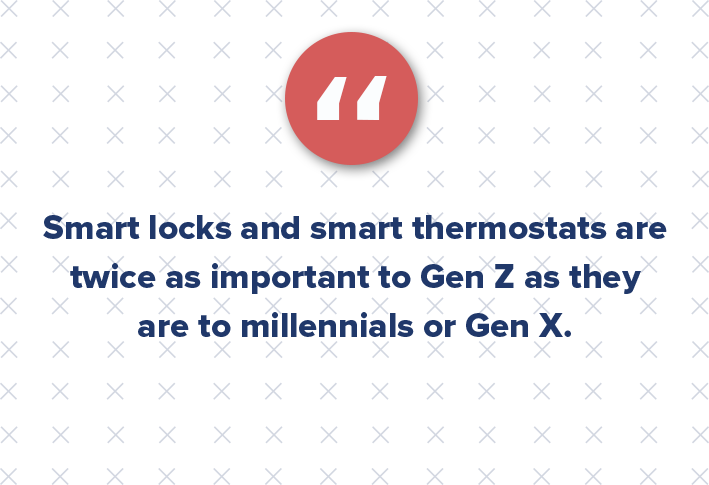 2. Mobile-first strategy
Gen Z's technology use is fast-evolving both consumer marketing and the real estate industry as a whole. Smartphones are considered an extension of the body. Gen Z touches their smartphones 45 times a day on average for communication, entertainment, and informational purposes. About 29% of Gen Z are on their phones after midnight every night, and 31% said they feel uncomfortable if they are without their phone for 30 minutes or less.
If these stats don't tell you to prioritize your mobile-first website, we don't know what will!
3. More activity on social media
Social media is a natural forum for Gen Z to interact with their friends and with companies. In fact, their preferred method of communication is on social media rather than in person (even when it comes to their friends and family). This generation's lifestyles and technology habits are causing us to rethink the way we approach brand development, particularly in real estate.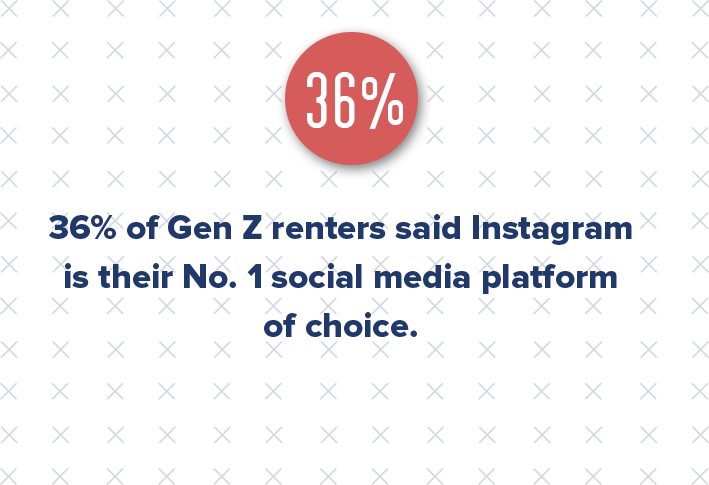 With technology at their fingertips, everything of interest to Generation Z is connected to social media. Your apartment marketing should focus extensively on the most popular social media platforms (i.e., Facebook, Instagram, Snapchat, and TikTok) and continually adapt as new social tools gain popularity.
While these young adults are known for their multitasking abilities when juggling various social platforms at once, they are also known for "scrolling." Your social media ads should, therefore, be attention-grabbing and specific. Hone in on your core message quickly or risk losing engagement. For best results, focus your apartment marketing efforts on videos and other visually appealing content. 
4. Rent longer. Rent by choice.
Aside from being the most coveted demographic, they're also the most baffling for a traditional multifamily industry to understand. Compared to the generations before them, changing lifestyle preferences are beginning to propel several trends in multifamily development.
Gen Z is poised to rent longer than generations before them, and oftentimes by choice. If you compare it to the millennial generation, who waited longer to get married and start a family, Gen Z is expected to follow in a similar path. This trend will undoubtedly extend their rental lifetime well into their professional years.
5. More tour options and an adaptable leasing process
With over half of Gen Z renters preferring non-agent apartment tours, it will be up to your property to adapt and offer a mix of in-person, self-guided, and virtual tour options to increase conversions.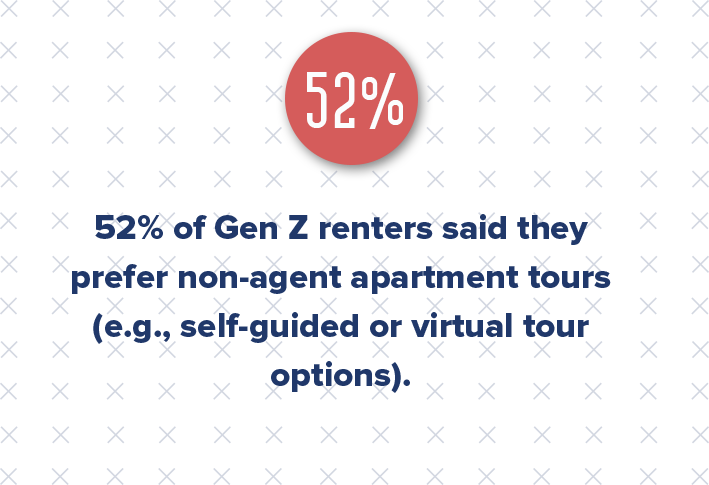 A mobile-first strategy is also important to consider when it comes to communication and the leasing process. Gen Z is unlikely to hand-write a rent check or manually fill out a leasing application. They expect everything online, which includes leasing paperwork and payments.
Marketing to Gen Z renters
Gen Z lifestyle preferences are driving key changes in multifamily development, but what does that mean for multifamily marketing? Quite simply, if you understand what's important to them, then you can understand how to attract them. This is how to maintain a customer-centric approach.
Keep in mind, however, that being familiar with multifamily marketing trends is only a starting point. Your greatest demographic insights will come from the research you do yourself. The best way to conduct research about your target market is to develop resident personas. You can learn all about developing personas on our blog.
Again, when we know what's important to prospective residents, we can understand how to attract and engage them.

We've said it before and we'll say it again: Leasing is no longer an "amenities dump." Your prospects and current renters expect a lot more from you; namely, they expect a full resident experience.
Onsite staff must connect with people to fully understand their audience. Targeting each sale and all corresponding communication to that person is the new norm in leasing.
How Resident Events Impact Your Bottom Line
Did you know that residents who have seven or more friends in their apartment community are 47% more likely to renew their lease? Further, a recent Satisfacts Resident survey discovered that resident events are one of the significant drivers of lease renewals. As such, developing a multifamily marketing strategy around resident events at your property can make a big difference in your bottom line.
That being said, hosting a simple grab-and-go resident event once a quarter is not going to cut it. Resident events need to foster relationships between neighbors and create a unique and welcoming resident experience. Ultimately, you should be consistent and intentional, according to Jackie Ratzlaff, Divisional President of the Apartment Life East Division.
Starting Your Resident Experience Journey
According to Apartment Life's Ratzlaff, "Fostering resident satisfaction throughout the leasing and move-in experience is where the journey starts, but certainly not where it ends. Giving your residents that 'home' feeling involves creating intentional opportunities for them to make lasting, meaningful connections."
As part of Apartment Life's new article series, Ratzlaff details three ways to elevate the resident experience and ensure a happy, loyal resident from the beginning.
Jackie Ratzlaff is the Divisional President of Apartment Life's East Division. She can be reached at jackieratzlaff@apartmentlife.org.
The multifamily marketing industry — and your residents — are changing fast. Are your processes changing with them?
There were countless fantastic panels at NAA's recent Apartmentalize conference, amazing speakers, and quality topics. But one really stood out to us: "Undercover Resident: The Genesis of a Community's Reputation Begins Onsite, Not Online."

But wait, we are a marketing company — shouldn't we advocate for everything online? We do love digital marketing, but we also love people. This panel was a fantastic reminder of why we are in this business.
Too often, companies get sidetracked with what they are selling that they forget who they are selling to. We live in an age where texting supersedes talking. Yet, more than 700 residents across the nation admitted that personalized service goes further in their decision to renew than amenities.
With specialists from Rivergate KW, Apartment Life's Cares Program, and The Franklin Johnson Group, this panel unpacked what residents really want. And it is different than what the staff thinks they want.
Attracting & Retaining Residents
Online marketing can be one of the most effective ways to draw and engage with residents. However, residents will ultimately choose to stay at your property if it feels like home.
Residents surveyed listed "engaging community events" as the No. 2 factor in their decision to renew a lease. They also ranked "sense of community" as a Top 5 reason to rent even when buying a home is an option.
With more generations renting now than ever before — and homeownership decreasing in nearly every age category — competition is ramping up in multifamily. This makes it more critical than ever for properties to both attract and retain residents.
If a property's online presence and social media feed are updated and targeted, residents are more likely to be interested. However, if a prospective resident walks in the door and the leasing professional does not understand their life stage needs, how to adapt their sales strategy, or how to communicate with them most effectively, the prospect will likely flip from feeling impressed to feeling like a number, said Jackie Ratzlaff, Vice President of Growth Initiatives at Apartment Life Inc.
In other words, by upholding the same leasing practices you have always used, it will be less likely that you will be able to sell to multiple demographics successfully.
It's important not to just be experts about your property's physical space, but to know what resonates with each renter. This is called a buyer persona. A well-defined persona helps target your marketing efforts to the right people, at the right time, and in the right way.
Below we explore a few then-and-now comparisons of how renters in the multifamily market are evolving.
Then:
Professionals rented urban apartments until they could buy a house.

Families preferred to live in suburban apartments until they could buy a house or because of better schools.

Retirement homes served as a final-stage home option for the senior population, predominantly due to declining health.
Now:
Urban apartments or apartments with urban qualities attract both millennial professionals and Boomers. Boomers desire walkability and a new experience. Meanwhile, young professionals often place the convenience of their urban rental over homeownership even after starting a family.

Suburban apartments in growing cities rival urban apartment features. They are new, sleek, and geared toward professionals who work away from city centers, or those who work remotely. They are no longer just for families but target a wide variety of demographics.

Boomers and empty nesters desire a shared community with others in their stage of life and the convenience of walkability. Their health is not declining but is the main priority as they want to engage in activities (e.g., fitness, hobbies).
From increased technology and targeted social marketing campaigns to on-demand customer service, an enhanced online presence is essential. However, what is more important is focusing on the people you are selling to, then honing in on what will make them want to live at your property. Residents will renew their lease because of the way they feel, the way they are treated, and the community they have — not because of a great Instagram feed or a new fitness center.

Rethinking Your Customer Experience Strategy
Several multifamily properties are already rethinking how they do business.
Rivergate KW Residential, for example, is partnering with The Ritz Carlton to train their management staff on superior and personalized service that focuses on the people, according to Joya Pavesi, Vice President of Marketing and Strategy and one of the NAA panelists.
Cortland Partners appointed its first-ever Chief Experience Officer to develop a customer experience strategy and bring the brand to life across all touchpoints.
Apartment Life Inc.'s Cares Program helps properties increase retention by enhancing a sense of community through tailored monthly events, personalized visits, and resident care.
Finally, marketing agencies like Criterion.B are partnering with management companies to train staff on target buyer personas. Knowing this information helps you create content, design amenities, and understand the type of customer service needed to attract and retain your residents.
In short: Leasing is no longer an "amenities dump." Instead, the onsite staff must connect with the people. Understanding their audience and targeting each sale and all corresponding communication to that person is the new norm in leasing.

From new regulations to advanced technology, the multifamily industry is constantly changing — and so too are your consumers. This is why it is only natural to change the way you lease as well, adapting to today's renters.

Traditionally, the leasing staff is trained to focus on what they are selling such as high-speed internet, shared community areas, and other amenities. Today, properties are experiencing more success when focusing on who they are selling to — honing in on what's important to the targeted audience.
For example, if a leasing agent offers the same sales pitch to a Baby Boomer and a Millennial, they may only get one lease. It is important not just to be experts about your amenities and physical space but to know what resonates with each potential renter. This is called a buyer persona. Building a buyer persona helps you target sales around your audience and makes the difference between one lease and many.
Understanding Buyer Personas
Do you know who your customers are? Where do they work? Where do they shop? What are their interests? While these questions might seem unimportant in the sales process, they are essential characteristics to know to understand your prospective renters' purchasing decisions.

A well-defined buyer persona helps target marketing efforts toward the right people at the right time and in the right way. Personas help you identify your renters and understand how your product can fulfill their needs and wants.
A buyer persona is a semi-fictional representation of your ideal customer based on interviews, market research, and real data about your existing or target audience. These personas capture the demographics, motivations, behaviors, problem areas, and professional/personal drivers of your ideal customer. Knowing this information helps you create content, design amenities, and understand the type of customer service needed to attract residents.

Building Buyer Personas
When working through our research process for branding new developments, we always start with creating personas. Through this research, we interview current and prospective residents to obtain a 360-degree view of the organization. It is important to dive deep and gain a thorough understanding of your customers, where they spend time online, what resources they trust, and what pain points they are facing.
As a commercial real estate marketing agency, Criterion.B lives in the world of brand identity. We help multifamily properties understand that such a big part of marketing their communities is tied to knowing their residents and then communicating differently with each target audience in the leasing process.
We begin by thinking through specific examples of the target residents, identifying their unique qualities, and finding out what is important to them. This helps create a more personal connection when the ideal resident walks through your door. We take the information we learn and craft personas for each target. Then we give them a fun name such as Empty Nester Nell or Baby Boomer Bob, making each persona easier to remember.
Consider the following when building a buyer persona:
Memorable name

Job titles and responsibilities

Demographics such as age, ethnicity, family status, education, etc.

Goals you want to accomplish on your website

Pain points (Why is it so easy for residents to leave? What are they struggling with? What are some of the things that frustrate them about the apartment industry?)

Technical experience

Work environment (Do they work a standard 9 to 5 job? Busy stay-at-home mom? Are they on their feet all day in a fast-paced workplace? Is their office in a large high-rise downtown?)

Photos (Using realistic pictures, rather than celebrities or stock photography, is always best.)
Leveraging Buyer Personas
After establishing your persona, your brand should be angled toward your ideal customer. But what do you do when your perceived customer comes from two generations?
For example, if your property is in an urban area, you will draw several prospects. One might be a Millennial professional who likes to do fun activities and enjoys the convenience of the light rail. Another might be a recently retired Boomer couple who want the relaxed feeling of less maintenance and walkability.
Building a buyer persona gives the entire leasing process a purpose. Otherwise, you are selling the same physical amenities no matter who enters the door. If the leasing agents are trained to understand each target persona, they can tailor the sale to that person. This means that when that empty-nester couple walks in the door, the staff will focus their sales pitch around the carefree lifestyle the couple can have with a full-service maintenance team or the community spaces they can reserve for family gatherings.
The Key to Commercial Real Estate Marketing
While building a buyer persona may seem tedious, it allows you to humanize your audience and work more efficiently to let them truly envision what they value most as a renter. Download our multifamily persona worksheet to develop a buyer persona that speaks to your renters' needs and helps align your marketing strategy.
For more information on buyer personas and selling to the person, attend the NAA's Apartmentalize Conference on June 13-18, in San Diego. The "Undercover Resident" Panel session will delve more into this topic.

Understanding Millennials: A Generation Shaping Multifamily Marketing
In the ever-evolving landscape of the multifamily industry, staying attuned to shifting demographic trends is paramount for success. Among the most influential demographics shaping the market are millennials — individuals born between the early 1980s and mid-1990s.
With their unique preferences, values, and behaviors, millennial renters have become a driving force in shaping your multifamily marketing plan.

Understanding Millennial Renter Preferences
Embracing Technological Connectivity: Millennials have grown up in a digital age, where technology is deeply embedded in their lives. They rely on smartphones, tablets, and social media platforms to stay connected, conduct research, and make purchasing decisions. As a multifamily marketer, harnessing the power of technology and embracing digital marketing strategies is crucial to engage with millennial renters effectively.
Prioritizing Experiences Over Ownership: Unlike previous generations, millennials emphasize experiences more than material possessions. This mindset extends to their housing choices, as many millennials prefer the flexibility and convenience of renting over the commitment of homeownership. Highlighting the experiential aspects of your multifamily properties, such as amenities, community events, and convenient locations, can be key selling points to attract millennial renters.
Sustainability and Environmental Consciousness: Millennials are environmentally conscious and seek sustainable living options. Incorporating eco-friendly features into your multifamily properties, such as energy-efficient appliances, recycling programs, and green spaces, can resonate with millennial renters who value sustainability. Communicating your commitment to sustainable practices can differentiate your property and attract environmentally conscious millennials.
Authenticity and Transparency: Millennials value authenticity and are adept at detecting multifamily marketing gimmicks. They seek transparency in brand messaging and prefer genuine interactions. Building trust through honest and transparent communication is crucial in multifamily marketing. Share authentic stories, highlight the unique aspects of your properties, and engage with millennials through personalized and meaningful interactions.
Multifamily Industry Implications
Shift in Property Amenities: Millennial preferences have led to a shift in property amenities. Millennial renters increasingly seek out fitness centers, communal workspaces, outdoor recreational areas, pet-friendly facilities, and smart home technology. Incorporating these amenities into your multifamily properties can attract and retain this target demographic.
Rise of Digital Multifamily Marketing: Traditional marketing channels are no longer sufficient to reach millennial renters. Digital marketing, including social media for apartments, influencer partnerships, and targeted online campaigns, has become instrumental in effectively engaging with this tech-savvy generation. Investing in a comprehensive digital marketing strategy can yield significant results in attracting millennial renters.
Enhanced Community Engagement: Millennials value community and social connections. Creating opportunities for community engagement within your multifamily properties, such as hosting resident events, organizing volunteer activities, or facilitating social platforms for residents to connect, can foster a sense of belonging and enhance the overall resident experience.
The Technology Factor
Millennials are the first generation to grow up around the internet. Interconnectivity and information explain much of what makes millennials who they are. By looking at specific digital trends among millennials, we can understand what drives their behavior and how they make purchase decisions. Because of their large purchasing power, marketers are changing their tactics to get in front of this generation. New social media advertising tactics have evolved due to millennials spending more than three hours a day on mobile phones.
While millennials are evolving online marketing, their lifestyles define the multifamily space. As millennials tend to wait longer for marriage and kids, they delay homeownership and rent longer. Multifamily communities have to adjust their marketing tactics to attract these sought-after renters.
Understanding Millennial Renters to Craft an Effective Multifamily Marketing Plan
Understanding millennial trends is crucial for developing an effective multifamily marketing plan. By embracing technology, prioritizing experiences, emphasizing sustainability, and cultivating authenticity, you can align your marketing efforts with the preferences and values of millennial renters.
Leveraging these insights can help differentiate your multifamily properties in a competitive market, attract millennial renters, and position your brand for long-term success. Stay attuned to evolving millennial trends, adapt your marketing strategies accordingly, and embrace the transformative opportunities presented by this influential generation within the multifamily industry.