Modern Multifamily Marketing: Say Yes to Touchscreens
There's certainly a cool factor when it comes to smart home technology for apartments. But with the growing digital age, are they right for your multifamily property? Apps, drones, and VR are modern tactics in multifamily marketing that may give your property the edge it needs.

Apartment owners are already experimenting with smart-home applications, such as keyless entry, smart thermostats, and smart elevators. As these tech amenities become more common, renters will likely come to expect them. And properties can even charge more for these smart apartments, proving an ROI.
Why Upgrade Your Smart Home Technology?
With millennial and Gen Z renters taking increased pride in both their apartments and the community, the movement toward smart home technology for apartments only further resonates with their tech-savvy lifestyles.
Today's renters expect apartment communities to have high-speed internet and Wi-Fi around the common areas. Smart home technology for apartments has the potential to be an investment that will pay off in the years down the road; some industry leaders are already beginning to see the benefits of upgrading technology.
Smart Home Technology Necessities
Are you convinced smart home technology for apartments is the next big thing? Try these tech upgrades and get smart!
Touchscreens
When it comes to touchscreens, it's important to create unique content that highlights the strength of the technology. Perhaps that could be interactive floorplans and photo galleries, with the ability to zoom and change angles.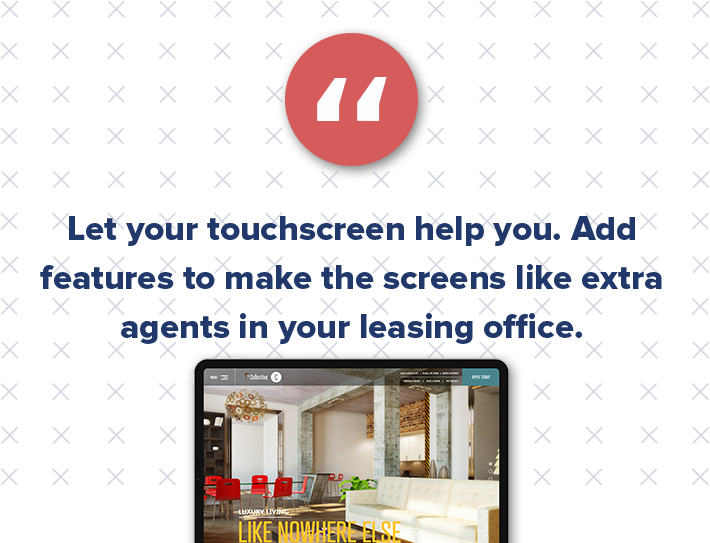 Let your touchscreen help you. Add features to make the screens like extra agents in your leasing office. For example, in high-end hotel lobbies, the touchscreens connect guests to events in the city, help them book appointments, and allow them to take and share pictures. For more urban properties, a Wayfinder tool will benefit residents and guests who may need help getting around.
Touchscreens are also a great multifamily marketing tool for showing off the property culture and creating a sense of community. This also helps attract potential residents. Maybe you display the testimonials of past renters or give birthday shoutouts to current tenants.
USB Charging
Start simply by upgrading your outlets. Swap out traditional outlets for ones with USB charging capabilities. This is ideal for small units with limited space and eliminates a resident needing an outlet adapter.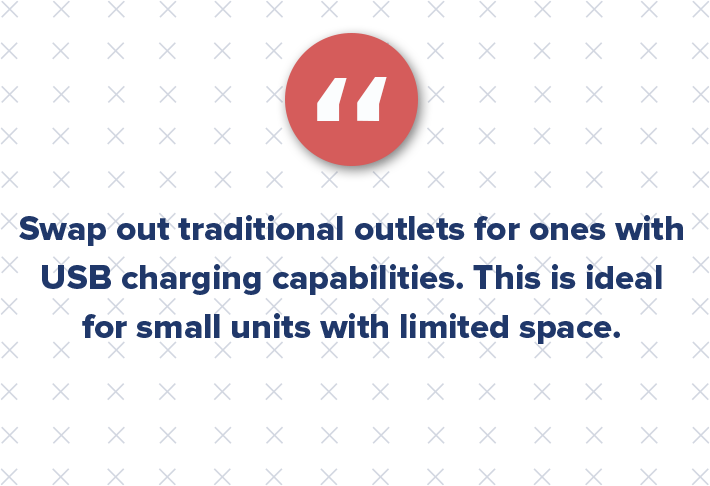 Smart Vents
With the thought of limited or shared space in mind, smart vents are also a wonderful option to upgrade. Perfect for roommates, smart vents connect to the Wi-Fi network and learn to automatically open or close the vent based on the existing temperature in the room. This alleviates the issue of terrible airflow that can leave your apartment feeling warm in one room while cold in another.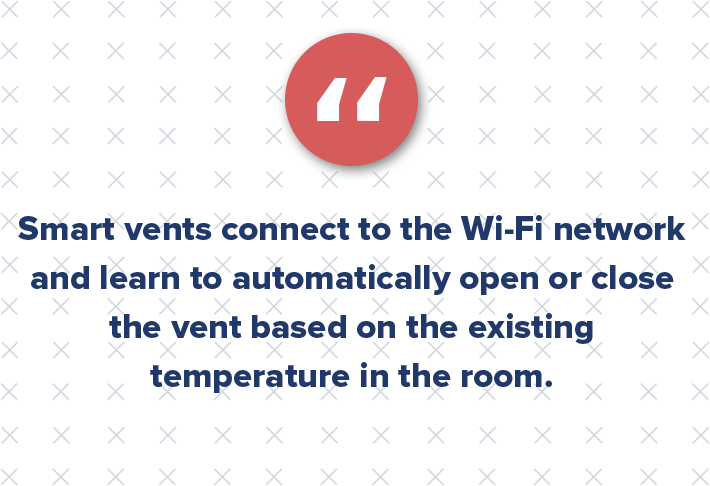 Internet-Connected Thermostats
Some communities utilize Internet-connected thermostats that are controlled by a smartphone in real time. This is a win-win for both renters and property managers; renters can control their temperature as they please, and property managers can turn off air conditioning systems when a renter moves out.
Smart Locks
Smart locks are also a rising technology that prevents physically changing out locks or replacing keys after renters move out. This helps properties save money on maintenance while also keeping residents feeling secure. Whether a resident forgot or lost their keys at the bottom of their purse, the smart lock app simply allows them to lock or unlock the door via a smartphone.
Package Lockers
Lastly, an upgrade that services the whole community is smart package lockers. Property managers often face the task of dealing with avalanches of packages received each day. This can lead to a multitude of issues, from delayed notification of a package to clogged-up storage space. A solution is provided to property managers and residents by installing a locker.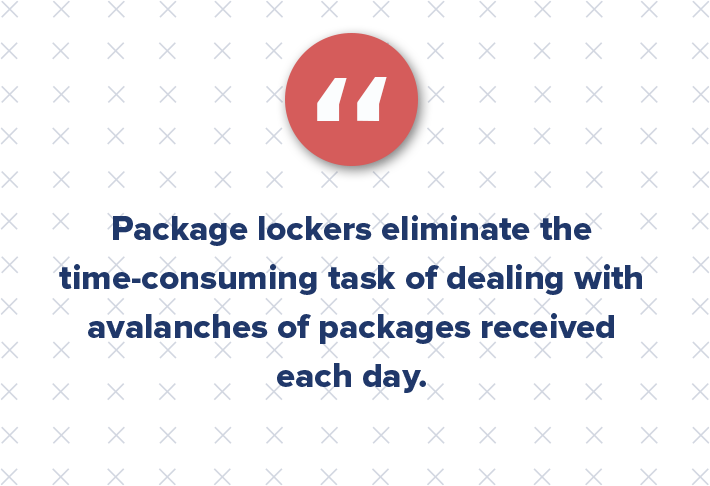 Smart home technology for apartments is opening doors for both industry professionals and residents alike. What will you do for your property as the market demand for more modern apartments grows?