14 Google Business Strategies for Effective Multifamily SEO
In the ever-evolving world of multifamily marketing, ensuring a strong digital presence isn't just beneficial — it's essential.
With the growing importance of search engine optimization (SEO) in multifamily properties, one cannot overlook the power of the Google Business Profile. 
Here's how to supercharge your multifamily SEO using this game-changing tool.

Understanding Google Business Profile's Origin
Google Business Profile is the offspring of the erstwhile Google Places and Google+Local Pages, which were map-based and social platforms, respectively. By bringing these two together, Google offers a user-friendly platform packed with features, ensuring a multifaceted boost for multifamily SEO.
Google Business Profile By the Numbers
From analyzing engagement metrics to understanding their effects on local search positions, these numbers craft a narrative that can shape your digital approach.
84% of business-related searches are exploratory, with a mere 16% being specific searches.
About one-third of local enterprises appear in over 1,000 exploratory searches monthly.
56% of user interactions with Google Business listings result in visits to the company's website.
64% of customers turn to Google to obtain contact information for local enterprises.
During weekdays, 94% of calls to these local businesses are initiated from Google.
On average, a business gets noticed in more than 1,000 monthly searches through this platform.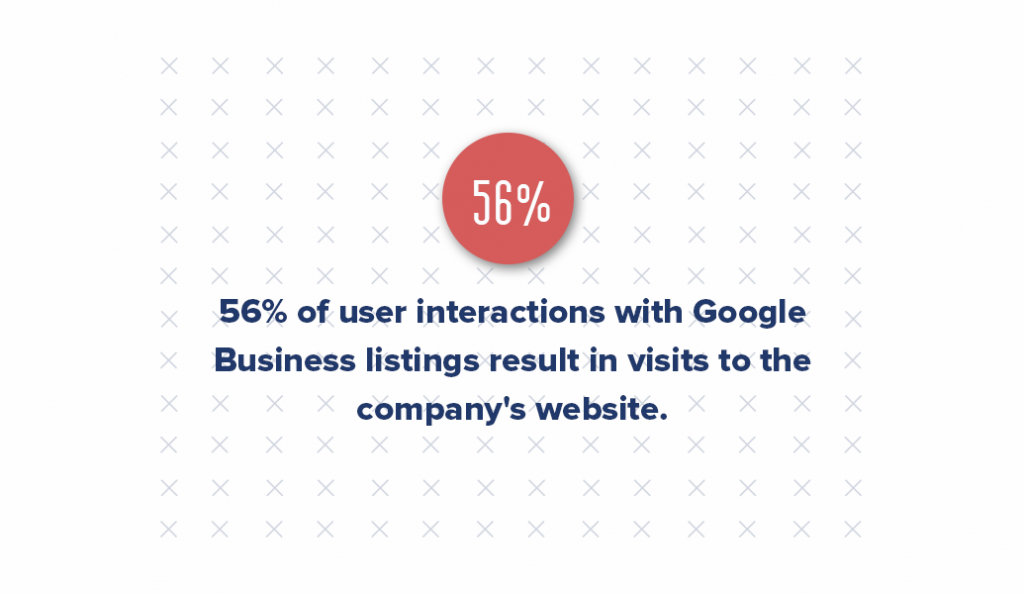 14 Must-Know Multifamily SEO Facts and Tips
Spotlight on Maps: Having a Google Business Profile is like planting a flag on the digital map. It allows your property to shine on Google Maps, displaying key details such as the property name, contact details, and valuable user reviews.
Consistent Updates are Key: Ensure that the information on your profile is up-to-date. An outdated phone number or address can turn potential renters away in frustration.
Multiple Platforms, One Profile: Google Business Profile ensures your property's visibility across various platforms — Google Search, Maps, and the former Google+. A digital trifecta, this increases your multifamily SEO strength.
Transition Note: If you had a Google Places account, Google automatically moved you to a Google Business Profile. But remember to check and refresh your information periodically.
The Social Edge with Google+: With the integration of Google+, your property can now organize virtual hangouts, curate content for specific circles, and share updates, enhancing multifamily SEO.
Community Engagement: Use Google+ to share local events or news about your property. Google then indexes this content, making it discoverable in relevant search queries.
Interactive Customer Care: Google+ also lets customers leave reviews and ask questions. Engaging with this feedback boosts your online reputation and displays a commitment to the community.
First Impressions Matter: Ensure you have a captivating cover photo and a completed profile to capture interest at first glance.
SEO Footprint Expansion: Every time your property appears on a Google page, your multifamily SEO footprint grows, enhancing your online visibility and attractiveness to potential renters.
Staying Current: Regularly update your information. Fresh and accurate content is a cornerstone of successful multifamily marketing.
Claim Your Space: Verifying your Google Business Profile is simple but crucial. Claim and verify your account to fully harness its multifamily SEO potential.
Increased Engagement: Google+ features help you connect with individuals and businesses of similar interests, broadening your community and engagement.
Maximizing SEO Impact: As you consistently update and engage on your Google Business Profile, Google rewards you with better search result placements, optimizing your multifamily SEO efforts.
Forge Ahead in the Digital Landscape: Embracing the multifaceted features of Google Business Profile positions your property for success in the digital age.
The digital realm offers myriad opportunities, and with tools like Google Business Profile, multifamily properties can significantly enhance their online presence and multifamily SEO. 
Ready to dive deeper and fully unlock the potential of your online strategy? Criterion.B's expertise can guide the way. Connect with us, and let's elevate your multifamily marketing game!