Today, we'll discuss another way to improve SEO (Search Engine Optimization) for multifamily properties using Google My Business.
Google My Business combines what was previously Google Places (the map-based platform) and Google+Local Pages (the social platform). If you're getting confused by all these 'Google' pages, then rest assured they've been combined into one platform with several features that aid in SEO.
Be Found.
First thing's first, a Google My Business account quite literally puts your multifamily property on the map (Google Maps, that is):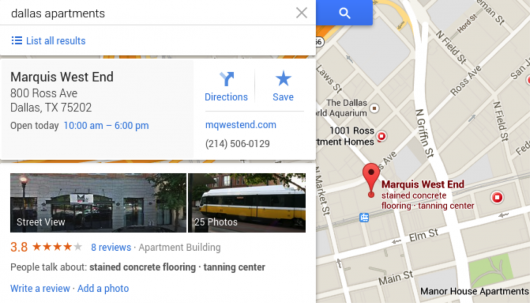 Google My Business shows the title, address, phone number, website, and even reviews. When GPS devices use Google Maps to access basic information about your multifamily property, they pull it from your Google My Business listing. Therefore, it's important to always keep your business information updated. If renters can't find up-to-date information about your property, they'll just move on to the next.
Google My Business lists your information across Google Search, Maps and Google+. The holistic network of citations by the search king itself (aka. Google) has wonderful benefits for SEO.
Note: If you previously had a Google Places page, your account was automatically updated to Google My Business. However, you should be constantly updating your information for accuracy and to take advantage of Google's social features.
Be Social.
A Google My Business account integrates all the features of Google's own social network (Google+), allowing multifamily properties to host hangouts, create and manage circles, and share content such as blog posts or photos. The Google+ feature also allows your property to connect with other individuals and businesses that have similar interests.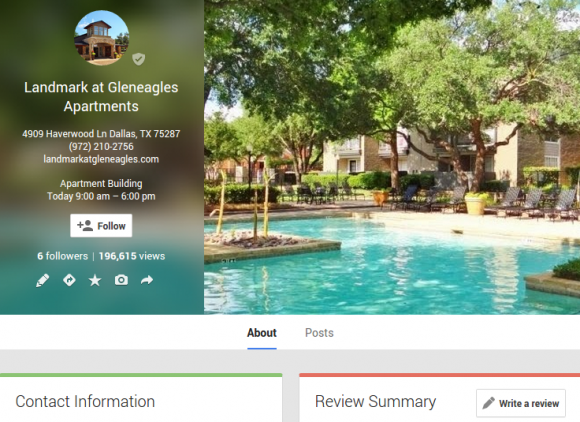 By using the Google+ feature, you can share events going on around your property and neighborhood. That allows Google to index that information for search engine queries. Be sure to add a cover photo and fill out all other profile information. Customers can post comments and reviews, and Google+ allows you to interact and respond. Bad review? Address it. Questions? Answer them.
How Does Google My Business Help SEO?
By having both a Google My Business account, you are enhancing your online footprint through SEO. Every time your information is listed on a Google page, that's another opportunity for Google to index your property in its search results. It's also another opportunity for you to be found by prospective renters. Updating your information regularly is the best way to ensure that renters (both current and future) are receiving the most accurate information about your property.
Get verified on Google My Business with just a few simple steps.