4.3 Million Units Needed By 2035 to Fuel Multifamily Demand
The future of urban living is inherently mixed-use. As population density inevitably increases and real estate prices continue to soar, more apartments are being developed in mixed-use buildings and communities. This type of development can provide the post-pandemic demands of developers, owners, renters, and workers.

Here's a look at some of the latest multifamily trends in mixed-use development across the United States.
Multifamily Development on the Rise
There's no denying that multifamily development is on the rise in the United States. The National Multifamily Housing Council and National Apartment Association's latest research estimates we need to build 4.3 million units by 2035 — 600,000 to meet the current apartment shortage and an additional 3.7 million to keep up with annual demand.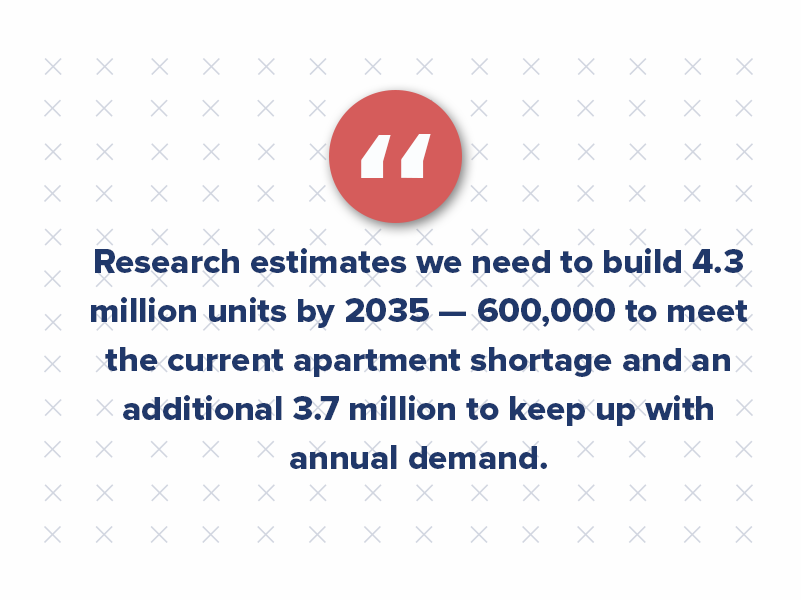 Multifamily development dropped after the Great Recession, resulting in a shortage of apartments. While development has started ramping up, demand has also been high. Multifamily units under construction are now at a historic high of 841,000 (seasonally adjusted) in June 2022.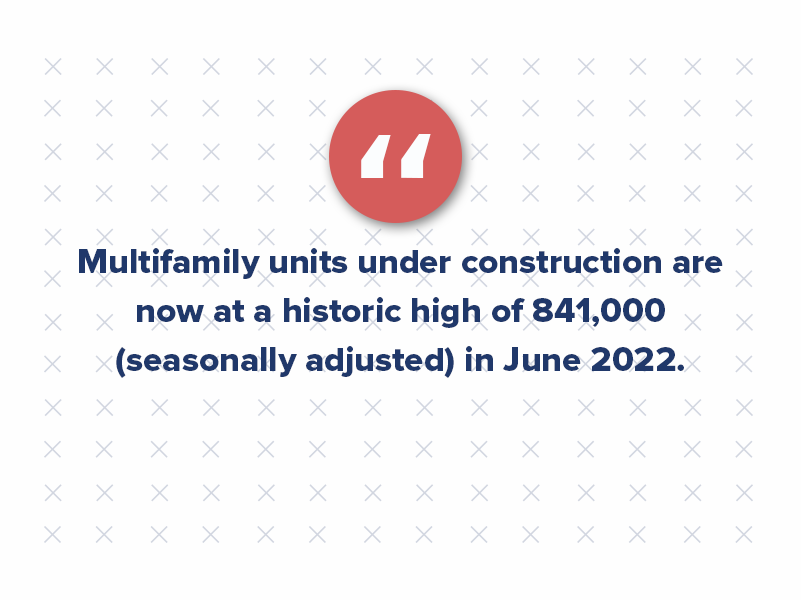 What's driving this growth? Several factors include population growth (both domestic and foreign), increased urbanization, changing demographics (such as millennials delaying marriage and starting families later in life), and rising rental rates. All of these multifamily trends point to one thing: continued demand for multifamily housing in America's cities.
The Shift to Mixed-Use Development
Developers are meeting this demand by shifting their focus from traditional single-use developments (i.e., residential buildings, office towers, retail centers) to mixed-use developments that combine two or more uses (i.e., residential + retail, office + residential, etc.).
Mixed-use developments have several advantages over single-use developments. For one, they're a more efficient use of land — a crucial consideration given the premium placed on real estate in urban areas. They also tend to be more resilient to economic downturns since they provide a mix of uses that can appeal to various renters, buyers, investors, and tenants. And lastly, they create a more lively and vibrant streetscape that can contribute to the overall livability of a neighborhood or district.

Unsurprisingly, we see a shift towards mixed-use development in America's cities. Renters' needs have changed in recent years, particularly with the popularity of working from home during and after the pandemic. This change fueled the spike in live-work-play developments, bringing living, working, and entertainment together in a central location. In fact, 49,100 live-work-play units were completed in 2020 — the peak year for these developments.
Further, the yearly supply of live-work-play developments quadrupled in the last 10 years, going from 10,000 in 2012 to 43,700 in 2021. These communities also represent more than 10% of today's apartments, a significant jump from 2% before 2012.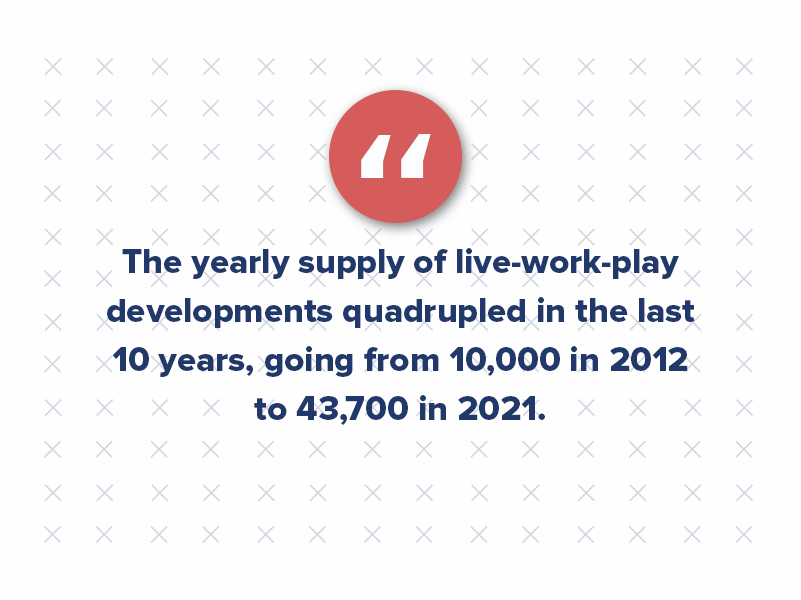 This multifamily trend is only expected to continue as developers look for ways to meet the growing demand for multifamily housing while maximizing land usage efficiency.
What's Next for Multifamily Development?
The COVID-19 pandemic has profoundly impacted virtually every aspect of American life — and the real estate industry is no exception. The pandemic has forced us to reexamine many aspects of our built environment, from office space design to residential amenity offerings.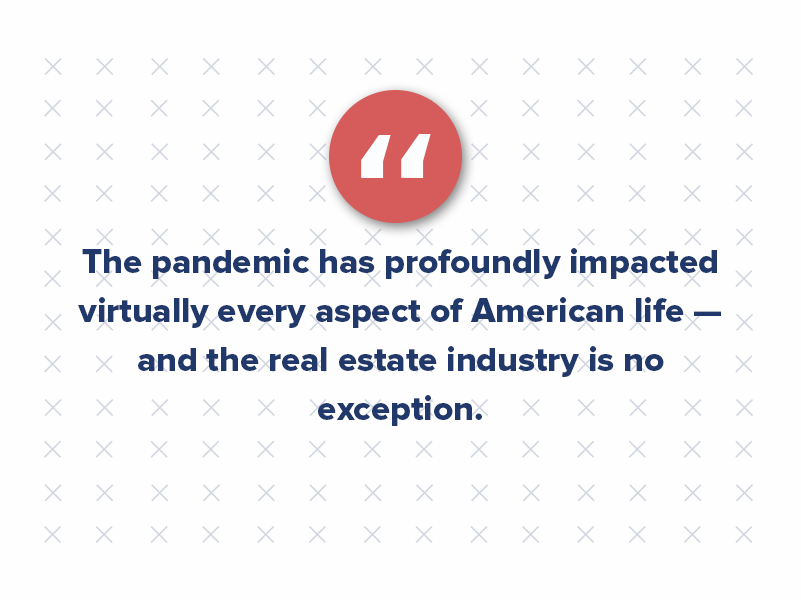 And while it's still too early to say definitively what changes will stick around long term, some emerging multifamily trends suggest the future for development in America's cities.
One such trend is an increased focus on health and wellness amenities — such as outdoor spaces for exercise and recreation, contactless access control systems, air filtration systems, and on-site health clinics — as renters emphasize their health and well-being more.
Another multifamily trend is shifting from central business districts towards suburban locations as workers embrace remote work arrangements and seek out larger living spaces outside of dense urban areas. Lastly, we're seeing a renewed interest in micro units and other small living spaces as renters seek affordability and flexibility in their housing arrangements.
Reexamining Multifamily Trends to Plan for the Future of Development
In the wake of a rapidly evolving housing market, multifamily development is surging across the breadth of the United States. Developers are responding to a burgeoning demand for rental spaces, a call that is redefining the fabric of real estate planning and design.
A significant paradigm shift can be seen as the industry transitions from conventional single-use edifices to mixed-use designs. These novel structures weave together various functionalities, marrying residential with commercial or recreational spaces. The drive behind this movement isn't just architectural innovation; it's a keen attempt to harness land resources optimally. With urban areas grappling with space constraints, the multifamily sector's pivot to mixed-use developments embodies a vision that champions both utility and aesthetic appeal, a trajectory poised to shape the architectural lexicon in the ensuing years.
As the world grappled with the unprecedented challenges posed by the COVID-19 pandemic, no facet of human life remained untouched, and the real estate sector found itself at a significant crossroads. The pandemic catalyzed a global rethinking of how we perceive and interact with our physical spaces. Within the U.S., the upheaval has sparked introspection into our constructed environments' design, purpose, and adaptability, with the multifamily real estate segment experiencing its share of transformative ripples.
While forecasting the long-term implications of these shifts might be speculative at this juncture, certain multifamily trends are beginning to crystallize. These nascent patterns provide a tantalizing glimpse into the potential future of multifamily constructions, especially within America's bustling metropolitan landscapes.