What do multifamily technology, Gen Z, and Web 3.0 all have in common? If you said that they're drastically changing the digital landscape of the multifamily marketing industry, then you are correct!
And for those of you who haven't caught on yet — it's time. Technology has thrust its way into a rather traditional industry, which has seen little variation over the past few years. Industry leaders are just beginning to harness multifamily technology and proptech — especially when it comes to buying, renting, and investing.

This blog will cover six multifamily technology trends:
Millennial and Gen Z Renters in the Digital Landscape
As we explore how the multifamily marketing digital landscape is shifting, keep the millennial factor in mind. Millennials (and the up-and-coming Gen Z renters) carry quite some weight in this industry. They are the renters and the industry leaders of today and tomorrow, not to mention a sought-after generation for multifamily marketing professionals. They're also brand-centric, tech-savvy, and peer-reliant when it comes to product referrals or real estate.
Specifically, in the multifamily industry, leasing managers are quickly realizing that millennial and Gen Z renters would rather text than talk during the leasing process, that they research extensively on their smartphones, and that they need community-based, amenity-rich properties to keep them satisfied. 
Their expertise in technology puts them at the forefront of this multifamily revolution — get Gen Z and millennials engaged, and you have a large, loyal, and vocal audience to build your brand. On the development side, new tools are making it easier to invest, consolidate, and connect.
Now, let's dive into the Web 3.0 and multifamily technology trends shaping the industry…
1. Crowdfunding is changing the face of real estate investments.
Commercial real estate is charting new territory. Across all industries, the internet hubs more information, communication, and services than ever before, and it's crucial for multifamily to begin to embrace its power. Real estate crowdfunding is changing the landscape through interconnectivity — that is, raising awareness among unknowing investors and enabling others to have their own piece of the pie.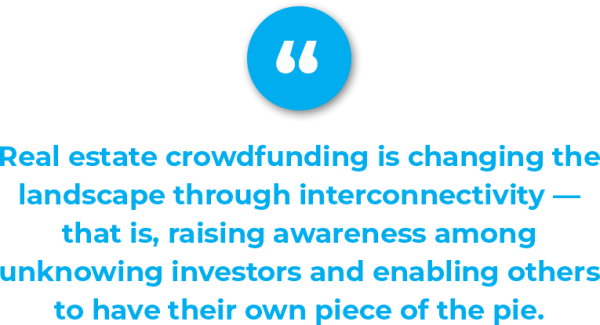 What is real estate crowdfunding?
In short: Crowdfunding is a way for companies to promote and source funds for a project. This often comes from large amounts of people through the internet. As multifamily technology emerges, they're employing real estate crowdfunding as a new way to tap the market. Ultimately, real estate crowdfunding allows smaller investors the opportunity to fund larger properties.
Which crowdfunding platforms should you keep on your watchlist?
Fundrise
Fundrise is the leading real estate crowdfunding and investment platform. The top real estate companies across the country use Fundrise to expand their network and raise capital. But why exactly is this application leading crowdfunding? First off, Fundrise is providing lower costs than traditional lenders and equity partners for mixed-use and multifamily developments. And second, Fundrise requires approval for each project before offering its service; once approved, they fund the investment upfront. Fundrise then seeks out suited investors through ongoing reporting and evaluation.
Selequity
Selequity is an investment platform that aims to make raising capital much simpler. Selequity connects advisors and investors with commercial real estate opportunities from proven sponsors. Essentially, this makes it easier for investors to fund a project with limited entry requirements, which in turn, increases the number of projects getting started.
These two of many real estate crowdfunding applications have disrupted the market. The thing about multifamily technology is, that once someone makes something work, someone else will try to make it better.

2. Online marketplaces are paving the way for multifamily innovation.
The internet has become the new marketplace, connecting one individual with a good or service to another interested individual. An online community marketplace is simply a virtual space for buying, selling, and sharing goods directly between parties. No middleman, corporation, or computerized answering systems.
For example, many of the apps we use regularly (e.g. Uber, Airbnb, LinkedIn) transform the way we seek out goods and services. The multifamily industry especially is becoming more tech-savvy by connecting customers and properties in real time.
The Real Estate Marketplace Frontier
Airbnb
Airbnb has changed the way we think about booking hotels. As you likely already know, Airbnb enables residents to rent out their place to the world; it sources homes, private rooms, and even couches for temporary use to the public. For a company worth $38 billion, it's safe to say its method is working. And this is only the beginning of how technology and real estate are teaming forces.
We Are Pop Up
Have an empty space you no longer use? With this platform, you have the ability to "rent out your empty shelf, rail, or shop window to designers, makers, and artists." No longer are artists speaking with brokers to lease a space for their work. Now, they're able to seek out all of the available sources without a property agent. Certainly, ideas like We Are Pop Up are causing traditional real estate agents to wonder about the future. Further, online marketplaces are building up communities, offering convenience, and most importantly, harnessing human-centric approaches.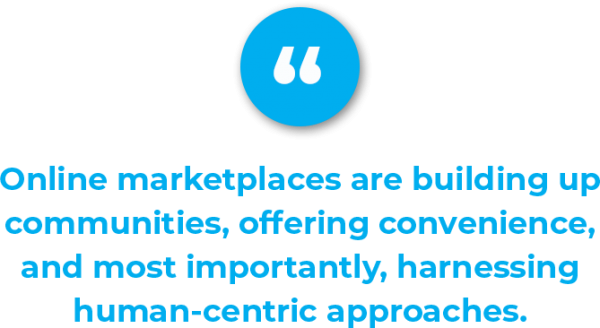 3. The Internet of Things offers a glimpse into the future of multifamily.
If you aren't familiar with the Internet of Things (IoT), then learn fast. In short: Intelligent software collects and monitors information from the physical environment with little to no human interaction. For example, sensors on cars that enable automatic driving, artificial limbs that respond to brain waves, or interior temperature-controlling applications. Conceptually, the Internet of Things will cause us to rely less on traditional computers and more on the technology that is directly embedded into our lives.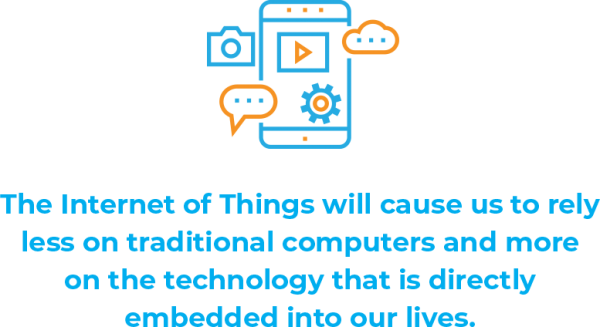 Nest
The multifamily industry is increasingly becoming efficient. Nest is a smart thermostat controlled entirely by a smartphone. The app allows you to adjust your A/C right from your smartphone, and it even learns the temperature schedule and programs itself to adjust. As a result, heating and cooling bills can be lowered just based on its ability to adjust temperature efficiently. The smart technology in this app's functioning is paving the way for improved interactions with buildings and our surroundings, and it's already become a staple feature in many apartment homes.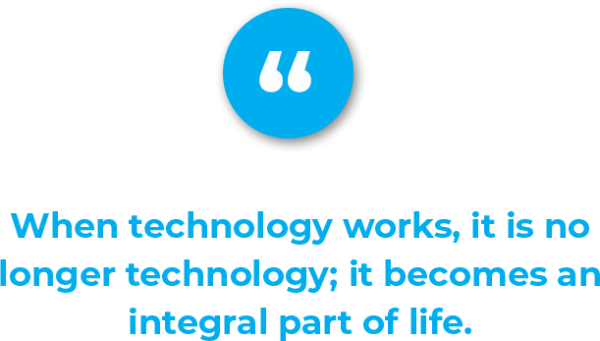 The Array of Things
Imagine if you could see which city street routes were most populated to avoid walking alone at night. That's exactly what the Array of Things (AoT) is. It is "an experimental urban measurement system comprising programmable, modular "nodes" with sensors and computing capability so that they can analyze data internally."
AoT is installed in Chicago and several partner cities to collect real-time data for research and public use. The concept of AoT is analogous to a fitness watch that tracks your movements, except that it does this for the city. In addition, the environmental sensors collect counts on temperature, humidity, allergens, carbon monoxide, light, and much more. What does this mean for real estate? As smart sensor multifamily technology evolves, "data-fueled urban planning" can be expected in many more cities.

4. The line between real and virtual/augmented reality is fading.
We live in a time where science fiction fantasies seem plausible, buildings are 3D-printed, and cars are driving themselves. Yet, as multifamily technology evolves, there is noticeable gravitation toward multifamily and real estate. As mentioned above, we are already seeing IoT-connected buildings and devices controlling temperature. With smartphone technology, the not-so-far-off future of the multifamily market is here, and it's pretty fascinating.
Virtual reality (VR) is an immersive 3D software that allows users to explore a digitally simulated world. On the other hand, augmented reality (AR) is taking the real-world environment and adding computer-generated objects and textures. So, think of it this way: In virtual reality, you're looking at an artificial, 360-degree digital space. Meanwhile, in augmented reality, you're looking at the physical environment with added digital components.
Imagine if an empty office space, street corner, or building blueprint was a digital, blank canvas. Without physically arranging a layout, constructing a building, or designing a model, AR virtually makes it possible. Augmented reality enables users to pan their iPad around a space, resize objects, arrange furniture, explore the 3D interior of a blueprint, or visualize a building.
The concept of augmented reality seems futuristic, but the reality is tangible. From architects to consumers, AR brings buildings and real estate to life, simply with a smart device. The beginning stages of augmented reality technology open the door for a commercial outlet to manipulate, evaluate, and reimagine our environment.
A Virtual Tour of the Future
Oculus Rift and Samsung Gear VR, among others, have already disrupted the multifamily market. Prospective renters can simply pop on the goggles and tour a home, office space, or apartment building.
But what if the building doesn't exist yet? No problem. Developers and leasing agents are teaming up with the technology to allow buyers to experience a space before it's even built.

With frame rates increasing exponentially, the virtual world no longer looks like a pixelated video game. Abundant data and online 3D renderings allow this world to be possible. It's an "architectural visualization" and a full immersion of the unbuilt environment.
Opening the Door to Experiential Multifamily Marketing
Virtual reality is more than a slideshow of static pictures. Gone are the days of outdated zooming and panning of staged interiors. Virtual reality opens the door to experiential multifamily marketing and a new kind of accessibility.
The multifamily technology allows a buyer to experience the property before it's built, without even leaving their home. This will become the cornerstone for real estate. Just imagine if a building is not offering a virtual tour. One day that could be laughable. But now, it's just awe-inspiring.
5. Web 3.0 is completely revolutionizing consumer transactions, including real estate.
Web 3.0 for real estate is upon us. What does this mean? For reference, Web 1.0 mostly involved putting listings online, and Web 2.0 involved empowering buyers with information about those home and apartment listings. Web 3.0 involves completely revolutionizing the way transactions work; it essentially offers consumers more transparency, certainty, and convenience.
Web 3.0 connects smart devices (cars, mobile phones, appliances, etc.) and decentralized networks (distributed databases, cryptographic keys, etc.) and integrates advancements in machine learning (i.e., Siri, Alexa, or Cortana).
We are in a transition phase from Web 2.0 to 3.0, and it's something that can help a variety of businesses in ways we can only imagine. Web 3.0 can be used to map out your property, model floorplans for wayfinding, optimize logistics via geographical models, and so much more. The possibilities, perks, and cost savings are essentially endless. In the future, Web 3.0 will allow us to ditch our traditional handheld devices for a more immersive one.

6. Is rent-paying with bitcoin the future of multifamily?
The multifamily sector is notorious for being a laggard in adopting new tech. Case in point, there was a time when accepting online rent payments was guffawed at.
Accepting rent payments in a cryptocurrency (e.g., Bitcoin) is a significant step toward the Web 3.0 future, but a scary one for property managers and owners to experiment with. That being said, a shifting consumer behavior suggests that cryptocurrency may hold genuine promise for multifamily property owners.

For both consumers and businesses, cryptocurrency is appealing for its strong privacy and user security; it decouples from government-controlled financial institutions, offering transparent record-keeping through blockchain, and it removes the "middleman" transaction fees and costs.
The benefits of cryptocurrency go beyond the convenience of financial transactions; it streamlines collection and payment, facilitates secure data sharing, improves operational efficiency, saves time and costs, and provides secure due diligence.
And the role of cryptocurrency will undoubtedly be determined by the millennial factor. What do we mean by this? And what does all of this mean for your property? Well, consider these statistics:
Millennials make up history's largest demographic of individuals aged 24 to 39.

49% of millennials

polled own cryptocurrency.

One-fifth of millennials are expected to rent, which is nearly double what it was two years ago, according to

Apartment List
All of this is to say that multifamily is definitely moving toward a Web 3.0 and crypto future.
A Major Multifamily Technology Transition on the Horizon
It's only a matter of time before the Internet of Things will drastically propel the multifamily industry into a technologically-based operation. Through interconnectivity, data-sourcing, and online marketplaces the multifamily industry is about to experience a major multifamily technology and Web 3.0 transition.