"Brand engagement is dead."
That was the message I took away from a recent AdAge article, There is No More Social Media — Just Advertising. Author Mike Proulx, Digital Strategy Director at Hill Holliday, presented an interesting commentary on how social media has evolved brand communications:
Let's call it what it is: Social media marketing is now advertising. It's largely a media planning and buying exercise — emphasizing viewed impressions. Brands must pay if they really want their message to be seen. It's the opposite of connecting or listening — it's once again broadcasting.
He made several interesting points on the format of social media advertising. Indeed, we're seeing more billboard-esque messaging from major brands, along with dwindling reach for organic content. My issue with this article, however, is the blanket statement it makes, which claims that brands are neither connecting nor listening.
My take? Brand engagement on social media is not merely a romantic notion; in fact, it's evolving marketing and business communication in more ways than one. Let's take a look:
One-On-One Conversations
Customer Service
Crowdsourcing, Feedback
One-on-One Customer Engagement, Brand Building
Tweet to Whole Foods (@WholeFoods). Go ahead, tweet 'em. Chances are, you'll get a response from the corporate account within minutes.
Whole Foods is one of several companies (e.g., JetBlue, Target, Kohl's) who view social media as an opportunity for brand engagement.
Further, Twitter is a good place to view these interactions. Hop onto Twitter and select "Tweets & Replies." What you'll find is that Whole Foods likes to joke with its customers; Target wants to know what kind of bargains you found today; and Kohl's will tell you that you look "downright foxy" in that dress.
How do you measure the value of these interactions?
In the world of advertising numbers, single interactions like these count as one impression or one interaction. Further, they aren't given any more weight than another. And yet, from both a marketing and consumer perspective, it's easy for us to see the great value in this type of consumer engagement.
Through these one-on-one interactions, brands are connecting. They're listening and defining the brand personality.
As a consumer, I appreciate the time and effort these brands devote in order to build a relationship with me. It breeds positive perceptions and loyalty. In fact, it makes them more human.
This kind of brand engagement on social media extends beyond "broadcasting," and so does the value.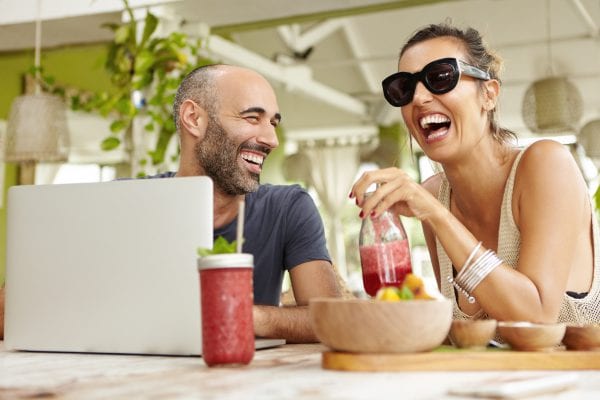 Customer Service
Several major brands have set up social media accounts to address customer service issues. This is necessarily a two-way channel — one that requires connecting and listening.
Take the multifamily industry, for instance. Customer service is obviously an important part of the job. But that positive personal encounter that keeps current and potential residents happy carries over to digital as well. Multifamily brands can make a huge impact by monitoring conversation online. Engaging with renters as they comment on social media channels will show the active presence of the community. 
When brands stop listening and responding to their customers on social media, they put their brand at risk. Just ask United Airlines.
Crowdsourcing, Feedback
Brands that aren't listening on social media are missing out on valuable marketing insight. That being said, when brands leverage the two-way properties of social media effectively, they can create opportunities for positive word-of-mouth. And several brands are doing just that.
Several brand campaigns showcase companies using social media to crowdsource products and spark brand advocacy. Most notable is perhaps Caribou Coffee's Pinterest campaign, in which the company created a whole new brand of coffee based on fan-generated pins. Using this strategy, how can multifamily managers leverage resident-generated content to promote the community?
Let's Not Be Dramatic …
In short: brand engagement is not dead. Recent developments in social media advertising have certainly introduced some interesting caveats to the world of brand marketing.
With Facebook spearheading the format for online advertising, brands will have to increasingly "pay to play" when it comes to reaching their customers. And yet, as targeting capabilities become more advanced, brands can also more accurately target the right customers — the people who care about their brand and are most likely to engage.
Forge ahead you multifamily properties. You're not doing half bad.