Answering Your Content Marketing FAQs + 5 Key Ingredients to Multifamily Marketing
Trends come and go, and multifamily content marketing is not immune to this phenomenon either. There's always the latest and greatest way to gain awareness and generate apartment leads. TV commercials were once all the rage; decades later, the rise of technology and a new era of consumers have limited their effectiveness.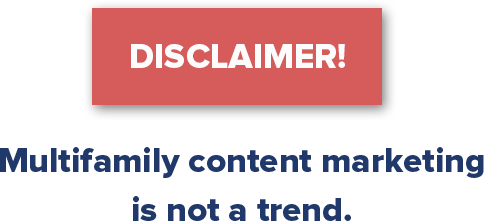 While technology has adapted the mediums for marketing, multifamily content marketing is not a trend. Rather, it's a strategy that is fundamental to the core of inserting thought leadership and value into marketing. It's tried and true, and has been around for decades — only the conduit in which it is delivered has changed.
So, how do we leverage these changes? How do we extend our multifamily brand across digital platforms? And how do you measure marketing ROI?
These are questions we hear often, and we're going to dive into each of these and offer some of our best multifamily content marketing tips for success.

What is multifamily content marketing?
The short answer is: It's traditional marketing focused on disruptive tactics. TV commercials and radio programs have become less effective with the invention of the DVR and internet radio. Not to mention, today's consumers are averse to traditional sales speak.
But multifamily inbound marketing takes a drastically different approach. Multifamily inbound marketing meets prospective customers by providing information about the topics they're searching for.
Let's take a baby boomer, for example. He's nearing retirement and sits down at his computer to search for "best retirement cities with golf all year round." If I'm a residential resort community that practices content marketing, I've already anticipated what my prospects will be searching for.
Throughout the past few months, I've been blogging about relevant topics, including a recent blog post that highlights cities with the best golf courses. I'm not directly selling my property, but I'm educating on what's out there. The idea is that through education, transparency, and thought leadership, I have an excellent platform through which to tell prospective customers about my business!
Let's extend the same approach to millennials, except this time I'm also engaging them on social media. Perhaps they're interested in "active and health-conscious cities with good job markets." Through relevant blog topics, interactions, and well-targeted social media advertising, I can open their eyes to a new city and a new property.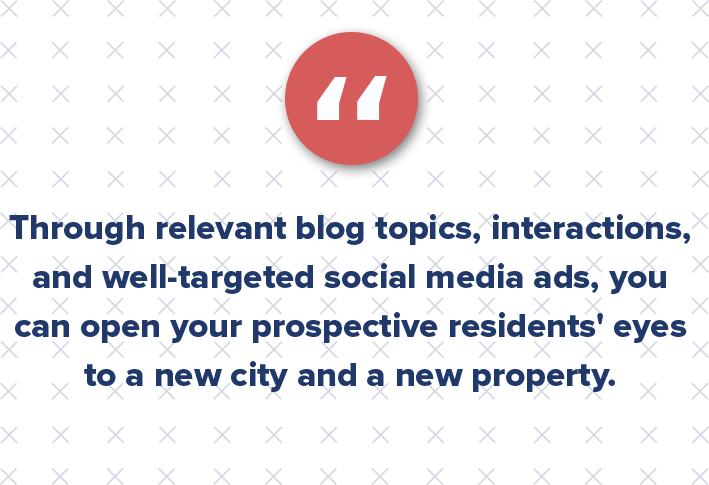 Is multifamily content marketing a cost center or business builder?
Multifamily is a game of risks and rewards. It's a strategic bet by each developer that each project will generate the residents necessary to yield a return on their investment. In today's crowded market, it's never been more important to differentiate your property and generate apartment leads.
Many people view multifamily content marketing as a cost center rather than as a business builder. The perception is that multifamily marketing is necessary, but also expendable. It's often diminished to an apartment logo or a flowery brochure. Therefore, when you need to tighten the belt … goodbye marketing!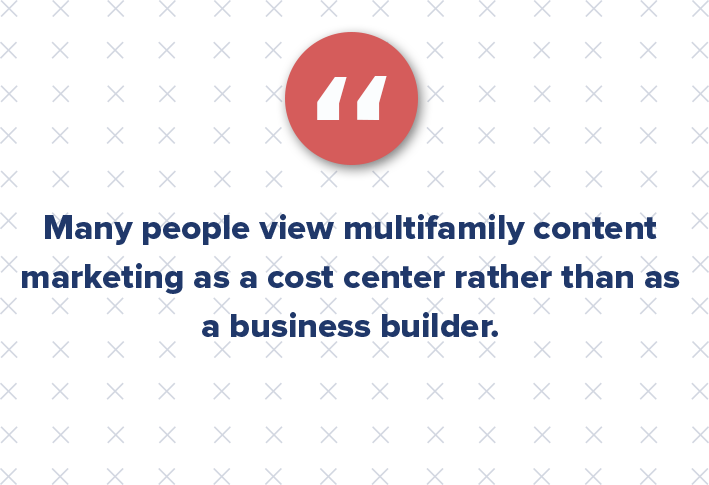 The glaring oversight is that multifamily content marketing rarely differentiates between its audiences. Further, it is not leveraged as a tactic for achieving measurable business goals.
Historically, real estate has used a copy-paste strategy when marketing apartments. It recycles old messaging and doesn't take into account the resident lifestyle. It seldom harnesses new technology. With new technology comes the ability to track, trace, and affect the bottom line.
Why is multifamily inbound marketing a good fit?
It's targeted to specific personas. You're not blanketing the market with collateral material that may land on the doorsteps of folks nowhere near the buying process.
With multifamily inbound marketing, you're engaging in a dialogue with individuals specifically seeking the solutions you provide. Thus, you're targeting individual personas, identifying their pain points, and creating solutions.
It delivers measurable results. Inbound is a strategic alignment of tactics that surround your business goals. Inbound multifamily marketing allows you to see real-time data on valuable metrics. By monitoring increased traffic to your site, you can determine the number of visitors that have further engaged.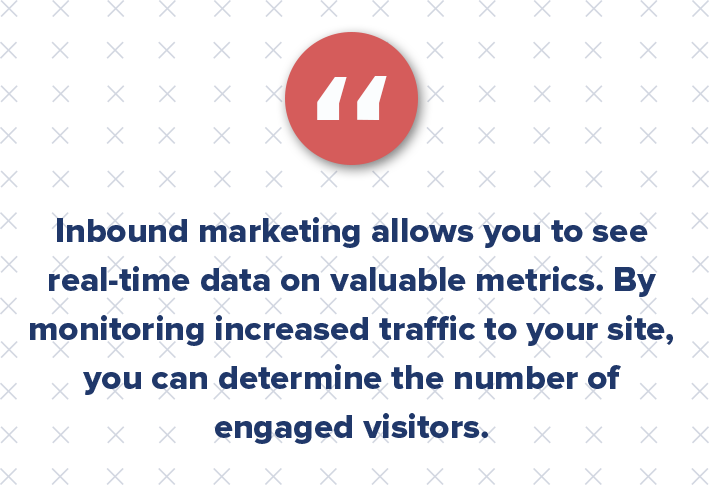 How many qualified apartment leads did we drive? Did any of those apartment leads turn into residents? From there, you can associate dollars spent with dollars earned — direct ROI.
It meets your best prospects where they are. Increasingly, all generational cohorts are using the internet to research their buying decisions. Therefore, your prospective residents are expecting you to provide this information through this conduit.
What are the basics of a great content marketing strategy?
Certainly, today's content marketing teams are giving a nod to the traditional newsroom. Head to any major corporate website — Whole Foods, Capital One, CBRE — and you'll find evidence of a robust editorial team at work on the blog.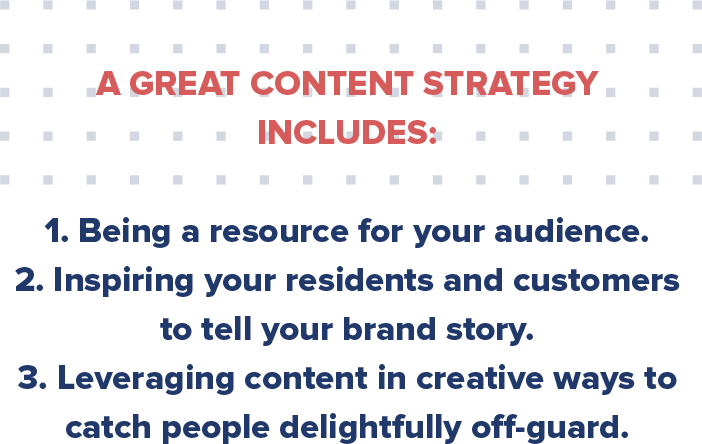 Essentially, you need to create a great piece of content, then adapt it across platforms. For example, a single blog post can be shared on Twitter with a snappy headline, extended to Instagram with an engaging image, and adapted to a shareable infographic.
While social networks continue to grow more visual, multifamily marketing professionals will have the opportunity to be wildly creative in their cross-platform applications.
How do you justify the value (ROI) of multifamily marketing?
If you're approaching your content marketing strategy correctly, you have the power to tie your efforts directly to ROI — both qualitative (brand-focused) and quantitative (business-focused).
Let's take Zillow, for example. Its content strategy achieves highly targeted brand goals (i.e., establishing Zillow as a storyteller within real estate) and business goals (i.e., driving traffic to its website to increase conversions). It should work the same way for your multifamily property:
What multifamily brand goals are you trying to achieve?
What business goals are you trying to achieve?
No matter your business, your content marketing actions should be driven by the questions above. Only then can you develop a roadmap — one with a purpose and measurable objectives.

5 Key Ingredients of Multifamily Content Marketing
Now that we've laid the groundwork for why content marketing is simply not a passing phase and why real estate is ready, it's time to develop your strategy. Here are the five most important techniques to get started:
Audience and Personas: By establishing a target market and consumer persona, you can then understand how individuals may interact with your property management site, product, or development.
Measurable Goals and KPIs: Measuring content marketing ROI and creating quantitative and financial milestones ensures you are set up for success. Essentially, you need to determine if your marketing budget is driving residents to your property and at what cost.
Content Strategy: Leveraging content on various online platforms not only brings awareness to your multifamily brand but also moves your audience down the buyer's journey.
Social Media: Determine what platforms are best to leverage your content strategy and the proper methods, content, and market for each platform.
Search Engine Optimization (SEO): Maximize the number of eyes on your industry-related content with multifamily SEO; this ensures the right eyes are looking at your property or development.
Ultimately, multifamily content marketing provides incredible opportunities for connection and creativity. Certainly, you don't want to miss the opportunity.