Trends come and go, but sometimes they turn into a lifestyle. Improved urban living and environmental efforts are on the rise, but will it last?
As a digital agency, Criterion.B's expertise in marketing and real estate gives us great insight into what's coming and what's phasing out. In fact, the New Urbanism movement is inspiring remarkable change to urban planning, sustainability, and city development. And it just might be here to stay.
What are the challenges, benefits, and concerns with this new-urban renewal plan?
The Background
The movement has garnered new life since it first gained momentum roughly 25 years ago. Prior to the late '80s and early '90s, the urban environment was typically avoided and crime-ridden; the suburbs remained the hub for retail, restaurants, and recreation. However, New Urbanism changed that by replacing negative city stigmas with fresh architecture, cleaner streets, and green initiatives. As a result, a renewed concept of urban living emerged. New Urbanism brought new life to the city, and Americans flocked to experience this lifestyle.
The Appeal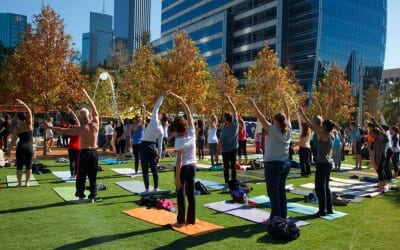 Nowadays, it's not a surprising thought for young professionals and active individuals to live in the heart of the city. Millennials, especially, are driving this movement (whether they know it or not). They display a clear desire for prime location, luxurious amenities, and walkable neighborhoods. As a result, these requirements force urban multifamily properties to keep up and stand out. The millennial lifestyle exemplifies New Urbanism and stimulates the evolving urban revival.
A great example of New Urbanism in action is Klyde Warren Park. Take a busy, bustling city, and drop a giant patch of grass on top of an Interstate overpass. That's the exact action Dallas City Planning took in an effort to revitalize the city streets. Stop by, and you'll find a line of food trucks, yoga classes in the park, picnic blankets, a playground, and a band playing at sundown. Cities flourish when safety, community, and accessibility are at the
the forefront of planning.
The Concept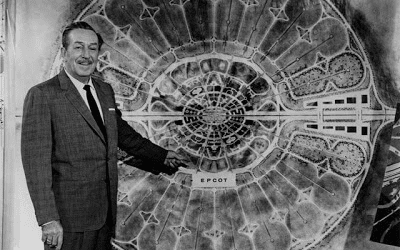 Did you know Walt Disney was a New Urbanist? Although he didn't use the term, he embraced the concept. His fanciful creations and innovative worlds offered a first look into the future. Always thinking forward, Disney believed in a "community of the future." He feared the disorganized, chaotic lifestyle of urban cities; this fueled his desire to re-imagine urban living
Disney regularly read books on urban planning, such as Ebenezer Howard's Garden Cities of To-morrow. As a result, this largely drove his inspiration for the "Experimental Prototype Community of Tomorrow" (Disney's Epcot park). He envisioned a radial design with a dense urban center that focuses on community, technology, nature, and accessibility.
Today, one of the most popular New Urbanist towns is Celebration, Fla., built by a sector of the Walt Disney Company circa 1984. The purpose is to create a walkable community that fosters earth-friendly architecture, historic preservation, and healthy living — all encompassed by a distinct quaintness. Like other neighborhoods, Celebration is built to eliminate traffic. In fact, shops, businesses, parks, and schools are all in walking distance within the town, which highlights the advantage of pedestrian-friendly, mixed-use developments.
The Future
Although we've already seen some examples of New Urbanism today, there is substantial growth in the forecast. What will this living look like? Apartments that blend with the environment; smaller and more thoughtful multifamily projects; car-less cities and larger sidewalks; community gardens integrated into multifamily properties; or even smart cities. New Urbanists are working towards building cities that revolve around maximizing space, community, sustainability, and efficiency.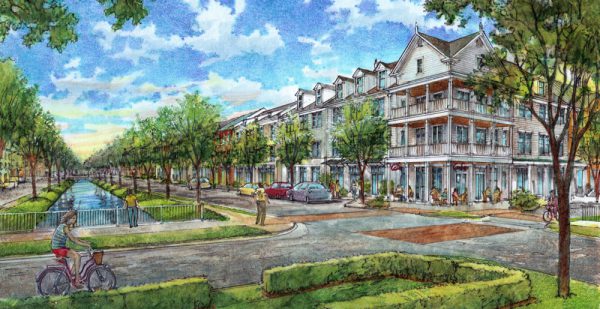 Buildings will no longer be a monument to themselves, but instead, to the city streets. Streetlights Residential, a mixed-use developer in Dallas, is making this statement a reality with properties like The Kathryn in Frisco.
With over 1,000 units, The Kathryn was designed to accommodate residents at each part of the family lifecycle. Mixed-use projects should be mindful and endearing to the city, as well as accommodate all walks of life. In short: the streets aren't the enemy, they're the amenity.
The Backlash
Although the popularity of New Urbanism is widely accepted, there's "an enormous invisible structure" hindering its full overhaul. To the government, this reinvention of city living is breaking code after code. Local zoning codes restrict modernist design, form, and projects, ultimately restricting wider streets and increased walkability. However, there's hope in progress; as this movement gains momentum, its impact will reach public officials and make a difference in the urban way of life.