New Urbanism: Bringing New Life to Urban Living
Trends come and go, but sometimes they turn into a lifestyle. Improved urban living and environmental efforts are rising, but will they last?
As an apartment marketing agency, Criterion.B's expertise in multifamily marketing and real estate gives us great insight into what's coming and phasing out. 

The New Urbanism movement is a trend that is rapidly gaining popularity. This urban planning philosophy seeks to create walkable, mixed-use communities that are sustainable, efficient, and livable.
The trend inspires remarkable change in urban planning, sustainability, and multifamily development, providing an alternative to the traditional suburban living model. And it just might be here to stay.
What are this new-urban renewal plan's challenges, benefits, and concerns?
The Background of New Urbanism
The movement has garnered new life since it gained momentum roughly 25 years ago. Before the late '80s and early '90s, the urban environment was typically avoided and crime-ridden; the suburbs remained the hub for retail, restaurants, and recreation. 
However, New Urbanism changed that by replacing negative city stigmas with fresh architecture, cleaner streets, and green initiatives. As a result, a renewed concept of urban living emerged. New Urbanism brought new life to the city, and Americans flocked to experience this lifestyle.
Benefits of New Urbanism in Multifamily Development
The New Urbanism trend attracts much interest from developers, investors, and homebuyers alike. One of the key benefits of this trend is that it creates a more walkable and livable environment. Residents can walk to work, shopping, dining, and entertainment destinations, reducing their reliance on cars and improving their quality of life.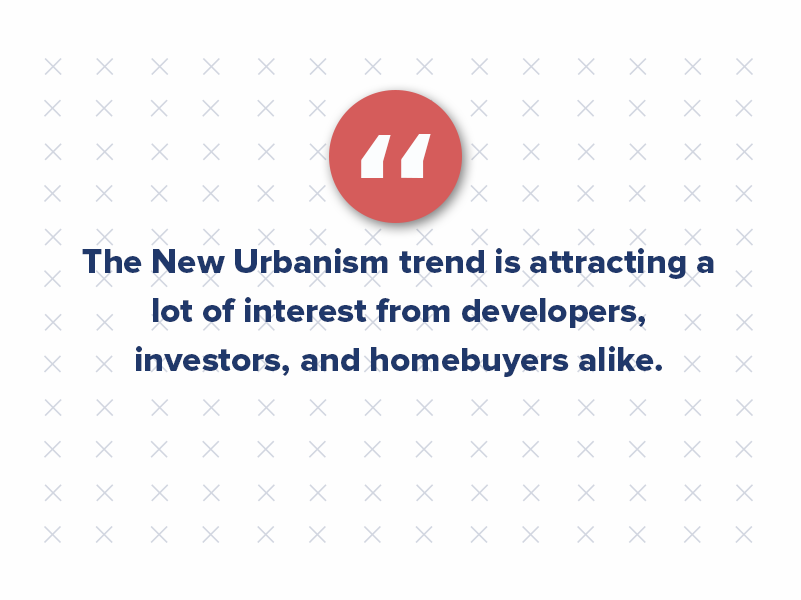 In addition, New Urbanism encourages public transportation, making it easier for residents to get around without a car. This helps reduce traffic congestion and air pollution while also promoting sustainability.
Another benefit of New Urbanism is that it provides a mix of residential, commercial, and retail spaces within the same multifamily development. This creates a sense of community, making it easier for residents to interact with their neighbors and the surrounding environment.
Nowadays, it's unsurprising for young professionals and active individuals to live in the city's heart. Millennials, especially, are driving this movement (whether they know it or not). They clearly desire prime locations, luxurious amenities, and walkable neighborhoods. As a result, these requirements force urban multifamily properties to keep up and stand out. The millennial lifestyle exemplifies New Urbanism and stimulates the evolving urban revival.
A great example of New Urbanism in action is Klyde Warren Park. Take a busy, bustling city, and drop a giant patch of grass on top of an Interstate overpass. That's the exact action Dallas City Planning took to revitalize the city streets. Stop by, and you'll find a line of food trucks, yoga classes in the park, picnic blankets, a playground, and a band playing at sundown. Cities flourish when safety, community, and accessibility are at the forefront of planning.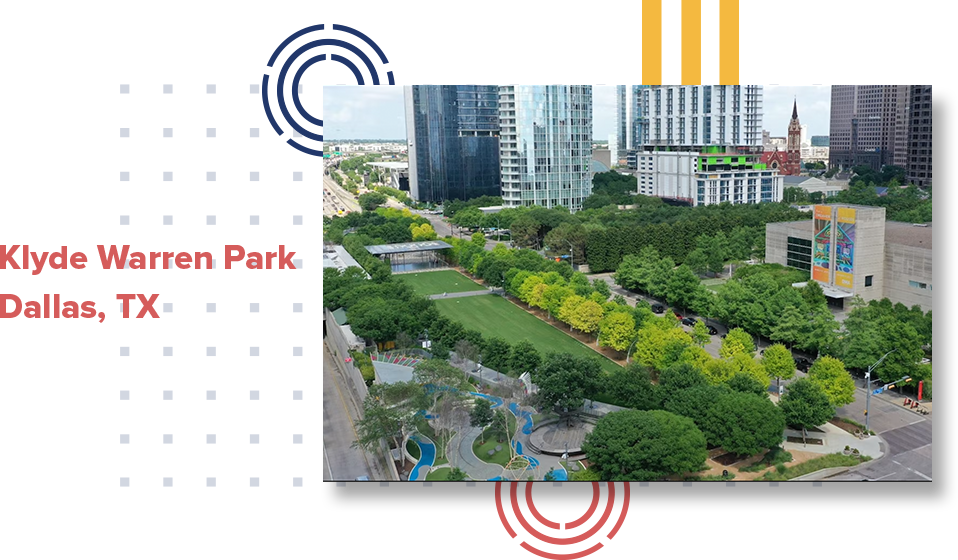 Challenges in New Urbanism Multifamily Development
However, there are also challenges and concerns associated with New Urbanism. One of the biggest concerns is the cost. Developing New Urbanism communities can be more expensive than traditional suburban multifamily developments due to the need for infrastructure such as sidewalks, bike lanes, and public transportation.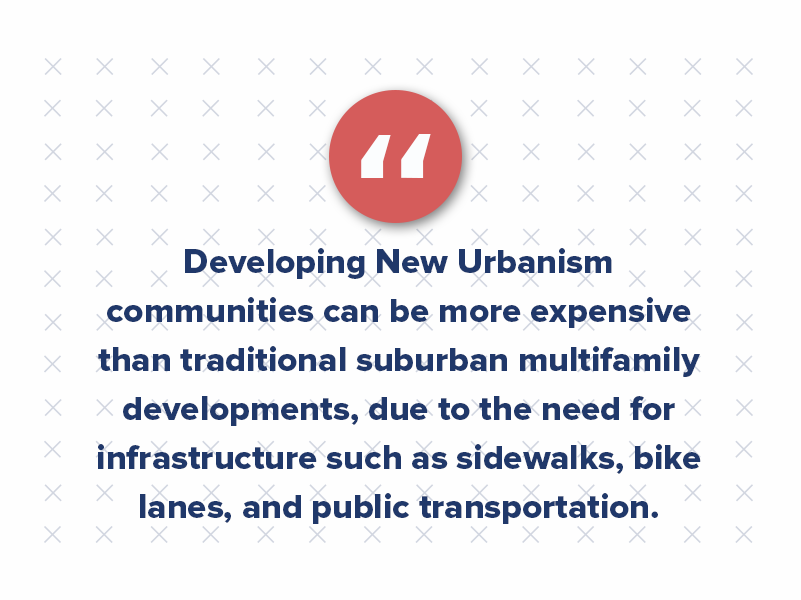 Another challenge is that New Urbanism multifamily developments may not appeal to everyone. Some people prefer the traditional suburban living model and may not want to live in a more densely populated area.
In addition, there are concerns about the potential for increased traffic and parking issues in New Urbanism multifamily developments. While the trend encourages public transportation and walking, some residents may still need to drive, and there may not be enough parking spaces to accommodate all residents.
Will the Trend Last?
Despite these challenges, the trend toward New Urbanism in multifamily living will continue. The demand for walkable, sustainable, and livable communities is growing, and developers increasingly recognize the benefits of New Urbanism.
In addition, the trend toward New Urbanism aligns with the broader trend toward sustainability and environmentally conscious living. As more people become aware of the environmental impact of traditional suburban living, they seek alternative models that are more sustainable and efficient.
What will this living look like? Apartments that blend with the environment; smaller and more thoughtful multifamily projects; carless cities and larger sidewalks; community gardens integrated into multifamily properties; or even smart cities. New Urbanists are working towards building cities that revolve around maximizing space, community, sustainability, and efficiency.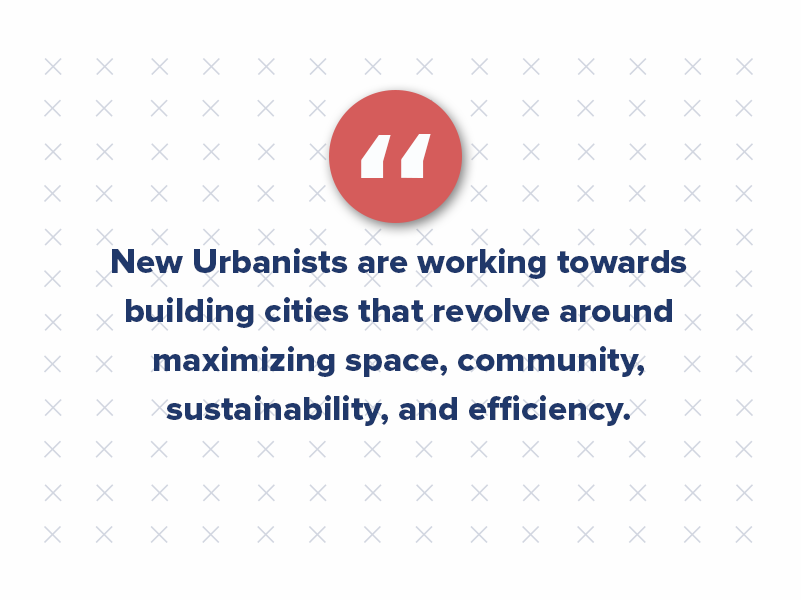 Buildings will no longer be a monument to themselves but instead, to the city streets.
Shaping the Future of Apartment Living
Although the popularity of New Urbanism is widely accepted, "an enormous invisible structure" hinders its full overhaul. To the government, this reinvention of city living is breaking code after code. 
Local zoning codes restrict modernist design, form, and projects, ultimately restricting wider streets and increased walkability. However, there's hope in progress; as this movement gains momentum, its impact will reach public officials and make a difference in urban life.
While there are challenges, the benefits of creating walkable, mixed-use communities are too significant to ignore. The trend toward New Urbanism in multifamily living is expected to continue, and it is poised to play a major role in shaping the future of apartment living.