Twitter is an amazing place. With over 300 million active users, Twitter has an active community that all different types of people embrace.
Almost every type of industry has a community on Twitter, including engineers, marketers, fashion designers, and even realtors. But how can these industries use Twitter to their benefit and actually gain something positive out of a social network?
We've talked a lot about social media and how it benefits real estate, but let's talk about one thing in specific that may be of interest to realtors, developers, and everyone alike: Tweetchats.
The Benefit of Tweetchats
Tweetchats are scheduled, moderated conversations about a specific topic. Any Twitter user is welcome to join any Tweetchat of their choice, but it's a chance for users to connect with each other and converse over similar interests. For instance, a Tweetchat about community fitness will probably bring groups of social runners and yoga lovers together to talk about health and wellness in community settings.
How to Get Involved
Find a Tweetchat
This part is actually relatively easy for the real estate industry. There are several different types of Tweetchats, each catered to people interested in multifamily, apartment hunting, developments, or traveling. However, Tweetchats are scheduled at a certain time each week. Make sure to find out when exactly your chat is and add it to your calendar. There are a few websites out there that list almost every Tweetchat created and their time.
Questions & Answers
The format for a Tweetchat is fairly simple to understand: there's usually a moderator from a single Twitter account that tweets out questions for other users to respond to. Using the form, "Q1" or "Q2", moderators are able to let you know what question they're on and you reply to those questions with "A1", "A2", or whichever number corresponds to the question. This makes it easy for other participants to easily understand what everyone is responding to and ultimately helps everything stay organized.
Engage With Others
So you're answering the questions and you're getting favorites on your Tweets and maybe a few replies. What do you do now? Engage with them! This is the time where you can interact with the rest of the community; reply to interesting answers you see, favorite some tweets that catch your attention. Overall, it's your chance to get your name out there, grow your following, and make some connections.
While you may think Tweetchats won't help people in the industry, it's still important to know that a social presence is beneficial to all different types of professionals. With the digital age constantly evolving, it's imperative that the real estate industry stays on their toes; engaging with the community through social media is one way to stay up-to-date.
We live in an age where everything from airport security to credit cards companies are successfully running social media accounts to gain brand recognition. Surprisingly enough, TSA boasts over 400,000 followers on Instagram, bringing an unexpected humor to the monotonous, yet important business of airport security. Social media is becoming the major touchpoint to many organizations' audiences.
So despite the industry, there's always room for a social media presence. Whether it's through humor, storytelling, or striking photography, making the account mimic a company's values is key.
Recently joining the social media game are Economic Development Companies (EDC). Set out to change the perception of the governmental agencies, Economic Development Companies are bringing their values to life through well-thought-out brand identities on social media.
If you're considering how to use social media to represent your Economic Development Company brand or want a few pointers to enhance the presence, here are five ways to make the most on social media:
1. Start With LinkedIn
While there are many platforms that an Economic Development Company can leverage, LinkedIn tends to be the best platform for the job. On a spectrum, LinkedIn skews more formal and professional, reaching an ideal audience forEconomic Development Companies. From business professionals small and large to community ties, LinkedIn easily connects people and organizations on the engaging, metric-friendly platform.
Appealing to "higher-ups," site selectors, or real estate brokers may be difficult on a social media platform on the opposite end of the spectrum, such as Pinterest or Vine. The business-savvy audience that your city needs is likely already on LinkedIn. First, leverage the platforms your audience is already on and then expand to more niche platforms.
2. Talk, Don't Shout
When it comes to deciding what content to post on your channels, always consider what your audience would find interesting. Social media is not a microphone for self-promotion, but rather a chance to connect with your audience. To do this, balance your feed with both organic content (e.g., self-written blogs that add value) and earned content (e.g., aggregated articles that offer useful content).
Keep in mind the C-Suites as well as the community when posting. Guide your content to address the pain points, interests, or questions of both, and consider how to bridge the gap. Create a series that highlights the great things businesses are doing in your city. This will spark engagement within the community as they recognize or discover new local businesses. This series will also speak to site selectors and developers, proving your city's dynamic landscape. Think about your audience first, and piece in how you fit into the conversation, second.
3. Tell Your Story
Every city is a different story, from the businesses to the people to the landscape. Find out what sets your city apart and run with it. Social media is the perfect outlet to create a campaign, blog series, or hashtag that brings your community to life.
Profile the people that are the true drivers of economic development — the business owners, visionaries, and site selectors. The economic development team of Midlothian created a Why Midlothian? blog series for social media, which tells the story of the local businesses, entrepreneurs, and renowned companies that chose to build their business on Midlothian soil. Let the businesses and community be the voice of your city; after all, who can tell it better than those that define it.
4. Vary Your Media
To boost impressions and avoid becoming stagnant on social media, go beyond simply sharing links. Decorate your feed with pictures, videos, and infographics. This makes your feed much more scannable and visually interesting. Researchers found that colored visuals increase people's willingness to read a piece of content by 80 percent. That's a pretty powerful persuasion. Make sure your visual elements remain consistent and recognizable for your Economic Development Company.
Take Michigan Economic Development Corp., for example. Scroll through their feeds and you'll come across a mix of striking Michigan photography, videos, and photos. Just with a quick scroll of the page, you get a strong feel for the community involvement and booming industries that come from Michigan.
5. Widen Your Target
Once you have your basic elements in place — a powerful platform, good content, compelling stories, and diverse media — it's time to boost it to the masses. (The right masses, that is.) Facebook and LinkedIn are great advertising platforms with highly targeted capabilities.
Facebook, especially, has the ability to boost a post to a narrow group. This not only increases how many people are seeing your content but ensures who is seeing it. For example, your post on "5 Real Estate Trends That Affect Shopping Centers" can be targeted at retail developers to make a bigger impact.
Challenge yourself to look at social media from a new perspective. It has the power to generate leads, instill community connection, and create positive awareness all on a platform your audience is already using daily.


In anticipation of the Multifamily Social Media Summit, we caught up with a few conference-goers to paint a picture of the social media landscape in 2016.
Throughout the past year, we've seen big data become more accessible and analytics sharper. Top social networks like Instagram opened their doors to advertisers, while Millennial-powered platforms like Snapchat continued to redefine social communication and brand storytelling.
With the onslaught of new social networks, marketers in multifamily are constantly adding new tools and tactics to the marketing mix. Therefore, we will take an aerial view to examine where social media sits within a broader marketing strategy.
1. Social Media Is Only One Piece of the Marketing Pie
If you're on social media to "have a presence," then quite frankly, you're missing the point. While on its own, social media is a great forum for engagement, an effective strategy is always part of a broader marketing masterplan.
For development/management companies like Continental Properties and Cardinal Group, those marketing goals are focused on attracting and maintaining residents. Social media allows their teams to meet residents where they are and guide prospects through the sales funnel. Continental Properties uses social media to "augment their web footprint," said Continental's Marketing Project Specialist Prince Solomon.
Social media gives us a very flexible and living way to develop our brand. It allows us to develop relationships with our prospects, maybe before they even walk in the door, and always pushes them to our website (which contains certain vital and somewhat static information to help us close the deal).
2. Don't Underestimate the Value of Social Listening
Michael Huereque, Director of Marketing at Cardinal Group, further commented on the value of social listening. The two-way nature of social media provides unprecedented access to the target audience — both current and prospective residents.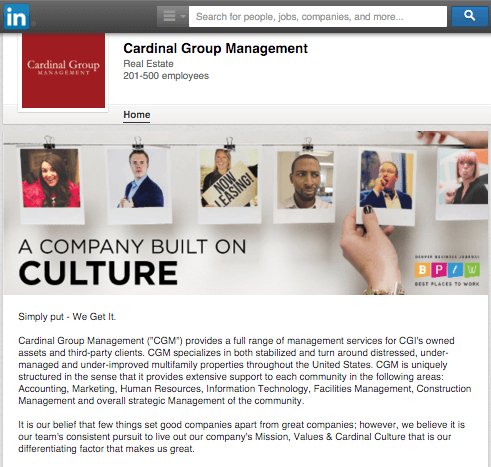 "This is the first time in the history of marketing that a business can be completely conversational with its audience," said Huereque. "Imagine how valuable billboards would be if they could actively respond to questions from inquisitive prospects."
From social media, Huereque gathers key demographic insights to inform a multifaceted marketing mix — one that integrates social media with SEM and the website journey.
Start with your business goals, which is the quickest way to be effective on social media.
"Whether the goal is to reduce resident turnover, increase brand awareness, or establish thought-leadership, the process has to start with clear goals from which you can set measurable benchmarks or KPIs," said Kerie Kerstetter, Director of Content Strategy at Criterion.B. "With this approach, social media allows us to do more than engage. Rather, we can build relationships with a purpose."
3. Content Is Becoming More Interactive
With goals and objectives in mind, we can focus on the intent behind each social media post: What's the message? What kind of action or emotion are we trying to elicit from our target audience?
It's one thing to outline your social media strategy. It's another thing to create social media content that resonates.
In today's cluttered world, the creation of scroll-stopping content is both an art and a science, said Kerie Kerstetter:
Compelling content may take the form of an interesting photo, a well-written blog title, or a stop-motion video. Sometime it requires us to zoom out (literally) and consider how a design might play across an Instagram feed or how a video inspires a call-to-action.
As marketers continue to think outside of the box, it's important to establish a consistent brand across all platforms.
"The user experience should be the same, no matter how the resident interacts with us," said Solomon. "We develop the brand online and affirm the brand when residents personally interact with us and see our communities."
Engagement from your audience is a great way to gauge the strength of your content. Further, it can guide your audience down whatever awareness or sales funnel you've tactfully developed. And once you've identified your strongest content, a few advertising dollars can go a long way.
4. Social Media Ad Dollars Are Stretching Far and Wide
Once we've established the role of social media in our customer's journey, we can begin to leverage content to reach a wider audience. Social media advertising can be a relatively cost-effective method for amplifying your reach.
"When everyone jumps onto the Google PPC bandwagon, we might miss new technologies that provide alternate solutions," said Huereque. "Facebook, for example, is a fraction of the cost for referring web traffic."
While it may be a smaller subset of the population, it has no bearing on the lead quality of the clicks. And yet, an effective social advertising campaign still requires just as much time and testing as traditional PPC.
"It's a rather tedious game of A-B testing," said Kerstetter. "Yet, when you strike gold, you can cover a lot of ground at a very low CPC (cost per click)."
Depending on the ad format, testing different versions of the same ad can reveal a clear winner. "Striking gold" can be the difference of anything from photo selection to comma placement.
While Facebook's advertising platform allows for the most granular targeting, Huereque encourages marketers to take calculated risks across platforms:
Have you tested an Instagram campaign yet? How about piloting a YouTube ad? I guarantee someone in your competitive set already has. The solution, for me, is continuous research and actively testing new platforms.
We look forward to diving deeper into these topics throughout the next few days.




Instagram is a social network that's widely popular among the millennial demographic (not to mention the upcoming Generation Z, age 17 and younger). Instagram mimics Facebook from the standpoint that our focus shifts back to resident engagement. It has a single function (picture-sharing), which makes it highly visual and a great platform for conveying the personality of your resident community.
Instagram (The Basics)
With Instagram, users have several formatting options for editing pictures. Color treatments called "filters" can be applied to photos to make them more artistic and visually interesting. Again, users can be individuals or organizations. Similar to Facebook, users can favorite or comment on pictures, as well as tag other users.
Driven by the freedom to format and a quick-scrolling mobile platform, Instagram is among the most interactive social networks. For multifamily properties, it's an excellent tool for branding and resident engagement.
Uses for Instagram
Share Visual Updates: Think visually. When it comes to your everyday resident communications, consider how can you create visual interest. Are you opening the pool this weekend? Post an inviting picture! Are you prepping for a resident event? Show them! Are there cupcakes in the lobby? Are there amenities your residents aren't taking advantage of? (You catch my drift).
Before you start, however, you need to ask yourself what tone or personality you want to convey and which property features you want to highlight. Know the type of audience you want and find a way to cater to their personalities. Check out the Instagram for 2660 at Cityplace in Uptown Dallas. They do a great job creating visual interest and keeping residents up-to-date about what's happening around their property.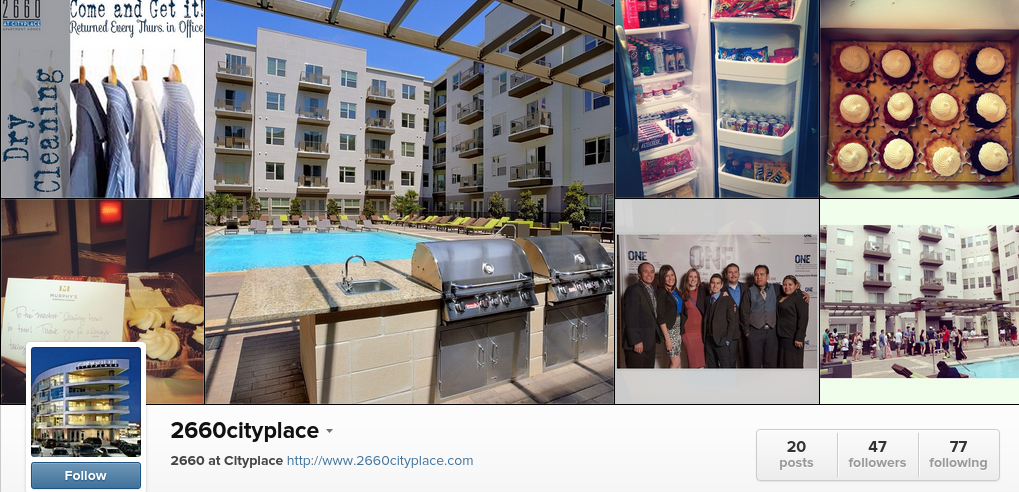 Tap Your Resident Community: With as active as millennials are on Instagram, multifamily properties should consider how they can use the platform to create opportunities for engagement. Inviting your residents to participate is perhaps the simplest way to do so.
Gigi Giannoni, Vice President of Marketing and PR at Gables Residential, said that they recently launched an Instagram contest that was focused on resident engagement.
"Sometime [multifamily marketers] get so caught up on driving new traffic, we forget about the value of resident retention," said Gigi. "With our instagram contest, we were focusing on resident retention. We wanted to make our residents feel a part of the Gables family."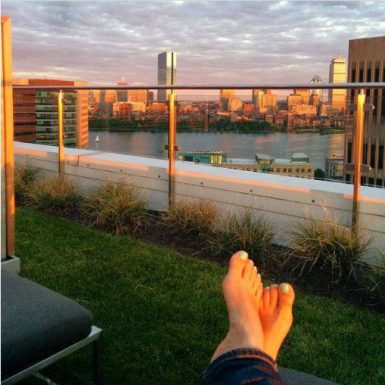 The #GablesOasis Instagram contest asked residents to share a picture of a 'summer oasis' at their Gables community. As residents submitted photos, Gables shared the entries on their Facebook page. Not only did it allow them to start conversations with their residents, but it gave Gables an excellent collection of pictures to showcase their properties.
"People are a part of where they live," said Gigi. "That's what drove participation for our contest. Choosing where to live is like choosing a way of life, and we want our residents to take pride in that."
Keep in mind that when participants share pictures of your property on Instagram, those photos also appear on the newsfeed of their followers.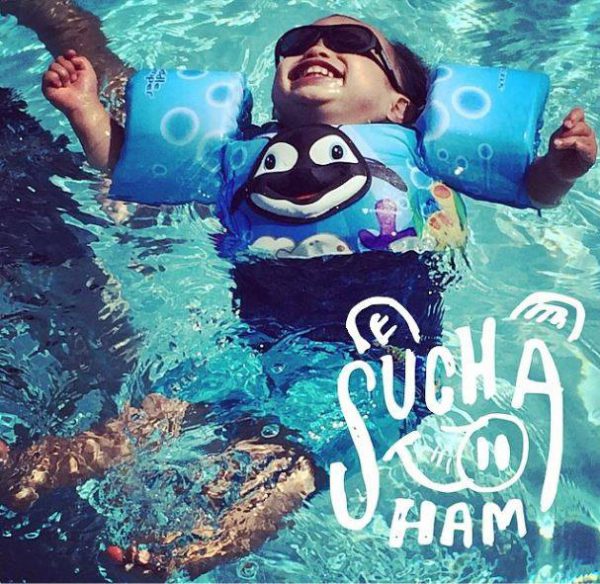 A well-planned Instagram contest has great potential generate awareness of your property to relevant audiences. The Instagram platform presents several opportunities for marketing your multifamily property, you've just got to think visually.
With Twitter, engagement is directed towards a broader community: residents, local businesses, other properties, corporate management offices, the multifamily industry, etc. While Facebook is predominantly B2C (business to consumer), Twitter incorporates more B2B (business to business).
Twitter (The Basics)
Twitter is a social media platform that allows users to share short messages, which are limited to 280 characters. Users range from individuals to major corporations, and they have the option to follow or subscribe to each other's updates. Hashtags (indicated by #) allow users to carry on conversations with larger groups, and Twitter's retweet feature enables messages to quickly bridge networks of people.
Twitter lends well to news-like updates, quick conversations, and viral messages. Several multifamily properties have found their way onto Twitter, and Criterion.B is frequently asked for direction on its use. Below, we've provided a few guidelines:
Uses for Twitter
Important updates: While residents are one of many audiences on Twitter, they're still an important one. Twitter is an excellent tool for sharing information updates, whether that's upcoming resident events, inclement weather, or reminders about daylight savings time. Quick thoughts and well wishes (e.g., Happy holidays! Safe travels everyone) are also conducive to the platform.

Community engagement: Begin following and interacting with local businesses. Your multifamily property is part of a larger community, so it's important to be a good community member. Support local events by spreading the word, and share business specials when they're relevant to your residents or your community. You'd be surprised how much support you'll receive in return, both online and off.

Environmental scanning: Twitter is a wonderful tool for monitoring the conversation surrounding your property, your city and your industry. What are people saying about your property? Banter with the good, and address the bad. It's important to always respond. Is someone searching for apartments in Uptown Dallas? Perhaps you could be the one to reach out and offer to answer any questions they have about the neighborhood. A simple keyword search allows you to keep an eye on conversations that might be relevant to you.

Cross-platform promotion: Twitter is a great way to spread the word about things you're doing on other platforms. If your property keeps a blog, or if you're holding a contest on Facebook or Instagram, Twitter is a great platform for sharing links or sending out reminders.

Displaying your personality: When interacting on Twitter, people should feel like they're corresponding with a person, not a business. Be friendly, be personable, be neighborly. Remember that social media is a cocktail party, so take the time to get to know the other people at the party. The customer-centric approach pays off in the form of relationships, which is the foundation for referrals, retention, and leasing. Trust us on this one.
Don't forget that social media activity improves your SEO ("search engine optimization") — that is, the likelihood that your property will appear near the top of search engine rankings. This is important because it helps more people find your property.
Twitter is simply another tool in your digital marketing toolbox, and it's one that has the power to foster relationships and positive word-of-mouth. With the ever-growing community on Twitter, it's important to put yourself out there and interact with your audience.
These days, people aren't just looking to the classified sections of newspapers or Craigslist to find multifamily properties. They're turning to some seemingly unconventional tools for research and inspiration, such as Pinterest.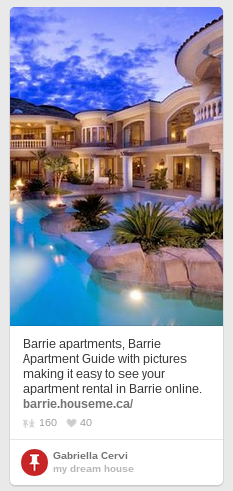 For those of you who don't know what Pinterest is, it's an online bookmark and picture-sharing site. Like other social media platforms, users can follow companies and other users and re-pin their images onto online "Bulletin Boards." For multifamily properties, maintaining a Pinterest account can actually improve your SEO (Search Engine Optimization).
Enhancing your SEO ensures that your property website appears near the top of search engine results, which results in more leads, interactions, and a better brand value.
Here are a few simple steps that will help you build a strong presence on Pinterest:
1. Create a Pinterest Account
Use your full business's name in your account. Be sure to include all necessary descriptive, contact information, or logos in your Pinterest bio.
2. Create Your Boards
On Pinterest, Boards are the topics by which you organize your content. You should create boards that showcase your property (rooms, amenities, events), as well as boards that provide tips and tricks for commonly searched apartment topics. Make sure to keep the number of boards fairly minimal to that you can keep all of them active, and create descriptions for each one of them.
Here are some ideas:
interior decorating tips

space-saving tricks

neighborhood guides

easy recipes for entertaining
3. Include Keywords
Make sure individual posts (called Pins) contain keywords your business wants to be searchable by, either in the title or Pin description. This will increase your Pin's relevance in search engines and direct more people to your pins.
4. Customize Source Links
Customize your Pin's link to direct potential renters back to your website so they can check your property out. To do that, click "Edit" on your pin and insert your website URL into the 'Source' bracket and make a captivating caption that will entice users to click on it.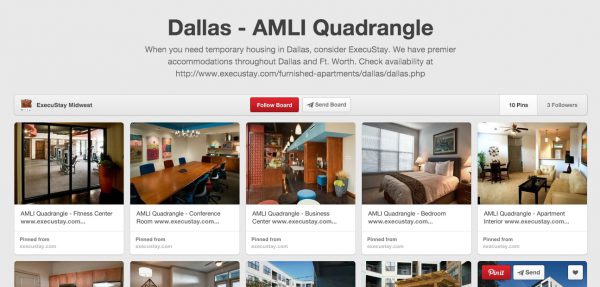 Making Pinterest Part of Your Marketing Plan
Overall, Pinterest is a unique social media channel that may not be successful for everyone, but when utilized correctly, it could be your best friend. Pinterest can actually help your SEO — so make sure you at least get started and make Pinterest an integral part of your social media plan.
Let's face it, social media is second nature to millennials. This group of young-in's either grew up when the internet was just picking up speed or they have grown up with cell phones, and now smart phones at their fingertips. Talk to you in person or have a conversation over the phone?  PUH. LEASEEE! They'd rather just send you a text or post super fun adventures from their weekend on my social channels. You say you don't understand them. They are confusing. Why don't they just do it the "good old fashion way"? It may be crazy to think, but they think the same thing about you!
It's time to jump into the mind of the millennials.
Do you find yourself asking why social media? Why is this the ideal place to communicate with the residents at your student housing development? You only have 4 short years to really connect with these students and residents – If you're not tapped into your target market's social channels, you are missing out.
Let's get down to it: How should you use Facebook to connect with your student housing complex?
On-Campus Event Notification
Have you noticed that attendance has been down for on-campus events? Those flyers that are killing the environment are also a buzz kill to the eyes of millennials. By inviting residents to campus events with a Facebook event page, you'll help students stay up-to-date with what's going on around campus. Even include a flyer or pictures from last years event (if it is an annual event) to incorporate old traditions into a more modern format.
Weather Alerts:
It's 11:00PM and sleet is coming down. Sleet turns into snow. Temperature drops. Roads will not be cleared until morning and you need to cancel morning classes. What better place to notify your students than Facebook? Students have access to Facebook at their fingertips, and they are constantly keeping up with their newsfeed – Make sure they get your news!
General Updates:
Changing the lock system on the doors? Has there been an update on move-in/move-out dates for the semester? Do you have items in the lost and found that have yet to be claimed? Simple, well-written posts with pictures or videos can easily spread the word across your campus housing community to make quick announcements.
Is this real life? Yes!
A great example of a university that is connected with their students is University of Nebraska at Lincoln (UNL). They have thousands of likes, hundreds of visits. They hold fun contests, keep residents up to date on improvements and upcoming events, and they respond to their students when they write comments on their posts. They create engaging hashtags and keep their brand consistent in the process.
Even though it's hard to understand, social media can be useful if you use it properly! Facebook was originally designed for college students, why not tap into this valuable yet inexpensive resource?


If you don't use Snapchat, you've probably heard of it. It's an app that allows you to share photos and videos with friends, but there's a catch: within a few seconds of viewing the content, it disappears! Gone forever.
Seems a little silly, right? And yet, over 30 million people are on Snapchat, sending 700 million "snaps" (photos or videos) a day. Did those statistics knock you out of your chair? Of course, the more relevant question for multifamily properties is "who makes up these 30 million users?" and "do these disappearing messages hold any value for me?" Let's take a look:
User Demographics
As if you didn't already know, Snapchat skews young. Of Snapchat's 30 million users, 50% fall between 13 and 17, while roughly another third (9 million users) makes up the coveted millennial generation we're all concerned with targeting.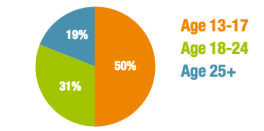 Let me remind you, however, that within the next year, the up-and-coming Gen Z demographic (ages 13-17) will begin looking for student housing; within the next five years, they'll begin to transition into the "young professionals" of tomorrow. So if your prospective residents don't use Snapchat now… they will soon.
As for the other 19% of the pie (ages 25+), that's another 6 million users, most of which likely fall on the millennial side of that age range. Although from personal experience, I can say that there are some Snapchat-happy baby boomers out there (Isn't everyone's mom on Snapchat? Or just mine?)
The Value (Unassumingly High Engagement)
Although it seems counterintuitive, Snapchat content (photos and videos) is among the most engaging of all social media platforms. You're probably wondering how disappearing content can be engaging… but that's just it! Viewing a "snap" requires your undivided attention for a few short seconds because if you don't pay attention, you've missed the message (it's gone).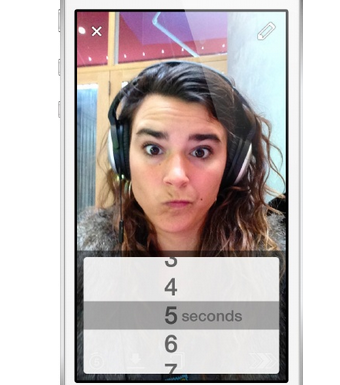 Compare to platforms like Facebook and Twitter, where we may passively like photos or set aside articles with the best intentions of reading them later. But Snapchat is in the moment. It's immediate. It's succinct. It's convenient. And in return, Gen Z's and millennials find it reasonable to invest a few precious seconds of their time. As a recent Digiday article explained, "it's this disposability that makes Snapchat so unique." It's the fleeting nature of Snapchat that drives such high user engagement.
Opportunities for Multifamily
There are many ways multifamily can leverage Snapchat at the property level, let's take a look:
Direct snaps to & from residents
Once a property begins to connect with residents on Snapchat, they are able to send and receive ephemeral messages from one another. Likewise, it can be a good medium to send quick and private messages to the management team. This feature is a fantastic way to empower your leasing office and the property staff to connect with residents. As the face of the property, these employees will have the ability to get to know residents in a unique way.
Geofilters allow users to create custom-branded artwork that will appear as an optional filter within the app, in a specific geographic region. Users within that region can then add the geofilter to messages and videos they send to friends. Aside from affordability, geofilters create an opportunity to reach and communicate with your residents within a matter of seconds. Properties should consider how they can leverage geofilters within their geographic area to take advantage of an event or holiday and target future residents.
In addition to the traditional disappearing direct messages, Snapchat also includes a 'story' feature that allows users to post public messages and videos that last for 24 hours. This gives property managers the opportunity to create a story about their property and the people that live and work there. This can impact the way current and potential residents view your brand, and more importantly the way they view your property as a potential home.
The bottom line for marketers: Snapchat is here. The multifamily industry has seen the rise and adoption of other burgeoning social media platforms (Facebook, Twitter, Instagram, Pinterest), but why? Because that's where their renters are. That's where their renters spend time; that's where they consume information; that's where they interact. If you can't speak Gen Z or millennial, it's about time to learn.
Long gone are the times of stranger danger. Well, at least that's true if you're running a real estate company social media account. Nowadays it is common – and almost expected – for a company to interact with its residents, employees, and community on the Internet. Maybe your company hasn't been doing that. No need to fear, for I have for you the 4 Rules for Social Media Interaction.
Use Humor Sparingly
We all know that one person who thinks they're hilarious but actually isn't. And it's always painful to give them that pity laugh. So with social media, don't be that person. Take a look at Whataburger's Twitter account (@whataburger). You don't have to be a writer for SNL to run a strong Twitter account,sometimes you just have to be a bit random. Whataburger's focus is on how life would be depressing without it in your life. As someone who has moved to the dark side (aka a place without Whataburger), I find this to be very true, and it makes their Twitter account all the more endearing. For real estate, it's important to show a little bit of personality on social media. It allows you to be seen as more approachable and have more social media interaction with your residents, potential residents, and the community.
Don't Be Afraid of Negativity
In the real estate industry, negativity is plentiful on the internet. Sometimes things don't go as planned with your business, and you may receive a bad review online. Don't worry. Instead, think about how you want to respond. In almost every case, I personally think it's the best strategy for companies to reply to these reviews and address the problem with a possible solution. What's amazing with social media, and the Internet in general, is that you can talk one-on-one, so reach out to them. The negative experience the reviewer had may shed light on a larger problem, which once discovered, can be resolved so higher-quality service can be experienced by all. When potential residents are surfing the net for a place to live, they look at reviews. While bad reviews may affect their choices, properties engaging with reviews and offering solutions to the negativity will give them reassurance.
Use More Than One Brain
Two brains are better than one is not exclusively for academic endeavors. One of my favorite social media accounts is Vogue's Instagram account . They always have beautiful photos, and they're not afraid to collaborate. They've reposted photos and had budding artists take over their account, and they've done all of this while sticking true to the core of their brand. For real estate, you can collaborate with the community, showcasing events, people, and issues that connect your company with your audience.
Be Timely
Sometimes we don't do things on time. And that's ok. However, with all social media, time is of the essence, so don't be like that friend that tells you happy birthday a month late. If someone mentions you in a tweet, and you decide as a company to favorite all mentions, go ahead and handle it right away. More likely than not, it will bring a smile to that person's face, because it's always awesome to get some love from one of your favorite companies.