6 Marketing Ideas for Apartments to Incorporate Into Your Facebook Strategy (#3 Might Give You a New Perspective)
Despite the economic climate, now is not the time for apartment communities to ignore social media.
In fact, Atlanta-based RangeWater Real Estate decided not to cut its budget in early 2020 at the start of the COVID-19 pandemic — a risky decision for an apartment marketer to make during a global crisis.

However, this seemingly "big risk" reaped big rewards for RangeWater Real Estate. The company saw a 35% increase in overall impression share across most of its submarkets between April and May 2020. Additionally, the company's apartment communities appeared on Page 1 of search results more frequently than before — the ultimate win for any property.
In short, RangeWater was able to attract a larger percentage of leads using the same budget despite a huge upheaval in the economy. How did they accomplish this?
Below, we've compiled some of our best marketing ideas for apartments and how to effectively use Facebook to bolster your apartment marketing strategy.
Making the Most of Your Facebook Strategy
Facebook connects more people with businesses than any company ever has in the past. Businesses know this fact, which has caused brands to constantly rethink their Facebook strategy every year.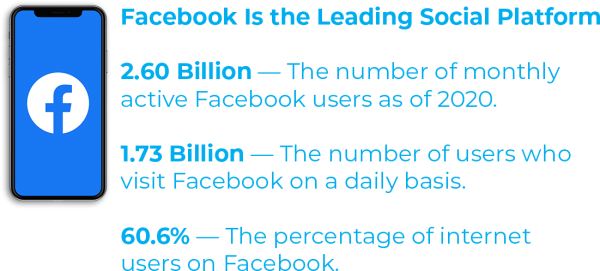 Are Your Residents Still on Facebook?
Despite trendy platforms like Snapchat and TikTok gaining popularity among young adults, Facebook is still a relevant social media channel among your renters. According to Statista data, 65% of Facebook users are under the age of 35. This means your millennial and generation Z residents still use Facebook actively.

However, as the multifamily market shifts and renters' needs evolve, so too does Facebook. It's critical for multifamily marketers to stay ahead of the game to ensure they make the most of their Facebook strategy.
But even knowing how important social media is, how can you best use Facebook to your marketing advantage? Below, we've outlined some of our top marketing ideas for apartments and how to incorporate these tips into your Facebook strategy:
1. Always remember the 80/20 Rule.
Social media management should be treated like a cocktail party. You need to take the time to meet the other people at the party (residents, neighborhood businesses, new millennials, Gen Z renters, etc.) rather than monopolize the conversation. Only when the conversation presents itself should you share what makes your community so great. 
From recommendations and leasing details to customer service and reviews, renters are turning to social media for property information, and this trend will only continue as a younger, social-media-savvy generation gets older.
In the meantime, be a resource for your residents. Publish fresh, helpful content to inspire and engage your current and prospective residents.
2. Practice patience and consistently engage with your followers.
Years ago, you were finding residents. Nowadays, residents are finding you. People are searching online for places to live, and it has become the apartment's job to intercept them. You do this by providing fresh content, sharing helpful information, and having conversations.
Multifamily professionals who have dabbled in social media will claim that it doesn't bring them any conversions. However, keep in mind that social media is not about the sale; it's about engagement and customer experience. When you successfully and consistently engage with your residents online and share quality content, their byproducts are relationships, referrals, leases, and retention. 

Any good salesman will tell you that relationship-building drives sales. And Facebook is an optimal relationship-building platform.
3. Focus on the qualitative aspects of your residents.
Who are your residents? We don't just mean demographically, although that too can be important. Instead, you really want to focus more on the qualitative aspects of your residents.
What kind of lifestyle do they have? 

What are their hobbies? 

What are the things that cause them stress or trouble as residents? 
This is where your resident buyer personas come in handy. If your community is home to several working professionals, helpful content may come in the form of quick-and-easy dinner recipes. If your community is home to several dog owners, you could share an interactive map of the dog parks in your city. The information you share should be a mix of content you create and content you aggregate.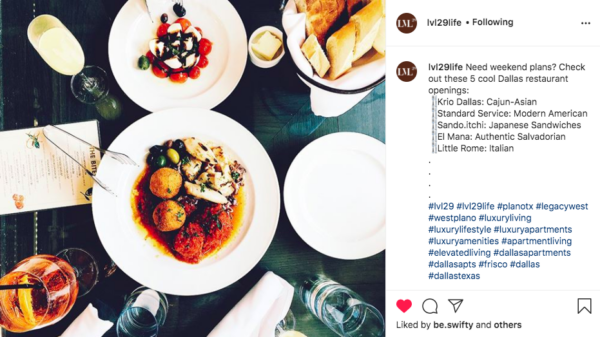 4. Share community events and partner with local businesses.
Your residents shouldn't have to rely on the local news for happenings. Are there any upcoming events that you can pass along to your residents — festivals, charity events, happy hours? Find things that are within walking distance or close proximity to your property. 
Sharing helpful content could be as simple as re-posting farmer's market hours, sharing restaurant specials, or providing tips and tricks for navigating the local flea market. Searching Facebook events for local on-goings is another great and easy way to find shareable content your residents will find useful.
You could also try partnering with local businesses to arrange special discounts for your residents; this provides great content for sharing on Facebook.
5. Publish property updates.
Yes, we know we've advised against talking about yourself, however, this form of self-promotion is very different. Instead of telling everyone how great you are, show them.
Try posting photos from last week's movie event showcases, or get some shots of residents enjoying a nice day by the pool. Are you giving away free donuts and orange juice in the leasing office? Share that, too! Your property's social calendar paints a picture of resident life and engagement, and it gives insight into your property culture. Isn't that what you'd like new residents to stumble upon when they're researching your property?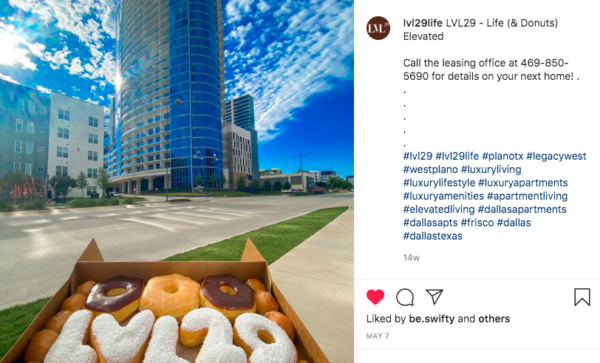 6. Take advantage of Facebook Advertising to bring in more apartment leads.
A social presence is a great tool for properties looking to improve their lease-up. But sometimes, just posting and sharing isn't enough. Without a decent following or active residents, your social media efforts might be falling on deaf ears. Thankfully, there's Facebook Advertising to help.
Facebook brought in $17.44 billion in ad revenue in the first quarter of 2020, a 17% year-over-year increase from the first quarter of 2019.
Facebook did experience a "significant" fall in the demand for advertising in March amid COVID-19, but data from April indicates that demand is already returning to normal.
Paid social media ads can seem overwhelming or a huge investment, but Facebook has done a great job of making its ads cheap and available to a wide audience. There is any number of ad types to run, and they can make a difference in giving your social media reach.
If your Facebook is new, a "Page Likes" campaign can be key to helping you get followers that will see your content by encouraging them to like your page. This can greatly increase your reach for a couple of dollars per like.

Similarly, if you have a particularly well-performing, helpful piece of content, boosting that post for a few dollars can expand its reach to hundreds or thousands of others in your area. While you should not dump all your time and resources into ads, running some every so often can be key to giving your Facebook strategy that extra edge it needs.
You can also launch a giveaway campaign to promote Page Likes. Last year, Criterion.B hosted a Facebook giveaway for one apartment community client. The giveaway consisted of a swag basket followers could win by liking the apartment community's Facebook Page and tagging their friends in the post to increase awareness.
At the start of the campaign, the apartment community had only 450 Likes. Within two months, that number increased to nearly 700.
Convert More Apartment Leads Into Leases With a Successful Facebook Strategy
The benefits of utilizing Facebook are two-fold: not only does it foster resident relationships (and retention), but it provides a window for prospective residents to peer into your community. With Facebook, we embrace this customer-centric approach that lays the foundation for all of our digital multifamily marketing efforts.
With the right Facebook strategy and these marketing ideas for apartments, you can better position yourself to become a valued resource for followers and ultimately convert more apartment leads into tours and leases.

3 Digital Multifamily Marketing Fundamentals You Need to Focus on Today
Digital multifamily marketing is constantly evolving. To keep up, you need a solid foundation and the capacity to think critically, act independently, and be relentlessly creative.
There are three main facets of digital multifamily marketing that businesses should focus on — social media, multifamily SEO, and paid search.

Below, we've highlighted those three facets and steps you can take to launch a successful digital multifamily marketing strategy.
1. Kickstart your digital multifamily marketing strategy with social media.
Of course, we are all too aware of Facebook and Instagram, but why should a multifamily marketer really care about social media? Audience accessibility.
Companies can interact directly with their customers for free, and in a way that others can easily view. Social media is a great way to get your multifamily organization's name out — be it through giveaways, funny interactions with anyone who reaches out to your company or posting videos or photos.
Start by researching which platforms your resident buyer persona(s) use on a daily basis. Are you targeting commercial real estate professionals? Then, LinkedIn and Facebook might be your go-to digital multifamily marketing channels. Is your audience younger millennials who work in an apartment leasing office? Instagram, Facebook, and Pinterest might be more in your lane.
Need a little help with your persona development? Our CEO Jon Simpson breaks down the basics in this helpful video:
After researching your target audience, create your preferred social accounts and fill in all the About Us details. It's important not just to slap your tagline and phone number on your social media pages, then forget about it. Add details about your services, business hours, and more.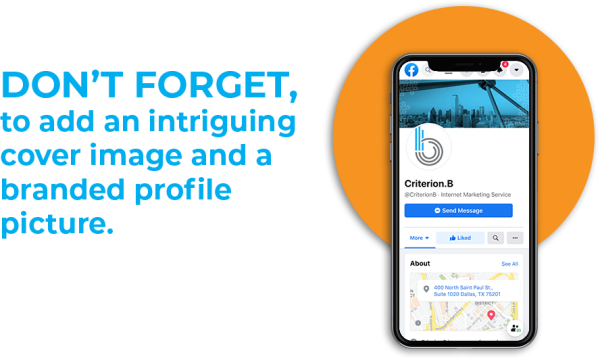 Next, start strategizing your social media postings. Create a calendar that details what you will be posting and when to help keep yourself accountable and organized.
Create a free Buffer account or use Hootsuite to schedule your posts a week at a time easily; that way, you won't have to remember to publish content each day.

2. Multifamily SEO is the way to go.
Now for the more technology-focused digital multifamily marketing options — SEO and paid search.
The technical way to explain multifamily SEO is that programmers optimize the coding of your website to help it appear higher on organic search results on search engines.
Let's say you are Googling apartment communities in Dallas, and you see that the link to your company's website is on the third page of search results. Do you really want that to happen? No! So, you call up your friends at Criterion.B and ask for help. With some magical clicks on our keyboards, we optimize your website so — POOF! — it appears in the top results.
What's awesome is that if your website appears in the top results, searchers are 31.7% more likely to click on it. This means that people are 31.7% more likely to learn about your company and definitely fall in love with your multifamily product or service. Additionally, if your page is the No. 1 organic result, it's 10 times more likely to receive a click as compared with a result in the No. 10 spot.

Beyond the expert work of Criterion.B, there are several simple steps you can take yourself to enhance your multifamily SEO. Here are a few tips we recommend to get started:
Optimize Your Blog Titles —

The

optimal length

for blog headlines is 8 to 14 words, and they should include one H1 tag and a main long-tail keyword that your blog is targeting.

Add Alt Tags, a Title Tag, and Meta Description to All Pages —

Implementing these three portions to your blog images and pages can significantly boost your web optimization.

Target Two Long-Tail Keywords Per Blog —

50% of search queries

contain four or more words.

Increase Your Word Count to Increase Your SEO — Sometimes, the key to ranking higher in search results is upping your word count to increase your keyword usage without being flagged for keyword stuffing.
For an in-depth look at multifamily SEO and common mistakes multifamily marketers make, check out this blog.
3. See results pour in with multifamily PPC (pay per click).
Paid search, or pay per click (PPC), is kind of like SEO in that both want a link to your company's multifamily website in the first few results on search engines. However, the main difference with multifamily PPC is that you pay for your link's spot in targeted organic searches.
Strategy-wise, this is absolutely brilliant because you can pay for a link to your company's multifamily website to appear when someone searches for your competitor. You can also have it appear when someone searches for something related to your complex.
So, say you own an apartment complex with an outdoor pool area. You can pay for a link to your website to appear when someone searches "downtown apartments Dallas" or "apartments with a pool in Dallas."
Digital Multifamily Marketing Made Simple
Congrats! Now that you are officially no longer an online marketing beginner, get out there and educate the world with your newfound knowledge. Maybe you can show off some of your new social media knowledge and tweet about it. The key to success with digital multifamily marketing is to have an integrated strategy that speaks to your customer in ways they want.

Think back to the content that captured your attention the most on social media this week. What posts prompted you to hit the share button or tag a friend in the comments section?
Chances are that the content was in the form of a video — whether it was a silly clip of a cat running into a mirror, a step-by-step video of a new recipe, or a how-to video of a creative DIY project.
On average, U.S. adults spend six hours watching videos every day. (That's only about one hour less than the average American's amount of sleep every night!)
If that statistic does not scream "massive video marketing potential" to you, then it might be time to rethink your strategy to place branded video content in the front seat of your marketing efforts.

Why Is Branded Video Content Important?
"Video marketing is the most effective way to communicate with your prospective customers," Chad Rogers, Lemonlight's Co-Founder and Chief Revenue Officer, said at the Inbound 2018 conference. Video works because it captures your audience's attention and creates emotion, he told attendees.
In fact, 85 percent of people want to see more video content from brands, and 95% have watched an educational video to learn about a product or service.
From live streaming to online shopping, today's consumers seek instant gratification. Rather than scrolling through lines of content, they want to be stimulated and receive information at the touch of a button.
Videos allow companies to fuel this need for instant gratification by visually introducing their brand and summarizing their message in a short, engaging way. It also enables customers to connect with brands on a personal level.
Additionally, video marketing is becoming more affordable, while offering targeted advertising opportunities and advanced analytics, according to Lemonlight's Rogers.
Effective Content for Your Video Marketing Strategy
Understanding and accepting the importance of video marketing as part of your overarching strategy is only one piece of the puzzle. The hard part is determining what types of videos will be most effective for your business.
During his session at Inbound 2018, Rogers highlighted 20 different types of content for attracting, engaging, and delighting your audience. Below are some of the different types of clips to attract new customers:
Social Media
Social videos are short, conversational clips designed specifically for social media. From live streaming on Facebook to Instagram Stories, brands can cast a wide net around prospective customers and reel them in with captivating content. While every consumer is different, most social users do not watch videos longer than two minutes. We recommend keeping your content short, sweet, and engaging.
For example, as part of our overall social strategy, the Criterion.B team posts bimonthly videos to our Instagram feed called "Tip Tuesday." With these short 15- to 20-second clips, each member of our team shares a comical life tip. The strategy behind these clips is not to provide motivational advice but to make our followers smile and encourage social engagement.
Brand vs. Product
Brand videos offer a high-level overview of your company's brand, mission, and style. This content can be clips of your office and can showcase company culture, but should not sell a product. According to Rogers, you should think of a brand video as your mission statement.
Product videos, on the other hand, educate your audience about the benefits of your product or service. With this content, it is important to highlight and explain customer benefits and not just the features.
Testimonials
Customer spotlight or testimonials showcase one of your customers and how they benefited from your product or service. These videos offer a great alternative to a traditional, written testimonial on your website.
At Criterion.B, we have seen word-of-mouth communication as a powerful force — especially when it comes to building brand trust. Your prospective customers will trust the opinions of your current customers more than they trust your website content, blog, or advertisements. Video testimonials are an authentic way to capture your customer's feedback and potentially drive more leads to your business.
Trending
These videos leverage a trending or timely topic at the core, whether it's a clip related to a holiday, an upcoming election, or just a hot topic within your industry.
For example, we developed a video on the importance of building buyer personas, which was featured during a panel discussion at NAA Apartmentalize. The clip was timely (for the event), trending (within the multifamily market), and relevant to all of our buyer personas. Watch the full video below!
Captivate Your Customers
While social media videography is important, you should also leverage video across your website, landing pages, and emails. The idea that branded video content offers massive marketing potential is not new. What is new is the increasing popularity among consumers, and the importance marketers are putting on this content. It's up to you to take advantage of this popularity to attract new customers and engage your audience.

Hands down, one of our client's most significant pain points is developing and sticking to a consistent social media strategy.
You might know that social media is important in attracting new customers but also critical in building brand loyalty. While each platform's effectiveness for your business will heavily depend on your buyer persona's interests, there are several tips you can incorporate into your strategy now to get the most out of your marketing efforts.

1. Create a Content Calendar
While it can be difficult to draft a content calendar for the first time, it proves immensely beneficial for your social media strategy in the long term. Content calendars keep your publishing schedule organized and prevent you from missing any important dates.
At Criterion.B, we use Google's collaborative platform to manage clients' content calendars so our internal team of project managers, designers, writers, and editors can communicate and interact in real time.
With your marketing team, create a content calendar that typically includes regular blog topics, social media imagery, interesting articles, and local events. As you consider your calendar, don't forget to highlight a few fun days that can bring exposure to your business! For example, plan a social media post on National Margarita Day showing your team cheers-ing at happy hour.  
Remember to plan as your business and surrounding area evolve. These posts can all be added to your content calendar in advance so that you can plan out your days to ensure nothing overlaps, you aren't over-promoting your business, and you are diversifying your content appropriately.
2. Follow the 20/80 Rule
Regardless of the platform, social media is not a microphone for self-promotion. While it's tempting to blast your latest offers, promotions, and new amenities across each channel, this "interruptive" promotion is not always effective. There's a time and a place for promotional content, and that time accounts for about 20% of your feed.
Overall, 20% of your shared content should focus on you, while the remaining 80% should be about your audience and what interests them. Take this 80% opportunity to be a resource, a thought leader, and a value-add for your customers.
At Criterion.B, we refer to this rule as the "cocktail party methodology." When you arrive at a cocktail party, what do you do? Most people walk up to a small group of people and ask about them: their names, their work, and where they live. You ask follow-up questions to get to know them and seek common interests.
With time, the conversation turns back to you, allowing you to share about yourself. Interrupting the current conversations and talking about yourself first would be rude. This is how social media works, too — it's a conversation.

3. Pin Posts to Your Twitter and Facebook Feed
Did you know you can pin important posts to the top of your feed? From your latest press release announcing a new product line to a fun giveaway promoting your participation at an upcoming trade show, there are plenty of opportunities to highlight important social posts.
Pinning posts to your feed is a simple three-step process:
Go to your Facebook or Twitter newsfeed and find the post you want to pin.

Click the down arrow in the corner of your post.

Select "Pin to Top."
Pinning an important post can extend your reach, potentially attracting more engagement and interest. Don't forget to "unpin" your post after three to four days to prevent ad fatigue. These reminders can be part of your content calendar.
4. Take Advantage of Influencer Marketing
From reviews to thought leadership, social media offers a unique outlet to turn fans into influencers. Influencers are recognized by their large following and insights covering all aspects of your respective market. A strong social presence is necessary to hold an influencer status and quality posts that followers are actively engaging. Often, influencers are viewed as a more trustworthy resource than advertisers, thus better capturing your audience.
Connecting with these influencers allows you to market your business simply by becoming visible through their followers. Rather than spending large marketing dollars on print ads, influencer outreach is free or significantly cheaper. Consider allowing an influencer to guest blog on your site, for example, or have them take over one of your channels daily to motivate your followers to engage.
For example, The Morris Apartments in Nashville regularly has social media influencers "take over" their Instagram page for a day. More recently, beauty blogger Leigh Taylor — with her 15,300 followers — took over the property's Instagram Story to share beauty tips and advice.
A Guide to Developing a Social Media Strategy
Social media is key to attracting and engaging with your customers, but each platform is unique. This issue is further compounded if your property has more than one buyer persona. How do you effectively market to each persona in a way that will appeal to their unique desires? Download our guide to learn the dynamics of developing a social media strategy.

The multifamily market has been a mixed bag, especially given the COVID-19 pandemic and its economic impact. These fluctuations mean that multifamily marketing is imperative for companies to edge out competitors.

Consider the following multifamily marketing trends as they should show positive returns for your company.
1. Let live streaming take center stage.
It's a game-changing year for multifamily marketing, especially regarding how to reach prospective buyers in your area. Until now, the marketing landscape has remained more or less the same, with social media claiming the throne in every corner of influence. However, we are now seeing increasingly fast-paced developments in the form of new and updated features such as live streaming and instant messaging.
The way it functions within Facebook has made live streaming a growing trend, besides the capability to engage in real-time with clients. Facebook allows you to prioritize updates from friends and family rather than pages you like or follow.
What does this mean for multifamily marketing? Put simply, it means that content will have to be creative and engaging to gain more activity online. The update ranks content that receives the most activity and shares it closer to the top of the feed. A multifamily marketing team with experience in social media content will optimize results. And since live video is currently the most preferred type of content among Facebook users, it is an area in which marketers will naturally place additional creative efforts.
Social media features contain many great multifamily marketing opportunities, including the capability to broadcast a live house tour or announce real-time property events for clients or prospects. And the live features allow for specific market targeting across multiple platforms, such as Instagram and Snapchat.
2. Understanding the continued rise of IM and chatbots.
Connectivity is another great advantage of social media. The simple ease of using direct messaging functions makes it easier to engage with your audience. However, the conundrum that property managers now face is how to respond quickly and accurately to prospective buyers.
Cue marketing automation bots, also known as chatbots.
Today's consumers want to engage with a company when and where it's most convenient. For real estate, this could mean losing possible leads if we cannot respond to needs instantly. Chatbots seem to have cracked the code, quite literally, on instant communication. According to Botpress, a chatbot is "any software that performs an automated task … the most intuitive definition is that a bot is a software that can have a conversation with a human."
In addition to being programmed to have realistic, human-like conversations with prospective clients, chatbots can also gather specific information relevant to the seller or the marketer.
In the context of multifamily, a chatbot can mean providing 24/7, instant responses that do not require an individual behind a screen scrambling to answer a question. Chatbots also provide a smoother user experience for the buyer, and user experience is always critical.
Social media features such as live streaming and instant messaging are powerful tools that benefit both sellers and buyers. Multifamily marketing trends are growing rapidly, and their influences within the industry are on the rise.
3. Let drones offer a bird's eye view.
Drones are a defining piece of technology for multifamily and commercial real estate. Several years ago, hiring a professional photographer for aerial shots of a property was conventional. With drones, on the other hand, you can capture stunning images and breathtaking videos of your property with camera-equipped drones, all while cutting back on costs.
Drones can depict a great layout of the entire property, especially when recording video. For larger areas, drones' unique benefit is navigation beyond the property and into the surrounding area. They can capture incredible bodies of water, beautiful landscapes, and nearby neighborhoods. This particular feature can be optimized if paired creatively with live streaming.
Drones also allow high-rise apartment complexes to capture images of the entire building and attractive neighboring hotspots. Drones are one trend guaranteed to set your multifamily marketing apart from competitors and will surely spread within the industry.
4. Take advantage of virtual and augmented reality.
Though we have seen impressive and usable trends for multifamily marketing, virtual and augmented reality takes the prize.
Virtual reality opens new doors for prospective clients quite literally as it provides a behind-the-scenes look, or rather, a digital tour of a property. As the real estate industry moves forward rapidly embracing new technologies, virtual has already made it into many multifamily marketing plans. Companies now design 3D models through the power of virtual reality. And prospects can walk a unit and experience property amenities firsthand without being onsite. This trend took a significant leap at the start of the pandemic when many properties had to shift to a virtual-only touring model. Today, virtual tours are offered at many properties in addition to in-person tours, offering prospects even more opportunities to sign a lease from the comfort of their couch.
Through augmented reality, marketers and realtors are also bringing blueprints to life. With the aid of smartphone and tablet cameras, AR technology can render a 3D image of a building from a blueprint or a completely interactive layout. This tool will prove useful in all stages of development by allowing clients to visualize the entire project.
Augmented and VR technologies, drones, and social media make the customer experience more convenient and engaging. By considering these trends, your renters will be brought smoothly through the sales funnel and to that final decision.

Twitter is an amazing place. With over 300 million active users, Twitter has an active community that all different types of people embrace.
Almost every type of industry has a community on Twitter, including engineers, marketers, fashion designers, and even realtors. But how can these industries use Twitter to their benefit and actually gain something positive out of a social network?
We've talked a lot about social media and how it benefits real estate, but let's talk about one thing in specific that may be of interest to realtors, developers, and everyone alike: Tweetchats.
The Benefit of Tweetchats
Tweetchats are scheduled, moderated conversations about a specific topic. Any Twitter user is welcome to join any Tweetchat of their choice, but it's a chance for users to connect with each other and converse over similar interests. For instance, a Tweetchat about community fitness will probably bring groups of social runners and yoga lovers together to talk about health and wellness in community settings.
How to Get Involved
Find a Tweetchat
This part is actually relatively easy for the real estate industry. There are several different types of Tweetchats, each catered to people interested in multifamily, apartment hunting, developments, or traveling. However, Tweetchats are scheduled at a certain time each week. Make sure to find out when exactly your chat is and add it to your calendar. There are a few websites out there that list almost every Tweetchat created and their time.
Questions & Answers
The format for a Tweetchat is fairly simple to understand: there's usually a moderator from a single Twitter account that tweets out questions for other users to respond to. Using the form, "Q1" or "Q2", moderators are able to let you know what question they're on and you reply to those questions with "A1", "A2", or whichever number corresponds to the question. This makes it easy for other participants to easily understand what everyone is responding to and ultimately helps everything stay organized.
Engage With Others
So you're answering the questions and you're getting favorites on your Tweets and maybe a few replies. What do you do now? Engage with them! This is the time where you can interact with the rest of the community; reply to interesting answers you see, favorite some tweets that catch your attention. Overall, it's your chance to get your name out there, grow your following, and make some connections.
While you may think Tweetchats won't help people in the industry, it's still important to know that a social presence is beneficial to all different types of professionals. With the digital age constantly evolving, it's imperative that the real estate industry stays on their toes; engaging with the community through social media is one way to stay up-to-date.
We live in an age where everything from airport security to credit cards companies are successfully running social media accounts to gain brand recognition. Surprisingly enough, TSA boasts over 400,000 followers on Instagram, bringing an unexpected humor to the monotonous, yet important business of airport security. Social media is becoming the major touchpoint to many organizations' audiences.
So despite the industry, there's always room for a social media presence. Whether it's through humor, storytelling, or striking photography, making the account mimic a company's values is key.
Recently joining the social media game are Economic Development Companies (EDC). Set out to change the perception of the governmental agencies, Economic Development Companies are bringing their values to life through well-thought-out brand identities on social media.
If you're considering how to use social media to represent your Economic Development Company brand or want a few pointers to enhance the presence, here are five ways to make the most on social media:
1. Start With LinkedIn
While there are many platforms that an Economic Development Company can leverage, LinkedIn tends to be the best platform for the job. On a spectrum, LinkedIn skews more formal and professional, reaching an ideal audience forEconomic Development Companies. From business professionals small and large to community ties, LinkedIn easily connects people and organizations on the engaging, metric-friendly platform.
Appealing to "higher-ups," site selectors, or real estate brokers may be difficult on a social media platform on the opposite end of the spectrum, such as Pinterest or Vine. The business-savvy audience that your city needs is likely already on LinkedIn. First, leverage the platforms your audience is already on and then expand to more niche platforms.
2. Talk, Don't Shout
When it comes to deciding what content to post on your channels, always consider what your audience would find interesting. Social media is not a microphone for self-promotion, but rather a chance to connect with your audience. To do this, balance your feed with both organic content (e.g., self-written blogs that add value) and earned content (e.g., aggregated articles that offer useful content).
Keep in mind the C-Suites as well as the community when posting. Guide your content to address the pain points, interests, or questions of both, and consider how to bridge the gap. Create a series that highlights the great things businesses are doing in your city. This will spark engagement within the community as they recognize or discover new local businesses. This series will also speak to site selectors and developers, proving your city's dynamic landscape. Think about your audience first, and piece in how you fit into the conversation, second.
3. Tell Your Story
Every city is a different story, from the businesses to the people to the landscape. Find out what sets your city apart and run with it. Social media is the perfect outlet to create a campaign, blog series, or hashtag that brings your community to life.
Profile the people that are the true drivers of economic development — the business owners, visionaries, and site selectors. The economic development team of Midlothian created a Why Midlothian? blog series for social media, which tells the story of the local businesses, entrepreneurs, and renowned companies that chose to build their business on Midlothian soil. Let the businesses and community be the voice of your city; after all, who can tell it better than those that define it.
4. Vary Your Media
To boost impressions and avoid becoming stagnant on social media, go beyond simply sharing links. Decorate your feed with pictures, videos, and infographics. This makes your feed much more scannable and visually interesting. Researchers found that colored visuals increase people's willingness to read a piece of content by 80 percent. That's a pretty powerful persuasion. Make sure your visual elements remain consistent and recognizable for your Economic Development Company.
Take Michigan Economic Development Corp., for example. Scroll through their feeds and you'll come across a mix of striking Michigan photography, videos, and photos. Just with a quick scroll of the page, you get a strong feel for the community involvement and booming industries that come from Michigan.
5. Widen Your Target
Once you have your basic elements in place — a powerful platform, good content, compelling stories, and diverse media — it's time to boost it to the masses. (The right masses, that is.) Facebook and LinkedIn are great advertising platforms with highly targeted capabilities.
Facebook, especially, has the ability to boost a post to a narrow group. This not only increases how many people are seeing your content but ensures who is seeing it. For example, your post on "5 Real Estate Trends That Affect Shopping Centers" can be targeted at retail developers to make a bigger impact.
Challenge yourself to look at social media from a new perspective. It has the power to generate leads, instill community connection, and create positive awareness all on a platform your audience is already using daily.


In anticipation of the Multifamily Social Media Summit, we caught up with a few conference-goers to paint a picture of the social media landscape in 2016.
Throughout the past year, we've seen big data become more accessible and analytics sharper. Top social networks like Instagram opened their doors to advertisers, while Millennial-powered platforms like Snapchat continued to redefine social communication and brand storytelling.
With the onslaught of new social networks, marketers in multifamily are constantly adding new tools and tactics to the marketing mix. Therefore, we will take an aerial view to examine where social media sits within a broader marketing strategy.
1. Social Media Is Only One Piece of the Marketing Pie
If you're on social media to "have a presence," then quite frankly, you're missing the point. While on its own, social media is a great forum for engagement, an effective strategy is always part of a broader marketing masterplan.
For development/management companies like Continental Properties and Cardinal Group, those marketing goals are focused on attracting and maintaining residents. Social media allows their teams to meet residents where they are and guide prospects through the sales funnel. Continental Properties uses social media to "augment their web footprint," said Continental's Marketing Project Specialist Prince Solomon.
Social media gives us a very flexible and living way to develop our brand. It allows us to develop relationships with our prospects, maybe before they even walk in the door, and always pushes them to our website (which contains certain vital and somewhat static information to help us close the deal).
2. Don't Underestimate the Value of Social Listening
Michael Huereque, Director of Marketing at Cardinal Group, further commented on the value of social listening. The two-way nature of social media provides unprecedented access to the target audience — both current and prospective residents.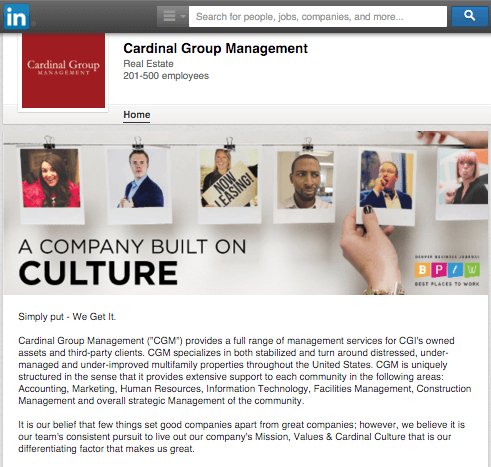 "This is the first time in the history of marketing that a business can be completely conversational with its audience," said Huereque. "Imagine how valuable billboards would be if they could actively respond to questions from inquisitive prospects."
From social media, Huereque gathers key demographic insights to inform a multifaceted marketing mix — one that integrates social media with SEM and the website journey.
Start with your business goals, which is the quickest way to be effective on social media.
"Whether the goal is to reduce resident turnover, increase brand awareness, or establish thought-leadership, the process has to start with clear goals from which you can set measurable benchmarks or KPIs," said Kerie Kerstetter, Director of Content Strategy at Criterion.B. "With this approach, social media allows us to do more than engage. Rather, we can build relationships with a purpose."
3. Content Is Becoming More Interactive
With goals and objectives in mind, we can focus on the intent behind each social media post: What's the message? What kind of action or emotion are we trying to elicit from our target audience?
It's one thing to outline your social media strategy. It's another thing to create social media content that resonates.
In today's cluttered world, the creation of scroll-stopping content is both an art and a science, said Kerie Kerstetter:
Compelling content may take the form of an interesting photo, a well-written blog title, or a stop-motion video. Sometime it requires us to zoom out (literally) and consider how a design might play across an Instagram feed or how a video inspires a call-to-action.
As marketers continue to think outside of the box, it's important to establish a consistent brand across all platforms.
"The user experience should be the same, no matter how the resident interacts with us," said Solomon. "We develop the brand online and affirm the brand when residents personally interact with us and see our communities."
Engagement from your audience is a great way to gauge the strength of your content. Further, it can guide your audience down whatever awareness or sales funnel you've tactfully developed. And once you've identified your strongest content, a few advertising dollars can go a long way.
4. Social Media Ad Dollars Are Stretching Far and Wide
Once we've established the role of social media in our customer's journey, we can begin to leverage content to reach a wider audience. Social media advertising can be a relatively cost-effective method for amplifying your reach.
"When everyone jumps onto the Google PPC bandwagon, we might miss new technologies that provide alternate solutions," said Huereque. "Facebook, for example, is a fraction of the cost for referring web traffic."
While it may be a smaller subset of the population, it has no bearing on the lead quality of the clicks. And yet, an effective social advertising campaign still requires just as much time and testing as traditional PPC.
"It's a rather tedious game of A-B testing," said Kerstetter. "Yet, when you strike gold, you can cover a lot of ground at a very low CPC (cost per click)."
Depending on the ad format, testing different versions of the same ad can reveal a clear winner. "Striking gold" can be the difference of anything from photo selection to comma placement.
While Facebook's advertising platform allows for the most granular targeting, Huereque encourages marketers to take calculated risks across platforms:
Have you tested an Instagram campaign yet? How about piloting a YouTube ad? I guarantee someone in your competitive set already has. The solution, for me, is continuous research and actively testing new platforms.
We look forward to diving deeper into these topics throughout the next few days.




Instagram is a social network widely popular among millennials and Gen Z. Instagram mimics Facebook because our focus shifts back to resident engagement. It has a single function (picture-sharing), which makes it highly visual and a great platform for conveying the personality of your resident community.

Instagram (The Basics)
With Instagram, users have several formatting options for editing pictures. Color treatments called "filters" can be applied to photos to make them more artistic and visually interesting. Again, users can be individuals or organizations. Similar to Facebook, users can favorite or comment on pictures, as well as tag other users.
Driven by the freedom to format and a quick-scrolling mobile platform, Instagram is among the most interactive social networks. For multifamily properties, it's an excellent tool for branding and resident engagement.
Uses for Instagram Apartment Marketing
Share Visual Updates: Think visually. Consider how you can create visual interest when it comes to your everyday resident communications. Are you opening the pool this weekend? Post an inviting picture! Are you prepping for a resident event? Show them! Are there cupcakes in the lobby? Are there amenities your residents aren't taking advantage of? (You catch my drift).
Before you start, however, you need to ask yourself what tone or personality you want to convey and which property features you want to highlight. Know the type of audience you want and find a way to cater to their personalities. Check out the Instagram for 2660 at Cityplace in Uptown Dallas. They do a great job creating visual interest and keeping residents up-to-date about what's happening around their property.
Tap Your Resident Community: As active as millennials are on Instagram, multifamily properties should consider how they can use the platform to create opportunities for engagement. Inviting your residents to participate is perhaps the simplest way to do so.
Gigi Giannoni, Vice President of Marketing and PR at Gables Residential, said they recently launched an Instagram contest focused on resident engagement.
"Sometimes [multifamily marketers] get so caught up on driving new traffic, we forget about the value of resident retention," said Gigi. "With our Instagram contest, we were focusing on resident retention. We wanted to make our residents feel a part of the Gables family."
The #GablesOasis Instagram contest asked residents to share a picture of a 'summer oasis' in their Gables community. As residents submitted photos, Gables shared the entries on their Facebook page. It allowed them to start conversations with their residents and gave Gables an excellent collection of pictures to showcase their properties.
"People are a part of where they live," said Gigi. "That's what drove participation in our contest. Choosing where to live is like choosing a way of life, and we want our residents to take pride in that."
Remember that when participants share pictures of your property on Instagram, those photos also appear on the newsfeed of their followers.
A well-planned Instagram contest can generate awareness of your property to relevant audiences. The Instagram platform presents several opportunities for apartment marketing, and you've just got to think visually.

Nowadays, people aren't just looking to the classified sections of newspapers or Craigslist to find multifamily properties. They're turning to seemingly unconventional tools for social media marketing research and inspiration, such as Pinterest.

For those who don't know what Pinterest is, it's an online bookmark and picture-sharing site. Like other social media platforms, users can follow companies and other users and re-pin their images onto online "Bulletin Boards." For multifamily properties, maintaining a Pinterest account can improve your apartment SEO (Search Engine Optimization).
Enhancing your multifamily SEO ensures that your property website appears near the top of search engine results, which results in more leads, interactions, and better brand value.
Here are a few simple steps that will help you build a strong presence on Pinterest:
1. Create a Pinterest Account
Use your full business name in your account. Include all necessary descriptive contact information or logos in your Pinterest bio.
2. Create Your Boards
On Pinterest, Boards are the topics by which you organize your content. You should create boards that showcase your property (rooms, amenities, events) and boards that provide tips and tricks for commonly searched apartment topics. Make sure to keep the number of boards fairly minimal so that you can keep all of them active and create descriptions for each.
Here are some ideas:
interior decorating tips

space-saving tricks

neighborhood guides

easy recipes for entertaining
3. Include Multifamily SEO Keywords
Make sure individual posts (called Pins) contain keywords your business wants to be searchable by, either in the title or Pin description. This will increase your Pin's relevance in search engines and direct more people to your pins.
4. Customize Source Links
Customize your Pin's link to direct potential renters back to your website so they can check your property out. To do that, click "Edit" on your pin, insert your website URL into the 'Source' bracket, and make a captivating caption that will entice users to click on it.
Making Pinterest Part of Your Social Media Marketing Plan
Overall, Pinterest is a unique social media marketing channel that may not be successful for everyone, but when utilized correctly, it could be your best friend. Pinterest can help your multifamily SEO — so make sure you at least get started and make Pinterest an integral part of your social media marketing plan.