Success on Instagram varies for every industry. For multifamily properties and businesses, some are finding success by highlighting residents, showcasing events, and being a part of the community. Here's some ways to find success on Instagram and to help build your social media presence.
Instagram Insight #1: Adopt a new leasing tool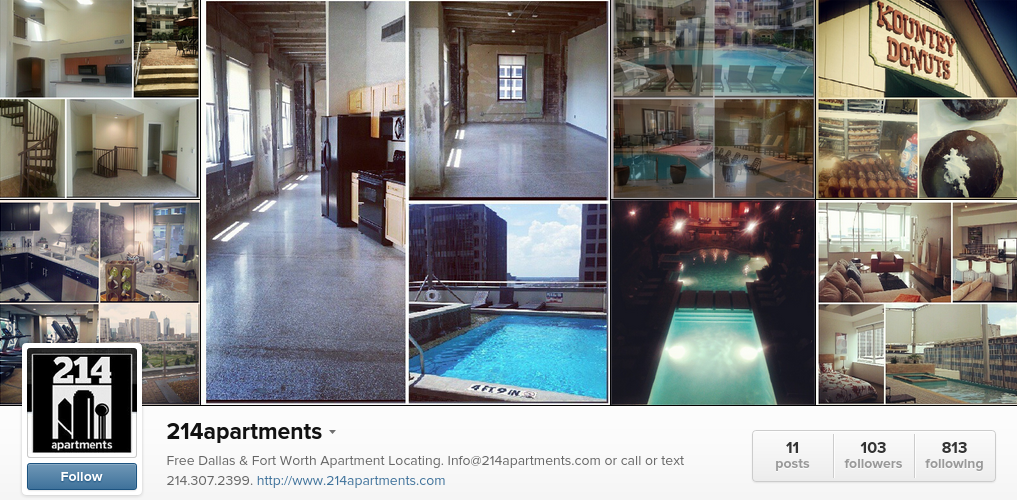 214 Apartments (Dallas/Fort Worth) is an apartment locator service that posts pictures of available apartments in the Dallas-Fort Worth area. They showcase the interior of new properties on the rental market, along with the price and amenities of each. Through 214 Apartments Instagram account, the audience is able to view apartments for rent in various neighborhoods and contact the locator service with any interest.
Bryson at City Place (see right) is another property that does that uses Instagram as a leasing tool. Eye-catching interiors and amenities are a great way to catch the attention of potential renters and start a conversation about what's available at your property.
Instagram Insight #2: Feature your world-class staff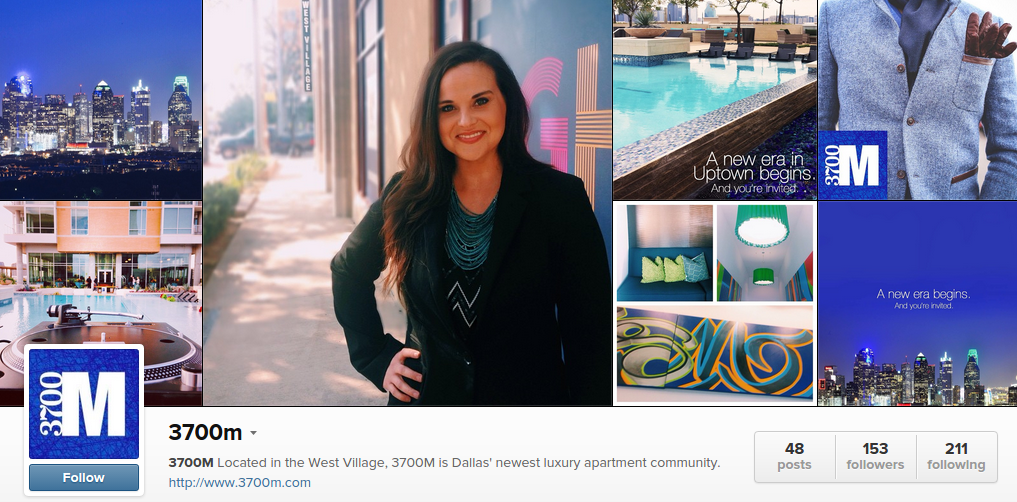 3700M is a luxury apartment complex located in West Village, Dallas. Their Instagram frequently highlights property staff, which allows both current and prospective renters to put a name to 3700M managers and employees. By showcasing the friendly faces that make up their resident community, 3700M humanizes the rental process and opens the line of communication for their resident community and future tenants.
Instagram Insight #3: Get crafty. Hold a contest.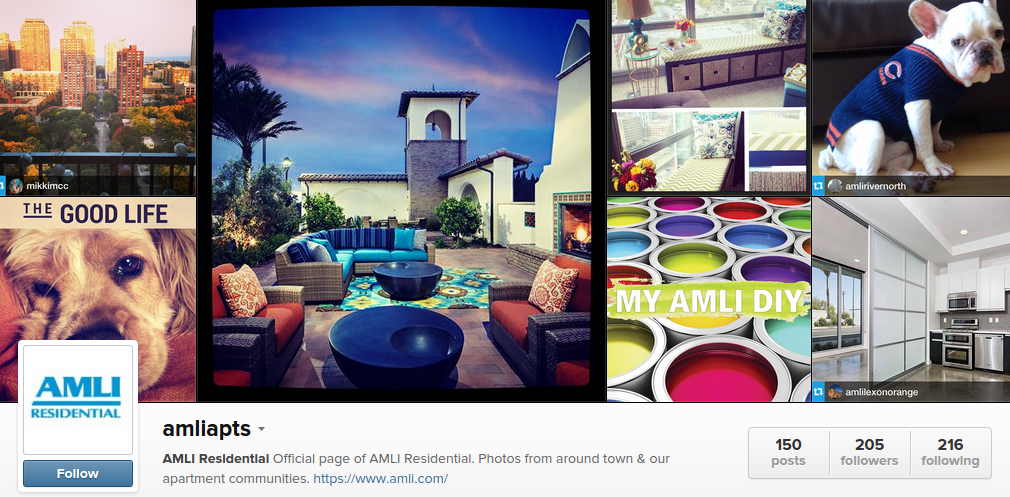 AMLI Residential is a property management company that has mastered the art of creativity on Instagram. They showcase everything from new property photos to cute canine residents, but most importantly, they're not afraid to get crafty. AMLI recently held a contest, encouraging residents to share their creative DIY projects. Their Instagram is worth a visit, as AMLI does a great job sharing photos that spark opportunities for resident engagement.
Instagram Insight #4: Highlight resident events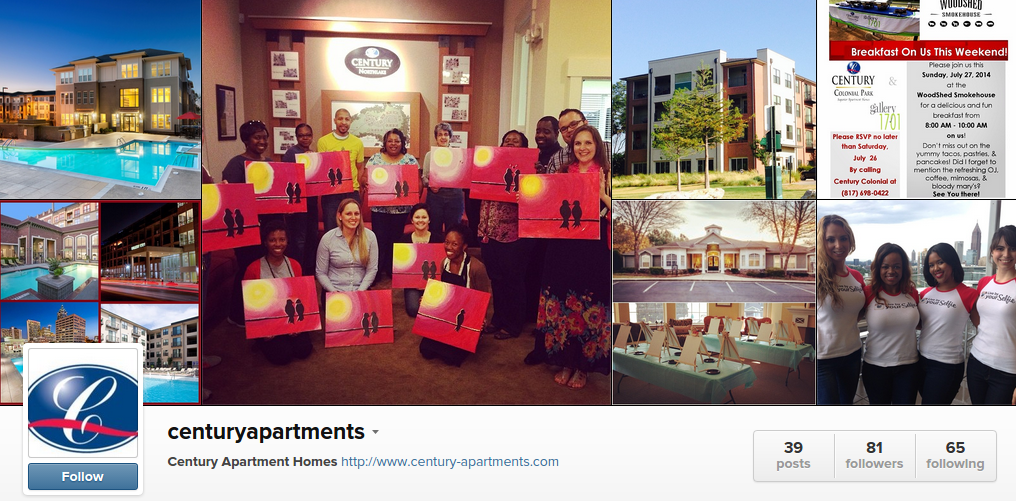 Century Apartments is another property management company that has multifamily properties nationwide. They often use Instagram to promote upcoming resident activities, as well as provide coverage of events that are being held. Not only does this approach encourage participation from current residents, but it allows prospective residents to get a sense for the personality of Century Apartment communities. They also shares photo from various philanthropic events, which shows how their properties are giving back to the community.
Instagram Insight #5: Change with the seasons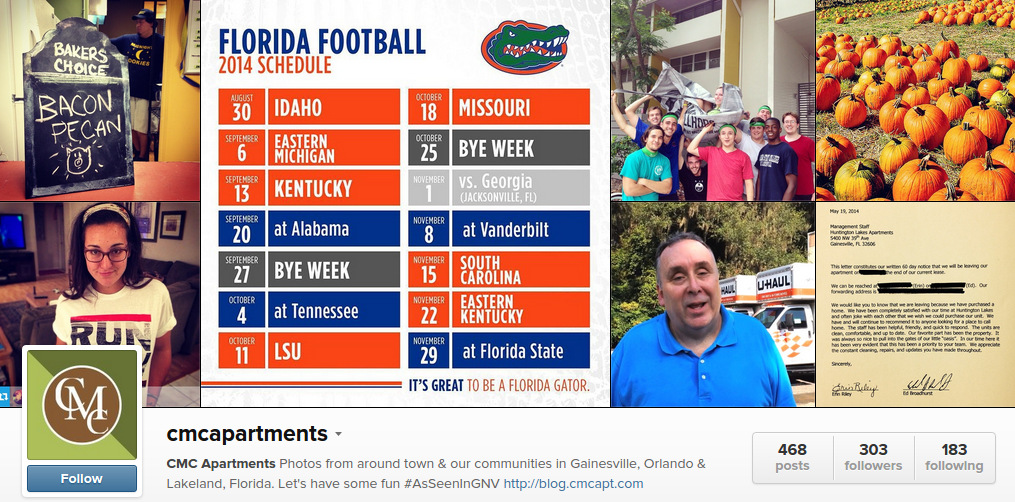 CMC Apartments (Gainesville/Orlando/Lakeland, Florida) has several properties throughout the state of Florida. As the seasons changes, so do their Instagram posts. We often talk about the importance of being helpful on social media by anticipating your residents' needs and interests. As October nears, for example, CMC Apartments shares with residents where they can go to buy pumpkins. Knowing that many of their residents are football fans, CMC Apartments shares game schedules and support for Florida teams. Their content changes with the seasons (and your's should, too!)
Instagram Insight #6: Embrace your city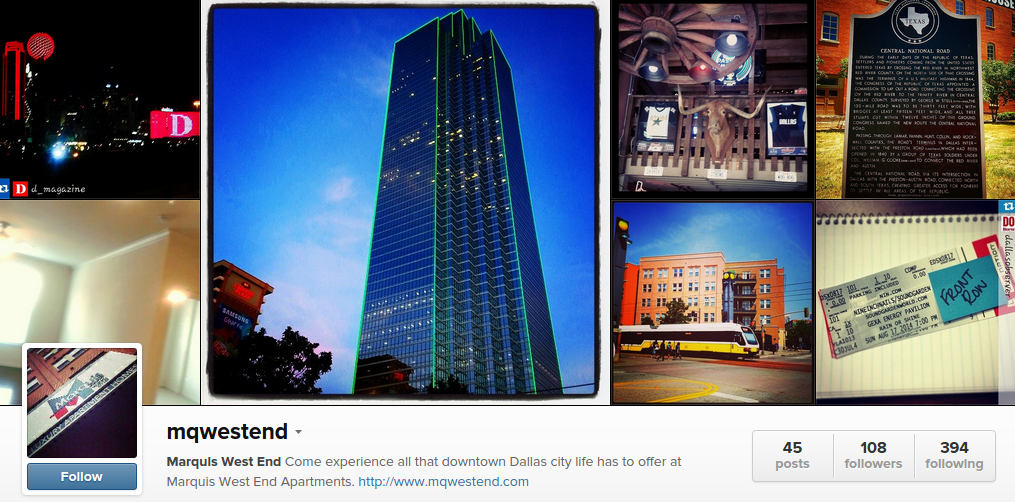 Located in the heart of Downtown Dallas, Marquis West End is an apartment complex focused on bringing out the best of Dallas. They share many photos from the Dallas Observer and Dallas Magazine, showing support for the businesses and community around them. Their Instagram account promotes events around town and shares pictures of Dallas nightlife. Seven High Rise Apartments (Austin, Tx) is another property that does this particularly well, celebrating the unique culture and characters of Austin, Texas.
Instagram Insight #7: Showcase your location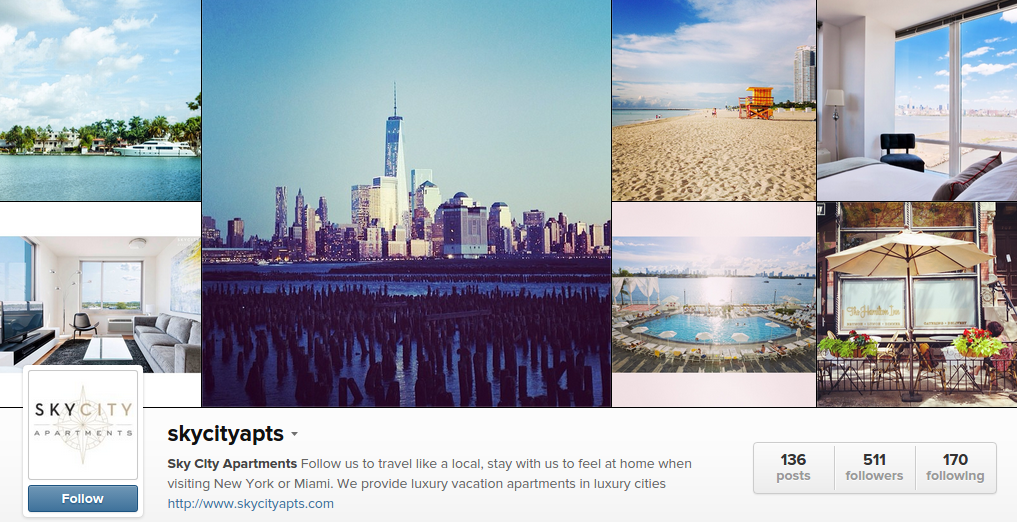 With prime locations in New York and Miami, Sky City Apartments showcases the incredible views that come with location, location, location. Gorgeous beaches and breath-taking rooftop views paint pictures of luxury. The Instagram account is portrayed as if from the eyes of a resident — one who loves their city and loves what their property location has to offer. (And you know what, it's pretty persuasive!)
Instagram Insight #8: Celebrate your residents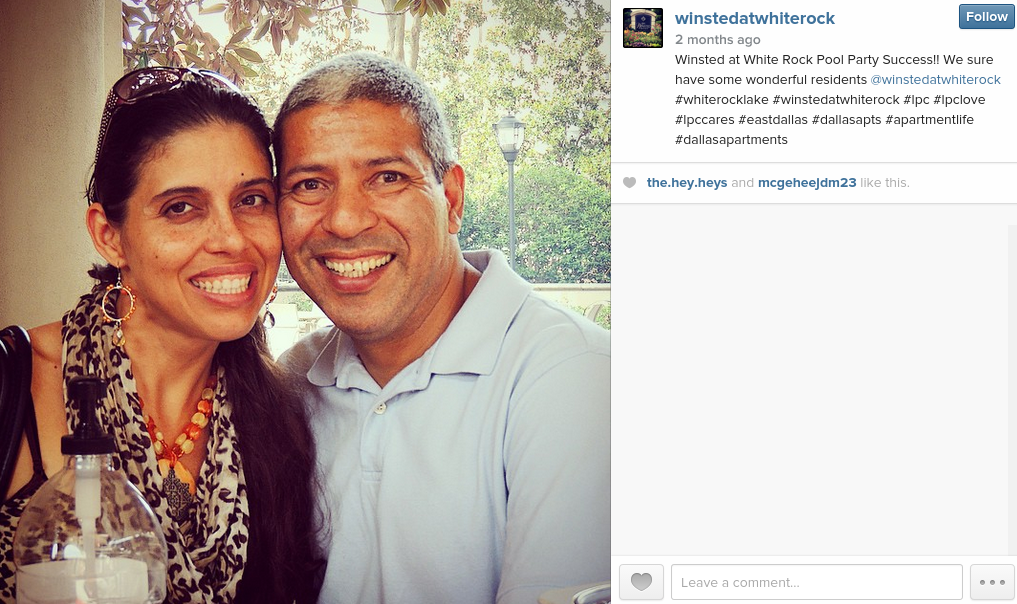 Your residents are the ones who make your community great, so why not focus on them? Winsted at White Rock (Dallas, Texas) celebrates the faces and personalities of the people who live there. Not only is this a great way to engage with current residents, but it gives prospective residents an idea of the kind of people who currently live at your community.
Finding the Instagram strategy that's right for you will depend on:
What kind of property your are (e.g., high-end urban living, college student housing, etc.)

What you're looking to achieve (e.g., attracting renters, engaging with residents, improving attendance at community events, etc.