What Is Experiential Multifamily Marketing (And How It Can Benefit Your Property)
The best way to understand the power of an experiential multifamily marketing campaign and how it can help you increase your apartment leads is to take a look at some popular brands that have executed it effectively.

Imagine you are at New York's JFK Airport. You've got the ticket, passport, and carry-on bags ready to board. But right on your way to the gate, you see a huge board like this…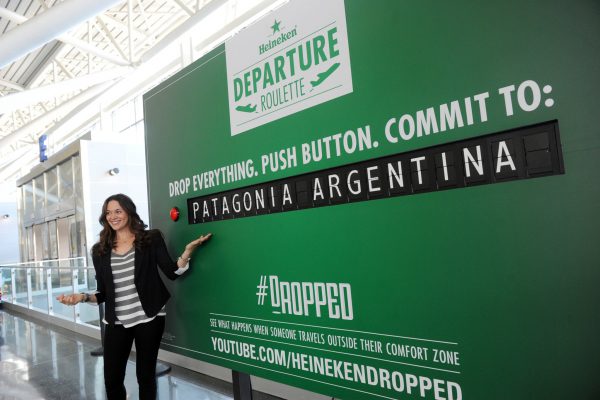 Heineken has given you a challenge. You get free round-trip tickets to a new and adventurous destination if you push the button. Sounds great, right? But here's the catch: You don't know the destination, and you must leave right now.
The event video named "Departure Roulette" has gained over three million views. Further, the story was featured by the New York Times, Time Magazine, AdAge, and countless others.
So, why does Heineken do this? Why doesn't it just stick to the entertaining beer commercials and social media?
What Is Experiential Multifamily Marketing?
The answer is simple: Friendly multifamily brand engagement on social media no longer sets you apart. Today's audience craves suspense, wild creativity, and digital experiences that translate into real ones. They want a full-on experience with a multifamily brand.
This is where an experiential multifamily marketing campaign comes in.
According to Jeff Benjamin, the Chief Creative Officer at JWT North America, experiential multifamily marketing "is what brands do in the world that gets people 'participating.'"
The participation started with passengers at the JFK airport when the event occurred. But thanks to the mighty power of social media, everyone on the internet is now a potential participant.
The beauty of experiential multifamily marketing, as David Moth explains, is that it "creates a closer bond between the consumer and the brand by immersing them in a fun and memorable experience."
The best way to understand the power of an experiential marketing campaign is to take a look at some companies that have executed it effectively.
The Dos Equis Experiential Marketing Campaign
Several years ago, Dos Equis launched a national campaign called "Masquerade" to gear their fans up for Halloween and help them "stay thirsty" for the brand. The prize was a trip to New Orleans for the Dos Equis Masquerade, featuring musical guest Q-Tip.
It would not be a Dos Equis campaign without their brand persona: The Most Interesting Man in the World.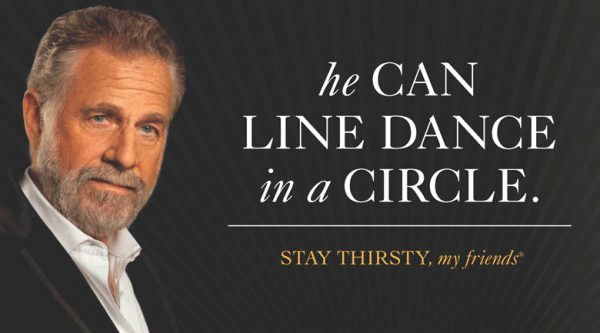 Unlike past campaigns, however, The Most Interesting Man doesn't just tell another adventurous tale. He invites the audience to become part of his story.
The Experience
Dos Equis launched an interactive video to kick off the experiential marketing campaign. Before a viewer starts playing the video, a mission is on the screen: "Find The Most Interesting Man's Little Black Book and Be Rewarded With a Very Interesting Phone Call."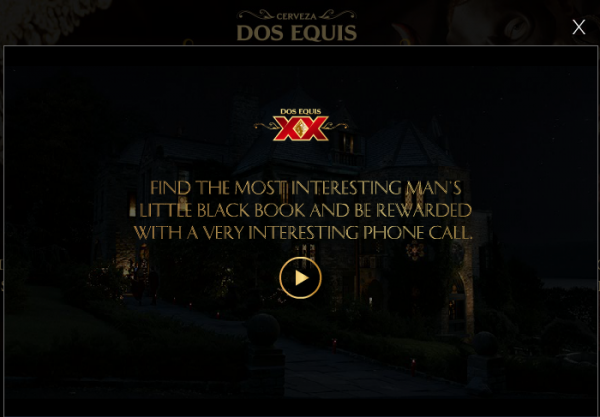 When the viewer hits play, the screen displays a navigational question. Each navigational choice leads to a different party room and story scenario. Throughout the video, there are several different navigational choices; the viewer's decision will decide whether he or she can find The Most Interesting Man's lost little black book.
Additionally, Dos Equis planted 21 virtual reality headsets in a few bars in the brand's key markets (including Texas). Patrons could enter The Most Interesting Man In The World's exclusive Masquerade party and travel through the rooms to become a part of the story.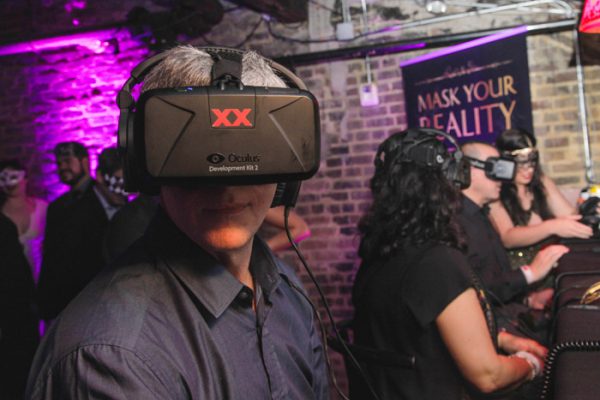 The interactive video of the experiential marketing campaign was viewed more than 27 million times. The #xxmasquerade hashtag garnered 1,861 posts on Instagram. Countless major media platforms have covered their story. From a metrics standpoint, the campaign was a huge success.
Why Dos Equis' Campaign Worked
The key to an experiential multifamily marketing campaign is to have digital meet physical. Dos Equis perfectly enabled this integration through their use of technology, storytelling, and a physical event (Dos Equis Masquerade in New Orleans).
The virtual reality headset and interactive video allow viewers to immerse themselves in the fictional world of The Most Interesting Man. With the prize being combined with the physical event of a real Masquerade party in New Orleans, Dos Equis amped up people's desire to see their fantasies become reality.
The technology perfectly supported the creative strategy, providing the audience with a fun and relevant experience. From a consumer engagement standpoint, Dos Equis definitely earned themselves a big "Bravo!"
Ubisoft's 'Amazing Street Hack'
You probably have heard of UbiSoft if you own a Wii, Xbox, or PlayStation console. UbiSoft is a French video game developer that produced several popular adult-oriented video games in the market today.
The Campaign
A few years ago, UbiSoft created an experiential marketing campaign called the "Amazing Street Hack" to help promote WatchDog, its new open-world action-adventure game. Because its video games carry a strong plot, UbiSoft usually promotes new games with a trailer/demo on TV or online. However, this time, UbiSoft added an incredible guerrilla marketing element.

The Experience
The stunt began in a set-up consumer electronics store with a big sign on the storefront that read, "Special Offers: Smartphone Repair in 15 minutes 24/7." Is anything overly suspicious? Probably not.
Of course, the smartphone repair is only a cover. In addition to fixing their phones, the salesman installs a "special" mobile app — a magical tool to help you become a real street hacker.
The salesman walks outside and shows customers how it works. With this app, they can unlock cars, change traffic lights, and pump money from an ATM machine (all coordinated by UbiSoft). Want to see what exactly happened? Watch this "Amazing Street Hack" video here:
Why Ubisoft's Campaign Worked
The "Amazing Street Hack" video garnered more than 23 million YouTube views and countless featured stories in media. The query "Amazing Street Hack" also returns 30 million search results on Google.
Obviously, this "pranks-vertising" worked very well for UbiSoft and WatchDog. Why?
First, it has all the elements that make this experiential multifamily marketing campaign an experience. The street stunt was impeccably planned and executed. It caught people off guard, and it gave them an experience that was "of another world," suspenseful, and relevant. 
The great content provided the online audience with great entertainment value. This quickly turned the experiential marketing campaign viral on social media. And most importantly, it gave people the motivation to buy the game. You can have all these amazing hacks without taking on real responsibilities with WatchDog from UbiSoft.
Coca-Cola's "Open Happiness" Campaign
Marketing professors always like to quote: If you stripped away all of Coca-Cola's physical assets, the company could still get back on its feet so long as it didn't lose the right to the Coca-Cola brand.
Ranking No. 6 on Forbes' The World's Most Valuable Brands list with a brand value of $64.4 billion, Coca-Cola is indeed the epitome of branding success.
The Campaign
In 2009, Coke replaced its four-year global "Coke Side of Life" campaign with "Open Happiness." The experiential marketing campaign debuted with the usual TV commercials, print ads, and outdoor advertising. However, the viral element to this campaign was Coke's brilliant use of vending machine hacks. Coke "dispensed happiness" to millions of people who were having an otherwise ordinary day through these hacks.
The Experience
The first vending machine hack — "Happiness Strike" — was launched in 2010 on a college campus in New York. At the school cafeteria, an unsuspicious-looking vending machine sitting by the wall delivered students endless free coke, fresh flowers, pizza, balloons, a 40-inch long sandwich, and of course, an indescribable amount of happiness to everyone on the scene.
The video went viral online, which inspired Coke to take this vending machine happiness hack to the world stage.
In South Korea, Coke installed a dance machine featuring a popular local band 2PM's classic dance steps. Using MicroSoft's Kinect motion sensor technology, people could mimic 2PM's dance moves. The more accurate they were, the more free coke this dance machine dispensed.
In Belgium, Coke partnered up with the new James Bond movie SkyFall. Commuters were challenged in a local train station to jump across platforms in 70 seconds with obstacles in the way. As a result, the winners received exclusive tickets to the movie premiere and a bottle of Coke Zero.
Additionally, Coke used a high-tech vending machine installed in malls in Lahore, Pakistan, and New Delhi, India. The machines aimed to help people separated by political reasons to resolve their differences, connect, and share a happy moment.

Why Coke's Campaign Worked
Consistency, relevance, and wild creativity are the three most defining characteristics of Coke's "Open Happiness" experiential marketing campaign.
Consistency: Since the campaign's inception, hundreds of videos have been produced for "Open Happiness." Both commercials and real-world events deliver a seamlessly integrated message: Coke is for your happy moment. Whether you are in the video or watching the video, you invariantly experience the joy from the scene.

Relevance: Coke's change of brand message began as a response to a culture shift in our society. In a world of uncertainties, people are yearning for a place of comfort and optimism. With a unified "happiness" message and customized local campaign executions, Coke made itself relevant to customers emotionally and geographically.

Creativity: "Open Happiness" deserves applause because it took digital beyond the internet and made technology interesting in real life. When combined with creativity, even a vending machine can become a source of entertainment. After all, happiness often finds us when we least expect it!
The Bottom Line of Experiential Multifamily Marketing
The core event of your experiential multifamily marketing campaign is to engage your consumers. There have to be people physically participating in the events and people online passing the message along to others.
And the power and presence on social media do not go unnoticed. So back to the Departure Roulette: A few lucky Twitter users that tweeted their excitement about the campaign got an unexpected visit by the Heineken crew. The campaign enthusiasts were visited by the roulette board and given an opportunity to push the button that held their travel destination.
When consumers are actively engaging a multifamily brand or campaign and then get rewarded, you create advocates — and other consumers notice. Leverage these opportunities to create experiences consumers want to be involved in.
As multifamily marketing tactics continue to evolve, how do you think marketers will begin to incorporate an experiential marketing campaign into their own efforts?