How to Use Branded Swag to Increase Leads and Brand Loyalty
For multifamily marketers looking to build their brand awareness, promotional products are a great way to spread your message. Not only do they create a lasting impression on potential residents, but they also help you stand out from the competition.

By offering promotional items related to the multifamily brand or community, multifamily marketers can increase visibility with potential leads, build relationships with current tenants, and create lasting connections with new prospects.
Here are 10 ways promotional products can improve your brand awareness:
1. Increase Exposure
Promotional products give marketers an effective and affordable way to reach larger audiences. Whether at multifamily trade shows, conferences, or stores, displaying branded items will increase your company's presence.
Multifamily properties can quickly establish brand recognition in their local community by offering promotional items. These products are often used at events such as open houses or sponsored events — they can market the property while providing useful information about its amenities and services. Prospective residents will be more likely to remember an apartment complex when they have something tangible to take home that represents the multifamily brand.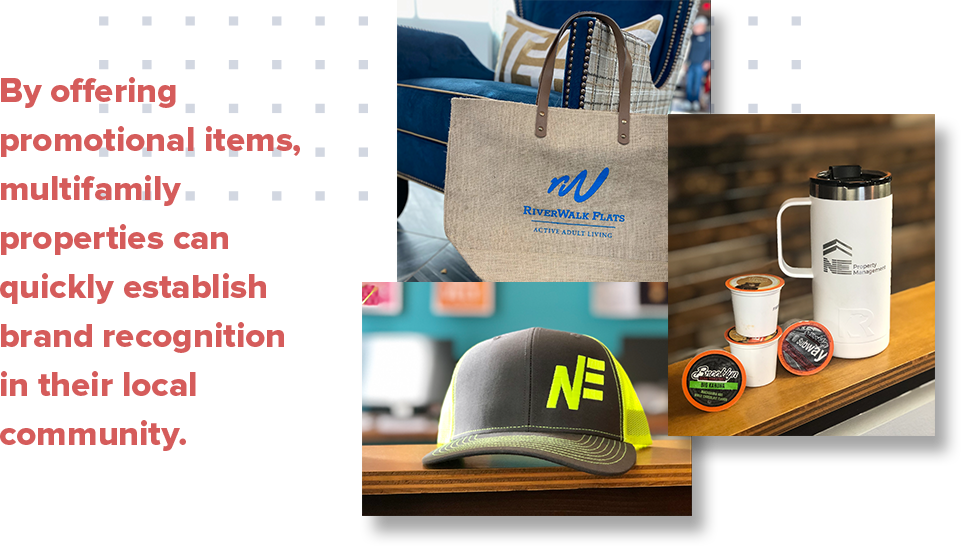 2. Raise Multifamily Brand Recognition
Promotional products make it easy for people to recognize and remember your multifamily brand. It's also much easier for someone to recall a product that was given as opposed to what they read in an advertisement.
3. Create Brand Loyalty
Swag is also a great way to show appreciation. Promotional products can reward existing residents for loyalty and encourage them to continue leasing at your property. This creates a sense of trust with your audience and makes them feel valued by your company.
By providing residents with branded items such as t-shirts, water bottles, or mugs, multifamily marketers can increase resident loyalty and word-of-mouth referrals for their community.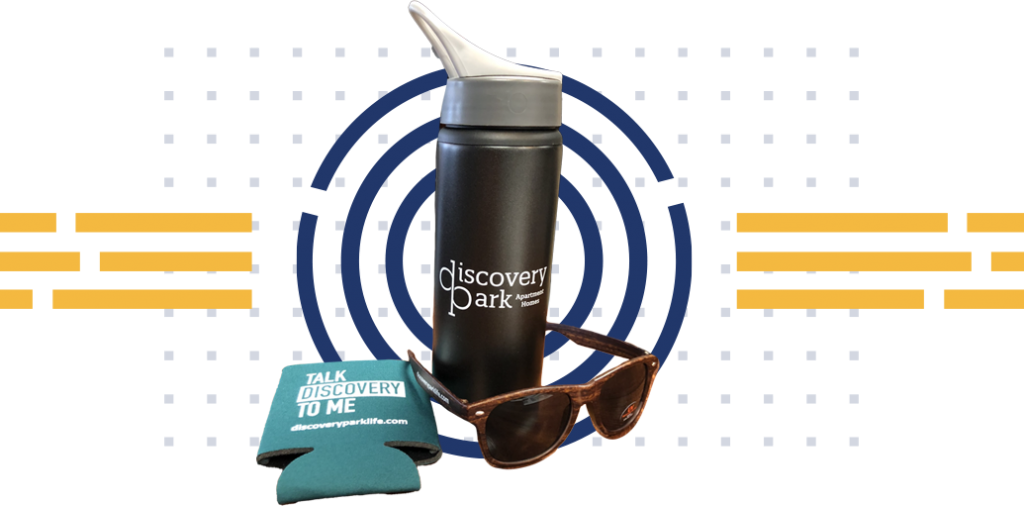 4. Convey Your Marketing Message
Branding items with your apartment logo, slogan, or other visuals helps marketers communicate their message quickly and efficiently. People will also be able to recognize your brand instantly when they see it again elsewhere.
5. Make a Lasting Impression
Placing promotional items at trade shows or in your leasing office allows marketers to stand out from the competition and make a lasting impression on potential residents. It's also a great way to differentiate yourself from other multifamily brands.
6. Generate Interest in the Brand
Marketers giving away branded products can generate interest and curiosity in their brand. Renters may be more likely to research your property or look up your product if they have something tangible related to it.
7. Encourage Word-of-Mouth Referrals
Swag increases the chances of generating more leases and referrals for an apartment community. Promotional items are a great way to increase visibility and create lasting relationships with prospective and current residents.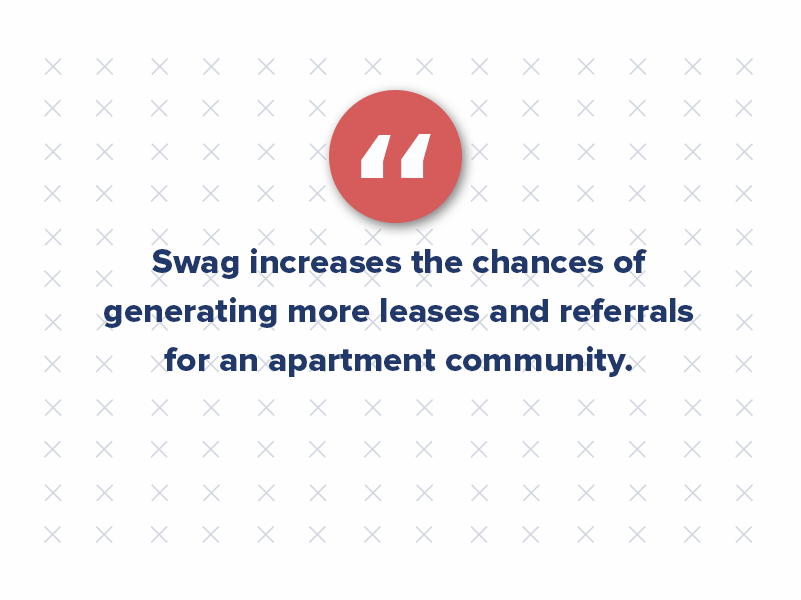 By giving people promotional items, marketers can encourage word-of-mouth advertising, one of the most effective forms of apartment marketing available today. People will be more likely to talk about your multifamily brand if they have something tangible that links back to you.
8. Create Connections With Local Businesses
Promotional items can also help communities connect with local businesses in the area. By distributing swag at sponsored events in the local area, multifamily properties can establish relationships with business owners and start networking opportunities. These partnerships will enhance the property's visibility and help generate more apartment leads.
9. Stay Top-of-Mind
Since promotional products are always visible, marketers can stay top of mind with potential residents. Whenever someone sees the product you gave them, it will bring your brand back to the forefront of their mind. 
10. Generate Excitement About the Property
Promotional products can be used to stir up excitement about your property and all its offerings. You can use them as event giveaways or mail them directly to prospective residents and prospects for maximum impact.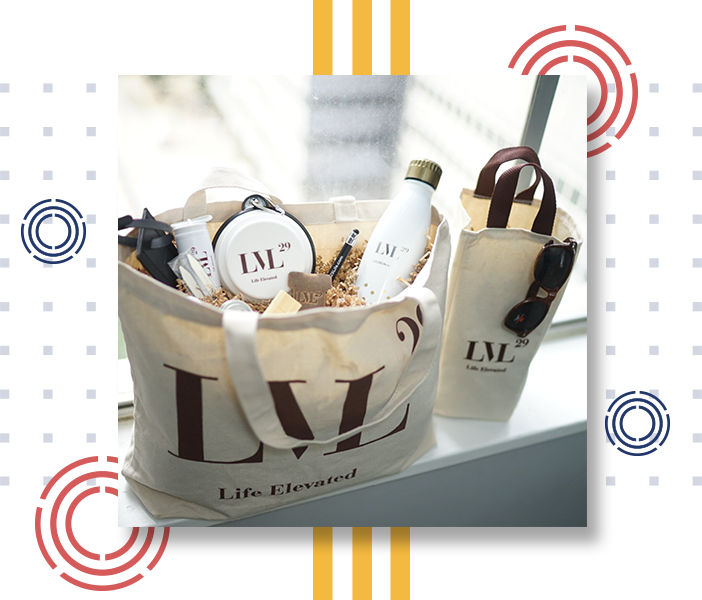 Don't forget to create a fun gift basket and put it on your social media for a giveaway! This way, you can generate new social media followers while drumming up more excitement for your property.
The Power of Promotional Products in Your Multifamily Marketing
Using promotional products is a great way for marketers to increase brand awareness and differentiate themselves from the competition. Whether it's increasing exposure, creating loyalty or generating interest, promotional products can make a difference in your multifamily marketing efforts. By leveraging the power of promotional products, marketers can reach larger audiences and create a lasting impression on potential customers.
The key is finding the right promotional item representing your multifamily property and its services. With various options available on the market, you can choose items that fit your multifamily brand and match your marketing goals.
For example, if you are aiming to increase brand loyalty, look for t-shirts or mugs with your apartment logo on it. Alternatively, to network with local businesses, look for items like pens, notebooks, or notepads with your logo. You can increase apartment leads and word-of-mouth referrals by choosing the right promotional item that best represents your community.

Ready to shop for swag and custom-branded promotional items for your properties or business? You can browse our promo items site or contact us directly to pull options that best match your needs and goals!