A Look Back at the Most Popular Swag Items and What's Trending
Whether you want to increase brand awareness, reward your team, or make a good impression with clients, promotional items are a great way to achieve all three goals.
In 2023 and beyond, promotional items such as custom-branded bags, t-shirts, pens, mugs, tumblers, water bottles, and hats will remain popular for companies of all sizes.

And to understand what will be popular this year, we need to look at the top-trending promo items from last year. We researched all the swag items that were most ordered in 2022 by our clients and researched them based on the most popular items in the multifamily market.
Let's take a look…
1. BEST Coolie – Branded Beverage Holder
Easily the most popular and most-ordered promo item this year was the BEST Coolie. Made from premium quality 1/8″ thick, open-cell Econo foam, this coolie is available in an assortment of stylish colors and provides great insulation, and absorbs condensation.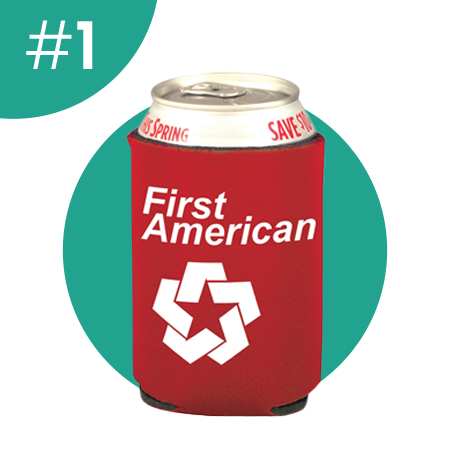 It can be customized with an imprinted apartment logo, company name, event title, or any information you want to convey. A second side and bottom imprint are also offered. The Coolie keeps drinks cold in summer and hands warm and dry in winter.
2. Ellipse Softy With Stylus Pens
Pens are not only a cost-effective trade show swag item but also great for taking notes at meetings and events. Pens with your company logo or URL on them are nothing new. You see these pens at every bank and car dealership you've visited. But, what is new and popular in recent years is the Stylus pens.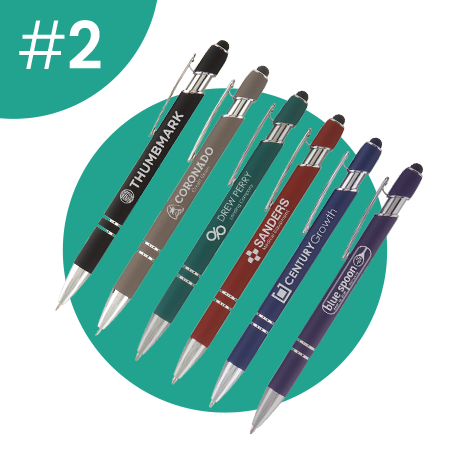 Ellipse Softy with Stylus pens will continue to make an indelible mark on your customers and supporters this year. These Softy metal pens include a stylus tip, a rubberized barrel design with chrome accents, and a handy pocket clip. You can choose your barrel color and add your logo, emblem, or message through the signature ColorJet imprint to build a cool gift or giveaway for marketing events.
3. Large Non-Woven Grocery Tote
This year's third-most-popular promo item is grocery totes, specifically this large non-woven reusable grocery bag. You can promote the reuse of this bag and transfer over from using plastic bags to this grocery tote. The 15″ H x 13″ W x 10″ D large bag is constructed of 80 gsm non-woven polypropylene and features reinforced 22″ handles, a 10″ gusset, and a removable board bottom insert.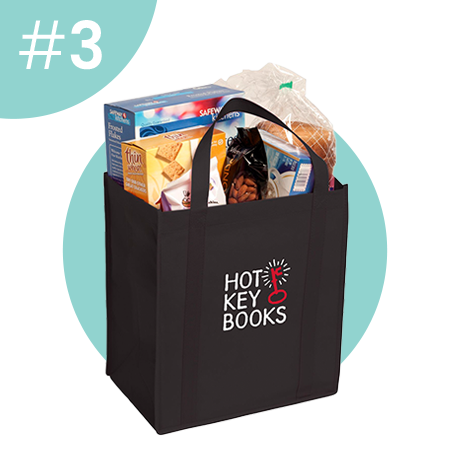 It's ideal for toting groceries home or bringing food to an outdoor event. This is a great giveaway for businesses within any industry. Just customize with a silkscreen imprint to promote your multifamily brand and choose from three assorted colors at no additional charge.
4. Custom Bags, Backpacks, and Duffles
Bags are always popular promotional gifts for customers, and it was by far the most popular promo item this year. Whether it be a backpack or duffle bag with your company logo, bags are sure to leave an impression.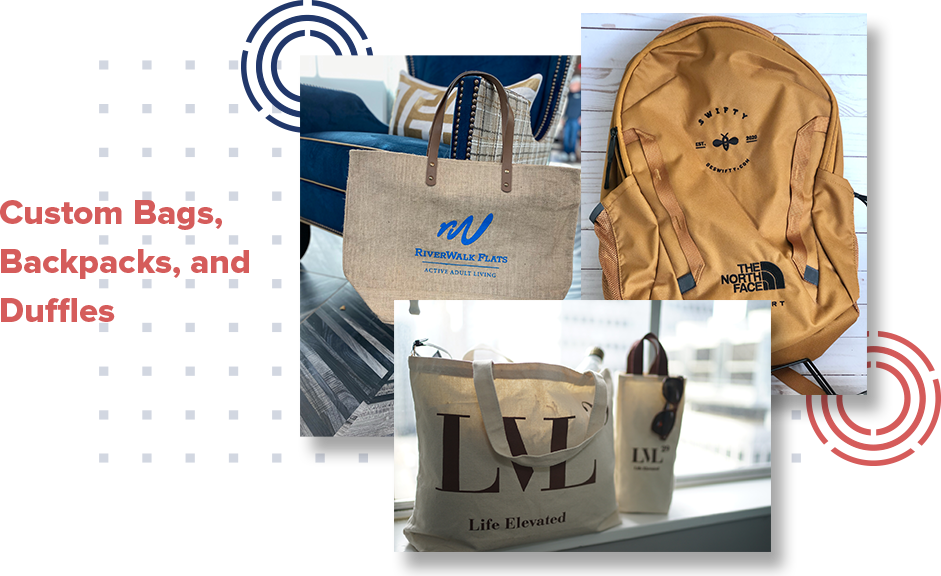 5. Soft, Designed T-Shirts
Shirts are also popular promotional items for companies this year. Not only do they make great client gifts, but they can also help team members feel connected to the company.
We are not talking about those uncomfortable, non-stretchy t-shirts with your logo slapped on them that people inevitably donate to Goodwill. We are discussing the super soft, stretchy shirts with a custom design that your team members, clients, and partners will rave about!
6. Mugs and Tumblers
Mugs are also becoming increasingly popular promotional items this year as companies look for client gifts or mugs to use in-office by their teams. Tumblers, especially name-brand ones like RTIC and Yeti, have become very popular due to their practicality and durability.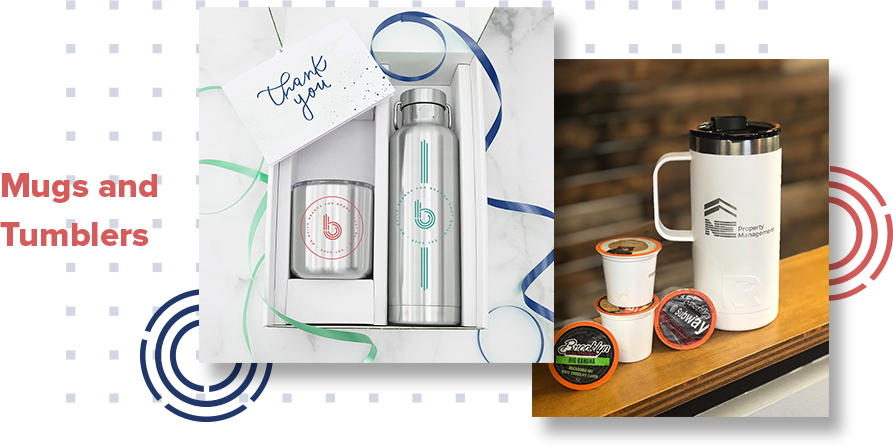 7. Reusable Water Bottles
The "new year, new you" saying also leads to the increased popularity of water bottles. Plus, the glass water bottles' aesthetic, convenience, and eco-friendly aspects make them popular year-round.
8. Branded Hats and Caps
Lastly, branded baseball caps, beanies, and trucker hats are among our most ordered promotional items yearly, especially for trade show swag. Our clients and customers love to hand these out to their team members and partners and bring these as giveaway items to trade shows and conferences!
With so many color options, styles, and several places to imprint your logo or design, it's not surprising that hats are continually a popular promo item choice.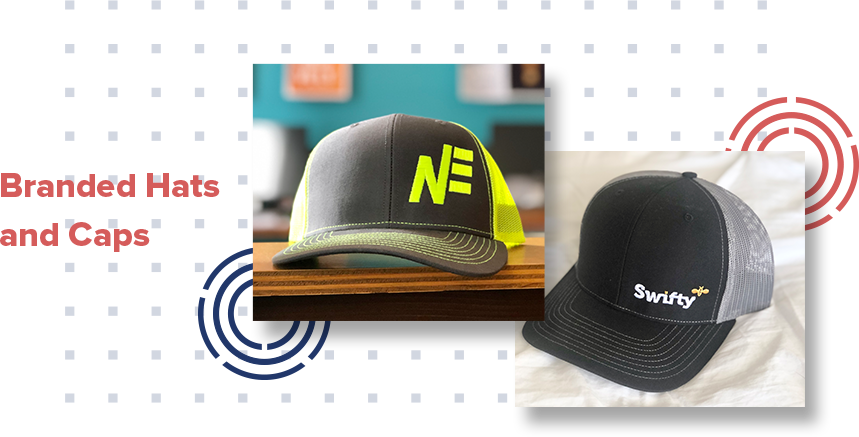 Create a Lasting Impression With Branded Promo Items
For multifamily marketers looking to build brand awareness, promotional products are a great way to spread your message. Not only do they create a lasting impression on potential residents, but they also help you stand out from the competition.
By offering promotional items related to the multifamily brand or community, multifamily marketers can increase visibility with potential leads, build relationships with current tenants, and create lasting connections with new prospects.
Consider these great options if you're looking for promotional items to give out this year or next. Ready to shop for swag and custom-branded promotional items for your properties or business? You can contact us directly to pull options that best match your needs and goals!