Why Video Is Important for Your Apartment SEO
As technology continues to improve and become more ingrained into our daily lives, video has taken the main stage. Platforms like TikTok have made binging short, quick videos easy for anyone with a smartphone. YouTube countered this with its feature called "YouTube Shorts." 

However, video isn't just for show. There are fundamental benefits that videos add to your apartment SEO efforts. Not everyone is energized by recording videos of themselves for their properties. However, these may inspire you to reconsider an SEO video marketing strategy.
Local Geodata of Videos
Similar to photos you take from your smartphone, videos capture embedded and local geodata within the files. For example, Brotherly Love Real Estate, a homebuyer starting in Philadelphia, PA, expanded to the west coast. They began their SEO video marketing efforts in Southern California, utilizing videos to help increase their rankings. 
Brotherly Love Real Estate went to each city they wanted to rank in, recorded a video, posted it directly to YouTube, and placed it on their respective website pages. This website shows how they now buy and sell houses in San Diego from the success of their videos.
The geodata gets stored in the video file through location-identifying features from the smartphone. Google recognizes that, allowing it to carry weight when considering which multifamily website to rank for certain local search terms. It can feel tedious at times to record videos and then upload them. However, the results can be worth pursuing.
Increases Time on Page Through SEO Blog Writing
Another ranking factor that Google considers when determining which websites to show for a certain query is time on page. The more real, local users spend on your multifamily website, the more authoritative Google will consider you. They assume that if people spend tons of time reading through multiple pages or posts on your site, you must know what you're talking about. Your content is viewed as credible, trusted, and rank-worthy.
Adding a video to your pages and posts is a great SEO video marketing strategy to encourage users to linger on your pages for longer. Over time, this will boost your apartment SEO. It also makes your SEO blog writing more robust. 
Certain people prefer to learn audibly or visually. For these types of people, videos are sometimes preferred over long blogs full of text. Videos will add a different channel for your users to consume your content and get value from it.

Provide Additional Web Traffic
Google likes to see traffic from different channels (sources). For example, if your property website gets traffic from Google search, Twitter, and Pinterest, it will assume you are a more legitimate business than others that only get Google search traffic. This shows Google that people find you from different areas of the internet, which is a good sign. You can show traffic through your videos on both YouTube and TikTok. This will help boost your apartment SEO efforts.
Additionally, the more traffic you get to your site, the more other apartment SEO metrics can increase. Users can find you through YouTube and then begin crawling your property website. Your time on page for certain pages can increase. 
Ideally, you can create a naturally flowing funnel for users to continue watching your videos. They can hop from YouTube into your property website through a link in the video description. From there, they can start exploring the other videos on your website's different pages.
Shows Legitimacy
The more places you are around the internet, the more trustworthy you appear to search engines. If you have a large following of subscribers on YouTube or TikTok, that carries weight with your rankings. You are viewed as an authority in the online space regarding certain topics. 
Your brand also appears more legitimate to the renters surfing your property website. For example, showing your face to potential apartment leads on your site will add credibility to your multifamily brand. They will naturally feel more comfortable with your apartment communities if a more personal connection is made through your SEO video marketing.
Users will be encouraged to continue crawling your website if they trust you. A high bounce rate is a negative factor to search engines. Bridging the gap of personal connection between your property brand and your users will decrease the number of people that bounce directly after hopping on to your site. 
Videos encourage people to continue browsing other areas within your site, thus making it easier to get more prospective renters on your pages and convert them. SEO video marketing will only increase in popularity as we head into the future. You must keep up with this trend and use it to your property's advantage.

Jenn is an experienced writer for the real estate industry and a house flipper for We Buy Houses in Denver. If she's not swinging a hammer, she's either writing about different real estate topics or reviewing investment property opportunities.
4 Things You Likely Didn't Know About Multifamily SEO
There is no shortage of competition within Google's SERPs in the real estate industry. As you niche into subsections on real estate, the competition becomes even tighter. Property management companies in the multifamily space must fight tooth and nail to reach the top of Google's rankings and keep their position. With such intense competition amongst property managers online, you must have a clear plan on how to master SEO. The more relevant keywords your multifamily website shows up for, the more potential business you ultimately interact with.
Today, we will bust four surprising myths about multifamily SEO that you might be uncertain about.

1. No-follow Links Don't Matter
Since many people within the multifamily SEO space would argue that backlinks are the most important ranking factor, it makes sense to start here. The last time that you had the opportunity to get a no-follow backlink pointing back to your site, did you accept? It is a myth that no-follow backlinks carry zero weight. There have been statements made in the past from people within the SEO space that no-follow links don't pass domain authority. Many people stop here and don't look any further.
While no-follow links do not pass domain authority, they do pass other great SEO signals that can help your apartment website. Additionally, large website publications like Business Insider only give out no-follow links. Suppose your property management business gets a link from Business Insider talking about how great and relevant you are to the multifamily industry. In that case, Google will see that as a great thing! You're likely to experience a boost in rankings even though the link is set to no-follow. Although they don't pass direct authority, plenty of other SEO benefits are passed, making these worth pursuing.
2. Viral Content Isn't Worth Chasing
Google considers website traffic a huge ranking factor when ranking real estate companies. One way to get a huge surge of traffic is to create a viral piece of content. For example, property management companies of large multifamily buildings have created a funny, parody-style music video showing their property to potential tenants. Another common example of creating viral content is when people need to sell a house in the luxury real estate market. Real estate professionals will record flashy drone footage highlighting a mansion sitting on a massive estate. These eye-catching, memorable videos ultimately draw traffic to the website, which helps boost apartment SEO.
The cherry on top of making viral content is when the content is relevant to the local community where your property is. Not only will your multifamily website catch real, local traffic by legitimate internet users on legitimate IP addresses, but you also may generate a few apartment leads from it. Attempting to create viral content seems overwhelming at first. It's hard to know where to start. If you can crack the code and generate something truly special, you will boost your multifamily website's rankings and generate apartment leads.

3. No One Reads Anymore
The myth has some truth to it. Many people do not read anymore. However, some people surprisingly still do. That's why creating meaningful, relevant, and useful content on your apartment website is important. Your goal is to create useful guides that address the needs of your target audience. Offer solutions to their needs, or at least useful perspectives, through engaging content.
You don't have to only use words for your content. Switch things up and include videos, infographics, and other engaging features that you can include on a page. This will help keep users on your multifamily website from bouncing. If people leave pages once they arrive, it signals to Google that your site might not be that good. Keep your content relevant, engaging, helpful, and diverse.
4. Pictures Don't Matter
A picture says one thousand words, right? Pictures matter in SEO for several reasons. The quality of the photo is important to gain trust and credibility once someone hits your site. If you're using too many stock photos, that will turn people off, and they will likely bounce. Add photos of your property to help encourage people to rent from you.
Pictures also play a role in your local SEO efforts. Google picks up geotags from photos depending on where they were taken. Depending on how the image was transferred, saved, edited, or added to the site, it could remove the geo-tag. For property managers that want to show up for local keywords, it's important to have geo-tagged photos throughout your multifamily website. That tells Google, in the background, that you are a legitimate, local business and not a scammer.
Multifamily SEO Is a Moving Target
No matter how much you dial in your SEO efforts, new algorithm updates will emerge, and things will change. Google has a great way of keeping multifamily marketing professionals on their toes. As you dismiss myths within the online space, new ones will arise that you'll be forced to create an opinion on. Test and measure things as often as possible without breaking your website. This will help you improve your website's health, SEO, and rankings.

Jenn is an experienced writer for the real estate industry and a house flipper. If she's not swinging a hammer, she's either writing about different real estate topics or reviewing investment property opportunities.
Our Top 10 Tips to Increase Your Ranking in Google SERP
If you manage a multifamily property, then you know how important it is to be visible online. After all, potential residents will likely start their search for a new place to live by turning to the internet. But with so many properties out there vying for attention, how can you make sure that yours stands out from the rest? The answer is multifamily SEO.
SEO, or search engine optimization, is the process of improving your property's ranking in Google and other search engines. By following a few simple tips, you can ensure that your property appears at the top of the search results when potential residents are looking for a new place to live.

Solving the Mystery of Multifamily SEO
The mysterious art that is multifamily SEO is not that mysterious at all. Things become a little clearer when we think about multifamily SEO from this perspective. We all do searches and we all happen across results that are less than valuable to our needs.
Google only cares about one thing and one thing only. Relevance. That is it — just relevance. They do not care about you or your multifamily business — they only care about the person doing the search.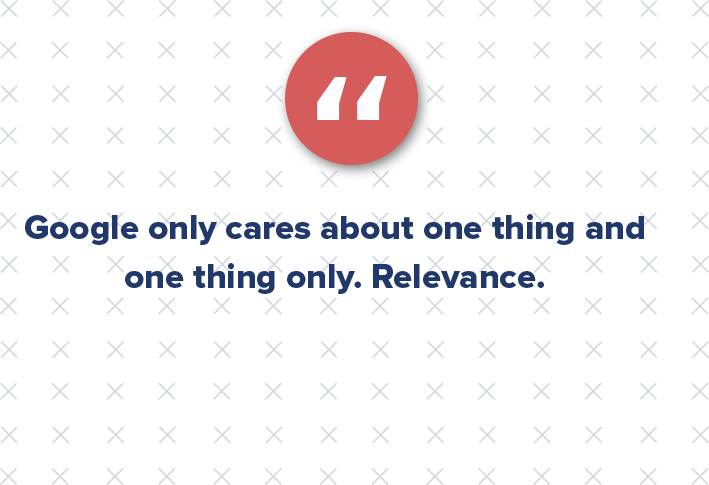 Google's job is to get the user to the best results for them as quickly as possible. It is not easy when so many people out there are trying to game the system to increase traffic to their site. Google gives us one directive, "Be Relevant."
From time to time, you hear about Google's major algorithm updates and descriptions of what they do from a technical standpoint. You need to know less of the technical aspects and more of the overarching strategy — relevant content. If you can follow that advice and do it well, you will find yourself rising in the ranks of Google.
So you want to know how to do it well? Do you want to know the secret to getting your multifamily business listed?
Just follow these SEO tips to improve your ranking in Google:
1. Create remarkable content
Remarkable content is sharable content. You want your content to be so good that people want to share it with their friends, families, and others within their circle of influence. This, while a little daunting, may be simpler than you think. You can start by identifying pain points that your prospective renters may have and give them a solution.
Your content shouldn't be about driving a sales pitch, it should be about educating. Add value to your viewers. They will appreciate it, and in turn, pass it around to those within their circle of influence.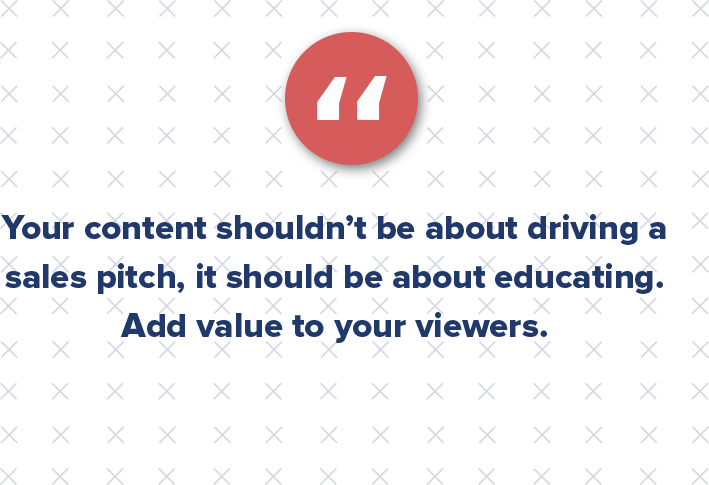 2. Create a catchy, relevant headline
Your headline is your first impression, and first impressions count. It's just as important as having a strategic meta description and title tag. You want your headline to be catchy and engaging but also contain your primary keywords.
Try using numbers combined with the primary keyword you are trying to rank for. People are drawn to lists because they are faster reads, such as:
5 Ways to Decorate Your Luxury Apartment in Dallas
10 Steps to Declutter Your One-Bedroom Apartment
30 Things to Do in Charlotte, N.C. This Summer."

3. Always include a call-to-action (CTA)
Throughout your blog, or at least at the end of it, provide a way for your viewers to get more helpful information by providing you with a little bit of information. Give them something of value for providing you their name and emails, such as a whitepaper on the "Top Multifamily Market Trends of This Year," an infographic on "What Amenities Your Residents Really Want," or perhaps an eBook on how to win more business by using your multifamily product or service. (Psst … a great example of a marketing offer is the one you see promoted throughout this blog!)
This is one way to help identify which content is truly remarkable and what is not. When someone fills out your form requesting additional information, this is what we like to call an apartment lead — it shows interest!
4. Distribute your multifamily content
Simply put, don't just post content to your site and leave it at that. Get the word out. Post a link across your social channels, send it out in an email blast, and get your coworkers and others in your circle to post it. This will create a buzz around your multifamily business, and you will start seeing a spike in traffic to your site just because of this. Every post you make needs to include social sharing icons, making it easy for your viewers to share it. The easier it is to share, the wider your reach.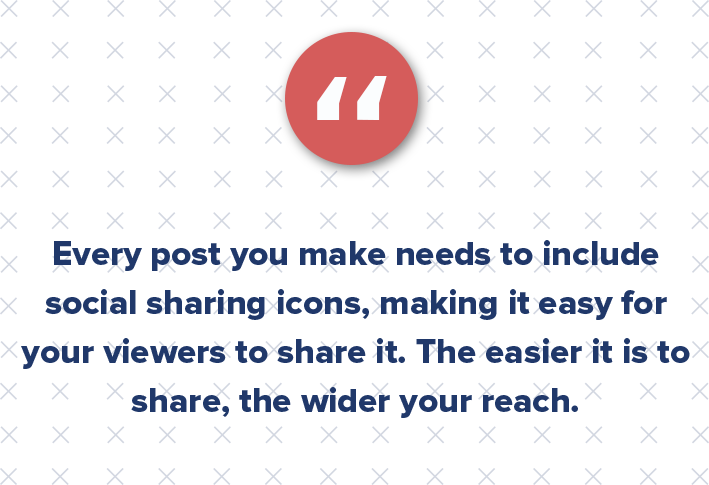 5. Enhance your outreach backlink strategy
Distributing your content is also a great strategy for enhancing your backlink strategy. A backlink is a link from another website to your multifamily website, web page, or web directory. This is comparable to a citation. These backlinks are critical to any good multifamily SEO strategy as it shows Google that your multifamily website has authority and relevance in the market.
By getting the word out about a new blog you published, for example, you increase your chances of similar websites linking back to your content and increasing your authority with Google (and thus, your ranking!) Distributing your content and reaching out to similar publications are two easy (and free) ways to increase your backlinks.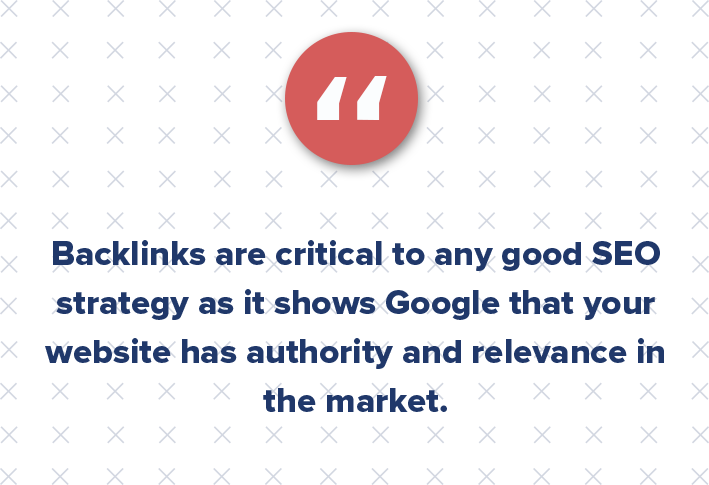 Just be very cautious about blackhat multifamily SEO tactics that could harm your rankings, such as irrelevant and spammy backlinks.
6. Encourage commenting and respond to comments
This point is not that hard, invite viewers of your content to leave you feedback through comments. This provides a great way to build relationships with prospects interested in using your multifamily product or service. These comments can come from social media or your multifamily website.
7. Claim your Google Business Profile
Google Business Page (formerly Google My Business) is a free service offered by Google that allows businesses to manage their online presence. When you claim your listing, you'll be able to control what information appears about your property when it comes up in a search. Make sure that all of your property's information is accurate and up-to-date, and take the time to respond to positive and negative reviews.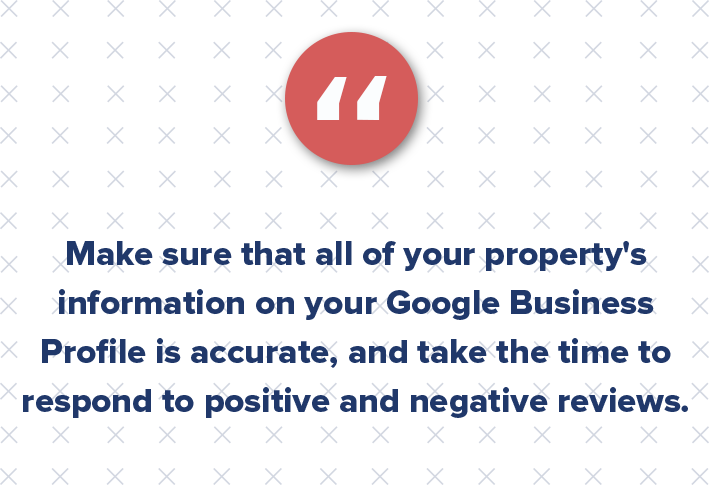 8. Optimize your multifamily website for SEO
Your multifamily website should be designed with SEO from the beginning. That means incorporating relevant keywords into your content, making sure your site is easy to navigate, and ensuring that all of your content is original and error-free. You should also ensure that your site is mobile-friendly, as more and more people are using their phones and tablets to access the internet.
9. Get involved in local community events
Local community events are a great way to get your property's name out there. Sponsor a Little League team, host a food drive or partner with a local charity. Anytime you can get your property's name in front of potential residents, you're increasing the chances that they'll remember you when they're ready to start looking for a new place to live.
10. Make use of social media
Social media platforms like Facebook, Twitter, Pinterest, and Instagram are great ways to connect with potential residents and create an engaged online community around your property. Use social media to share your property's news updates, highlight available units, and promote community events.
And don't forget to respond quickly and courteously to any questions or concerns posted on your social media accounts — you want potential residents to know they can count on you for excellent customer service.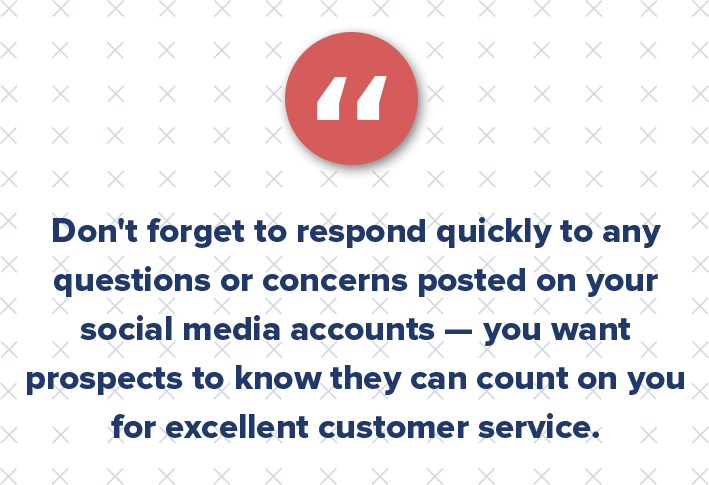 Writing Remarkable Content to Earn Higher SERP Rankings
To sum up, there is nothing magical about these SEO tips. As a wise man once said, "If it is not worth doing right, then it's not worth doing." Writing remarkable content to improve your multifamily SEO takes time and effort, but it pays off in the end.
By following these simple SEO tips, you can improve your multifamily property's ranking in Google and attract more attention from potential residents. Investing in SEO will pay off in the long run as you see an increase in traffic to your website and ultimately lease up more units at your property.

Understanding the Relationship Between Multifamily SEO and Social Media
Did you know that multifamily SEO matters on social media?
More and more multifamily properties are hopping on social media, which serves as another channel for them to share and interact with renters and the community. But perhaps you don't see the appeal of a social media presence?

Well, we're here to give you another very important reason to be on social media, and that's search engine optimization (SEO). Multifamily SEO is essentially the process of optimizing your content for search engines.
For most platforms (i.e., Instagram, Facebook, Twitter, Pinterest, and Tumblr, to name a few), there are a few simple steps you can take to move your multifamily property up in search engine rankings:
How do you optimize your social media profiles?
1. List Basic Information
All social media platforms have a place for users to list basic information: Company Name, Location, About Us, Address, etc. Make sure to fill out all the information sections on your profiles with specific keywords. The more information you share, the more chances you have to be indexed by Google. Besides, you want to make sure that anyone who comes across your property online knows exactly where it's located and how to contact you.
2. Anticipate Popular Keywords
Brainstorm words or phrases that are relevant to your multifamily property. Perhaps it's "lofts in downtown Dallas" or "Houston apartments with a dog park." What is your property or multifamily business offering? What would your target audience search specifically? Use these keywords at a high density throughout your social media profiles and bios; include them in your social media captions when it's natural to do so. You also might want to use them in hashtags (within the caption and not the comments) to get users on social media to find you more easily.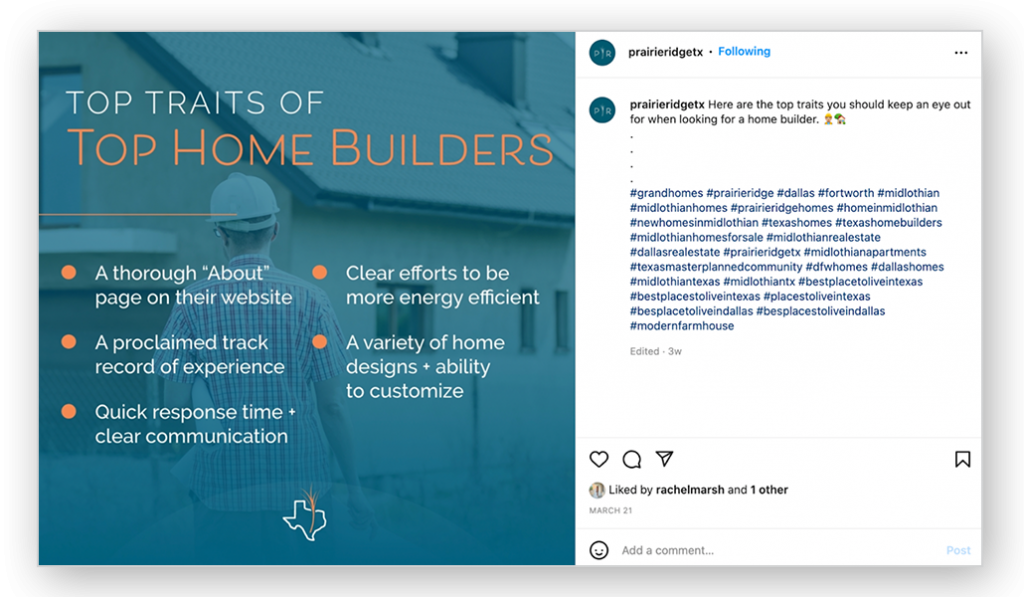 3. Invite Reviews
Display a section for reviews when possible. Facebook pages have a review section on the left side panel with 1-5 star ratings for the user to evaluate and post comments. It shows real people living in your multifamily property, providing real feedback. Again, it's more opportunities to be indexed by search engines. This also allows you to publicly address any issues that your residents may be having, ultimately showing potential residents that you're on top of handling problems.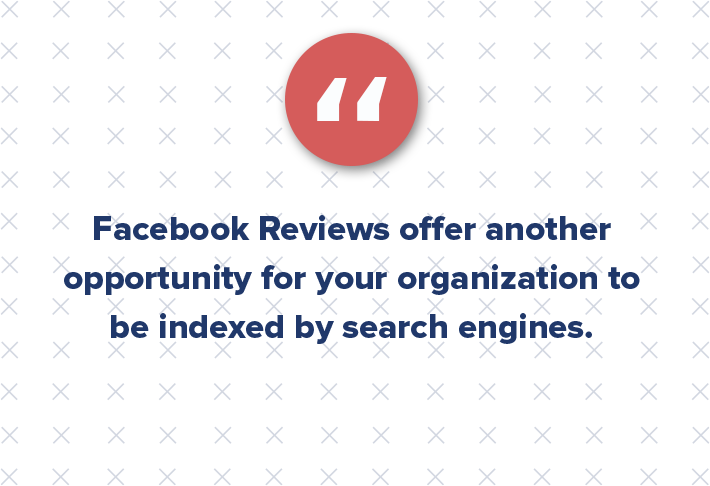 4. Link Often
Outbound links are one of the most important aspects to multifamily SEO, so be sure to link to other sources! In your use of social media, provide links to relevant blog articles and neighborhood events. Spread the word out about the great happenings going on around your neighborhood and property. Not only is it good for multifamily SEO, but "linking" is a great way to connect with people and businesses in your community.

5. Create Shareable Content
Inbound links are equally as important to SEO, yet you have to earn them. When people link back to your multifamily website or social media pages, it means you're sharing content that is high quality, compelling, and helpful.
Some ideas include:
Make and share a weekly newsletter with information about what's going on at your property.

Post interior design tips for small living spaces.

Write about apartment decorating and storage hacks.

Promote local events and happy hour specials in your community.
Creating shareable content starts with knowing your audience and what they would find interesting and resourceful.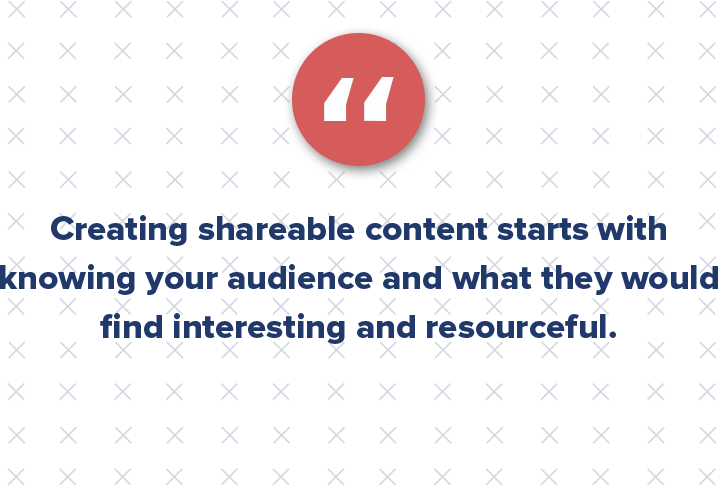 6. Utilize Multifamily PPC
While SEO is the organic approach to driving traffic, multifamily PPC is the paid. PPC ads display at the top or in the sidebar of search engine results. A successful multifamily PPC campaign combines your keyword research and your insights to design highly targeted ads that drive traffic to your website. It's important to note that well-qualified traffic is the result of research and continued testing. Understanding your residents should be an ongoing learning process and the foundation of any SEO or PPC campaign (not to mention, all digital marketing).
7. Update Your Instagram Bio
Potential renters don't just use Google to find new apartments, they use Instagram too. They go to the search bar on the explore page a type in "apartments in [city]" and maybe even include a descriptor such as "affordable" or "luxury."
The way you give your property's account the best chance of showing up in a related search is by adding keywords right into the "Name" of your profile's bio. While the label for this section might make you assume you're limited to just having your property's name, there are actually no rules for this section. You can put whatever you want for your bio's name. There's also quite a bit of space you have to work with.
Here are some examples:
Rio Villa Apartments | San Angelo, TX

LVL 29 | Luxury Apartments in Plano

Willow Creek | Affordable Apartments in Austin

Prairie Pride | New Homes in Midlothian

If you feel like your Instagram handle is enough to communicate the name of your property, you could even remove the name entirely and focus more on longer or multiple keywords.
Following these simple steps is a great way to improve your search engine ranking with the social media platforms you're already using. It ultimately makes your content easier to find, allows you to connect with your audience, and helps you build the brand that you're striving towards.

Today, we'll discuss another way to improve SEO (Search Engine Optimization) for multifamily properties using Google My Business.
Google My Business combines what was previously Google Places (the map-based platform) and Google+Local Pages (the social platform). If you're getting confused by all these 'Google' pages, then rest assured they've been combined into one platform with several features that aid in SEO.
Be Found.
First thing's first, a Google My Business account quite literally puts your multifamily property on the map (Google Maps, that is):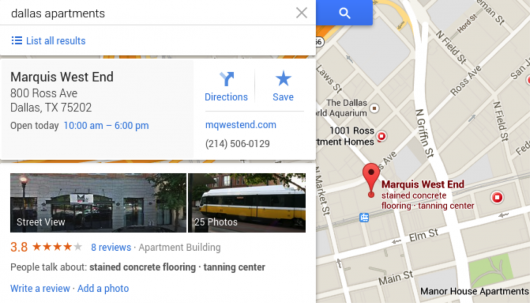 Google My Business shows the title, address, phone number, website, and even reviews. When GPS devices use Google Maps to access basic information about your multifamily property, they pull it from your Google My Business listing. Therefore, it's important to always keep your business information updated. If renters can't find up-to-date information about your property, they'll just move on to the next.
Google My Business lists your information across Google Search, Maps and Google+. The holistic network of citations by the search king itself (aka. Google) has wonderful benefits for SEO.
Note: If you previously had a Google Places page, your account was automatically updated to Google My Business. However, you should be constantly updating your information for accuracy and to take advantage of Google's social features.
Be Social.
A Google My Business account integrates all the features of Google's own social network (Google+), allowing multifamily properties to host hangouts, create and manage circles, and share content such as blog posts or photos. The Google+ feature also allows your property to connect with other individuals and businesses that have similar interests.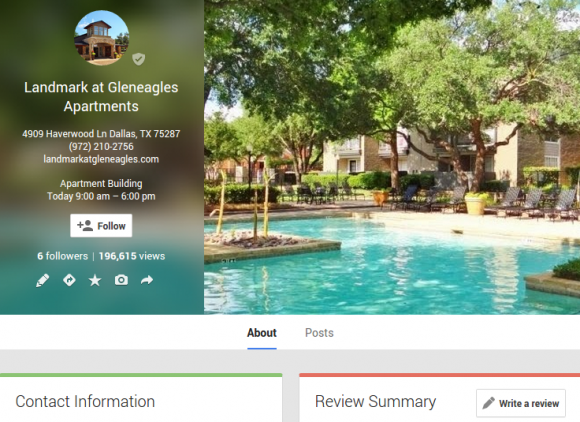 By using the Google+ feature, you can share events going on around your property and neighborhood. That allows Google to index that information for search engine queries. Be sure to add a cover photo and fill out all other profile information. Customers can post comments and reviews, and Google+ allows you to interact and respond. Bad review? Address it. Questions? Answer them.
How Does Google My Business Help SEO?
By having both a Google My Business account, you are enhancing your online footprint through SEO. Every time your information is listed on a Google page, that's another opportunity for Google to index your property in its search results. It's also another opportunity for you to be found by prospective renters. Updating your information regularly is the best way to ensure that renters (both current and future) are receiving the most accurate information about your property.
Get verified on Google My Business with just a few simple steps. 





While responsive design can assist in leading prospects through the renting process, it does nothing to get the user there in the first place. That's where SEO and PPC come in: Search Engine Optimization and Pay-Per-Click advertising (paid search).
A Short Story: Distributing Flyers
A friend once asked me why SEO and PPC matter. His organization was beginning a total rebuild of their site, and he faced a crucial decision. "Can't I just build a great website?" he asked.
I couldn't help but think he'd seen Field of Dreams a few too many times. For the record, "If you build it, they will come" is not a good multifamily marketing strategy (in case you weren't sure).
I offered to him the following example: "Suppose I started a band, and we wanted to get the word around that we're going to be playing our first gig. What's the classic way to promote the event? Flyers, right?" He nodded, so I continued.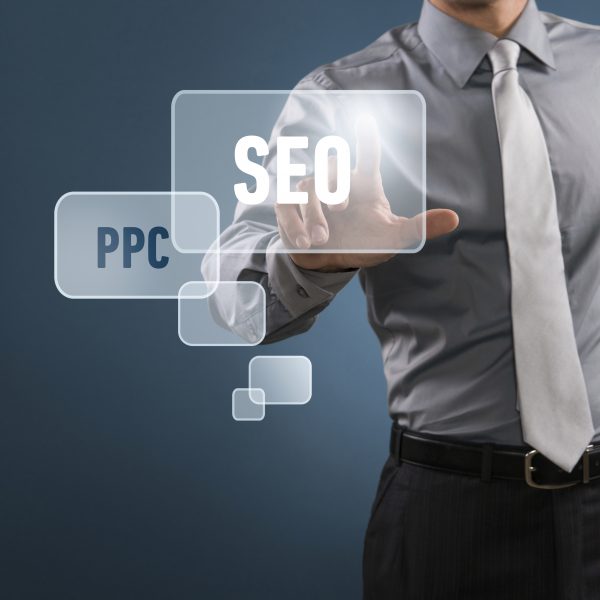 "Suppose I hire an excellent photographer to make us look cool, and a great designer to make it eye-catching. Then, I pay a local printer to produce ten thousand copies on the best paper, full color, full bleed, UV coated."
"I suppose you spent a lot of money," he chided.
"Right. But now suppose I took all these flyers and stacked them all on a street corner in front of my house."
He looked puzzled. Which was the point.
"A flyer is made to be spread out. That's its medium, and failing to distribute a flyer defeats the purpose."
Your multifamily website is the flyer. SEO allows you to set out stacks of flyers in places where your prospective renters are most likely to be (via search engines).
PPC works similarly, but it's more aggressive. Rather than leaving behind flyers where someone can be expected to encounter them, PPC acts as a direct hand-off. It's like sending our guitar player into the club the week before, flyers in hand, distributing them to the very people who'd be likely to return next week. It takes more money and effort, but it often produces greater results.
SEO + Keyword Research
SEO is the art and science of inching your way up in Google's rankings. Keywords are vital to optimizing your SEO game. The process starts by establishing the unique features your property has to offer and anticipating what prospective renters are searching for.
What's the best way to do this? Invest the time in researching your industry and creating personas. Most multifamily properties approach SEO backwards: this is what I want someone to find. Instead, you should approach SEO from the searcher's perspective. What are their needs and their habits? What frustrates them, interests them, confuses them?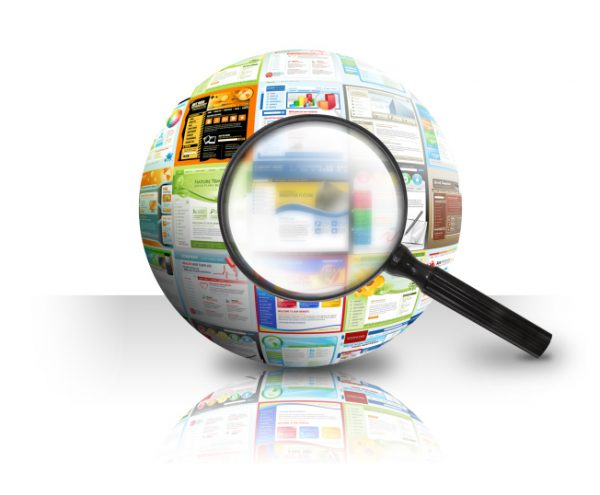 Again, we return to our customer-centric approach to digital marketing. When we understand what residents are searching for (and how they're searching), we can target them better than anyone else.
For time's sake, we'll save the mechanics of SEO for another day. Just know that it involves incorporating those insights and keywords into your website, blog posts, social media, links, code, etc. This allows search engines like Google to index your keywords and associate them with your property. In Criterion.B's post about optimizing social media pages, we discuss some of the basics of SEO.
PPC + Targeted Traffic
While SEO is the organic approach to driving traffic, PPC is the paid. That is, you're paying for each click into your website (hence the name, "pay-per-click"). Continuing with our example above, PPC is the act of directly distributing your flyers to a relevant audience, but only paying for those who take a look (aka. click into your website).
PPC ads display at the top or in the sidebar of search engine results. They are differentiated from the organic search results by a yellow "Ad" symbol.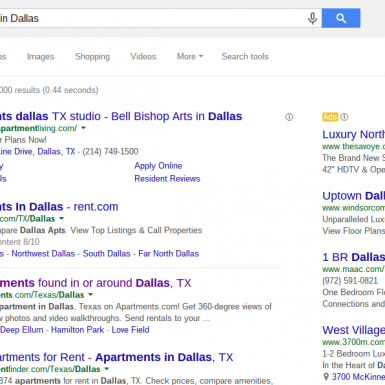 A successful PPC campaign combines your keyword research and your insights to design highly targeted ads that drive traffic to your website. It's important to note that well-qualified traffic is the result of research and continued testing. Too many properties "set it and forget it" when it comes to PPC. Understanding your residents should be an on-going learning process and the foundation of any SEO or PPC campaign (not to mention, all digital marketing strategy).
Partners in Crime
SEO and PPC are partners in crime when it comes to driving traffic to your multifamily property. They work in tandem with each other, and yet serve slightly different purposes. SEO focuses on building a long-term presence in search engines, while PPC can be used to drive quick results if necessary (e.g., to promote leasing specials or the opening of a new multifamily property). Both are advantageous, if not essential, for driving traffic in today's cluttered apartment market.





These days, people aren't just looking to the classified sections of newspapers or Craigslist to find multifamily properties. They're turning to some seemingly unconventional tools for research and inspiration, such as Pinterest.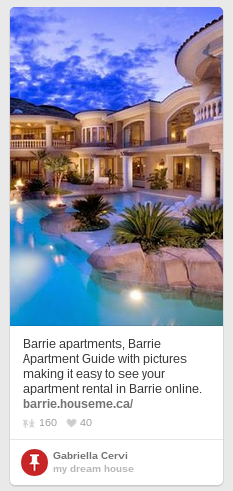 For those of you who don't know what Pinterest is, it's an online bookmark and picture-sharing site. Like other social media platforms, users can follow companies and other users and re-pin their images onto online "Bulletin Boards." For multifamily properties, maintaining a Pinterest account can actually improve your SEO (Search Engine Optimization).
Enhancing your SEO ensures that your property website appears near the top of search engine results, which results in more leads, interactions, and a better brand value.
Here are a few simple steps that will help you build a strong presence on Pinterest:
1. Create a Pinterest Account
Use your full business's name in your account. Be sure to include all necessary descriptive, contact information, or logos in your Pinterest bio.
2. Create Your Boards
On Pinterest, Boards are the topics by which you organize your content. You should create boards that showcase your property (rooms, amenities, events), as well as boards that provide tips and tricks for commonly searched apartment topics. Make sure to keep the number of boards fairly minimal to that you can keep all of them active, and create descriptions for each one of them.
Here are some ideas:
interior decorating tips

space-saving tricks

neighborhood guides

easy recipes for entertaining
3. Include Keywords
Make sure individual posts (called Pins) contain keywords your business wants to be searchable by, either in the title or Pin description. This will increase your Pin's relevance in search engines and direct more people to your pins.
4. Customize Source Links
Customize your Pin's link to direct potential renters back to your website so they can check your property out. To do that, click "Edit" on your pin and insert your website URL into the 'Source' bracket and make a captivating caption that will entice users to click on it.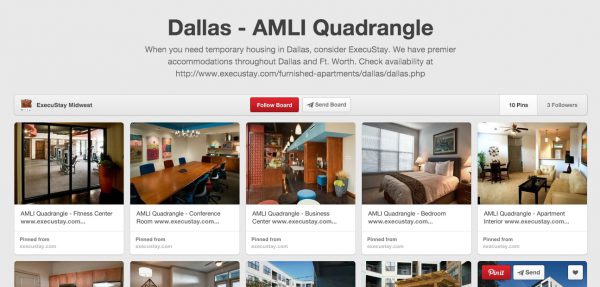 Making Pinterest Part of Your Marketing Plan
Overall, Pinterest is a unique social media channel that may not be successful for everyone, but when utilized correctly, it could be your best friend. Pinterest can actually help your SEO — so make sure you at least get started and make Pinterest an integral part of your social media plan.