The Best Multifamily Technology Tools to Lease Up Your Property
Multifamily technology is heavily involved in how renters browse for potential places to live. Apartment complexes and buildings are leveraging technology creatively to help their vacant units stand out. 
The internet is extremely saturated with noise within the real estate rental space. The multifamily owners that can leverage technology to their advantage when attempting to lease up their property are the ones saving more money by limiting vacancies.
As multifamily owners, property managers, and real estate professionals, it's vital that we change and adapt to multifamily technology within the industry.
Here are several creative uses of multifamily technology that you can implement to help lease up your property and avoid vacancy costs.
1. 3D Virtual Tours
Consumers browse and shop online for goods and services more than ever. The same applies to the multifamily industry. When renters browse for potential places to move into, most search online. How can you better reach potential renters looking for apartments online?
Consider creating a 3D virtual tour of the unit that is coming available to rent. 3D tours are becoming more popular because of how immersive they are. A potential resident can fully experience what it's like to walk through a unit via a virtual tour. If your community offers this and others don't, yours will surely stand out from the crowd.
It can be challenging to motivate a prospective resident to physically visit your property and view the available units. 3D virtual tours enable renters to view a space entirely and get a very good idea of their true interest in living there. 3D virtual tours will generate more interest from renters looking online for a place to live and ultimately will help you fill the unit faster.

2. Aerial Drone Footage
Does your multifamily building offer outdoor amenities, parking, and green areas to walk around? If there are any features of your property worth highlighting from the sky, do it. Property managers are utilizing drones to capture aerial footage of properties and buildings they are trying to get leased. For example, if the property has a pool and outdoor yard space on the grounds, capturing that through a drone video can help showcase these features to potential residents browsing online. 
People love videos because it allows them to experience something through a different lens and perspective. By highlighting the outdoor features of a property, you will naturally generate more interest from prospects. The drone videos that you capture are also considered evergreen content. You can continue to reuse them as long as the video doesn't appear outdated. It's worth the one-time investment to leverage drone footage to help show off your property and get it leased up.
3. QR Code Advertising
When browsing for a place to live, renters want information quickly. The more easily accessible your apartment details are, the more web traffic you can receive. Consider using QR codes to creatively advertise your community and increase occupancy rate.
QR codes can be placed anywhere. For example, if you have a mailing list, you can place QR codes on a postcard that you mail out that links to an available floorplan, the drone video, or a 3D virtual tour. The options for what you want the QR code to link back to are endless.
QR codes are an inexpensive way to generate more interest in your property. These codes are free to create online, depending on how unique and customized you want them to be. It's not uncommon to now see QR codes on physical signs or billboards throughout your travels. Wherever you think it could be relevant to place one, do it.
Another good example of how you can leverage QR codes is through a resident referral program. Referring someone can take work. The easier that you make that possible for someone, the more likely they are to refer to you. If you have a leasing office or common area at your property, consider hanging up a poster with a QR code that links to a webpage describing your resident referral program. 
Certain property managers will offer an incentive or gift if they receive a referral. The QR code can go directly to a webpage containing the referral program information and a submission form where people can enter their referrals. These codes leverage technology by allowing people to give you referrals to lease your units within a few seconds, right from their smartphones.

Jenn is an experienced writer for the real estate industry and a house flipper for We Buy Houses in Denver. If she's not swinging a hammer, she's either writing about different real estate topics or reviewing investment property opportunities.
Modern Multifamily Marketing: Say Yes to Touchscreens
There's certainly a cool factor when it comes to smart home technology for apartments. But with the growing digital age, are they right for your multifamily property? Apps, drones, and VR are modern tactics in multifamily marketing that may give your property the edge it needs.

Apartment owners are already experimenting with smart-home applications, such as keyless entry, smart thermostats, and smart elevators. As these tech amenities become more common, renters will likely come to expect them. And properties can even charge more for these smart apartments, proving an ROI.
Why Upgrade Your Smart Home Technology?
With millennial and Gen Z renters taking increased pride in both their apartments and the community, the movement toward smart home technology for apartments only further resonates with their tech-savvy lifestyles.
Today's renters expect apartment communities to have high-speed internet and Wi-Fi around the common areas. Smart home technology for apartments has the potential to be an investment that will pay off in the years down the road; some industry leaders are already beginning to see the benefits of upgrading technology.
Smart Home Technology Necessities
Are you convinced smart home technology for apartments is the next big thing? Try these tech upgrades and get smart!
Touchscreens
When it comes to touchscreens, it's important to create unique content that highlights the strength of the technology. Perhaps that could be interactive floorplans and photo galleries, with the ability to zoom and change angles.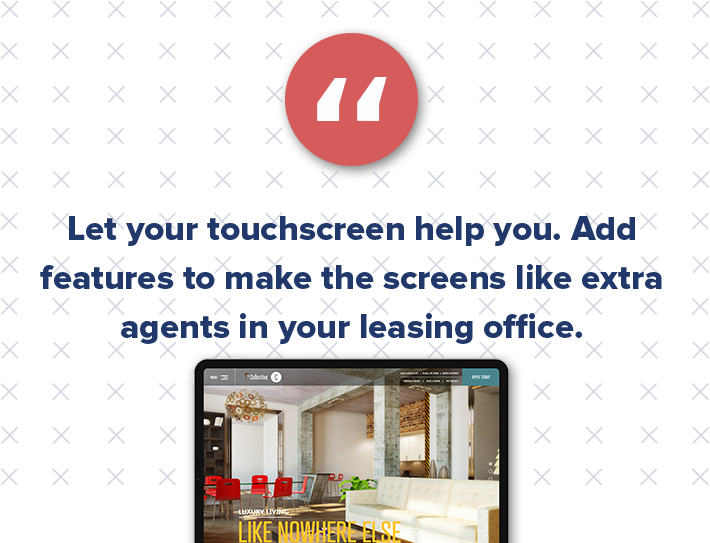 Let your touchscreen help you. Add features to make the screens like extra agents in your leasing office. For example, in high-end hotel lobbies, the touchscreens connect guests to events in the city, help them book appointments, and allow them to take and share pictures. For more urban properties, a Wayfinder tool will benefit residents and guests who may need help getting around.
Touchscreens are also a great multifamily marketing tool for showing off the property culture and creating a sense of community. This also helps attract potential residents. Maybe you display the testimonials of past renters or give birthday shoutouts to current tenants.
USB Charging
Start simply by upgrading your outlets. Swap out traditional outlets for ones with USB charging capabilities. This is ideal for small units with limited space and eliminates a resident needing an outlet adapter.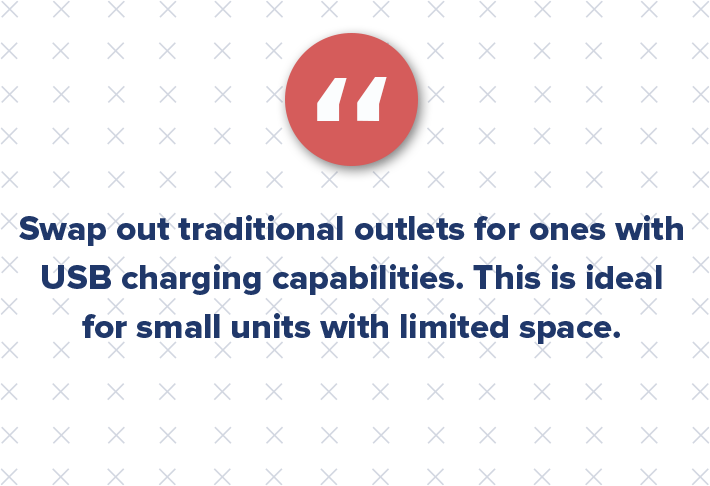 Smart Vents
With the thought of limited or shared space in mind, smart vents are also a wonderful option to upgrade. Perfect for roommates, smart vents connect to the Wi-Fi network and learn to automatically open or close the vent based on the existing temperature in the room. This alleviates the issue of terrible airflow that can leave your apartment feeling warm in one room while cold in another.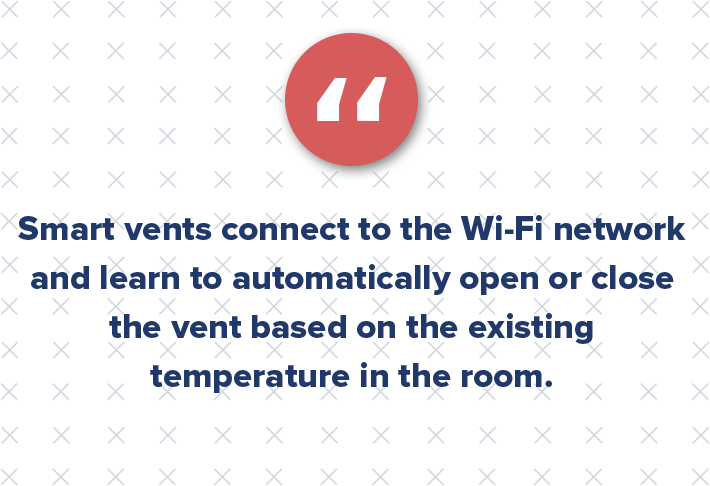 Internet-Connected Thermostats
Some communities utilize Internet-connected thermostats that are controlled by a smartphone in real time. This is a win-win for both renters and property managers; renters can control their temperature as they please, and property managers can turn off air conditioning systems when a renter moves out.
Smart Locks
Smart locks are also a rising technology that prevents physically changing out locks or replacing keys after renters move out. This helps properties save money on maintenance while also keeping residents feeling secure. Whether a resident forgot or lost their keys at the bottom of their purse, the smart lock app simply allows them to lock or unlock the door via a smartphone.
Package Lockers
Lastly, an upgrade that services the whole community is smart package lockers. Property managers often face the task of dealing with avalanches of packages received each day. This can lead to a multitude of issues, from delayed notification of a package to clogged-up storage space. A solution is provided to property managers and residents by installing a locker.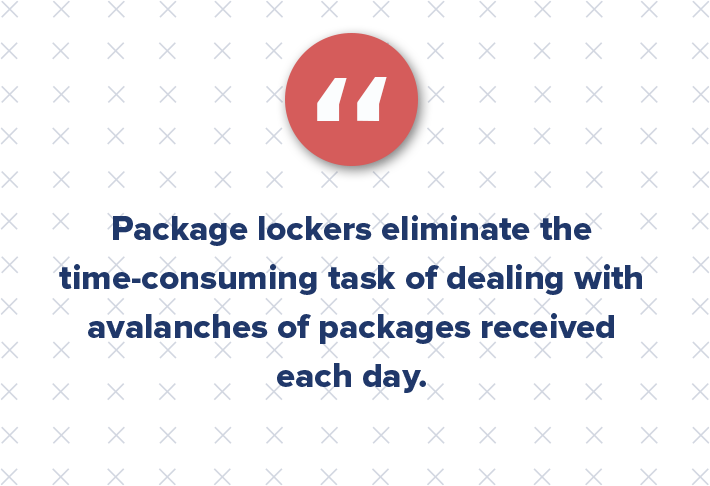 Smart home technology for apartments is opening doors for both industry professionals and residents alike. What will you do for your property as the market demand for more modern apartments grows?

Harnessing Multifamily Technology, Proptech, and Web 3.0
What do multifamily technology, Gen Z, and Web 3.0 all have in common? If you said that they're drastically changing the digital landscape of the multifamily marketing industry, then you are correct!
And for those of you who haven't caught on yet — it's time. Technology has thrust its way into a rather traditional industry, which has seen little variation over the past few years. Industry leaders are just beginning to harness multifamily technology and proptech — especially when buying, renting, and investing.

This blog will cover six multifamily technology trends:
Millennial and Gen Z Renters in the Digital Landscape
As we explore how the multifamily marketing digital landscape is shifting, keep the millennial factor in mind. Millennials (and the up-and-coming Gen Z renters) bear some weight in this industry. They are the renters and the industry leaders of today and tomorrow, not to mention a sought-after generation for multifamily marketing professionals. They're also brand-centric, tech-savvy, and peer-reliant regarding product referrals or real estate.
Specifically, in the multifamily industry, leasing managers quickly realize that millennial and Gen Z renters would rather text than talk during the leasing process, research extensively on their smartphones, and need community-based, amenity-rich properties to satisfy them.
Their expertise in technology puts them at the forefront of this multifamily revolution — get Gen Z and millennials engaged. You have a large, loyal, and vocal audience to build your brand. On the development side, new tools are making investing, consolidating, and connecting easier.
Now, let's dive into the Web 3.0 and multifamily technology trends shaping the industry…
1. Crowdfunding is changing the face of real estate investments.
Commercial real estate is charting new territory. Across all industries, the internet hubs more information, communication, and services than ever before, and it's crucial for multifamily to embrace its power. Real estate crowdfunding is changing the landscape through interconnectivity — raising awareness among unknowing investors and enabling others to have their own piece of the pie.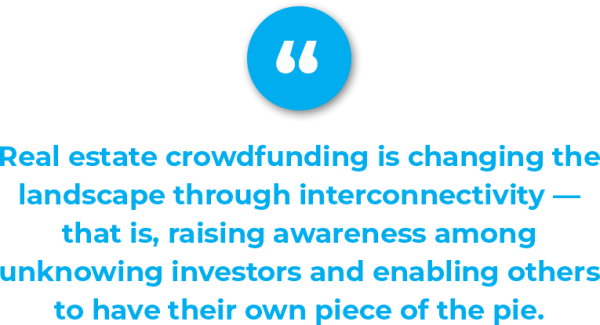 What is real estate crowdfunding?
In short: Crowdfunding is a way for companies to promote and source funds for a project. This often comes from large amounts of people through the internet. As multifamily technology emerges, they're employing real estate crowdfunding as a new way to tap the market. Ultimately, real estate crowdfunding allows smaller investors to fund larger properties.
Which crowdfunding platforms should you keep on your watchlist?
Fundrise
Fundrise is the leading real estate crowdfunding and investment platform. The top real estate companies nationwide use Fundrise to expand their network and raise capital. But why exactly is this application leading crowdfunding? First, Fundrise provides lower costs than traditional lenders and equity partners for mixed-use and multifamily developments. And second, Fundrise requires approval for each project before offering its service; once approved, they fund the investment upfront. Fundrise then seeks out suited investors through ongoing reporting and evaluation.
Selequity
Selequity is an investment platform that aims to make raising capital much simpler. Selequity connects advisors and investors with commercial real estate opportunities from proven sponsors. This makes it easier for investors to fund a project with limited entry requirements, increasing the number of projects getting started.
These two of many real estate crowdfunding applications have disrupted the market. The thing about multifamily technology is that once someone makes something work, someone else will try to improve it.

2. Online marketplaces are paving the way for multifamily innovation.
The internet has become the new marketplace, connecting one individual with a good or service to another interested individual. An online community marketplace is simply a virtual space for buying, selling, and sharing goods directly between parties. No middleman, corporation, or computerized answering systems.
For example, many of the apps we use regularly (e.g. Uber, Airbnb, LinkedIn) transform the way we seek out goods and services. The multifamily industry especially is becoming more tech-savvy by connecting customers and properties in real time.
The Real Estate Marketplace Frontier
Airbnb
Airbnb has changed the way we think about booking hotels. As you likely already know, Airbnb enables residents to rent out their place to the world; it sources homes, private rooms, and even couches for temporary use to the public. For a company worth $38 billion, it's safe to say its method is working. And this is only the beginning of how technology and real estate are teaming forces.
We Are Pop Up
Have a space you no longer use? With this platform, you can "rent out your empty shelf, rail, or shop window to designers, makers, and artists." No longer are artists speaking with brokers to lease a space for their work. Now, they can seek out all of the available sources without a property agent. Certainly, ideas like We Are Pop Up are causing traditional real estate agents to wonder about the future. Further, online marketplaces are building up communities, offering convenience, and, most importantly, harnessing human-centric approaches.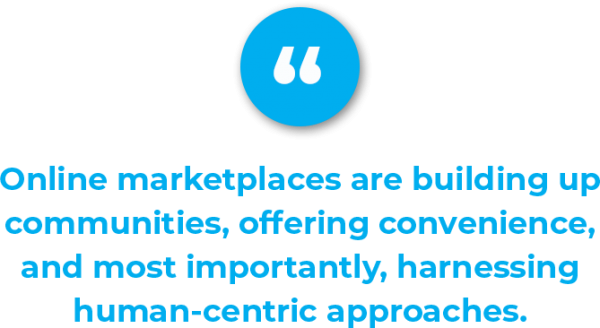 3. The Internet of Things offers a glimpse into the future of multifamily.
If you aren't familiar with the Internet of Things (IoT), learn fast. In short: Intelligent software collects and monitors information from the physical environment with little to no human interaction. For example, sensors on cars that enable automatic driving, artificial limbs that respond to brain waves, or interior temperature-controlling applications. Conceptually, the Internet of Things will cause us to rely less on traditional computers and more on the technology directly embedded into our lives.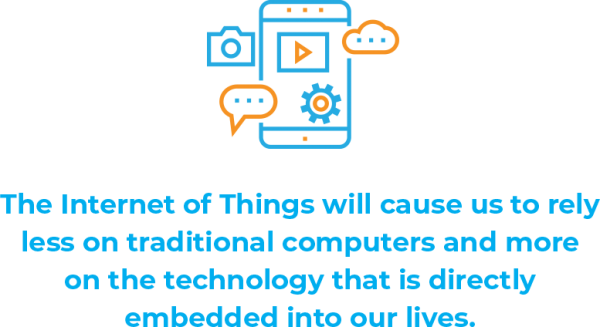 Nest
The multifamily industry is increasingly becoming efficient. Nest is a smart thermostat controlled entirely by a smartphone. The app allows you to adjust your A/C from your smartphone, and it even learns the temperature schedule and programs to adjust. As a result, heating and cooling bills can be lowered just based on its ability to adjust temperature efficiently. The smart technology in this app's functioning is paving the way for improved interactions with buildings and our surroundings, and it's already become a staple feature in many apartment homes.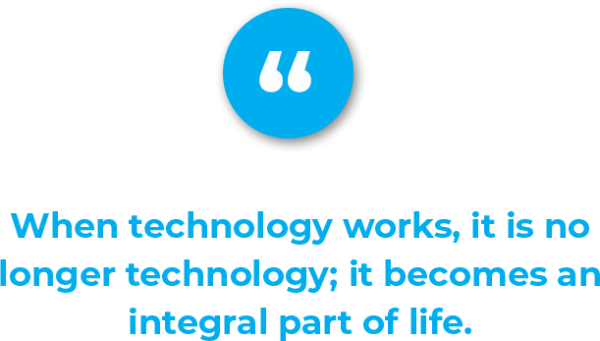 The Array of Things
Imagine seeing which city street routes were most populated to avoid walking alone at night. That's exactly what the Array of Things (AoT) is. It is "an experimental urban measurement system comprising programmable, modular "nodes" with sensors and computing capability so that they can analyze data internally."
AoT is installed in Chicago and several partner cities to collect real-time data for research and public use. The concept of AoT is analogous to a fitness watch that tracks your movements, except that it does this for the city. In addition, the environmental sensors collect counts on temperature, humidity, allergens, carbon monoxide, light, and much more. What does this mean for real estate? As smart sensor multifamily technology evolves, "data-fueled urban planning" can be expected in many more cities.

4. The line between real and virtual/augmented reality is fading.
We live in a time when science fiction fantasies seem plausible, buildings are 3D-printed, and cars drive themselves. Yet, as multifamily technology evolves, there is noticeable gravitation toward multifamily and real estate. As mentioned above, we already see IoT-connected buildings and devices controlling temperature. With smartphone technology, the not-so-far-off future of the multifamily market is here, and it's pretty fascinating.
Virtual reality (VR) is an immersive 3D software that allows users to explore a digitally simulated world. On the other hand, augmented reality (AR) takes the real-world environment and adds computer-generated objects and textures. So, think of it this way: In virtual reality, you look at an artificial, 360-degree digital space. Meanwhile, in augmented reality, you're looking at the physical environment with added digital components.
Imagine if an empty office space, street corner, or building blueprint was a digital, blank canvas. Without physically arranging a layout, constructing a building, or designing a model, AR virtually makes it possible. Augmented reality enables users to pan their iPad around a space, resize objects, arrange furniture, explore the 3D interior of a blueprint, or visualize a building.
The concept of augmented reality seems futuristic, but the reality is tangible. From architects to consumers, AR brings buildings and real estate to life, simply with a smart device. The beginning stages of augmented reality technology open the door for a commercial outlet to manipulate, evaluate, and reimagine our environment.
A Virtual Tour of the Future
Oculus Rift and Samsung Gear VR, among others, have already disrupted the multifamily market. Prospective renters can simply pop on the goggles and tour a home, office space, or apartment building.
But what if the building doesn't exist yet? No problem. Developers and leasing agents are teaming up with the technology to allow buyers to experience a space before it's even built.

With frame rates increasing exponentially, the virtual world no longer looks like a pixelated video game. Abundant data and online 3D renderings allow this world to be possible. It's an "architectural visualization" and a full immersion of the unbuilt environment.
Opening the Door to Experiential Multifamily Marketing
Virtual reality is more than a slideshow of static pictures. Gone are the days of outdated zooming and panning of staged interiors. Virtual reality opens the door to experiential multifamily marketing and a new kind of accessibility.
The multifamily technology allows a buyer to experience the property before it's built, without even leaving their home. This will become the cornerstone for real estate. Just imagine if a building is not offering a virtual tour. One day that could be laughable. But now, it's just awe-inspiring.
5. Web 3.0 is completely revolutionizing consumer transactions, including real estate.
Web 3.0 for real estate is upon us. What does this mean? For reference, Web 1.0 mostly involved listing online, and Web 2.0 involved empowering buyers with information about those home and apartment listings. Web 3.0 completely revolutionizes how transactions work; it essentially offers consumers more transparency, certainty, and convenience.
Web 3.0 connects smart devices (cars, mobile phones, appliances, etc.) and decentralized networks (distributed databases, cryptographic keys, etc.) and integrates advancements in machine learning (i.e., Siri, Alexa, or Cortana).
We are transitioning from Web 2.0 to 3.0, and it can help various businesses in ways we can only imagine. Web 3.0 can map out your property, model floorplans for wayfinding, optimize logistics via geographical models, and more. The possibilities, perks, and cost savings are essentially endless. In the future, Web 3.0 will allow us to ditch our traditional handheld devices for a more immersive one.

6. Is rent-paying with bitcoin the future of multifamily?
The multifamily sector is notorious for being a laggard in adopting new tech. Case in point, there was a time when accepting online rent payments was guffawed at.
Accepting rent payments in a cryptocurrency (e.g., Bitcoin) is a significant step toward the Web 3.0 future but a scary one for property managers and owners to experiment with. That being said, a shifting consumer behavior suggests that cryptocurrency may hold genuine promise for multifamily property owners.

For consumers and businesses, cryptocurrency is appealing for its strong privacy and user security; it decouples from government-controlled financial institutions, offers transparent record-keeping through blockchain, and removes the "middleman" transaction fees and costs.
The benefits of cryptocurrency go beyond the convenience of financial transactions; it streamlines collection and payment, facilitates secure data sharing, improves operational efficiency, saves time and costs, and provides secure due diligence.
And the role of cryptocurrency will undoubtedly be determined by the millennial factor. What do we mean by this? And what does all of this mean for your property? Well, consider these statistics:
Millennials make up history's largest demographic of individuals aged 24 to 39.

49% of millennials

polled own cryptocurrency.

One-fifth of millennials are expected to rent, which is nearly double what it was two years ago, according to

Apartment List
All of this is to say that multifamily is moving toward a Web 3.0 and crypto future.
A Major Multifamily Technology Transition on the Horizon
It's only a matter of time before the Internet of Things drastically propels the multifamily industry into a technologically-based operation. Through interconnectivity, data-sourcing, and online marketplaces, the multifamily industry is about to experience a major multifamily technology and Web 3.0 transition.

When a property can present creative ways to make residents' lives easier, it can be a valuable form of relationship-building. There is no shortage of property management apps, from sustainability and on-demand services to messaging apps and rewards programs.

Below are some of the best property management apps for this year:
Sustainability Apps to Evaluate Energy Use and Reduce Expenses
1. Wiser Energy Management System
Millennials and the upcoming Gen Zs are increasingly energy-conscious, and who doesn't love saving money by conserving energy, right? Raising residents' awareness of your property's sustainability also conveys your dedication to going green. In short, it's a form of relationship-building. 

Wiser Energy Management System is a property management app that can be easily integrated into a current thermostat to intake your property's energy data and output useful graphs to help you evaluate the energy use right from your tablet or mobile device. Not only will residents save up to 30% on utility bills, but property management apps like Wiser can also reduce power outages and the user's carbon footprint.
2. Code Green
Code Green is a property management app that offers sustainability strategies to help you reduce operations and maintenance expenses to increase NOI and ROI across your portfolio. Whether you want to improve your property's well-being performance or eliminate carbon emissions, Code Green provides reporting, certifications, and analyses to help you meet your sustainability goals.
Apps to Increase Apartment Leads and Resident Retention
1. PERQ
PERQ offers properties a way to interact with residents in real-time without having a dedicated leasing manager interact with them physically. And no, we aren't talking about canned, automated messages. This property management app uses artificial intelligence and natural-language conversations to engage with residents via email, chat, text, and automated SMS. When a renter is ready to talk to a leasing agent, PERQ transitions them to the onsite team.  
2. Knock
Knock CRM offers a full suite of front-office technology to provide multifamily owners and operators with the tools to maximize NOI, improve efficiency, and guide renters from a lead to a lease.
With this property management app, you can communicate with leads across multiple channels, manage tasks to help on-site staff hit their goals, execute automated marketing campaigns, create a more modern leasing experience, and even allow residents the ability to self-schedule tours.
3. Community Rewards
Community Rewards is a loyalty rewards program designed to make resident engagement and referrals a breeze. This property management app allows multifamily marketing and property management teams to increase resident retention and improve the property's online reputation through a meaningful rewards program.
With Community Rewards, you can create automated engagement campaigns to offer residents points for completing valuable actions such as renewing their lease, referring a friend, writing a review, and talking about your property on social media.
Resident Apps to Make Convenience an Amenity
Thanks to smartphones, living in an apartment is an entirely new experience than it was just a short time ago. Whether it's for a more productive lifestyle, an entirely new entertainment experience, or just making sure that you get to work on time, there are many apartment apps out there that make for a better apartment living experience. Apps are on the upswing, and many can provide remarkable conveniences to residents — everything from doorstep meal delivery to hassle-free packaging and shipping.

Hardwood floors and resort-style pools are becoming less of a point of differentiation. What residents want are modern conveniences over luxury: charging stations in the lobby, pet amenities, effortless recycling, etc. That's not to say luxury amenities and high-end finishes don't matter to residents — just that they're becoming less of a point of differentiation in attracting residents.
So, how could these apps benefit multifamily properties? Raising residents' awareness of these property management apps conveys your property's dedication to providing them with as many modern conveniences as possible. It's the customer-centric approach that differentiates properties in today's cluttered environment.
1. Blue Apron
Preparing healthy and delicious weekday meals can be a hassle for busy professionals. Blue Apron is an app that delivers fresh farm-sourced ingredients to your doorstep. What's their value proposition? Beyond the convenience, Blue Apron is both local and sustainable — two lifestyle trends increasingly important to the millennial and Gen Z demographics.
Whether it's fresh Japanese ramen noodles or wild-caught Alaskan salmon, Blue Apron sources ingredients of the highest quality from artisans and suppliers. Coupled with fine ingredients, Blue Apron provides comprehensive recipes that allow apartment-dwellers to become expert home chefs by trying new ingredients and cooking techniques every week.
2. Rover
Rover provides a safe and easy way to create a trustworthy pet-care community. This apartment app allows residents to tap their social networks to find friends and neighbors who can take care of their pets. Think of Rover as a digital babysitting service for pets. Payments are all handled within the app, allowing pet owners to set up playdates with other users. As more and more furry residents move into multifamily properties, apps like Rover hold great potential value for residents.

3. Housekeeper
Finding time to clean your apartment can be a chore for the busy millennial generation. Housekeeper is a mobile app that allows you to seamlessly schedule, book, and pay for professional cleaning services. All you need to do is provide a zip code and a few details about your apartment, pick a convenient time, and provide payment information. Booked! It's as simple as that.
4. Getwashio
In today's multifamily living, washers and dryers are often an added expense, sometimes requiring several trips to the property's laundry room. Getwashio is a laundry service that picks up dirty clothes, cleans them, and then drops them off. The convenience? There is no need for residents to leave their apartments. 
Again, for the busy millennial lifestyle, this hassle-free solution to the weekly laundry task can be an invaluable convenience. Getwashio is currently offered only in Chicago, Los Angeles, San Francisco, and Washington D.C., and they're expanding fast.
5. Zego Mobile Doorman
The above property management apps provide conveniences you can pass along to your residents. But, has your multifamily property thought about improving how you service your residents? Zego Mobile Doorman provides multifamily properties with a streamlined system for managing property tasks.
Residents can make payments, place maintenance requests, check-in visitors, monitor package arrivals, and much more through this mobile application. It also offers several other residents conveniences and amenities, such as booking a taxi, making restaurant reservations, etc. 
The system is wholly customized to your property and your neighborhood. Millennials and the upcoming Gen Z are growing accustomed to these mobile conveniences, and there's no reason their multifamily property can't offer the same.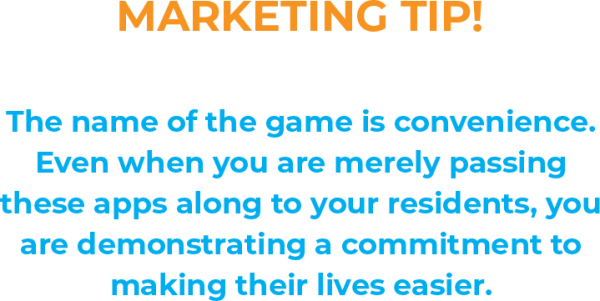 Differentiate Your Property With Apartment Apps
While the real estate industry continues to adapt to the convenience economy, the way renters live evolves. The name of the game is convenience. Even when we're merely passing these conveniences along to our residents, we're demonstrating a commitment to making residents' lives easier.
Apps are revolutionizing the multifamily market. What's our recommendation to take advantage? Promote some of these apartment apps on your Resource Page and utilize the property management apps to reduce operational expenses and increase your NOI.

Technology moves fast, as do digital marketing trends. As we live and breathe commercial real estate at our multifamily marketing agency, we understand where the industry is headed.
The following is our breakdown of the current trends in social media, augmented reality, and more — plus where we think the multifamily marketing space is headed in the future.

1. Content still reigns king.
Content marketing certainly is not a new concept and it certainly is not going out of style. By now, most companies know they need to create content that engages prospective customers. However, the question is how to do it more effectively. As the year continues, we will see commercial real estate companies creating more meaningful content than ever before.

As the commercial real estate industry turns to content marketing, the smart ones will be more targeted. The key here is that you don't need a thousand views per blog. Rather, you only need your target audience to view your content. Once you segment your audience base properly, you can launch individualized advertising campaigns and target those segments specifically. This approach will help you gain more apartment leads and conversions from these retargeting ads.
Truthfully, there's no way around this. The success of your digital multifamily marketing campaigns will depend on your use of originally created, high-quality custom content — as content continues to reign in the realm of digital apartment marketing.
2. You need to pay to play.
Now is the time to focus your efforts on paid social media apartment marketing. The organic reach across most social media platforms is dying. By investing in paid social media apartment marketing you will increase your engagement and get high organic reach, as well as better search marketing.
With paid social media multifamily marketing, almost all social media networks will give you clear metrics to measure your performance and ROI. Another benefit to utilizing paid social media marketing is the ability to reach completely new target customers and enhance your apartment lead generation. By paying to promote your post, you increase the chances that people might share your content or engage with your organization.
3. Social media for apartments is where it's at.
Social media has come a long way since its early days of simply sending a message, selfies, or favorite links. It has matured enough to become an effective tool in digital multifamily marketing for engaging with targeted customers on an interactive channel. However, oftentimes those in commercial real estate forget to actually be social on social media.

Unfortunately, many property professionals do not take advantage of social media for apartments. Many times, they don't reply to the influx of messages on social media. They also don't maintain a frequent presence or put marketing dollars behind campaigns. Social media is an untapped market for properties to set themselves apart from the rest and can be the difference between turning a prospect into an apartment lead.

4. Instant messaging and chatbots are game changers.
Connectivity is another great advantage of social media. The simple ease of using functions such as direct messaging makes it easier than ever to engage with your residents. However, the conundrum that property managers now face is how to respond fast enough and accurately to prospective residents.
Cue multifamily marketing automation bots, also known as chatbots.
Today's consumers want to engage with a company when and where it's most convenient for them. For real estate, this could mean losing possible apartment leads if we are not able to respond to needs instantly. Chatbots seem to have cracked the code, quite literally, on instant communication. According to Botpress, a chatbot is defined as "any software that performs an automated task … the most intuitive definition is that a bot is a software that can have a conversation with a human."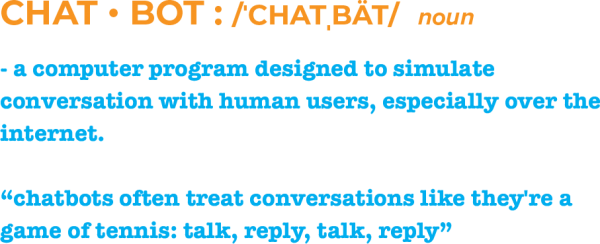 In addition to being programmed to have realistic, human-like conversations with prospective clients, chatbots are also able to gather specific information relevant to the seller or the marketer.
In the context of commercial real estate marketing, a chatbot can mean providing 24/7, instant responses that do not require an individual behind a screen scrambling to answer a question. Chatbots also provide a smoother user experience for the resident, and user experience is always critical.
5. You need to utilize live video to increase engagement.
Video's popularity as a multifamily marketing medium continues to grow yearly, and this year is no different. Particularly, live video is where we see social media platforms migrating. Live video contains much more engagement and fares better with many social media algorithms. More and more companies in commercial real estate are recognizing the power of video as a digital multifamily marketing strategy.
There are huge opportunities for leasing agents to really innovate and get away from traditional apartment marketing by utilizing Facebook Live to conduct virtual tours or answer real-time questions. Likewise, property managers can get in on the fun, as they may use Snapchat or Instagram Stories as a way to engage with current residents and alert them to fun events.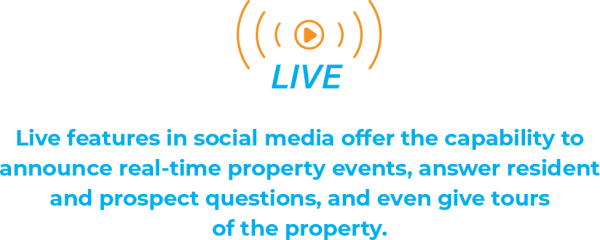 6. It's time to embrace virtual real estate.
Where do we see the future of multifamily marketing efforts? Virtual and augmented reality. As our industry rapidly embraces technological innovations, integrating VR and AR can set you apart from competitors.
Implementing VR elements into your apartment marketing scheme can prove effective when done correctly. Virtual reality opens the door to prospective clients that may have otherwise not been able to see your property, as they digitally tour units and enter a lifelike simulation of your multifamily property. Moving forward, we see this trend taking off as we can expect more and more companies to design 3D commercial real estate models through virtual reality.
Augmented reality is used by multifamily industry thought leaders today. It brings blueprints to life by taking a traditional flat layout and turning it into a lifelike 3D model. AR will provide a unique opportunity at every level of commercial real estate as it continues to evolve. Professionals believe that AR provides great value at the early stages of a construction project, and at the final stages of selling and multifamily marketing.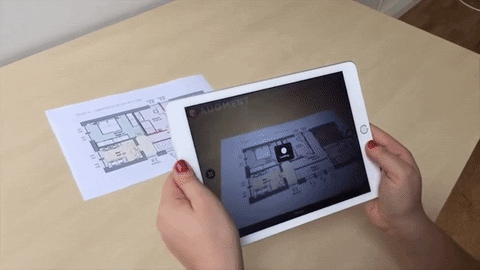 7. Drones can set your multifamily marketing apart.
Drones are a defining piece of technology for commercial real estate. Just a few years ago, it was conventional to hire a professional photographer for aerial shots of a property. Sellers now are capable of capturing stunning images and breathtaking videos of their property with camera-equipped drones, all while cutting back on costs.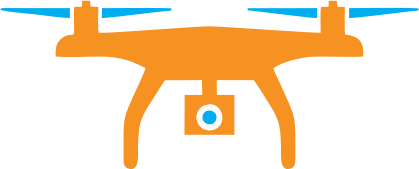 Drones can depict a great layout of the entire property, especially when recording video. For larger areas, the unique benefit that drones provide is navigation beyond the property and into the surrounding area. They are able to capture incredible bodies of water, beautiful landscapes, and nearby neighborhoods. This particular feature can be optimized if paired creatively with live streaming.
Drones also allow high-rise offices to capture images of the entire building along with attractive neighboring hotspots. Drones are one trend guaranteed to set your marketing apart from competitors, and will surely spread within the commercial real estate industry.
What does all of this mean for multifamily marketing?
It's a game-changing year for apartment marketing, especially in terms of how to reach prospective buyers in your area. Up until now, the marketing landscape has remained more or less the same, with social media for apartments claiming the throne in every corner of influence. However, we are now seeing increasingly fast-paced developments in the form of new and updated features such as live streaming and instant messaging.
What does all of this mean for multifamily marketing? Put simply, it means that content will have to be creative and engaging in order to gain more activity online. Are you ready to get creative?

How the Convenience Economy Is Impacting the Multifamily Market
In today's fast-paced world, the convenience economy is revolutionizing how we live, work, and interact. As technology advances and our lifestyles evolve, the demand for convenience has become a significant driving force across various industries, including the multifamily apartment market.

The Convenience Economy
The convenience economy is a term that describes the rise of peer-to-peer service platforms like Uber and Airbnb. In other words, it's a shared economy, changing how we travel, communicate, and purchase.
Below are a few examples of how the convenience economy has affected the multifamily market:
On-Demand Services and Amenities
The rise of the convenience economy has given birth to many on-demand services and amenities that cater to residents' desire for effortless living. From package lockers and laundry services to dog walking and grocery delivery, multifamily properties increasingly integrate these conveniences into their offerings. By partnering with service providers or implementing in-house solutions, property managers can enhance resident satisfaction and differentiate their communities in a competitive market.
Smart Home Technology
One of the key manifestations of the convenience economy in multifamily apartments is the widespread adoption of smart home technology. Residents now seek apartments equipped with smart thermostats, voice-activated assistants, and connected devices that offer seamless control and automation. Smart technology not only enhances convenience but also promotes energy efficiency and sustainability, further aligning with the preferences of environmentally-conscious residents.
Co-Working Spaces and Remote Work Support
The convenience economy has also reshaped how people work, with a growing emphasis on remote work and flexible schedules. Multifamily properties recognize this shift by incorporating dedicated co-working spaces, high-speed internet connectivity, and business centers within their communities. Property managers can attract professionals who prioritize convenience and work-life integration by providing work-friendly environments and amenities.
Digital Platforms for Resident Services
In the convenience economy, digital platforms enhance the resident experience. Property management companies leverage technology to streamline communication, facilitate rent payments, and provide online maintenance request systems. By offering user-friendly platforms and mobile apps, property managers can improve convenience and accessibility, ultimately fostering resident satisfaction and loyalty.
Location and Access to Essentials
Residents increasingly prioritize proximity to essential services and amenities as part of the convenience economy. Multifamily properties strategically located near grocery stores, restaurants, fitness centers, and public transportation gain a competitive edge. Proximity to these conveniences allows residents to save time and effort, contributing to an enhanced quality of life.
Embracing Convenience to Thrive in an Evolving Landscape
Convenience technology is not a fad; it's a shift. The convenience economy has become dominant, shaping the multifamily apartment market and influencing residents' expectations. Property managers must embrace the changing demands and integrate convenient solutions into their offerings to thrive in this evolving landscape.
If your residents use an app service like Washio, why spend thousands of dollars on a laundry room in your complex?
Take the time to research and find the apps that your residents are using and what's trending. You may find that you can allocate additional funds to the amenities your residents want rather than what is speculated to be most important.