Why Your Cold Calling Is Not Working
Regardless of where your position lies in the sales industry, there's an overarching cloud of cold calling that hovers above you. It's time to revolutionize your multifamily marketing plan.
Whether you are on the receiving end of the phone calls as a VP of Sales or if you are the Account Manager having to call several companies per week, you understand the headache.

The Problem With Cold Calling Today
In the age of the internet, many unsolicited calls go unanswered. Modern sales and marketing professionals face going up against buyers with easy and unlimited access to online detailed information.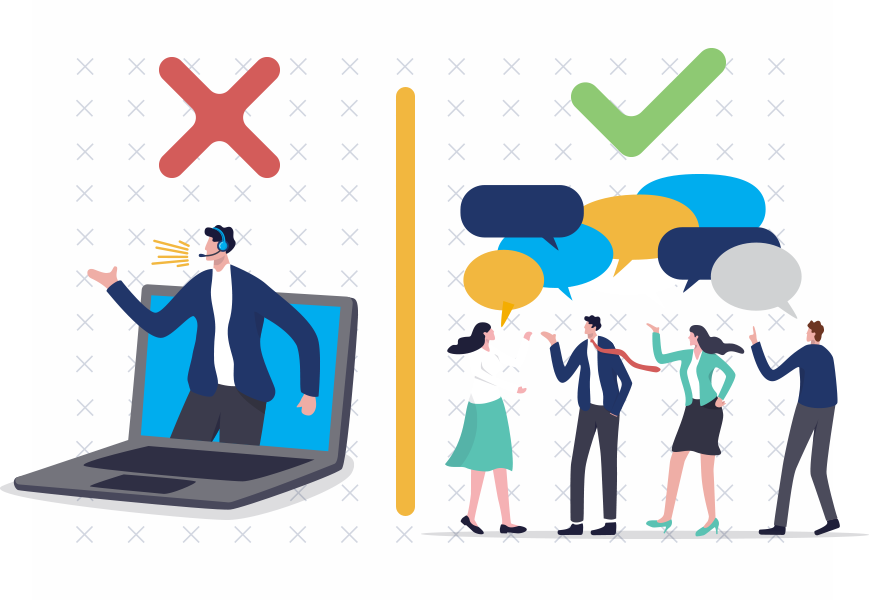 However, time and time again, we see industry professionals that cannot seem to shake the old-school approach. Something to keep in mind is that consumers are not the only ones with access to the internet. You can also use it to stay updated on your target customer's issues and formulate ways to resolve them.
When you have market information and big data analytics, you have more insight into the issues or problems with your customer base. At that time, you can take away any aspect of cold calling, and it becomes either a warm or a hot lead. You're redefining cold calling altogether by having the ability to have content out there. At that point, they are coming to you; you're not going to them.
As a commercial real estate marketing agency, we understand the power in numbers.
Content Is the New Cold Call
Outbound sales initiatives, while they used to be effective, are no longer the best route to convert leads to customers. Inbound multifamily marketing provides individuals with information about your company and allows them to develop their opinions.
More than 75% of consumers said that receiving custom content and personalized communications was a critical factor in prompting their consideration of a brand, and 78% said it made them more likely to repurchase.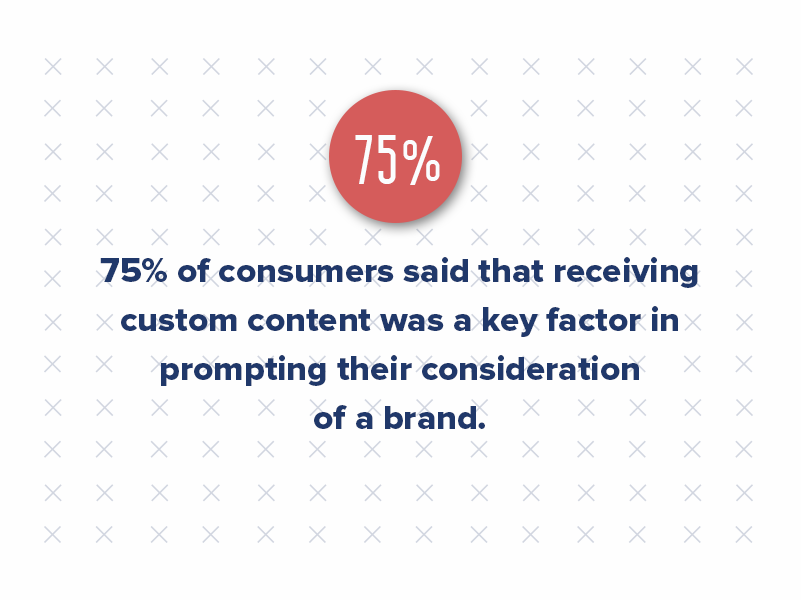 Cold calling is considered an outbound strategy; it is company-focused and assumes every customer is a buyer. It can be transformed into an inbound multifamily marketing plan by calling to get to know the customer.
While the internet provides a great deal of information, it's losing the aspect of human interaction. Every individual can do their research and find out information without having to have a point of contact call them for their initial understanding of your business. That is where content becomes "King" as far as the web is concerned.
Because customers are resorting to the Internet to answer all of their questions, it is important for your company to meet them there. Provide them with a helping hand, and if calling is something you prefer, direct them to your phone number to get more information on how you can help them.
3 Alternative Approaches for Cold Calling
So how will modern businesses seek to increase sales without their tried-and-true method of cold calling? Here are a few tried-and-true methods for increasing your multifamily leads and building connections organically:
1. Attending & Networking at Events
Begin by building value-adding relationships. With networking, the goal is not to get something out of the deal but to increase the number of people who know and trust you.
If you do well at networking, you should be able to land public speaking opportunities. Establishing yourself as an authority on specific topics will lead to an even larger group of people who trust you.
2. Contribute Content to Relevant Publications
Likewise, writing is one of the most accessible avenues to build a sense of authority. Submit an article to a magazine publisher you know your customers will read, or create your blog. Furthermore, you don't always have to publish your work. Reposting another blog by a reputable source will help gain attention and credibility.
Take a quick look at our blog, and you might notice a couple of guest posts now and then. These are relationships we are continually building. Our team also regularly publishes content for several publications, including the National Apartment Association, Texas Apartment Association, Units Magazine, Multifamily Insiders, and more.
3. Reach Out to Past Customers
Lastly, take the time to reach out to customers, old and new, genuinely. The relationships you build will be at the core of your business. It's as simple as that. People are willing to pay a higher price when they know they are getting good service. Therefore, good customer service leads to a higher lease!
Some of our best current clients are former clients from years ago that we kept in touch with over the years! While one customer might not have the budget, resources, or capabilities to become your customer right now, this could change in a year or two — so always keep that line of communication open.
Changing Your Multifamily Marketing Plan
Cold calling may decline, but plenty of strategies exist to increase sales and attract new customers. Remember, it doesn't matter which multifamily marketing plan or strategy you use as long as you treat the customer with the utmost importance.

Building Lasting Partnerships: How Trust and Personal Connections Fuel Our Creative Success
Nowadays, everyone with a "Chief" in their title seems to have some magical key to becoming a great leader. It can be an officer from a Fortune 500 C-Suite, leaders of the state, or the latest self-help guru. However, leadership is not driven by the leader itself but by empowering their team to be leaders.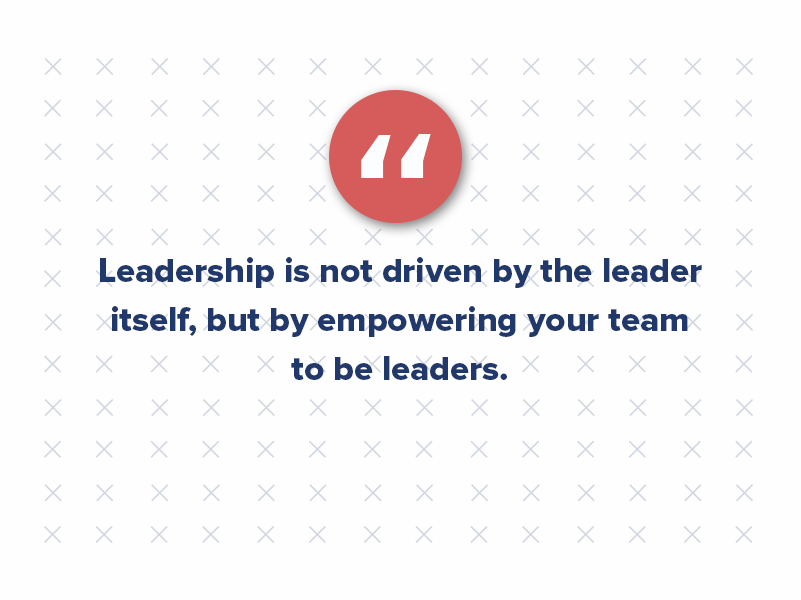 Criterion.B went from being a small "startup that could" to an agency for agencies, to focusing on web development, to where we are today — a digital multifamily marketing agency. Throughout the evolution of Criterion.B, we realized that the people on our team helped lead the directional changes supporting the company's business growth.
As we look back proudly, we know that to continue the growth, we need to constantly surround and empower our multifamily marketing agency with future leaders that will drive our company culture.
Finding Our Voice: What Drives Our Multifamily Marketing Agency's Success
In 2016, Criterion.B found its voice. We love the space that we occupy, and we love our niche. Our team is driven by growing our client's businesses and powered by the expertise to understand their markets. We bring awareness to their business and inspire and empower their customers. Criterion.B grows when our clients grow. Simple as that.
The question is, how do we accelerate this trajectory? To find the answer, we've taken a walk down memory lane. We're here because of the phenomenal people who work at this multifamily marketing agency — those who sign online enthused to take Criterion.B to new heights. We're also here because we work with some of the best clients.
A Look Back: 6 Keys to Growth and Multifamily Marketing Agency Success
1. Embracing autonomy and empowering high performers.
Hire well and get out of their way! Sure, you can help set the strategy, but empower your high performers and let them do what they do best.
2. Creating needed transparency.
Managers should have an open-door policy — it creates needed transparency. Our team even has informal meetings and lunches to remove barriers and help the team develop professionally.
3. Maintaining a "people over profits" mentality.
We've had to turn down lucrative projects in the past (with consult from the entire team) because of the stress it will cause and the creative freedom it would hinder. Criterion.B is an environment where creative problem solvers thrive and create beautiful work. Pressure is OK; stress is not.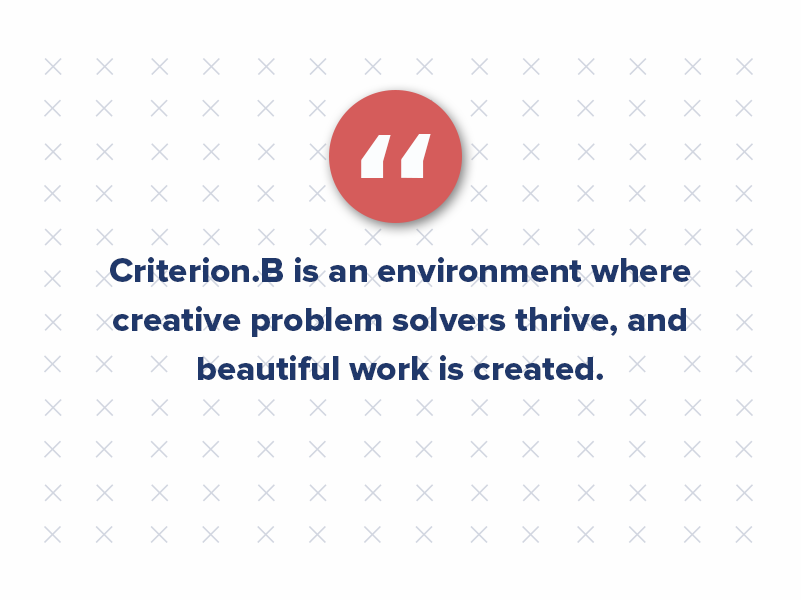 4. Prioritizing work-life integration.
One of our core values at Criterion.B is balance, which includes work-life integration — an essential component for improved company culture. We are all adults; take a vacation as you need and get your work done. It is all about trust and empowerment.
5. Building and nurturing client relationships.
Trust leads to great work. Great work builds better relationships. After winning the pitch, we work to build and nurture a relationship with each of our clients. People work with people they like.
What does this mean? We take our clients out to lunch, dinner, happy hour, golf, etc. We send them handwritten notes and free Criterion.B t-shirts. We acknowledge their birthdays and life milestones.
We live their brand (submerging ourselves in their product/service so we know how to sell it). We listen with open ears, ask the right questions, and always remember that communication is key to a successful partnership. We also manage expectations — never surprising our clients with unknown costs or hidden fees.
In the end, the relationship you started will earn the trust of your clients. Over time, trust and relationships give our clients the confidence to let us try new advertising techniques or take on new creative work. Taking risks and trying new advertising methods will allow the brand to grow and flourish. And as the brand grows, our multifamily marketing agency grows with them!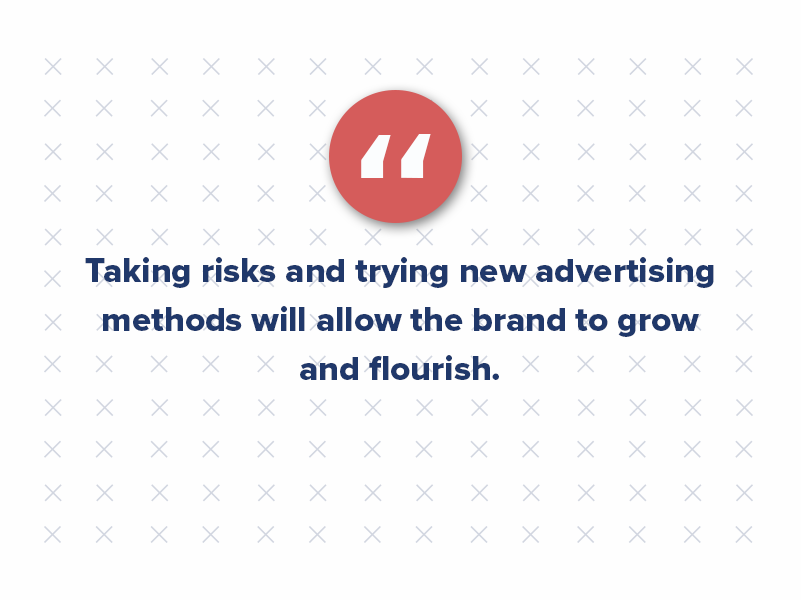 6. Offering creative client solutions.
At the end of the day, we fight for what our clients want and deliver what our clients need. Creative can truly make or break a brand. Our clients know their product/service better than we ever will, and they will have their own opinions on what their website and ads should look and sound like. It's our job never to outweigh their opinions. We give them what they ask for but are always prepared to show them what they need.
Unleashing the Power of a Successful Multifamily Marketing Agency
We are excited to see what's in store for our multifamily marketing agency and for our future company culture. We know where we want to be, and we know how we are going to get there. It's our goal to use these "keys" to unlock and unleash the potential and power in the Criterion.B team.
New Urbanism: Bringing New Life to Urban Living
Trends come and go, but sometimes they turn into a lifestyle. Improved urban living and environmental efforts are rising, but will they last?
As an apartment marketing agency, Criterion.B's expertise in multifamily marketing and real estate gives us great insight into what's coming and phasing out. 

The New Urbanism movement is a trend that is rapidly gaining popularity. This urban planning philosophy seeks to create walkable, mixed-use communities that are sustainable, efficient, and livable.
The trend inspires remarkable change in urban planning, sustainability, and multifamily development, providing an alternative to the traditional suburban living model. And it just might be here to stay.
What are this new-urban renewal plan's challenges, benefits, and concerns?
The Background of New Urbanism
The movement has garnered new life since it gained momentum roughly 25 years ago. Before the late '80s and early '90s, the urban environment was typically avoided and crime-ridden; the suburbs remained the hub for retail, restaurants, and recreation. 
However, New Urbanism changed that by replacing negative city stigmas with fresh architecture, cleaner streets, and green initiatives. As a result, a renewed concept of urban living emerged. New Urbanism brought new life to the city, and Americans flocked to experience this lifestyle.
Benefits of New Urbanism in Multifamily Development
The New Urbanism trend attracts much interest from developers, investors, and homebuyers alike. One of the key benefits of this trend is that it creates a more walkable and livable environment. Residents can walk to work, shopping, dining, and entertainment destinations, reducing their reliance on cars and improving their quality of life.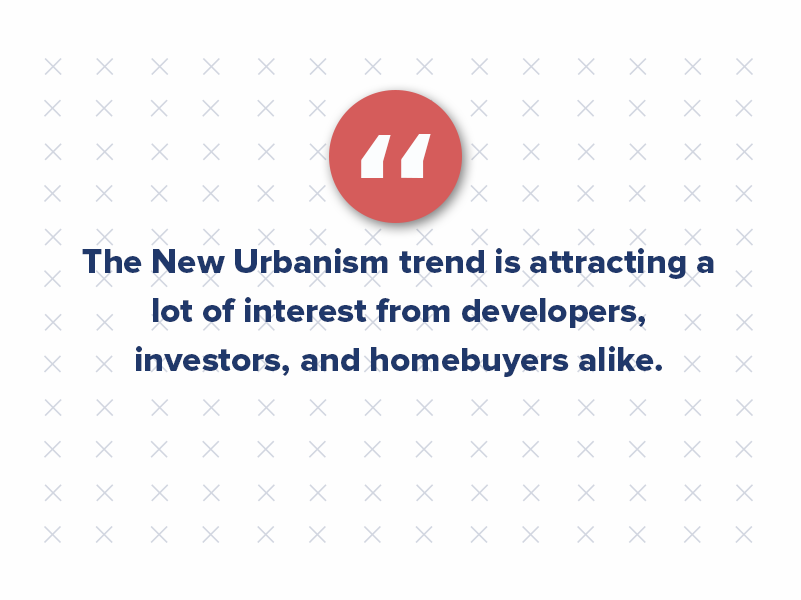 In addition, New Urbanism encourages public transportation, making it easier for residents to get around without a car. This helps reduce traffic congestion and air pollution while also promoting sustainability.
Another benefit of New Urbanism is that it provides a mix of residential, commercial, and retail spaces within the same multifamily development. This creates a sense of community, making it easier for residents to interact with their neighbors and the surrounding environment.
Nowadays, it's unsurprising for young professionals and active individuals to live in the city's heart. Millennials, especially, are driving this movement (whether they know it or not). They clearly desire prime locations, luxurious amenities, and walkable neighborhoods. As a result, these requirements force urban multifamily properties to keep up and stand out. The millennial lifestyle exemplifies New Urbanism and stimulates the evolving urban revival.
A great example of New Urbanism in action is Klyde Warren Park. Take a busy, bustling city, and drop a giant patch of grass on top of an Interstate overpass. That's the exact action Dallas City Planning took to revitalize the city streets. Stop by, and you'll find a line of food trucks, yoga classes in the park, picnic blankets, a playground, and a band playing at sundown. Cities flourish when safety, community, and accessibility are at the forefront of planning.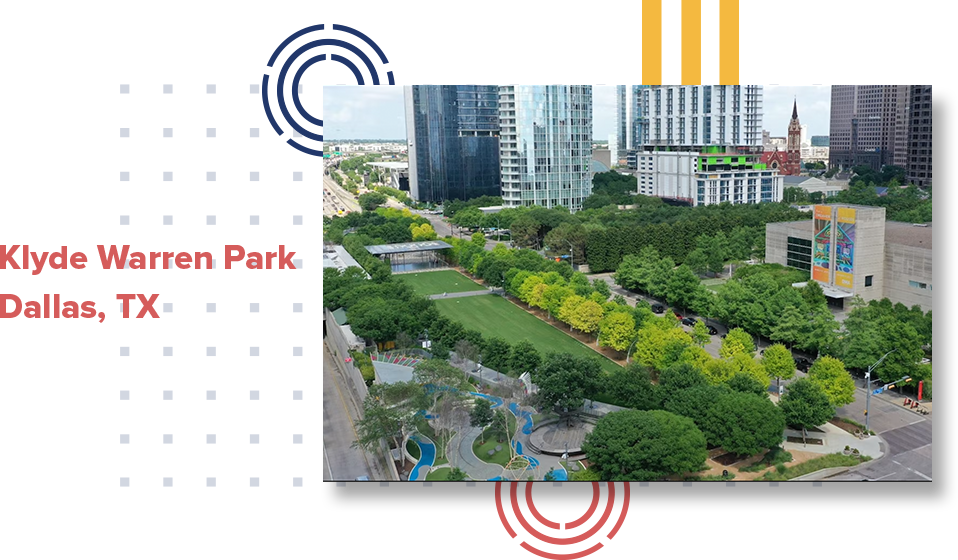 Challenges in New Urbanism Multifamily Development
However, there are also challenges and concerns associated with New Urbanism. One of the biggest concerns is the cost. Developing New Urbanism communities can be more expensive than traditional suburban multifamily developments due to the need for infrastructure such as sidewalks, bike lanes, and public transportation.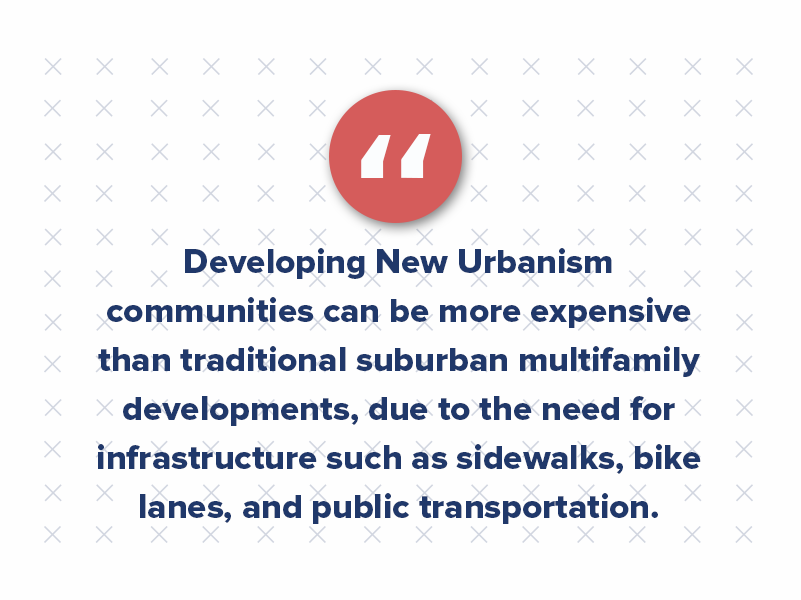 Another challenge is that New Urbanism multifamily developments may not appeal to everyone. Some people prefer the traditional suburban living model and may not want to live in a more densely populated area.
In addition, there are concerns about the potential for increased traffic and parking issues in New Urbanism multifamily developments. While the trend encourages public transportation and walking, some residents may still need to drive, and there may not be enough parking spaces to accommodate all residents.
Will the Trend Last?
Despite these challenges, the trend toward New Urbanism in multifamily living will continue. The demand for walkable, sustainable, and livable communities is growing, and developers increasingly recognize the benefits of New Urbanism.
In addition, the trend toward New Urbanism aligns with the broader trend toward sustainability and environmentally conscious living. As more people become aware of the environmental impact of traditional suburban living, they seek alternative models that are more sustainable and efficient.
What will this living look like? Apartments that blend with the environment; smaller and more thoughtful multifamily projects; carless cities and larger sidewalks; community gardens integrated into multifamily properties; or even smart cities. New Urbanists are working towards building cities that revolve around maximizing space, community, sustainability, and efficiency.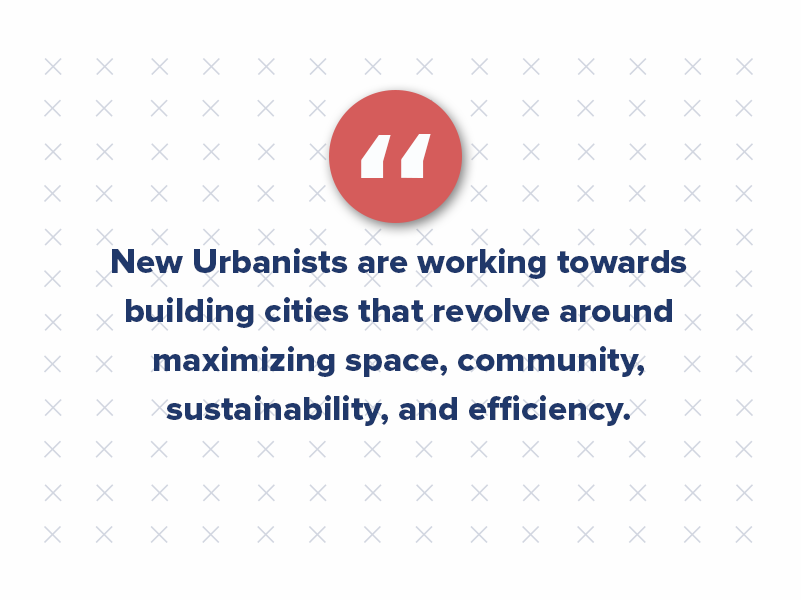 Buildings will no longer be a monument to themselves but instead, to the city streets.
Shaping the Future of Apartment Living
Although the popularity of New Urbanism is widely accepted, "an enormous invisible structure" hinders its full overhaul. To the government, this reinvention of city living is breaking code after code. 
Local zoning codes restrict modernist design, form, and projects, ultimately restricting wider streets and increased walkability. However, there's hope in progress; as this movement gains momentum, its impact will reach public officials and make a difference in urban life.
While there are challenges, the benefits of creating walkable, mixed-use communities are too significant to ignore. The trend toward New Urbanism in multifamily living is expected to continue, and it is poised to play a major role in shaping the future of apartment living.

Who Should Be in Charge of Social Media for Apartments?
By now, we've established that social media is another platform for communication.
Renters want information anytime, anywhere, and they want it at their fingertips. Their need for information is instantaneous, and social media for apartments is the only marketing source to deliver that.
Residents are increasingly connecting with properties online throughout all phases of the renting process, from research to retention. As a result, property managers need to be able to do their jobs online, requiring them to have a certain amount of autonomy. Social media for apartments presents several opportunities for leasing, multifamily marketing, and building relationships. However, it also presents many risks.

A Balancing Act Between Corporate and Property-Level Marketing
Online word of mouth and one bad resident experience can taint an apartment brand. Property managers (not just corporate) must be present, helpful, and interactive on social media to read, respond, and act on any negative resident feedback.
It's natural for corporate management to want complete control over their properties' online activity, as doing so would limit risk and maintain consistent apartment brand messaging across all properties. However, this isn't realistic.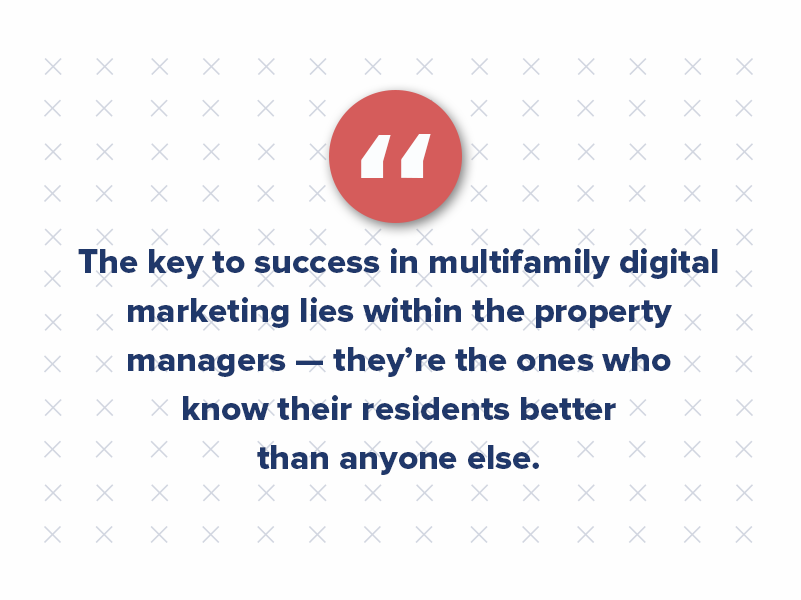 The key to success in multifamily digital marketing lies within the property managers — they're the ones who know their residents better than anyone else. They live and work in the communities they serve, and they're the ones interacting with residents daily.
So, how do we balance apartment brand consistency (corporate-level) and local content/personalized service (property-level)? The answer is quite simple. It just calls for a little training and education.
Corporate Responsibility: Training
Resident interactions on social media must be handled at the property level. Corporate management needs to take the necessary steps to train property managers. They need to provide resources (e.g., content guidelines, tone), that property managers can customize according to their residents. Employees should feel empowered to communicate on social media — that is the corporate's responsibility.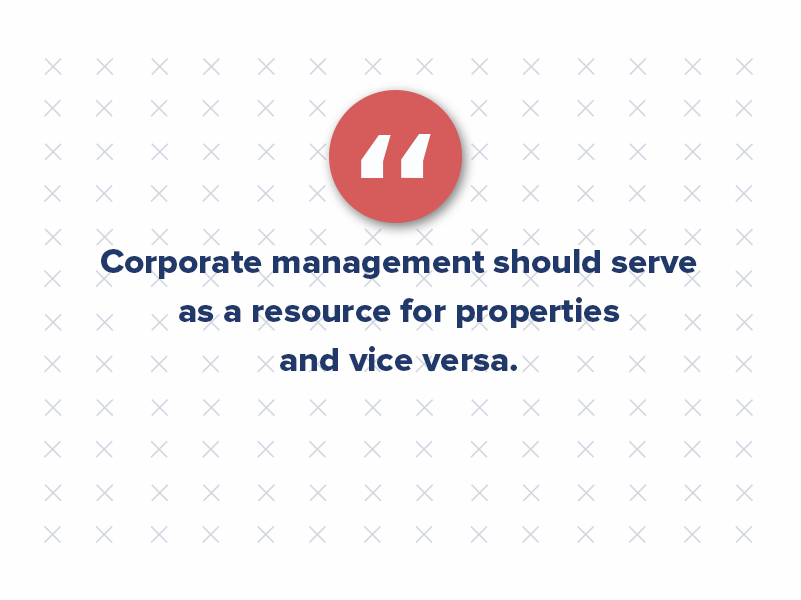 We recommend providing your properties with standard corporate messaging via a "Voice and Tone Guide" for social media and all content marketing, then allowing each property to personalize its content.
Focus on keeping messaging simple and consistent. By providing guidelines for use, you can strengthen corporate apartment branding across all properties while still allowing local social media to take the shape of its own at the property level.
The most important thing to remember is that corporate training should be ongoing. Organizations like the National Apartment Association (NAA) make that easy for corporate management to implement.
The NAA Education Institute offers the National Apartment Leasing Professional Program. The course includes six modules, which corporate management can license and provide for employees, either online or in the classroom. The curriculum includes everything from monitoring your online reputation to optimizing content for search engines.
Property Responsibility: Open Communication
Successful training requires an earnest effort on the part of each property and its employees. Without their commitment, an effective digital marketing strategy is impossible to implement.
The property manager must consult their regional or national corporate representative anytime they have questions, feedback, or insight regarding social media use.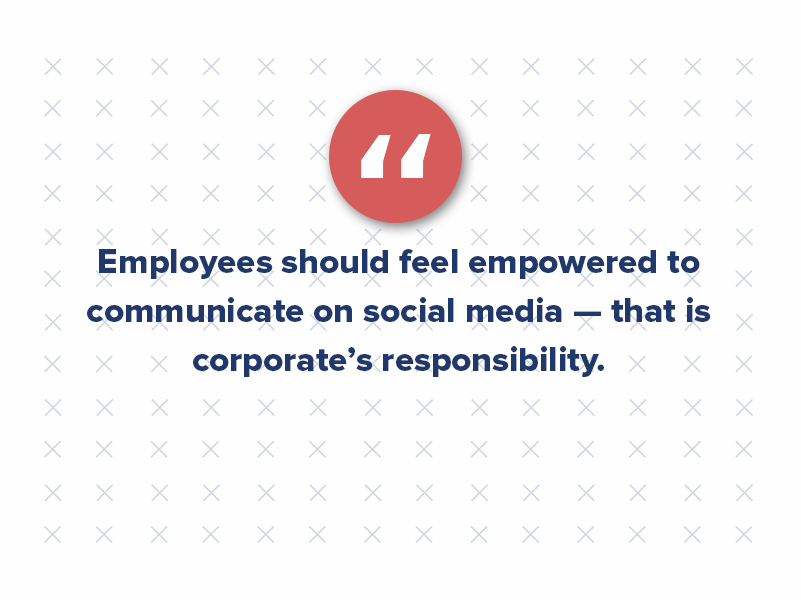 Corporate management should serve as a resource for properties and vice versa. Property managers should provide feedback on local apartment marketing efforts (What works, what doesn't?). They should also be able to ask corporate representatives for help in unfamiliar situations and provide them with insights from their resident community.
Open communication is the key to balancing strong apartment brand messaging on social media with local personality and service.
Tying It All Together
To sum it up, here are some common threads in establishing multifamily brand development and character: A customer-centric approach is essential to the success of any multifamily digital marketing effort, whether that's differentiating your property, meeting millennial expectations, designing your multifamily website, and so on. The most successful properties are capitalizing on the relationship-building attributes of social media for apartments and intercepting prospective renters in the places they're already searching.
Technology is fast-changing the apartment marketing environment, and it's up to you to respond or risk falling behind.

4.3 Million Units Needed By 2035 to Fuel Multifamily Demand
The future of urban living is inherently mixed-use. As population density inevitably increases and real estate prices continue to soar, more apartments are being developed in mixed-use buildings and communities. This type of development can provide the post-pandemic demands of developers, owners, renters, and workers.

Here's a look at some of the latest multifamily trends in mixed-use development across the United States.
Multifamily Development on the Rise
There's no denying that multifamily development is on the rise in the United States. The National Multifamily Housing Council and National Apartment Association's latest research estimates we need to build 4.3 million units by 2035 — 600,000 to meet the current apartment shortage and an additional 3.7 million to keep up with annual demand.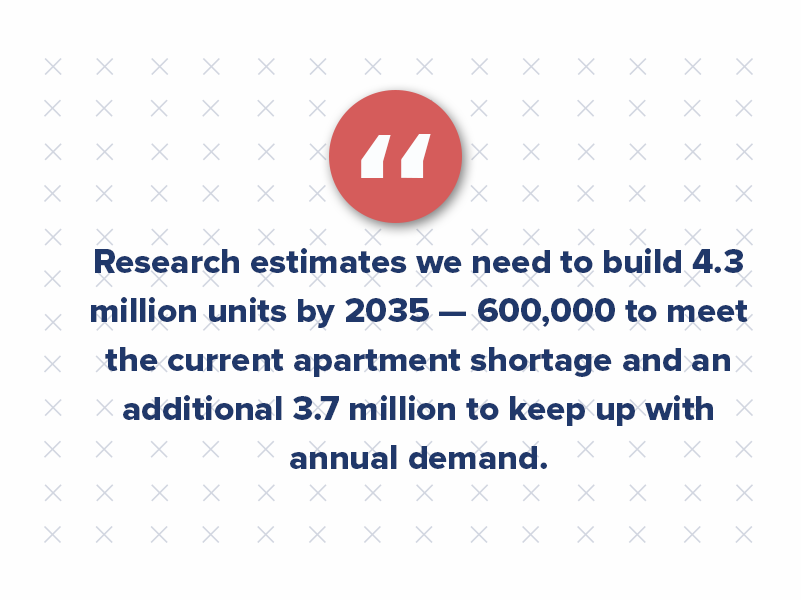 Multifamily development dropped after the Great Recession, resulting in a shortage of apartments. While development has started ramping up, demand has also been high. Multifamily units under construction are now at a historic high of 841,000 (seasonally adjusted) in June 2022.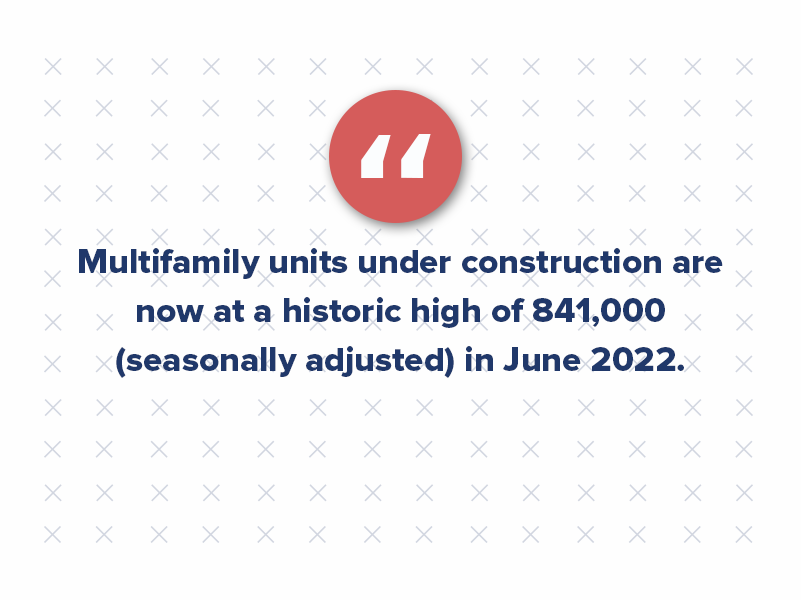 What's driving this growth? Several factors include population growth (both domestic and foreign), increased urbanization, changing demographics (such as millennials delaying marriage and starting families later in life), and rising rental rates. All of these multifamily trends point to one thing: continued demand for multifamily housing in America's cities.
The Shift to Mixed-Use Development
Developers are meeting this demand by shifting their focus from traditional single-use developments (i.e., residential buildings, office towers, retail centers) to mixed-use developments that combine two or more uses (i.e., residential + retail, office + residential, etc.).
Mixed-use developments have several advantages over single-use developments. For one, they're a more efficient use of land — a crucial consideration given the premium placed on real estate in urban areas. They also tend to be more resilient to economic downturns since they provide a mix of uses that can appeal to various renters, buyers, investors, and tenants. And lastly, they create a more lively and vibrant streetscape that can contribute to the overall livability of a neighborhood or district.

Unsurprisingly, we see a shift towards mixed-use development in America's cities. Renters' needs have changed in recent years, particularly with the popularity of working from home during and after the pandemic. This change fueled the spike in live-work-play developments, bringing living, working, and entertainment together in a central location. In fact, 49,100 live-work-play units were completed in 2020 — the peak year for these developments.
Further, the yearly supply of live-work-play developments quadrupled in the last 10 years, going from 10,000 in 2012 to 43,700 in 2021. These communities also represent more than 10% of today's apartments, a significant jump from 2% before 2012.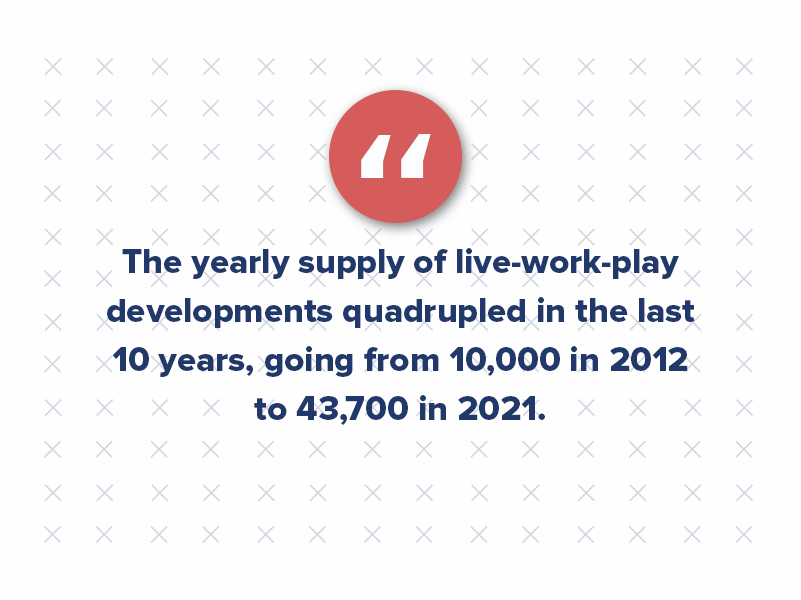 This multifamily trend is only expected to continue as developers look for ways to meet the growing demand for multifamily housing while maximizing land usage efficiency.
What's Next for Multifamily Development?
The COVID-19 pandemic has profoundly impacted virtually every aspect of American life — and the real estate industry is no exception. The pandemic has forced us to reexamine many aspects of our built environment, from office space design to residential amenity offerings.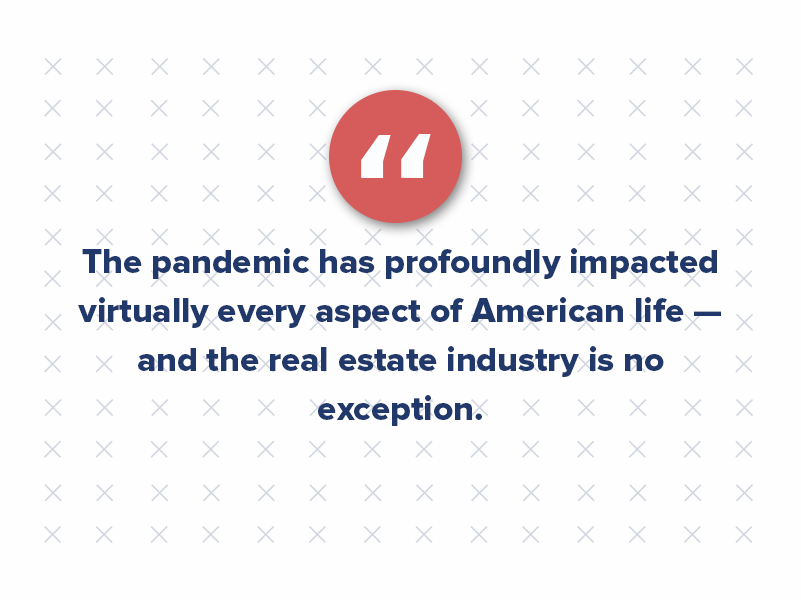 And while it's still too early to say definitively what changes will stick around long term, some emerging multifamily trends suggest the future for development in America's cities.
One such trend is an increased focus on health and wellness amenities — such as outdoor spaces for exercise and recreation, contactless access control systems, air filtration systems, and on-site health clinics — as renters emphasize their health and well-being more.
Another multifamily trend is shifting from central business districts towards suburban locations as workers embrace remote work arrangements and seek out larger living spaces outside of dense urban areas. Lastly, we're seeing a renewed interest in micro units and other small living spaces as renters seek affordability and flexibility in their housing arrangements.
Reexamining Multifamily Trends to Plan for the Future of Development
In the wake of a rapidly evolving housing market, multifamily development is surging across the breadth of the United States. Developers are responding to a burgeoning demand for rental spaces, a call that is redefining the fabric of real estate planning and design.
A significant paradigm shift can be seen as the industry transitions from conventional single-use edifices to mixed-use designs. These novel structures weave together various functionalities, marrying residential with commercial or recreational spaces. The drive behind this movement isn't just architectural innovation; it's a keen attempt to harness land resources optimally. With urban areas grappling with space constraints, the multifamily sector's pivot to mixed-use developments embodies a vision that champions both utility and aesthetic appeal, a trajectory poised to shape the architectural lexicon in the ensuing years.
As the world grappled with the unprecedented challenges posed by the COVID-19 pandemic, no facet of human life remained untouched, and the real estate sector found itself at a significant crossroads. The pandemic catalyzed a global rethinking of how we perceive and interact with our physical spaces. Within the U.S., the upheaval has sparked introspection into our constructed environments' design, purpose, and adaptability, with the multifamily real estate segment experiencing its share of transformative ripples.
While forecasting the long-term implications of these shifts might be speculative at this juncture, certain multifamily trends are beginning to crystallize. These nascent patterns provide a tantalizing glimpse into the potential future of multifamily constructions, especially within America's bustling metropolitan landscapes.

Here's Why 1 in 4 Millennial Renters Claim They Will 'Rent Forever'
According to Census data, the millennial homeownership rate is currently 48.6%. That's a significant drop from the ownership rates of previous generations.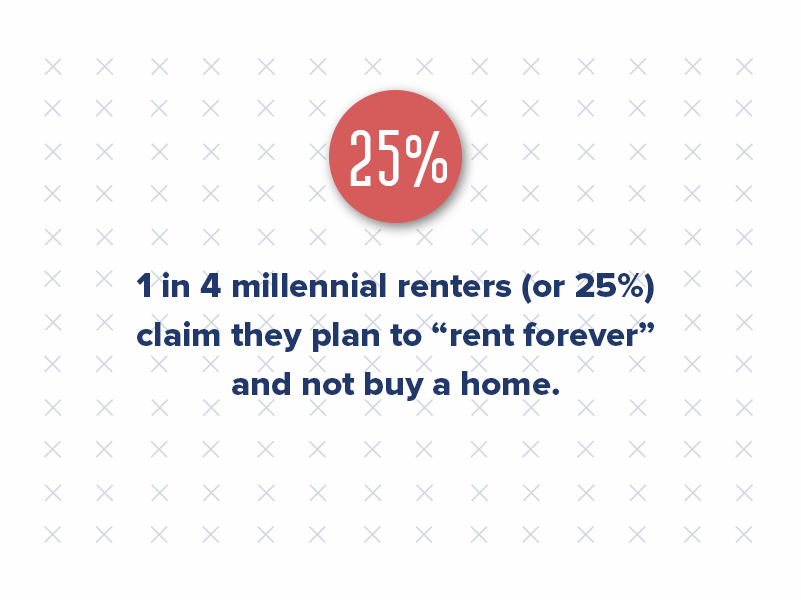 And nearly 25% of millennials said they planned always to rent and not buy a home. Millennials entered the prime homebuying age amid the COVID-19 pandemic. At the same time, this generation overtook baby boomers as America's largest generation.
So, what's behind this trend? And what impact does it have on the rental market? Let's take a closer look.

What's driving millennial renters?
Several factors have contributed to the decrease in millennial homeownership. For one, the Great Recession left many millennials saddled with debt and uncertain about their financial future. As a result, many have chosen to rent instead of buy to keep their monthly expenses low.
In addition, the cost of living in many parts of the country has increased faster than wages, making it difficult for millennials to save up for a down payment on a home. And with student loan debt still weighing heavily on many young adults, buying a house is often seen as an unaffordable luxury.
Giving millennials what they want
The future of multifamily apartments relies heavily on Gen Z and millennial renters. The impact they're having on the economy is paramount.
Millennials are renting longer and waiting to get married. Their lifestyles drive the amenities, which are now heavily focused on bike storage, cyber cafes, resort-style pools, and dog parks. And they are no strangers to spending 60% of their income on housing — anything to be in the best locations.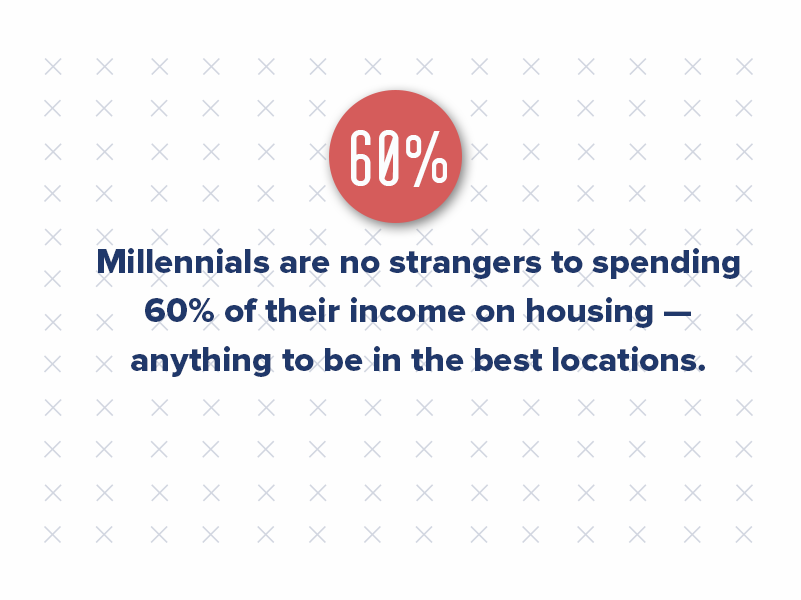 So, what is the multifamily industry doing to target this coveted demographic? These lifestyle choices have largely altered multifamily development. Here are a few key trends being implemented throughout new construction projects to appeal to the millennial demographic:
Apartments are getting smaller, common areas are getting larger.

Developers are doing more pocket courtyards and green spaces — all beautifully designed with

Wi-Fi access

.

More amenities.

Millennials love bells and whistles, from interior finishes to reserved parking spots.

Pet amenities.

This demographic loves their pets, and they're looking for amenities that cater to their furry friends: dog parks, pet daycare, washing and grooming stations, etc.

Walkability.

This is increasingly important to the millennial demographic, who are increasingly forgoing cars for public transportation.

Parking.

Because more millennials are opting for bikes and public transportation, there is also a drastic reduction in the need for parking, which developers are taking into account for new projects.
What does this multifamily trend mean for the rental market?
In short, demand for rentals is likely to continue to increase. As more millennials marry and start their families, they'll need larger living spaces than they do currently. And since student loans and other debts will still burden most, renting will remain the more affordable option for many years.
The decrease in millennial homeownership is a ripple effect on the rental market. As more young adults choose to rent instead of buy, demand for rentals will likely continue to rise in the coming years. Property managers and leasing agents should keep this trend in mind when marketing their units to potential renters.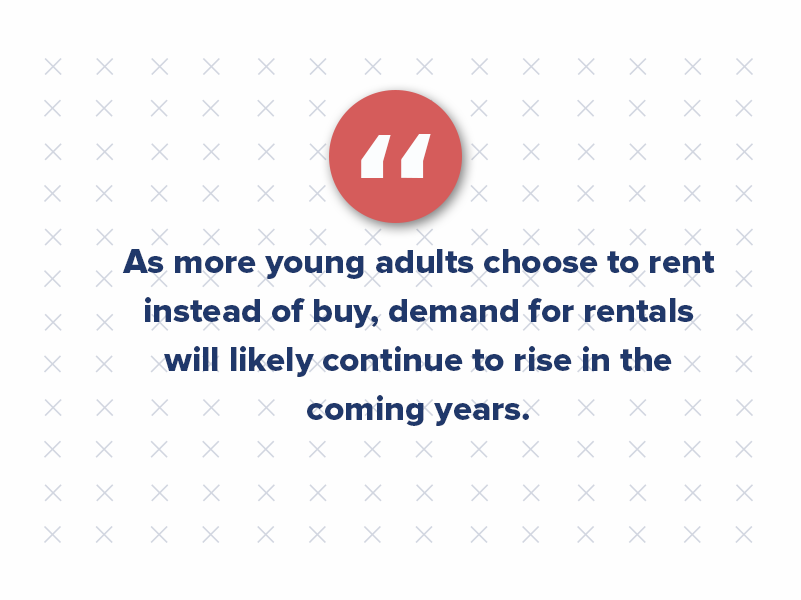 And this delay in homeownership is a multifamily trend that will not change anytime soon. In fact, Gen Z renters are poised to rent longer than generations before them, often by choice. If you compare it to the millennial generation, who waited longer to get married and start a family, Gen Z is expected to follow a similar path. This trend will undoubtedly extend their rental lifetime well into their professional years.
In the years ahead, it will be paramount for industry leaders to alter how they market to millennials and the up-and-coming Gen Z renters. These generations prefer to communicate and search for apartments differently than their parents, so it will be paramount for property managers, agents, and multifamily marketers to take note of this change.

Millennials & the Multifamily Vendor Landscape: An Investment Primer
The multifamily industry is currently witnessing a massive demand upheaval, driven significantly by the millennial generation. As these young adults progress in their careers and start families, multifamily vendors, from property management software providers to developers, have a golden opportunity. But how can these vendors best navigate the evolving demands of this massive demographic?

Understanding the Millennial Shift
Millennials are the largest generation in America, with about 92 million people outpacing Gen Z, Gen X, and Baby Boomers. This generation, renowned for challenging the status quo, has redefined several societal norms. They're choosing to tie the knot later — only 28% were married between the ages of 18 and 33 in 2014, as opposed to 49% of Baby Boomers at the same age. This delay in traditional milestones extends to having children as well.
For multifamily vendors, this demographic alteration is a clarion call. Between Q1 2020 and Q1 2022, new households swelled by 1.6 million, largely constituted by millennials. Their preference for larger suburban spaces with access to top-tier schools is clear, but financial barriers and supply shortages present formidable challenges.
Market Dynamics: The Millennial Dilemma
The U.S. housing prices shot up by 18.3% from May 2021 to May 2022. With limited supply and intensifying competition, first-time homebuyers, predominantly millennials, face an uphill battle. Add to this, mortgage rates are soaring.
Considering these dynamics, multifamily vendors need to recognize a crucial fact: for many millennials, renting is not just a choice; it's the only viable option. This generation is cornered by financial constraints on one side and their aspirations for a comfortable living on the other. They're caught between a rock and a hard place, and multifamily vendors have the opportunity to be their solution.
Catering to the Millennial Renting Demand
So, how should multifamily vendors position themselves to capitalize on this trend? The answer lies in understanding and catering to millennial preferences:
Embrace Technology: Millennials demand seamless digital experiences. Property management software providers should focus on intuitive user interfaces and incorporate features that allow easy online payments, maintenance requests, and community engagements.
Amenities & Workspaces: With remote work becoming increasingly prevalent, multifamily developers and contractors can prioritize building coworking spaces within communities, catering to millennials who may not always work from a traditional office.
Engage Online: Millennials research extensively online before making decisions. Ratings agencies and developers must ensure a robust online presence filled with reviews, testimonials, and immersive virtual tours.
Prioritize Sustainability: This generation is environmentally conscious. Developers and contractors focusing on green building practices will find favor with millennial renters.
Single-Family Rentals (SFRs): For millennials starting families, SFRs in suburban areas offer the ideal blend of space and affordability. Vendors should recognize the increasing value of such properties, given the barriers millennials face in buying stand-alone homes.
The Millennial Opportunity
In an economic landscape fraught with challenges, multifamily investments offer a beacon of stability, particularly in the vendor space. Millennial demand is not a fleeting trend; it's a consistent shift backed by strong demographic data.
For vendors, the message is clear: now is the time to pivot, innovate, and cater your multifamily marketing efforts to this demographic. After all, people will always need a place to live, and millennials present a ripe opportunity for the industry with their unique challenges and aspirations.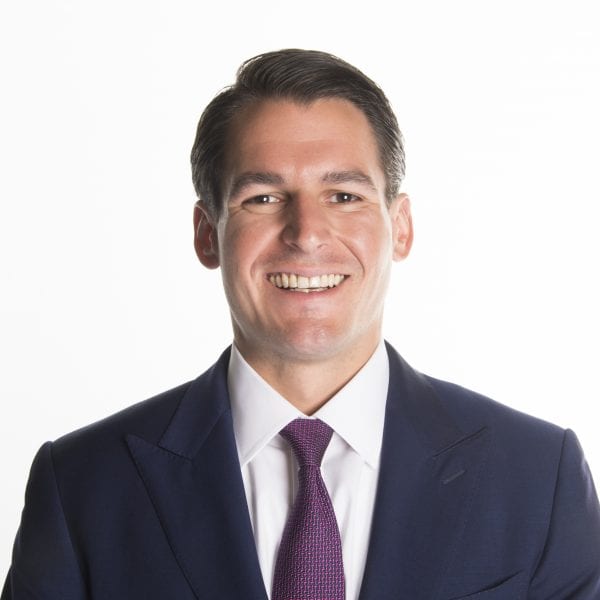 As we prepare for the next year, it is important to reflect on the past year to grow and progress. What's worked well? What hasn't worked so well? How can we improve?
Below are some examples of trends I expect to continue in the DFW office market next year:

Creative Space is King
Creative/loft office space in DFW used to be primarily occupied by marketing, advertising, and other "creative" industries. Today, all types of industries (legal, finance, professional services, etc.) demand a more unique environment for their employees. This is accomplished by leasing older, redeveloped buildings or creating that aesthetic in a more typical highrise.
Exposed brick, stained concrete floors, copious natural light (for everyone, not just those with exterior private offices), and exposed ductwork — are the things many companies want as they attempt to create a workspace that promotes innovation and productivity. Many landlords are also more open-minded to less conventional ideas as they face increased competition from co-working spaces.
The War for Talent
With the risk of sounding like a broken record here, this has to be the most reoccurring theme in the Dallas-Fort Worth metroplex today. It has been an unprecedented time for corporate headquarter relocations to DFW over the past few years. In addition, millennials are the largest generation in the labor force, and prudent business owners use their real estate as a competitive advantage for recruiting and retaining top talent.
Personnel costs are a much larger line item on a company's balance sheet than real estate occupancy costs. I expect more companies to consider higher-priced buildings with additional amenities in live-work-play areas. By doing so, for many companies, the avoided costs of losing valuable employees and training new hires outweigh the additional occupancy costs. It could be its own bullet point, but employee happiness is critical for productivity.
Increased Parking "Squeeze"
Companies are designing more efficient workspaces and becoming denser, almost across the board. This is problematic for older buildings built to accommodate three parking spaces across 1,000 square feet in suburban markets and one space across 1,000 square feet in the Central Business District.
Companies are putting more people in less square footage by utilizing building amenity areas or creating larger "shared areas" within their spaces and attempting to offset higher rents. Securing additional parking spaces nearby is an obvious solution, but oftentimes, easier said than done. Some companies are offering incentives for their employees to ride DART or are relocating to a space that is in walkable proximity to most of their employees as a solution. It is also important to evaluate the maximum number of employees on-site on any given day versus the total number of employees.
Some Things Never Change
Not to contradict my "millennial schpeel" above, but I expect some companies will revert to more traditional working methods after making drastic changes over the past few years. Many companies that hopped on the "open office layout" trend a few years ago will realize that it does not work well for their specific business.
In the legal industry, the egalitarian layout of equally sized offices for associates and partners alike will likely change for many firms after switching within the past few years. (Side note: I still expect increased collaboration areas — such as open break rooms — even from companies that revert to a less open layout with more private offices.)
As another example, IBM decided to end its "working from home" policy for a large sector of its workforce. IBM realized that a collaborative effort was more beneficial than the savings in real estate costs by having remote workers. Some people can work from a coffee shop and be just as or more productive than in an office, but some can't. The challenge is finding the right balance between employee happiness and productivity.
Looking Forward to 2019
Overall, we've made huge progress in understanding that a happier worker is a more productive worker. This is beneficial to everyone as more and more companies place a higher emphasis on wellness, balance, and flexibility. While some of the newest trends do not work well for all industries, many companies in the Dallas-Fort Worth metroplex are making improvements that support employee well-being. I look forward to seeing how we progress in 2019.

This article was written by Jayson Montoya. He is an Executive Vice President with NAI Robert Lynn's Office Division. He assists office space tenants and users with lease renewal negotiations, relocations, building purchases, and other real estate needs. You can reach him at 214-256-7136.
Is remote work the way of the future? According to guest speakers at the recent Inbound 2018 conference in Boston, building a remote team is a recipe for company growth and success.
While working remotely is not a suitable avenue for all businesses, when executed correctly it can offer many benefits to small and large companies alike.

However, senior leadership often struggles with the real-world implications of building a remote team. How do you know your employees are working? Are there ways you can help them feel connected, even though they are miles apart?
These are the questions managers face when developing a remotely distributed team.
For project management company Trello, a work-from-home strategy has proven immensely successful. In fact, 70 percent of Trello's 150-member team is remotely distributed, Head of Marketing Stella Garber told attendees at Inbound 2018.
Benefits of Building a Remote Team
Working remotely allows the Trello team to "eat our own dog food," said Garber, referring to the fact that all team members utilize the company's project management tool. "We are using [Trello] for the same reasons as our customers. We are experiencing the same pain points, so we understand their requests."
However, using the Trello tool isn't the only reason the team opted to go remote. There are various other benefits for the company, leadership, and employees that helped grow the Trello brand to where it is today.
For example, remote teams allow a company to hire new members without geographic limitations. This enables them to hire the very best candidates globally without worrying about location restrictions.
Additionally, Trello has experienced higher retention for remote employees. Several studies have revealed that remote workers are actually happier and more productive than those who work in office. With so many distractions in today's office world, employees ultimately end up working longer hours to make up for lost time.
"Someone from my team just went remote a couple of weeks ago," said Garber. "I asked her, 'What are your impressions?' She said, 'The biggest thing is that I'm getting so much more work done.' If you can control your work environment, then you are more productive. It's not rocket science."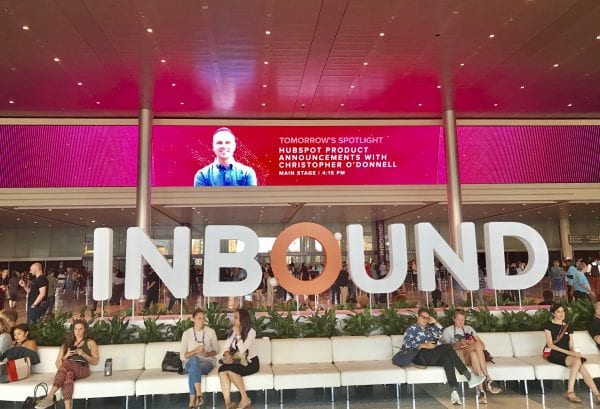 Rules for Engagement
Remote work is not for everyone; it requires a lot of effort and resources, in addition to organizational buy-in. When building a remote team, leadership should have standards, rather than exceptions, according to Garber. In other words, all team members should abide by a common set of rules.
For Trello, the team is held accountable to the following rules:
1. Assume Remote
Regardless of whether an employee is in the office or not, all team members must "assume remote." For example, if five employees have a meeting scheduled but one of them is working outside the office, then all team members will dial in via a video conference from their desks. This way, there is consistency on the call. The key is to avoid situations where remote workers will feel ostracized, and to create an environment where everyone is part of the team.
2. Create a Dedicated Working Space
For Trello's team, employees must each have a dedicated space for working. This space includes a desk, chair, quiet room, and a door that closes. Employees cannot work from their kitchen, couch, coffee shop, etc. From a noisy atmosphere that is not suitable for video meetings or calls to a sketchy internet connection, public spaces are often unreliable locations. In addition, all team members must have dedicated childcare to ensure they are giving their work undivided attention.
3. Default to Over-Communicating
In a typical office environment, many strategy sessions or shared ideas occur when team members bump into each other in the hallway or kitchen. This is an interaction that remote workers do not share, which is why it's important for all team members to over-communicate across various channels.
At Trello, the team has a rule that "if you have something important to say, say it three times in different venues to make sure you are heard," said Garber. Never make the assumption that your Slack message or email was received.
4. Make Time for Facetime
Slack and email can only go so far; face-to-face conversations will really drive your business. However, video conference calls are not just for meetings and strategy sessions. Just as you would in a typical office environment, it's crucial to get to know your team as people. Employees across various departments should schedule time with each other to connect, interact, and build relationships.
5. Make it Fun
While there are many benefits of building a remote team, perhaps the most impactful is the cost savings of not leasing office space. But to upkeep morale and maintain a happy workforce, leaders need to funnel some of those saved expenses into off-site trips, team-building events, and other fun activities.
For example, many of Trello's remote workers will get together for "biweekly jam sessions" where they will play some icebreaker games to get to know each other or grab a beer for happy hour. The Trello team also utilizes Slack to create fun channels for non-work banter to recreate those "water-cooler conversations" that occur in a typical office environment, said Garber. For example, Trello has a channel for cat people, dog people, an outfit of the day channel, and others that draw employees together over shared interests.
The Trust Factor
When building a remote team, successful implementation all boils down to one thing: trust.
"How do you know when a person is working? Well, how do you know they are working when they are in the office? Trust," said Garber.
In the end, it's all about trusting your remote workers but checking in regularly. Whether through periodic check-ins to see what projects are currently on their plate or a weekly one-on-one video call, leaders need to clearly articulate their goals, then follow up to track the employee's work product.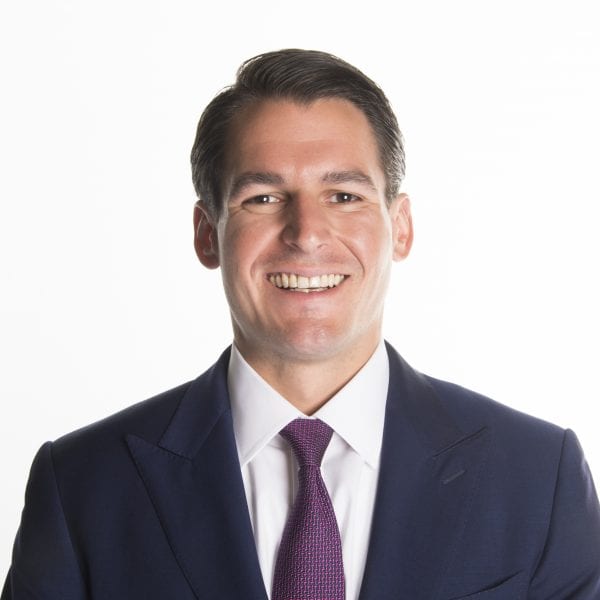 It was not long ago that landlords had it easy. Pop in a small building deli so that your tenants do not have to leave the property if they need a quick meal and they were satisfied. Over the past five years, however, there has been a huge shift in the importance of building amenities.
Today, companies are placing a much greater emphasis on employee happiness, wellness, and flexibility. As Mark Cuban said, "everyone is a free agent" in today's job market. Not only is a business owner required to recruit well — once they have hired that potential "all-star," how do they retain them?

Utilizing Building Amenities to Gain an Edge
There are numerous ways businesses use their office space to promote company culture and increase productivity. However, what must landlords do to get an edge in today's competitive and busy office market?
In Downtown Dallas, it is normal and necessary for buildings to have expanded amenity packages. The larger buildings, high density, and parking situation in the area make it much easier to support and justify a full-service gym, convenience store, or food court.
As tenants tour smaller buildings in suburban markets, they will be in for a pleasant surprise as they notice that even smaller buildings are adding all types of amenities and services in hopes of increasing occupancy.
Below are a few of the basics we are seeing, even in smaller office buildings:
Upgraded building deli or "grab 'n go" lunch area — that actually offer good food!

Fitness facility, complete with towel service, state-of-the-art equipment, trainers, and workout classes

Shared conference facility — an area that "pops," not just some spare office they could not lease

Common area lounge equipped with high-speed Wi-Fi where employees can get away from their desk
A Growing Office Market
Demand for office space in the Dallas-Fort Worth metroplex is at an all-time high, thanks to a booming economy, no state income tax, easy access to international airports, low cost of living, and a solid labor force. Businesses in many different sectors are growing and there have been several corporate headquarter relocations to our city over the past few years.
As companies compete for talent, it is imperative that they offer their employees as many benefits and "perks" as possible. As business owners evaluate their office building options, it is clear that many favor buildings that offer a full "experience" and motivate employees in the workplace. This is causing these types of building amenities and services to become the norm in the DFW office market.
Many landlords are getting more creative, adding the following building amenities to set themselves apart from the competition:
Putting greens and driving range simulators to entertain the golf-lovers

Daily food delivery services like Foodsby

Shuttles to nearby retail restaurants and shops to offer additional convenience for employees and residents alike

Beer tap or kegs (free beer!)
Measuring Success Through Implementation
Some landlords are more successful than others with their implementation of building amenities. But providing these benefits to office tenants is not always easy. In some buildings, I see tenants utilizing the amenities frequently; in others, not so much.
Building architecture, current vacancies, building location, and employee type all impact what a landlord is able to provide. However, it's important to offer these amenities to remain competitive as well as to give tenants the opportunity to motivate and delight their employees.

This article was written by Jayson Montoya. He is an Executive Vice President with NAI Robert Lynn's Office Division. He assists office space tenants and users with lease renewal negotiations, relocations, building purchases, and other real estate needs. He can be reached at 214-256-7136.