When a property can present creative ways to make residents' lives easier, it can be a valuable form of relationship-building. There is no shortage of property management apps, from sustainability and on-demand services to messaging apps and rewards programs.

Below are some of the best property management apps for this year:
Sustainability Apps to Evaluate Energy Use and Reduce Expenses
1. Wiser Energy Management System
Millennials and the upcoming Gen Zs are increasingly energy-conscious, and who doesn't love saving money by conserving energy, right? Raising residents' awareness of your property's sustainability also conveys your dedication to going green. In short, it's a form of relationship-building. 

Wiser Energy Management System is a property management app that can be easily integrated into a current thermostat to intake your property's energy data and output useful graphs to help you evaluate the energy use right from your tablet or mobile device. Not only will residents save up to 30% on utility bills, but property management apps like Wiser can also reduce power outages and the user's carbon footprint.
2. Code Green
Code Green is a property management app that offers sustainability strategies to help you reduce operations and maintenance expenses to increase NOI and ROI across your portfolio. Whether you want to improve your property's well-being performance or eliminate carbon emissions, Code Green provides reporting, certifications, and analyses to help you meet your sustainability goals.
Apps to Increase Apartment Leads and Resident Retention
1. PERQ
PERQ offers properties a way to interact with residents in real-time without having a dedicated leasing manager interact with them physically. And no, we aren't talking about canned, automated messages. This property management app uses artificial intelligence and natural-language conversations to engage with residents via email, chat, text, and automated SMS. When a renter is ready to talk to a leasing agent, PERQ transitions them to the onsite team.  
2. Knock
Knock CRM offers a full suite of front-office technology to provide multifamily owners and operators with the tools to maximize NOI, improve efficiency, and guide renters from a lead to a lease.
With this property management app, you can communicate with leads across multiple channels, manage tasks to help on-site staff hit their goals, execute automated marketing campaigns, create a more modern leasing experience, and even allow residents the ability to self-schedule tours.
3. Community Rewards
Community Rewards is a loyalty rewards program designed to make resident engagement and referrals a breeze. This property management app allows multifamily marketing and property management teams to increase resident retention and improve the property's online reputation through a meaningful rewards program.
With Community Rewards, you can create automated engagement campaigns to offer residents points for completing valuable actions such as renewing their lease, referring a friend, writing a review, and talking about your property on social media.
Resident Apps to Make Convenience an Amenity
Thanks to smartphones, living in an apartment is an entirely new experience than it was just a short time ago. Whether it's for a more productive lifestyle, an entirely new entertainment experience, or just making sure that you get to work on time, there are many apartment apps out there that make for a better apartment living experience. Apps are on the upswing, and many can provide remarkable conveniences to residents — everything from doorstep meal delivery to hassle-free packaging and shipping.

Hardwood floors and resort-style pools are becoming less of a point of differentiation. What residents want are modern conveniences over luxury: charging stations in the lobby, pet amenities, effortless recycling, etc. That's not to say luxury amenities and high-end finishes don't matter to residents — just that they're becoming less of a point of differentiation in attracting residents.
So, how could these apps benefit multifamily properties? Raising residents' awareness of these property management apps conveys your property's dedication to providing them with as many modern conveniences as possible. It's the customer-centric approach that differentiates properties in today's cluttered environment.
1. Blue Apron
Preparing healthy and delicious weekday meals can be a hassle for busy professionals. Blue Apron is an app that delivers fresh farm-sourced ingredients to your doorstep. What's their value proposition? Beyond the convenience, Blue Apron is both local and sustainable — two lifestyle trends increasingly important to the millennial and Gen Z demographics.
Whether it's fresh Japanese ramen noodles or wild-caught Alaskan salmon, Blue Apron sources ingredients of the highest quality from artisans and suppliers. Coupled with fine ingredients, Blue Apron provides comprehensive recipes that allow apartment-dwellers to become expert home chefs by trying new ingredients and cooking techniques every week.
2. Rover
Rover provides a safe and easy way to create a trustworthy pet-care community. This apartment app allows residents to tap their social networks to find friends and neighbors who can take care of their pets. Think of Rover as a digital babysitting service for pets. Payments are all handled within the app, allowing pet owners to set up playdates with other users. As more and more furry residents move into multifamily properties, apps like Rover hold great potential value for residents.

3. Housekeeper
Finding time to clean your apartment can be a chore for the busy millennial generation. Housekeeper is a mobile app that allows you to seamlessly schedule, book, and pay for professional cleaning services. All you need to do is provide a zip code and a few details about your apartment, pick a convenient time, and provide payment information. Booked! It's as simple as that.
4. Getwashio
In today's multifamily living, washers and dryers are often an added expense, sometimes requiring several trips to the property's laundry room. Getwashio is a laundry service that picks up dirty clothes, cleans them, and then drops them off. The convenience? There is no need for residents to leave their apartments. 
Again, for the busy millennial lifestyle, this hassle-free solution to the weekly laundry task can be an invaluable convenience. Getwashio is currently offered only in Chicago, Los Angeles, San Francisco, and Washington D.C., and they're expanding fast.
5. Zego Mobile Doorman
The above property management apps provide conveniences you can pass along to your residents. But, has your multifamily property thought about improving how you service your residents? Zego Mobile Doorman provides multifamily properties with a streamlined system for managing property tasks.
Residents can make payments, place maintenance requests, check-in visitors, monitor package arrivals, and much more through this mobile application. It also offers several other residents conveniences and amenities, such as booking a taxi, making restaurant reservations, etc. 
The system is wholly customized to your property and your neighborhood. Millennials and the upcoming Gen Z are growing accustomed to these mobile conveniences, and there's no reason their multifamily property can't offer the same.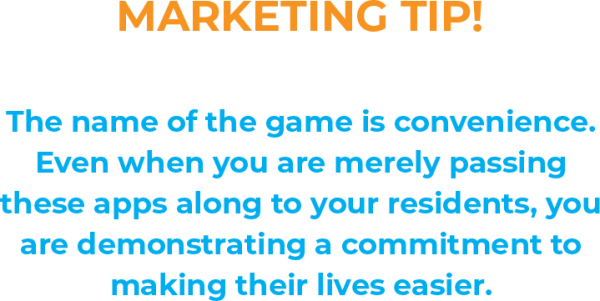 Differentiate Your Property With Apartment Apps
While the real estate industry continues to adapt to the convenience economy, the way renters live evolves. The name of the game is convenience. Even when we're merely passing these conveniences along to our residents, we're demonstrating a commitment to making residents' lives easier.
Apps are revolutionizing the multifamily market. What's our recommendation to take advantage? Promote some of these apartment apps on your Resource Page and utilize the property management apps to reduce operational expenses and increase your NOI.