5 Steps to Improve Your Multifamily Marketing Analytics Strategy
The world of digital marketing analytics is always changing, making it difficult to understand the correlation between ad dollars spent and revenue. As a multifamily agency, we know there is not a one-to-one correlation between the two, and it is nearly impossible to prove to upper management that our efforts are actually worth the investment.
The tracking and analyzing of your content mix to measure return on investment (ROI) is what digital marketing analytics is all about. And thankfully, there is no shortage of multifamily marketing resources to help collect and manage these data points.

Gearing Up With the Right Digital Marketing Analytics Tools
Google Analytics
Google Analytics is a free tool marketers use to track their multifamily website or app. While the interface seems daunting at first, this tool allows you to seamlessly monitor everything from the demographics and behavior of site visitors to bounce rate and what they are clicking on the most.
Social media insights
Most social media platforms offer their own analytics if you have a business account. Social media insights allow you to measure post reach, follower demographics, engagement and interactions, and even what time of the day your followers are most active. Additionally, you can track ad spend, cost per click, and more through Facebook's Business Settings.
Hootsuite and Buffer
While Hootsuite and Buffer offer free platforms for social media management, the paid memberships allow you the ability to track all of your social media analytics on a single dashboard. Rather than logging into each of your social accounts to schedule posts individually, these platforms also give you the ability to schedule posts across multiple platforms from a single app.
Multifamily marketing automation software
While there are several tools to track digital marketing analytics, HubSpot, SharpSpring, and other marketing automation software allow you to wrap all of these into one. With these platforms, you can schedule-out email campaigns, social media posts, blogs, and more as well as track the digital marketing analytics for all of them.

Practicing Patience With Digital Marketing Analytics
Just as "a watched pot never boils," you cannot expect to see immediate results from your multifamily marketing efforts. Patience is key as you track the success of your labor.
More likely than not, you will not see significant progress within the first week, month, or even quarter. Successful multifamily marketing takes time. While you should track items daily such as Facebook ad conversions or clicks on a CTA for your weekly e-newsletter, it is more important to monitor these metrics over a more extended time to see real improvement.
For example, your Facebook Business Page may receive 60 new followers in one week but only a handful the next. The change in followers is not necessarily a reason to be concerned, but it is a trend you should track closely to discover why your followers did not increase as much as in previous weeks.
After all, when you spend countless hours each month planning, scheduling, managing, and tracking your content marketing analytics, there's no better way to enjoy the fruits of your labor (like increased ROI) than to track and improve your strategy continually. The key is to not get frustrated with your digital marketing analytics results. Stay patient and keep tracking.
How to Improve Your Digital Marketing Analytics Strategy
Reaching your buyer persona in the right place at the right time is paramount to multifamily marketing success, and digital marketing analytics are essential to the evaluation stage of any apartment marketing strategy. However, if not collected diligently, they are of no use.
If you are not achieving your multifamily marketing goals or seeing the results you want from your efforts, it's time to adjust your strategy. The following are a few good practices to make habits that will increase your data's relevance:
1. Identify your problem areas
First, decide where you could use some improvement. Focus your efforts on a few specific areas such as social media engagement or website traffic to track relevant data for your business.
2. Create SMART goals
To prove your analytics efforts are worth your time, you have to set SMART goals — Specific, Measurable, Achievable, Relevant, and Timely. This way, you can continue to track your progress in comparison to your end goals. Without this step, there is no way to assess the performance of the strategy you have put in place.
3. Stay committed
Now that you have the groundwork set, here comes the hard part — staying fully committed and on track with the goals you set. Tracking and reporting your analytics data weekly as well as monthly, quarterly, and yearly is crucial to finding different trends, so stay committed. Pausing your efforts or adding multiple layers to your pre-constructed plan will only lessen your impact.
4. Track your digital marketing analytics
Follow different trends in your digital marketing analytics data and make adjustments accordingly. Then, track and report the results to find new insights. Luckily, there are a variety of digital marketing analytics tools to help you with this crucial step.

5. Report and repeat
Successful multifamily marketing is a long, winding road of strategy, testing, retesting, and careful planning. When you have met your goals, report your data to your team and set new ones.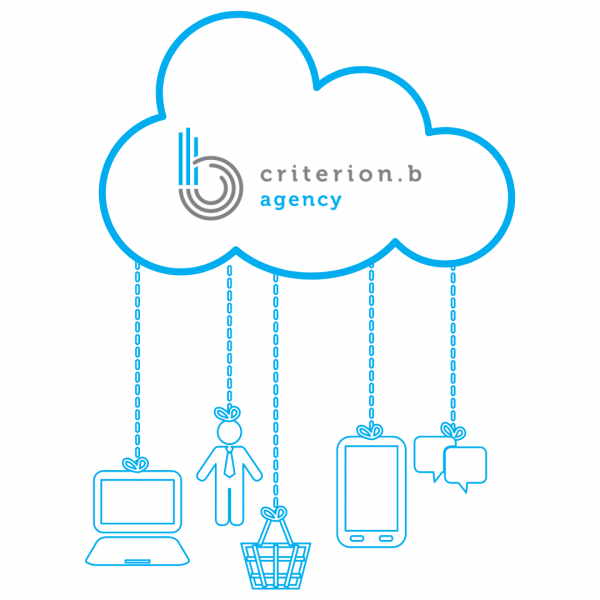 Trust the Experts to Become the Experts
Use digital marketing analytics to make informed decisions about the time, place, and manner in which you advertise. This way you can focus your ad spending in specific areas, to better reach your target audience and improve the value of your multifamily marketing.
Remember, if implementing and executing a successful multifamily marketing campaign is not your business' specialty, you do not have to go at it alone. You can leave the heavy lifting to a multifamily marketing agency like Criterion.B. You spent time and energy creating multifamily branding that offers a unique value proposition, so now it is time to trust the experts to develop a multifamily marketing mix that sends the right message to the right people.
Not sure if your apartment marketing strategy needs the boost of working with a multifamily marketing agency? Check out our worksheet that helps you identify where your business' apartment marketing strategy stands!