ChatGPT vs. Human Writers: Why You Need BOTH in Your Apartment Marketing Strategy
By now, you've likely heard about OpenAI's ChatGPT and other chatbot artificial intelligence tools that have surfaced recently.
And if you haven't heard of these AI writing tools yet, settle in and don't skim over the good parts of this blog because this one is important.
AI has taken the marketing world by storm. With advancements in natural language processing (NLP) and machine learning, AI copywriting has become an increasingly popular tool for any business to interact with its customers — and the multifamily market is no exception to this growing trend.
AI-powered writing tools, in particular, are a leading example of how AI is changing the marketing world. But while these tools can automate some multifamily marketing processes, it's still essential to have human writers and editors involved.
Why? ChatGPT might be revolutionizing how you handle content marketing, but did you know they aren't always factual? Did you know some ChatGPT content is considered plagiarism? Did you know the AI writing tool is pulling outdated data from 2021 and earlier to answer your questions?
We ALL have our limits, and that includes AI writing tools. We found those limits and think sharing them is important so you can utilize ChatGPT (and similar tools) to support your apartment marketing efforts the RIGHT way.

What is ChatGPT?
ChatGPT stands for "Chat Generated Pre-Trained Transformer" and is an AI-powered chatbot that utilizes an NLP model developed by OpenAI. It uses machine learning algorithms to analyze vast amounts of data to generate content that reads as if a human wrote it.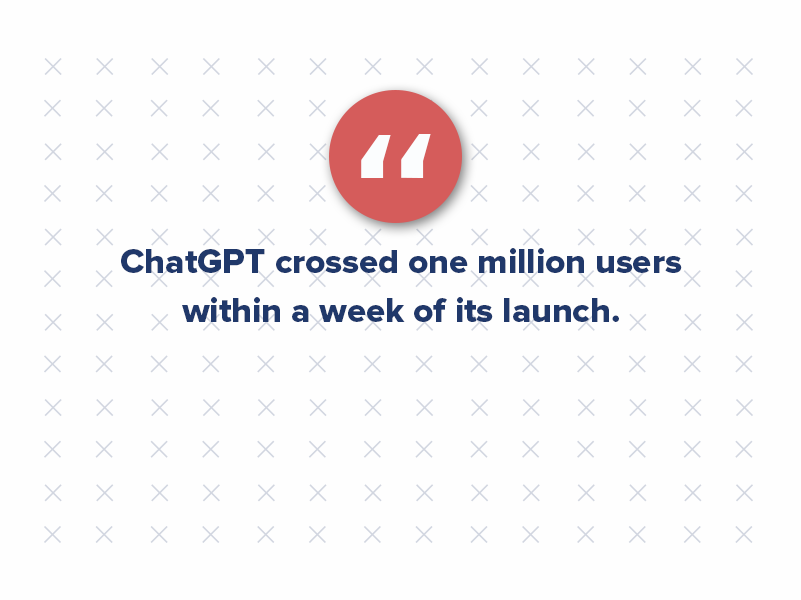 Since ChatGPT launched in November 2022, the world hasn't stopped talking about it. There are many use cases and ideas, but we haven't seen enough comprehensive use cases to leverage it in multifamily marketing.
ChatGPT by the numbers
On March 14, 2023, OpenAI launched GPT-4 technology in the ChatGPT Plus Plan, which allows it to generate 25,000+ words in output. As well the model understands 26 languages.
ChatGPT crossed one million users within a week of its launch. In the first month of its launch, ChatGPT had 57 million monthly users.
ChatGPT crossed the 100 million users milestone in January 2023.
13 million individual active users visited ChatGPT per day as of January 2023.
Microsoft invested $10 billion in OpenAI, gaining 46% of stake ownership of the company. $1 billion was received by OpenAI from Microsoft in the initial stages of the development.
ChatGPT owner OpenAI predicts they will generate a revenue of $1 billion by the end of 2024. $200 million in revenue is expected by the end of the year 2023.
The benefits of AI-powered writing tools
The primary advantage of ChatGPT is its ability to produce large volumes of content quickly and efficiently. This makes it an ideal tool for marketers and content creators who must quickly produce a high content volume. Additionally, ChatGPT can provide marketers with fresh ideas and perspectives on a given topic, helping them to create more engaging and compelling content.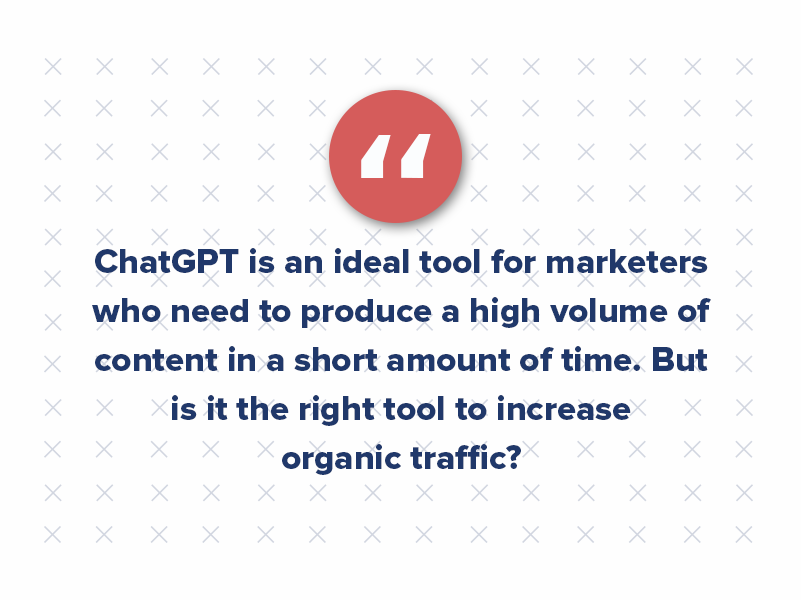 Regarding blog writing and marketing, ChatGPT can be an excellent tool for generating ideas and starting the writing process. By providing a prompt, such as a topic or a keyword, ChatGPT can quickly generate several paragraphs of text that can serve as a jumping-off point for further refinement by a human writer or editor.
Moreover, ChatGPT can help marketers create optimized content for search engines, which is essential for driving website traffic. ChatGPT can suggest keywords and phrases that can improve a blog's search engine ranking by analyzing search queries and content related to a given topic.
7 limitations of AI in digital multifamily marketing
While ChatGPT offers several benefits, it is important to understand its limitations. ChatGPT's writing is generated based on algorithms and statistical patterns, so it may not always capture the nuance or tone that a human writer could convey. ChatGPT also has limited knowledge of cultural and contextual factors that may impact how a specific audience receives content.
Additionally, ChatGPT may struggle with generating content for complex or technical topics requiring high expertise. In these cases, relying on a human writer or editor with the necessary knowledge and experience to create high-quality content may be more effective.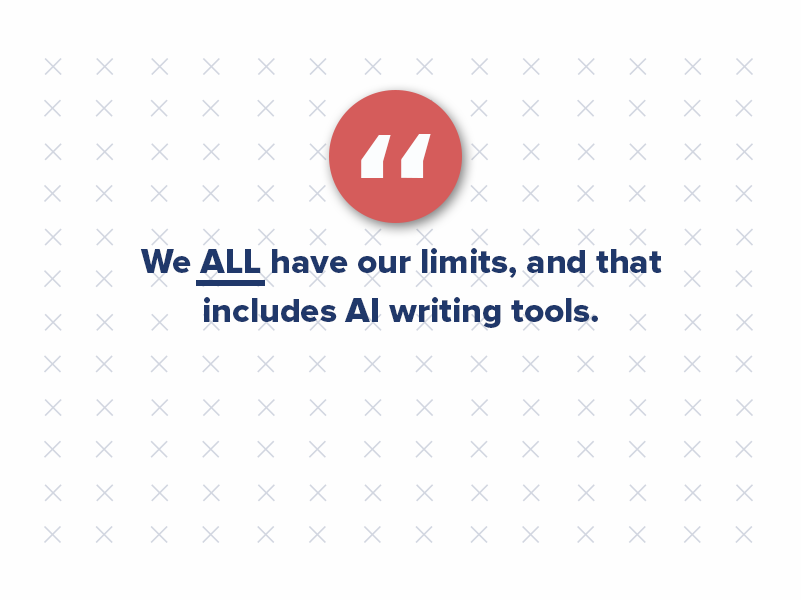 1. AI lacks creativity and personalization.
Despite the many advantages of ChatGPT, human writers and editors are still necessary in today's marketing world. Human writers bring a level of creativity and personalization to their writing that AI-powered tools cannot match. They can inject personality and voice into their writing that resonates with their audience and helps to build a connection with them.
Furthermore, human writers and editors can provide a level of quality control that AI-powered tools cannot match. They can review content generated by ChatGPT to ensure that it is accurate, engaging, and error-free. They can also ensure that the tone and style of the writing are consistent with the brand's voice and values.
When you compare content written by AI vs. a human, AI doesn't have a lot of creativity or personality. Take the following paragraphs as an example. One was generated by AI, and the other by me (the Manager of Content at Criterion.B). I wrote a few paragraphs about web design — specifically, the No. 1 mistake marketers make when building or redesigning their websites.
After writing my version of the topic, I asked ChatGPT to "Write a couple of paragraphs about the No. 1 mistake marketers make when building or redesigning a website."
Here is my take on the results:
I ran both pieces of content through a plagiarism checker. My content had 0% duplicate content. Meanwhile, 5% of the AI-generated content was considered plagiarism.
Additionally, as you can see, my content was much more informal, specific, and personalized. The AI-generated content (while it is good content) is much more formal, structured, and even a little bit stale in comparison.
While it's not a bad paragraph and could be used in a blog somewhere, imagine an entire blog written using ChatGPT and how it would sound. The AI-generated content is a bit heavier to read, which could lead to a higher bounce rate over time if all your content is AI-generated.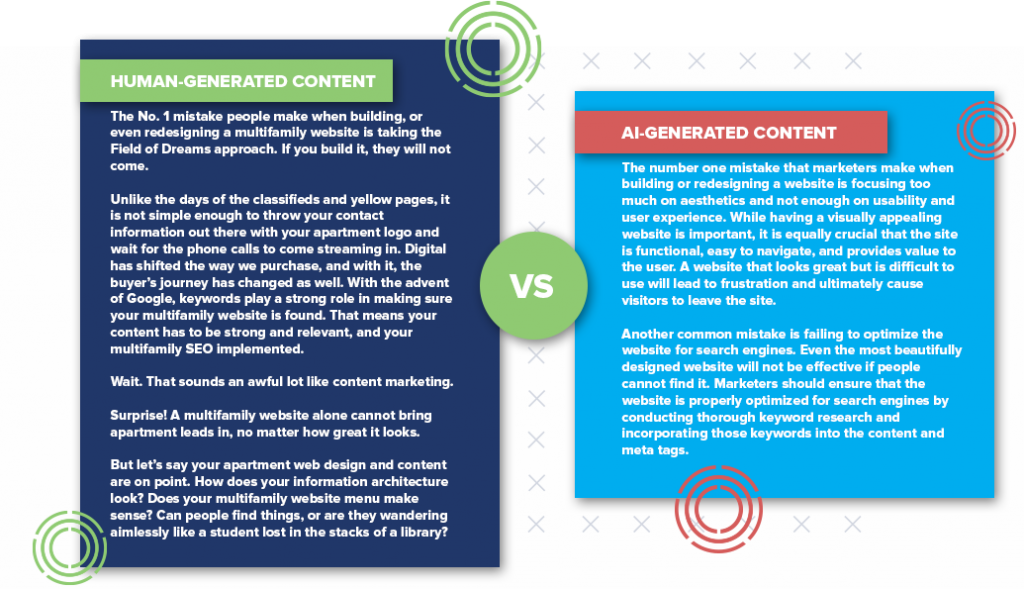 2. AI lacks originality (plagiarism alert!)
ChatGPT is not your content creation savior. Sure, it's powerful and helpful, and maybe the tool will improve significantly in the months and years to come. But for now: relying on ChatGPT for ALL of your content is a disaster waiting to happen.
AI learns from existing content on the web, so it replicates what is already out there. This means it could be a literal copy of something else online. (See the above example where the AI-generated content had 5% plagiarized content.)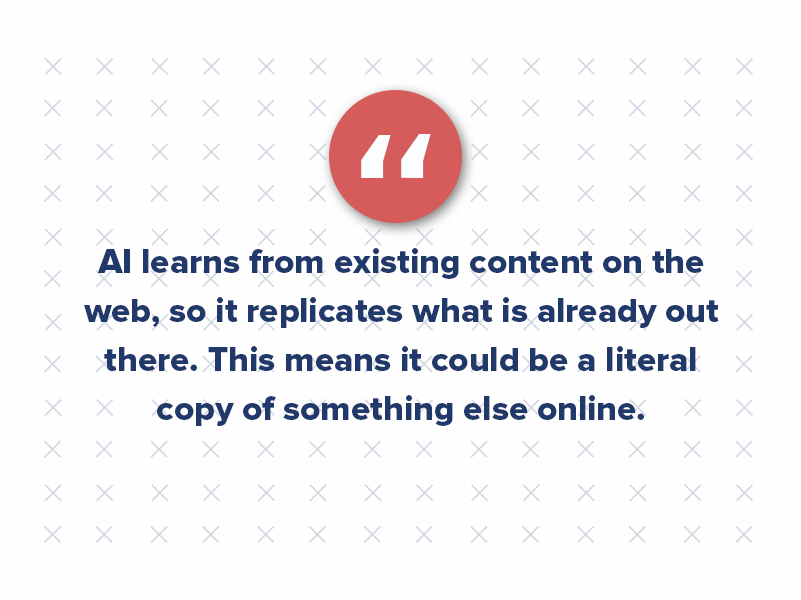 3. AI utilizes an outdated learning model.
Chat GPT cannot always provide the correct answers. Did you know that some content from ChatGPT and other writing tools is inaccurate information? This is because AI pulls data from 2021 or earlier, so the stats you might see in your content are outdated and likely inaccurate.
4. AI lacks emotional intelligence.
AI may be able to simulate human writing, but it lacks emotional intelligence. Human writers and editors can use their emotional intelligence to understand customer needs and write specific content centered around those needs. Emotional intelligence is crucial to successful multifamily marketing, as customers are more likely to engage with a business that understands their needs and values.
5. AI does not know your brand voice.
Every business has a unique brand voice and tone representing its personality and values. Human writers and editors are essential for maintaining and developing a consistent brand voice across all apartment marketing channels. Artificial intelligence tools may be able to write blogs, emails, and website content, but they cannot understand your authentic brand voice. ChatGPT has a lack of context, so AI is not recommended to be used by businesses. The bottom line: ChatGPT does not know your business like you do.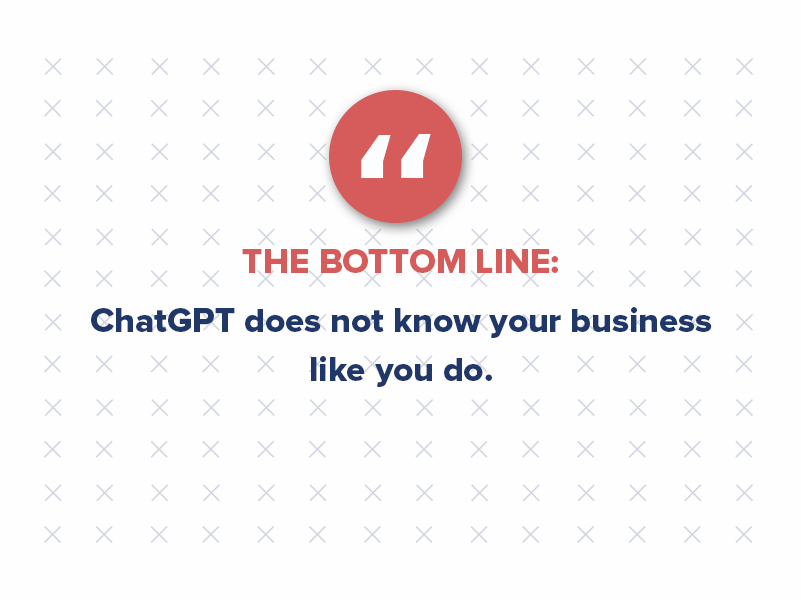 6. AI content has errors.
We are all human (except AI, ha!) and make mistakes. But when you rely on an AI writing tool to generate content for you, you expect it to be nearly flawless. Or, at the very least, free from major errors.
I've been testing ChatGPT and other writing tools like Jasper.ai for several months and discovered the content is riddled with errors. Everything from run-on sentences and passive writing to missing punctuation and duplicate content.
Consider the below example. Jasper.ai generated the first paragraph and includes a variety of grammatical errors. While these errors are insignificant, they are still errors that would not be there had human-generated content. Then, compare the "After" paragraph, which is the same AI-generated content that was then edited by me (an actual human editor). Notice the difference in the paragraph's flow, clarity, and readability.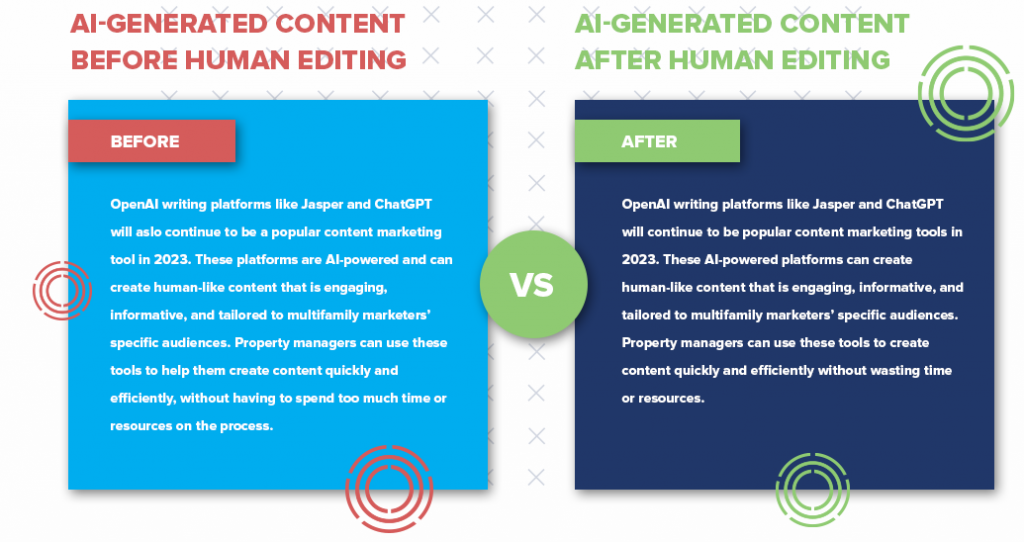 Although Google doesn't penalize grammar and spelling outright, the bots that scan your content may find it harder to understand what the page or article is about, which could result in lower page rankings and perceived credibility.
7. AI content is not guaranteed to rank well.
Fun fact: Google doesn't love AI-generated content. Google did release its own AI writing tool, Bard, so the space may change in the coming months and years, but for now, Google can sniff out AI content a mile away.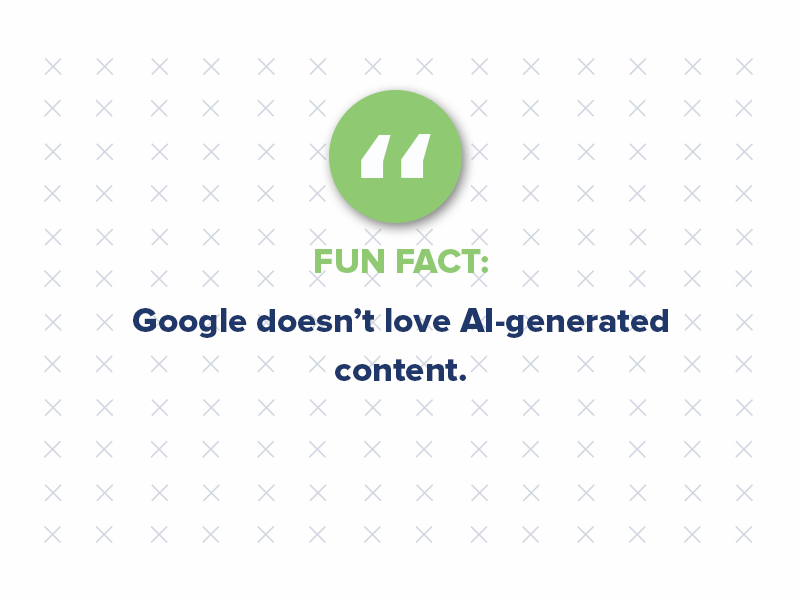 And did you know that Google punishes AI-generated content? That means anything a chatbot spits out will NOT boost your apartment SEO ranking. In fact, it'll actually hurt it.
How will AI affect search?
Quality still matters over quantity. Just because ChatGPT can help you crank out more content does not mean you will rank well for those pieces. You need an SEO expert to help you rank and strategize effectively.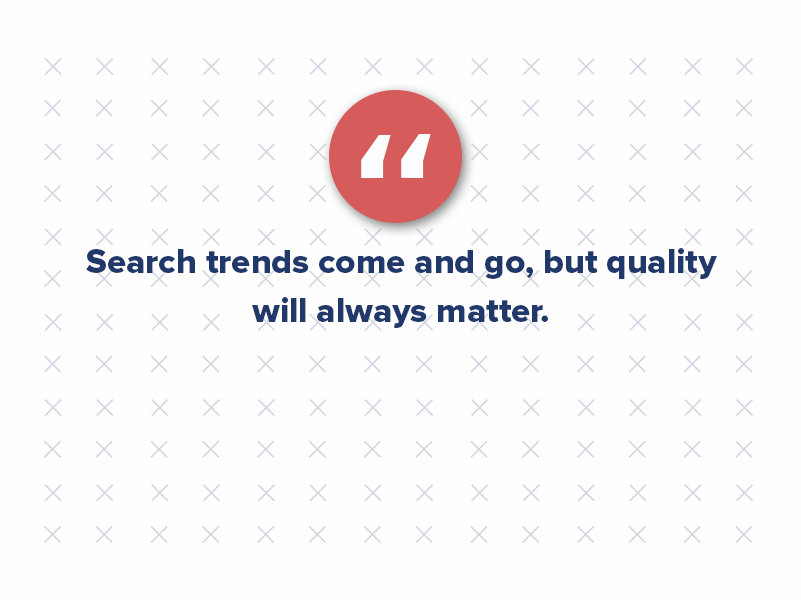 ChatGPT content lacks EEAT (expertise, experience, authoritativeness, and trust). You need this in your content to do well in Google search engine result pages (SERP).
Google provides users with TONS of answers to their queries based on SEO strategies, keywords, backlinks, etc.
A chatbot provides one singular answer. Just one answer. How does the chatbot know the ONE answer to that query? Is bias involved? What if they pulled inaccurate information for the answer? Consider these questions when using ChatGPT, Jasper.ai, Bard, and other tools to help generate answers to your queries and content for your blog.
Will AI replace humans?
No! Remember, ChatGPT requires human editing. Effective apartment marketing requires tapping into the human element, which is something AI can't do (yet). Natural language processing could change this in the years to come, but for now, ChatGPT is more of a stepping-off point for your content.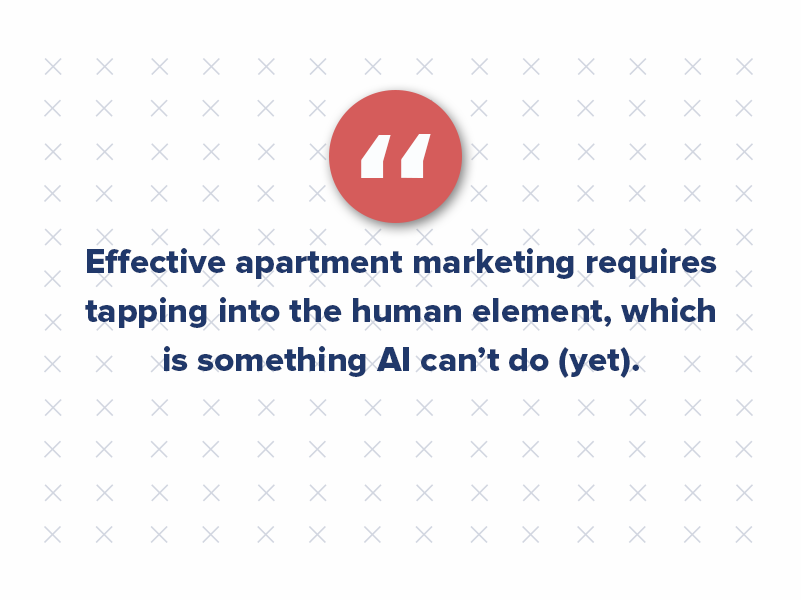 Marketers should harness AI to help batch-create content and save time, then use human editing to refine, hone, and detail the pieces. That's how you create quality content that resonates. The key is to use AI for what it does best and supplement it with strategic human input.
How to beat your competition at the content marketing game.
So … outdated content, factual errors, plagiarism, and no guarantee of good SEO? That's not a great recipe for your digital marketing strategy if you ask me.
ChatGPT is an excellent tool to start the writing process, but it should be viewed as a jumping-off point rather than a complete replacement for human writers.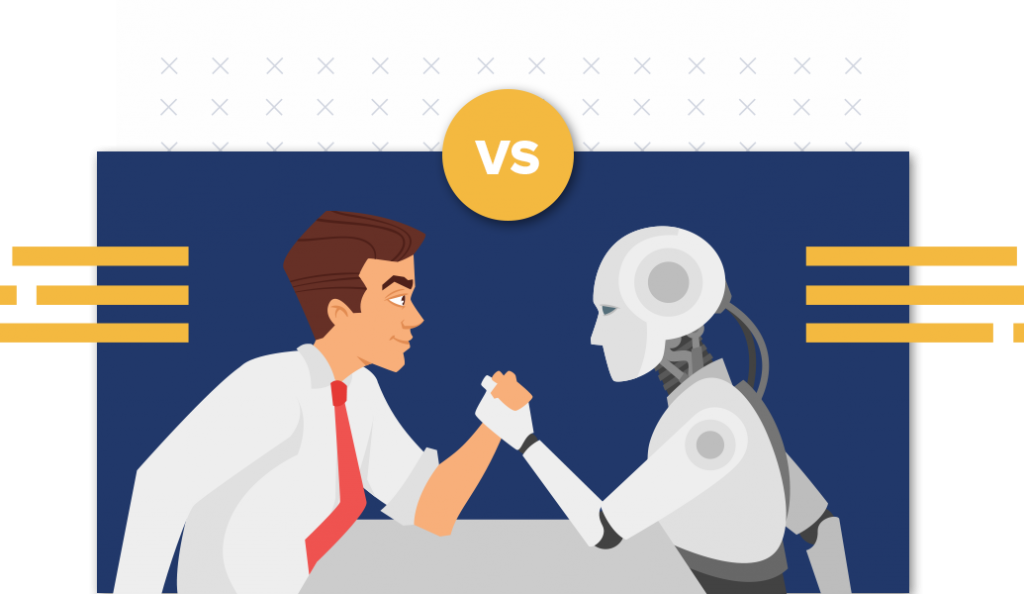 There's no replacement for human ingenuity. Over the next year or so, there will be a BOOM in AI-generated content. ChatGPT has changed everything — and it's made everyone (including your competition) think they can pump out a bunch of content without their audience noticing.
But what happens when Google evaluates that content? It will notice the lack of originality. It will read like a robot wrote it — because a robot did! That's what your competition is going to do. And what's the best way to compete with your competition? Beat them at the content marketing game!
Want to see the effect the human touch can have on your content? Book a call with Criterion.B now. We'll get started on your customized strategy and show you how to BEAT your competition with real-life, human-generated content personalized to your business and audience. We're ready to chat and answer your questions!