How to Convert Apartment Leads Into Leases Using Your CRM
Sales are all about converting apartment leads into residents. And a CRM (customer relationship management) system can be an invaluable tool for making that happen for your property. 
You can improve your chances of converting leads into leases by tracking apartment leads and resident interactions. Key features to look for in a CRM include apartment lead management, multifamily email marketing automation, and contact management.

Apartment lead management is important for monitoring prospects and keeping track of their progress. Multifamily email marketing automation can help you nurture leads with automated email campaigns. And contact management can help you keep track of resident interactions and follow up with them effectively.
When it comes to multifamily marketing, these CRM features can be extremely helpful in booking more property tours. By using a CRM system, you can better manage your apartment leads, automate your email multifamily marketing, and keep track of resident interactions. This will all lead to more sales and a higher conversion rate.
That being said, not all CRMs are created equal. Some CRM features are more helpful than others when it comes to conversions.
Here is a closer look at what our team views as the most important CRM features for conversions (and what we use every day in our multifamily marketing efforts!):
1. Customizable lead capture forms
A good CRM will allow you to create custom lead capture forms that fit your needs. This is important because you want to ensure you're capturing all the information you need from potential customers to follow up with them effectively.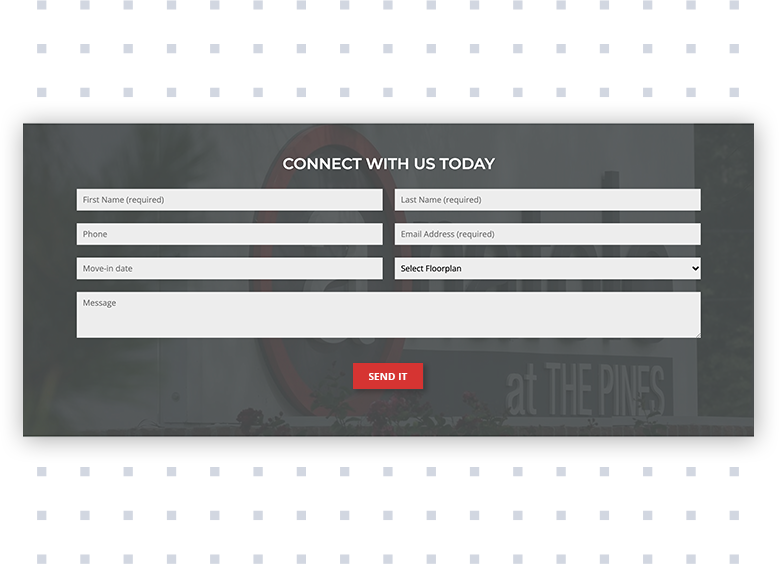 Custom lead capture forms are online forms that allow you to gather leads for your multifamily property. By collecting contact information and other key data points, you can nurture leads through the sales process and ultimately convert them into residents.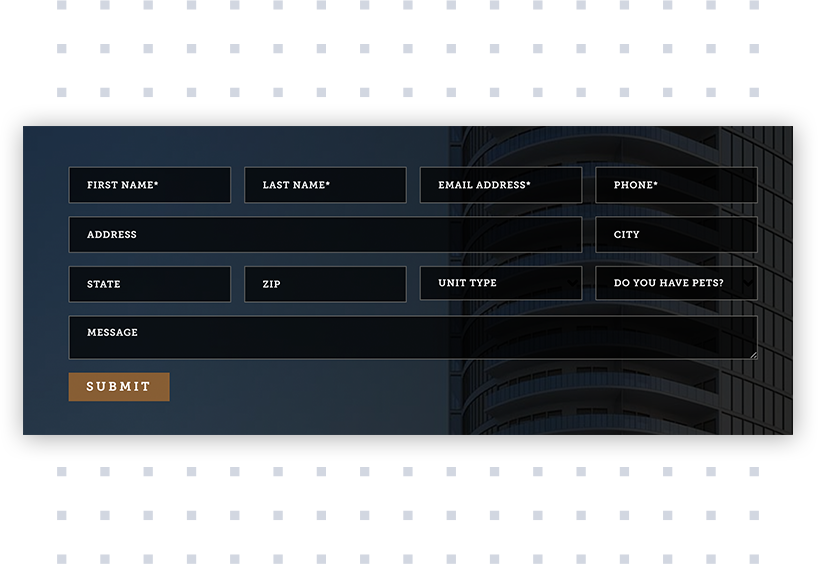 There are several features that can be included on custom lead capture forms, but some of the most important for conversions include the following:
Property type: By asking leads what type of multifamily property they're interested in (e.g., apartments, townhomes, etc.), you can ensure that you're marketing to the right audience.
Budget: Collecting budget information helps you qualify leads and determine whether they can afford your multifamily property.
Location: Knowing where your apartment leads are interested in living helps you target your multifamily marketing efforts and ensure that you provide relevant information.
Contact information: To follow up with leads, you'll need to collect their contact information (e.g., email address, phone number, etc.).
By including these key data points on your custom lead capture form, you can increase the likelihood of conversion by ensuring that you're marketing to the right audience and providing relevant information.
2. Lead scoring and grading
A lead scoring system will help you determine the most promising leads, so you can focus your energy on converting them. This is important because it allows you to prioritize your time and resources and increase your chances of making a sale.
If you have access or interest, marketing automation software offers lead scoring to qualify your apartment leads. Lead scoring involves tracking any lead in your CRM across your multifamily website. With lead scoring, you can ascribe value to different blogs or page views, offers or email interactions. When a lead reaches a certain score, decided on by your team, they become sales qualified.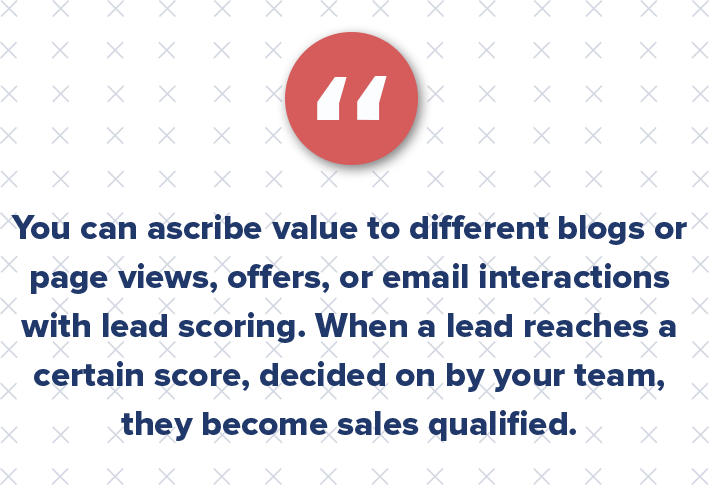 3. Automated follow-up
Automated follow-up is one of the most valuable features a CRM can offer. Once an apartment lead has been captured, it's important to follow up with them as quickly as possible. An automated follow-up system will ensure no potential sale slips through the cracks. It allows you to set up automatic email or phone reminders to follow up with apartment leads, so you never miss an opportunity to convert them.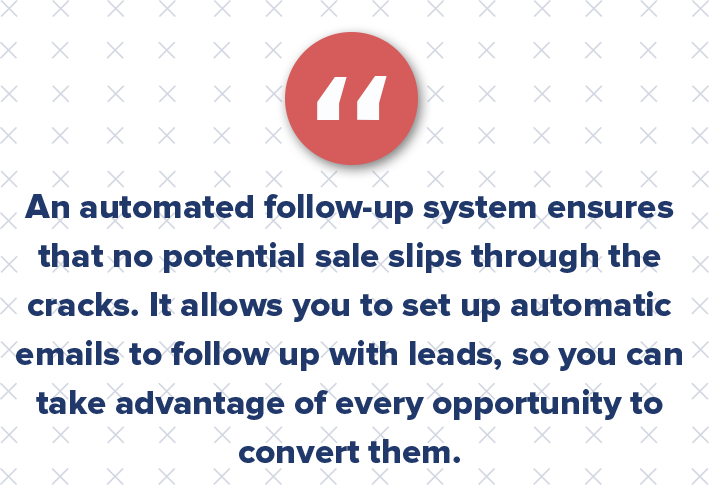 For example, you will want to set up automated follow-up emails for anyone who fills out a form on your multifamily website to book a tour, contact your leasing team, or if they download any of your free resources.
Don't forget to use personalization tokens in the body copy of your email to ensure your message is catered to the specific resident. However, be cautious with personalizing your subject lines, as recent studies found that emails with personalized subject lines get lower open rates (18.79%) than those with generic ones (22.14%). Further, the personalized subject line click-through rate was 1.74% versus 2.74%.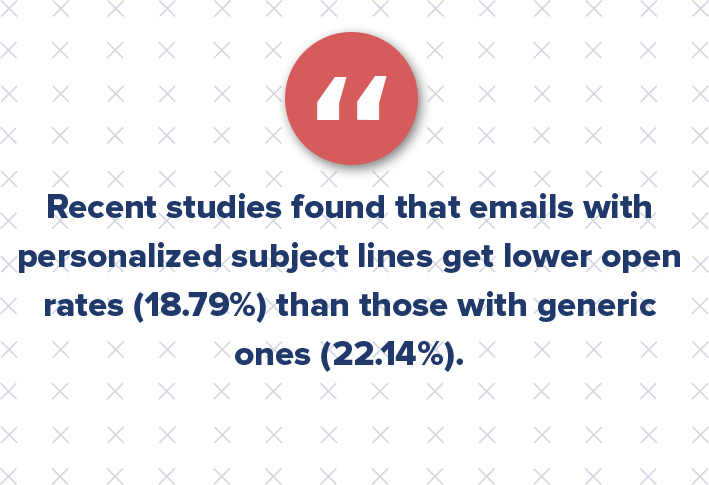 4. Detailed customer profiles (AKA get to know your prospects)
The more information you have about a resident, the better equipped you are to provide them with what they need and want. A detailed resident profile will include contact information to lease history and interests. 
This profile can also help you refine your resident buyer persona. Potential residents should never be looked at as an entry in a database or a contact in a CRM. Multifamily marketing messaging is meant to connect and provide powerful content that is useful and relevant to their problems. All the while, it's helping transform your properties through real and honest data.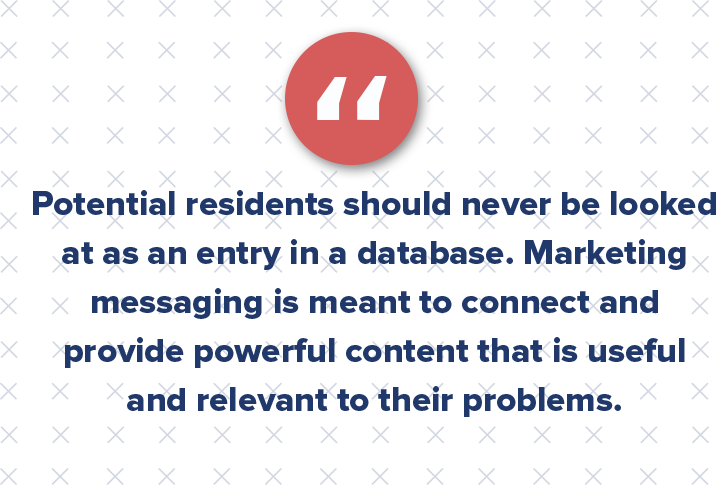 What renters perceive is reality to them, which is why it is important to ensure your residents feel comfortable and welcome at your property. This requires properties to anticipate the needs of community members, and the best way to do that is to get to know them.
Qualifying your apartment leads to increase conversions
Just because a lead is sales-qualified does not mean they are a good fit. As a multifamily marketer, you'll likely never know if a lead meets sales' needs. That requires sales to engage with the lead first. Instead, it's imperative to use lead qualification methods to ensure your apartment leads are qualified from a multifamily marketing perspective and ease sales jobs on the rest. 
With the right CRM tool and marketing automation software, you can more easily determine who your hot leads are and take action, so no sales fall through the cracks. Or, you can use this information to nurture those leads to eventually become leases. Ultimately, with the right tools, you'll be well on achieving your leasing goals.