A recent Bisnow panel brought together some of the brightest minds in Dallas mixed-use development. Despite a broad range of perspectives, panel members agreed that the influx of corporate headquarters and a growing millennial workforce were fast evolving the landscape in Dallas.
Moderated by the Mayor of McKinney Brian Lougmiller, the panel was comprised of:
The Dallas Mixed-Use Development Outlook
With a growing population, the market for Dallas mixed-use development is booming, especially in the suburbs. Master-planned communities like CityLine (Richardson) and Legacy West (Plano), for example, are rapidly changing the face of Dallas' suburban landscape.
"Mixed-use has developed organically — out of need," said Jeff Moloznik of RED Development. "There's a need for retail/office/apartments in these places, and yet one 'use' should never overpower another."
According to the panelists, the success of these master-planned communities requires a delicate balance. In short: You can't force the market. The market will dictate what it wants.
Walt Mountford of KDC also stressed the importance of finding just the right retail-tenant mix. According to Moloznik, one of the biggest shifts in office development has been the sudden interest in the first-floor retail mix.
"Class-A office users are now comfortable with retail, whereas even five years ago they weren't," said Moloznik. "Now, office tenants want to know what kind of retail mix you're going to offer them. As a result, it's become a differentiation point in office leasing today."
Intrigue in the retail mix has inspired the design of RED Development's latest project, The Union Dallas. The project will combine Class-A office space with 300 multifamily units and 85,000 square feet of retail.
With both urban and suburban development, panelists indicated the same challenges in financing.
"Developing for suburban is just as hard as urban," said Moloznik. "There's no such thing as a mixed-use lender."
Frank Mihalopoulos, Founder of Corinth Properties, explained that segmenting the project (e.g., by office, retail, multifamily) is the most common solution to financing. Networking, he said, has quickly become the single most important aspect.
The Millennial Boom
When asked about the future of Dallas mixed-use development, the discussion turned to a fast-growing millennial workforce:
The future? Youth — the population of young professionals in this community. The impact they're having on the economy and on development is incredible. It's a testament to the health of this city.     — Jeff Moloznik, RED Development
Walt Mountford of KDC talked specifically to the trends he's seeing in corporate mixed use. KDC is currently overseeing the development of CityLine and Legacy West, which will be home to the new Toyota North American and FedEx Office corporate headquarters.
"In less than 10 years, 80 percent of the workforce will be millennials," said Mountford. "They have vastly different values and lifestyles, which is why corporate America is investing millions in these lifestyle-based corporate centers. Because ultimately, these companies are going to have to win the favor of the millennial workforce."
According to Mountford, corporate campuses are looking for that "third space" — one that's pedestrian-friendly, Wi-Fi connected, and well-equipped for the mobile millennial lifestyle.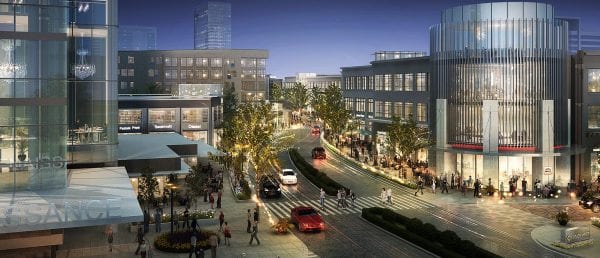 Corporations are developing their own self-contained communities, which include pharmacies, fitness facilities, and retail-esque dining commons. Additionally, walkability is essential, stressed Mountford.
"On the employer's side, you have to create a sense of place," added David Craig, CEO of Craig Ranch.
Looking into the future, panelists agreed that corporate offices will be a great driver of mixed-use development with millennials at the forefront.
Words of Warning
Is the boom in Dallas mixed-use too good to be true? Not for the time being, however, a few cautionary words were issued by panelists.
Education systems need to be a focus going forward, said Mihalopoulos, if Dallas hopes to continue attracting the families who are following the corporate headquarters. Expansion of the DART is also going to be essential to the future health of Dallas mixed-use development. Mass transit will serve as the lifeline for these master-planned suburban communities.
These factors will be important for the city and its developers to keep in mind in the months ahead.