Last week, we joined professionals from the Apartment Association of Greater Dallas (AAGD) and the Apartment Association of Tarrant County (AATC) at the 2015 State of the Multifamily Industry Luncheon at The Westin Galleria Dallas. We are happy to report, according to Ryan Davis, Advisor at Witten Advisors, that the state of the multifamily industry in DFW is promising.
Dallas Expansion Overview
Dallas is one city that has seen significant expansion in a short stint of time. We have welcomed many corporate headquarters, commercial real estate buildings, and multifamily housing. The expansion in downtown, uptown and Deep Ellum alone is enough to attract one's attention. It seems as though every time you look around, there is new construction and an influx of new faces to add to the DFW melting pot. Here are the facts that Davis provided during his presentation to prove it!
State of the Multifamily Industry: The Facts
Dallas-Fort Worth ranked number 4 (+100,200) in largest job gains in 2014.
Middle-income jobs account for the majority of jobs being added to the market.
Vacancy levels were low in 2014.
Rents remain affordable. According to the US average, Dallas and Fort Worth fall below the national average.
Wages remain flat, up only 1.7% over the past year.
The young adult population is increasing in DFW, so make sure you're adapting your marketing efforts toward millennials.
DFW employment growth rate, 3.6%, currently exceeds the U.S. average, 2%.
Dallas Employment Growth Percentage above U.S. Average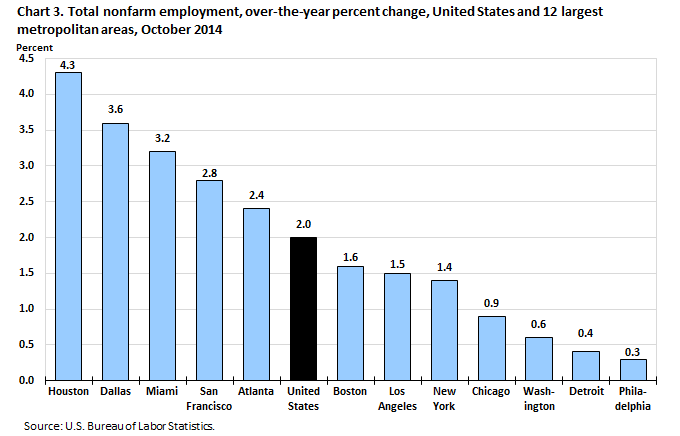 Keep an Eye Out on This
During his speech, Davis warned that construction costs in 2015 will continue to grow, which could result in overbuilding and unfinished projects. However, there has been speculation throughout the multifamily industry that with the fall in gas prices, construction costs could become more bearable because job cuts in the oil industry will bring workers back to their construction jobs.
What Are You Trying to Say?
More jobs + slight wage growth + influx of young adults in the city + demand for multifamily housing = We may see "a little softening in 2016…" but "…this run should continue for the next several years," according to Davis.