Brand identity is one of the most valuable assets of any business. On the surface, brand identity consists of the name, tagline, logo, typeface, and color palette. But there is more to your brand than these physical traits.
In fact, all forms of messaging run central to your brand and should reflect the value and perception that your company is trying to bring to the market. A brand needs to be carefully crafted to represent your business authentically.
Why Is a Brand Refresh Important?
Think about some of the best brand identities in the market. What names come to mind?
According to Interbrands Best Global Brands 2017, the Top 10 Global Brands are Apple, Google, Microsoft, Coca-Cola, Amazon, Samsung, Toyota, Facebook, Mercedes, and IBM.
These iconic brands, with their well-established identities and household awareness, did not start out that way. Over time, these companies have painstakingly built up their brand identity.
Customer needs are constantly changing, especially in the multifamily property industry as Gen Z renters enter the buyer's market. As such, your business and its brand identity should be flexible to meet the needs of customers, both new and old. And as your business grows and adapts to the ever-changing market, so too should your brand reflect fresh and up-to-date messaging, imagery, website presence, and social media all with a clear vision.
Auditing and Assessing Your Brand
As you consider a brand refresh, the first step is to begin by auditing and assessing your brand and marketing materials. Do they speak directly to the customers you want to reach? Is your key message accurately reflected? Do they represent the lifestyle potential renters can expect?
When auditing for a refresh, it is important to note that your brand does not need to be scrapped. In fact, there are likely many key parts that are valuable enough to retain and refine — such as your name, services, or product lines.
There is a lengthy list of materials to consider when auditing and assessing your brand, from printed collateral and digital content to mission and vision statements. Consider the following for a full evaluation:
Mission

Vision

Value Proposition

Competitive Analysis

Collateral

Whitepapers

Case Studies

Reports

Internal & External Documents

Signage

Digital

Website

Social Media

Display or Remarketing Ads
Keeping the brand message aligned with your core values and mission helps the audience gain a true understanding of your business. One of the most important aspects of auditing and assessing your brand is keeping your message authentic. This helps build trust, optimism, and clarity, and is integral to long-term success.
Reinvent, Refresh, Reassess: Case Study
Criterion.B was challenged to reinvent the original ResMan brand into a more sophisticated, trustworthy, and competitive marketplace option. We approached the project with a very thorough "Discovery and Interview" process of key stakeholders to fully understand the changing vision and products for ResMan. Next, we analyzed company insights and growth goals to make sure that the brand updates aligned with their business objectives. Finally, we reviewed the competitive landscape and helped ResMan further define its brand position in the marketplace.
Criterion.B was tasked with embracing the young technology company culture while highlighting a more approachable competitive edge. Thus, we created a vibrant logo, brand guide, new website, and ongoing content strategy. The end goal was a modern brand that still offered a sense of familiarity for the multifamily industry. We updated the original logo character into a stronger icon that promotes ResMan's dynamic personality.
The end result? Traffic to the ResMan website spiked 268% year over year.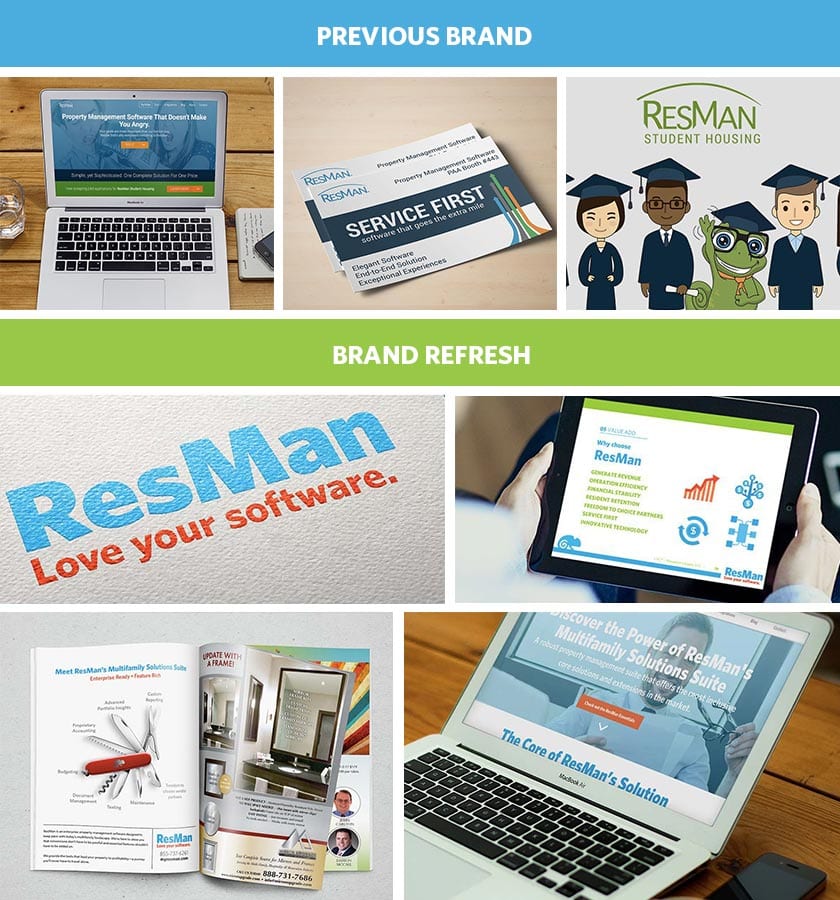 A brand refresh is not taken lightly by the Criterion.B team. As part of the auditing and assessment process, we interview key stakeholders both inside and outside our clients' businesses. These interviews help us obtain a 360-degree view of the business. We then identify key opportunities with the content, visual language, and business goals to make smart and measurable recommendations.