Gone are the days of a "set-it and forget-it" website. To truly engage your audience you need to know how to write a blog that speaks to them. Business blogging is not just a trendy thing to do, it actually is good for your bottom line.
Consider the following statistics:
81% of consumers trust advice and information that they read in blogs.

Nearly 96% of bloggers promote their service business blog posts via social media.

57% of marketers say they've gained customers specifically through business blogging.

Companies who blog receive 97% more links to their website.

Using images in blog posts gets 94% more views.
In a world where digital consumption is king, there is only one way to fight the battle against your competitors — business blogging and distributing your content for all the world to see.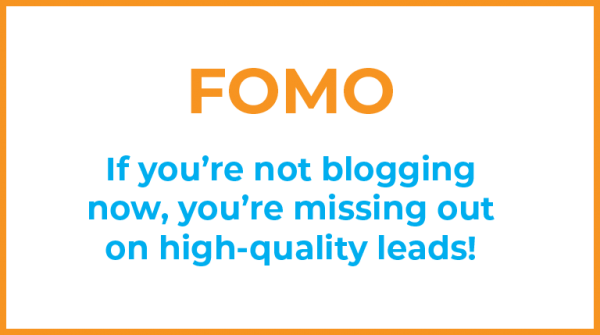 Below, our experienced team of content writers at our multifamily branding agency compiled all of our best business blogging tips for writing and distributing a service business blog.
1. Select your platform
Prior to starting your blog, you must first decide which business blogging platform you would like to use. Some free options include WordPress, Blogger, and Tumblr. However, if you do not care for any of these, you can always search for other business blogging platforms via Google. If you are a business, you should consider hosting a blog within your website in addition to an outside blog site. Through your external blog, you can create inbound links that drive traffic to your company's website and in turn, means free advertising!

2. Decide on a web design theme
The next is choosing a web design theme for your business blog. Some bloggers like to talk about the industry, others focus on common problems that clients have. One great way to write about solutions to the problems that your customers have is to predict the questions your prospects are Googling.
If you already have your buyer persona built, predicting your customer's questions and pain points will be a cinch! If not, refer back to some of our previous blogs for simple steps on how to accomplish this.
3. Pick your design template
Now that you have your theme, it's time to think about the layout and color scheme of your website. Do you want it to be clean? Simple? Elegant? Fun? Creative? Whatever you choose keep your readers in mind, and make sure that there is a synergy between your design and web theme.
If you operate in the multifamily industry and want a beautiful, affordable, and easy-to-implement web theme, be sure to check out our sister company Swifty!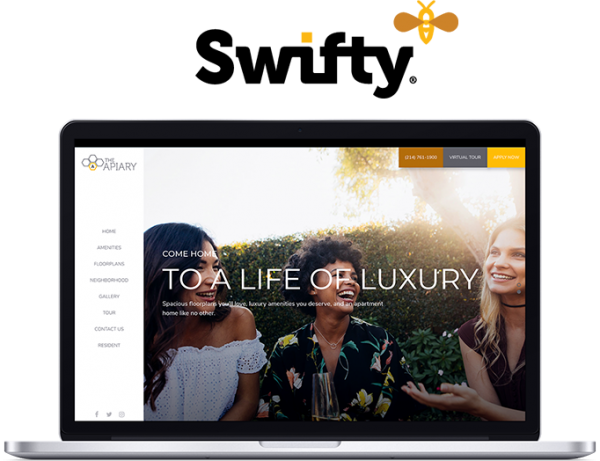 4. Create a content calendar
Once all of this preparation is complete, it's time to create an editorial calendar. You'll want to begin by mapping out at least 3 to 6 months at a time. Then, make notes on the calendar for each day you want to post content.
Most importantly, stick to the calendar! Make sure that you create an editorial calendar that is reasonable for your schedule. Do not overwhelm yourself — it will be hard to stick to your goals if you over-commit and in turn will discourage you from writing future content.
However, you should challenge yourself — don't schedule just one service business blog a month. Once you get into the groove, you will see that you can post more often and the boost in SEO, engagement, and traffic will make it worthwhile.

That being said, your business will struggle if you don't have a system in place to attract the right kind of audience with the right content at the right time. Your goal is to nurture and convert your audience, not drive them away because you are shelling out the wrong content (and too much of it).
So press pause before pumping out eight articles a day without defining your business goals first. Create a content strategy that will attract your buyer persona and improve their experience.

5. Write away!
Finally, now that you've established your blog site, designed your theme and layout, and developed a content calendar, it's time to put your fingers to the keyboard and write your first business blog.
At first, keep it simple. If you're not sure how to get started, read through a few established competitor blog sites. Get a feel for the voice you want your service business blog to have.
Research your customers' pain points and choose topics that will answer their most pertinent questions. Try to keep in mind what your customers are searching for online so that you can position your organization as a trusted resource.
The length of your blog will depend on your buyer persona and their interests, but we typically recommend a blog post length of at least 1,200 words to get the most out of your SEO strategy. The key for your business is to research your persona and conduct interviews to learn what type and length of content are most valuable.
Interested in more tips for creating a highly optimized blog for your business' SEO? Check out this blog for step-by-step business blogging tips!

How to Distribute Your Blog Content to Reach the Right Audience
Many of our clients ask us about the importance of content marketing and whether they should consider starting a service business blog. Our answer is always a resounding yes.
Not only is consistent content marketing integral for SEO and achieving a higher search ranking, but it's also a great way to position your business as an expert resource to customers.
However, distributing content is more important than writing content. In fact, promoting a blog can often take more time than writing the actual content. This is particularly true for businesses that do not have a corporate team of writers and marketers on hand.
To make the blog worth the time and effort of your team, it's critical to distribute the content effectively and obtain as much use from the blog as possible. For example, a single blog post can be shared on Twitter with a snappy headline, extended to Instagram with an engaging image, and adapted to a shareable infographic.

Below are a few ways you can get the most bang for your blog:
Organic Distribution via Social Media
One of the biggest perks of social media as a marketing channel is the ability to create an engaged, online community of the individuals that build up your target audience.
Social Sharing Buttons

— Allow your website visitors to read your content and share it with their friends. The not-so-savvy internet users, or even the lazy ones, will rarely copy your URL and post it on their social pages, so make it easy for them to share your content.

Business Social Accounts

— Share all of your blogs through your social accounts. Write a one-line teaser that will encourage them to click on the link and include a blog graphic to give your audience a visual representation.

Connections

— Connecting with influencers in your respective industry is important to building a solid blog following. Find people on social media that you know will be interested in your content and reach out to them so they can have easy access to your service business blog.
Email Marketing Distribution
Like your RSS Feed, you should encourage your website visitors to subscribe to your email list. Once you capture those email addresses you can send out monthly newsletters that feature your most relevant blog posts and drive traffic back to your website.
Content Syndication
It's important to build relationships with relevant blogs, brands, or publishers. This ultimately builds your brand and makes your blog awareness a lot higher than others. Asking others to link to your content in return for you linking back to their content gives you a connection that benefits both parties. This strategy is very important because it allows other bloggers to endorse you and build a bigger audience.
Paid Distribution
Paid advertisement distribution on Facebook is fairly simple to use and necessary in today's digital marketing world. Digital marketing gets difficult when organic reach on Facebook decreases, so use paid distribution to your advantage.
Reshare Regularly
Not all of your potential customers are online or on the same social channel at the same time. Additionally, a customer might have read your article the first time and forgot to save it or forward it along to their co-worker. For these reasons, it's essential that you reshare your content regularly across your social media and even in your newsletter.
Include an "In Case You Missed It" section in your newsletter that highlights previous popular blogs. Choose several one-line teasers or important quotes from your article and schedule tweets throughout the month. Adjust the ad set and re-run your Facebook ad to get your content in front of an even broader audience.
Make It Visual
Infographics provide significant value from a content-supporting standpoint. Companies are constantly generating content, but the bulk of it is often heavy and wordy. Focus on utilizing the visual aspect of infographics to break up the content. Pull important statistics and tidbits of information from your in-depth service business blog and build out an enticing infographic that users can easily download and view.
Additionally, pull out some other short quotes or statistics to create an eye-popping graphic that you can share on Instagram and Pinterest. Considering you cannot share links in your Instagram posts, prompting users to click the link in your profile is a great way to promote your service business blog.
Making the Most of Your Business Blogging
Business blogging is no easy task, but with these tips in mind, you are well equipped to make the most of your time and effort by expanding the reach of your content.