When most real estate developments begin to create their marketing strategy, be it for the week, month, quarter, or year, you can imagine that the conversations are more or less the same each time. Namely discussions of ad buys, billboards, large banners, and sales calls. These methodologies can often be inefficient, proving to have little ROI and little reach in meeting business goals.
There's a key reason these methods are inefficient—marketing has changed. For many years, marketing was based on interruption through things like cold calls and advertising. But as society became more digital, from the VHS & DVR allowing people to fast-forward, to programs like AdBlock preventing ads from displaying on websites, these methods have become inefficient. Technology has empowered consumers to take the buyer's journey online, as well as optimizing marketing ROI; therefore, your marketing efforts should be online too.
Building Your Digital Marketing Funnel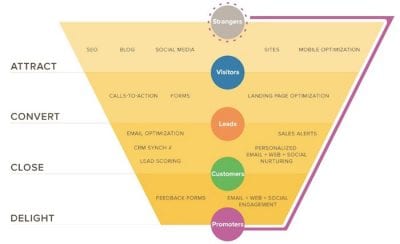 What's the first thing you do when you're looking to buy something? Odds are if you're like most people, you do some research on Google first. This is where marketing begins in the modern age. As everything moves online, the internet has become the source for major information exchange.
Having relevant information on your website isn't enough however. That information needs to be optimized for search engines to read, which attracts visitors. What keywords should you be using? Well, imagine what your typical buyer would be searching. If you're looking to attract people to your blog series on complexes in Dallas, you shouldn't be mentioning attractions in Chicago when you talk about the area. From there, the information needs to be broad enough and address the persona's problem in such a way that drives interest in what you have to say.
The information should exist in the form of a content offer and will be "gated" so that the visitor will complete the relevant information to view or download it. That information turns the visitor into a lead. The lead might then consume more relevant information and provide more sales information to become a Marketing Qualified Lead, and so on. This is called building the marketing funnel, and this funnel ensures that leads are qualified before reaching sales. This methodology also sees leads being pulled in to ask questions and do research, rather than pushed and bombarded by unwanted advertising messages.
Why is this significant? Because not only are you spending less on obtaining these types of leads, but these qualified leads are more likely to convert, minimizing your overall ROI.
Tracking How You're Featured Online
Building the funnel is what you need to do in order to be successful with your real estate marketing. The next issue is making sure that you're presenting this information well. As we stated before, it's not enough to just exist online. Your presence needs to be in tip-top shape!
Why, you ask? Because first impressions are important on the web. People will leave your site within ten seconds if they cannot find the information they're looking for or if they don't feel it is relevant or important. So how do you make sure you're relevant?
Keywords
As we stated before, making sure that you're using accurate keywords that you believe will be searched by your customer is important. You want to be sure to feature these regularly enough that search engines will map your content, but not so much that they'll dock you for keyword stuffing.
Focused Content
Staying relevant with your content—including linking to other trusted sites and keeping your information objective, yet informational—is key to keeping consumers on your site. When a consumer feels like they've stepped into an infomercial on your home page, they're likely to leave as quick as possible. However, if you keep your content focused and informative, from blogs to social media posts, consumers will more likely see you as an authority, and keep coming back.
User Experience Focused Design
People are tempted to go with style over substance when it comes to web design. Websites, contrary to what your boss might believe, should always be designed for the consumer and with their interests in mind. What does that mean? The consumer doesn't want to hear about you. They want to hear about how you're going to solve their problem.
By keeping your content and design consumer friendly, a consumer is more likely to stay on the site. This includes making the site accessible for your user too. Mobile- and tablet-friendly design are here to stay, so make sure your site cooperates.
With these aspects implemented, you can expect both an improved search presence, and a lead ROI that can deliver substantial returns.