A great brand is more than a logo; it's about creating an experience for your consumers. The feel, sound, personality, emotion, and beliefs of your brand all play a part in creating the ultimate brand experience. And a positive experience is difficult to achieve with a stale, outdated brand — especially in the oil and gas industry.
To say the oil and gas industry is large is an understatement. From field service companies to small independent operators to major oil companies, this industry has its own ecosystem of businesses that come in all shapes and sizes.
Therefore, it's critical to have a brand that is recognizable, unique, meaningful, and can stand the test of time. As consumers come to expect certain brand experiences, businesses must rise to the challenge.
While marketing in the oil and gas industry and a strong brand experience are not the answers to all the problems the industry is currently facing, they can greatly increase website traffic and help bring in more qualified new business leads.
Why Is Branding Important for the Oil and Gas Industry?
Slowly but surely, oil and gas companies are discovering the power of branding.
In today's evolving digital world, consumers seek instant gratification, and they expect brands to provide what they are looking for when they need it. Consumers are frequently turning to mobile devices for the answers, searching Google for products, and gathering recommendations from social media.
While many businesses in the industry have been slow to invest time and resources into marketing and branding, as margins continue to squeeze, the benefits of this investment are becoming more obvious.
For example, Dale Operating Company — a privately-held oil and gas company based in Dallas — needed a new online presence to validate their professionalism and authority in the industry. Our team at Criterion.B was tasked with designing a fresh website and handling all development for Dale. To accomplish this, we utilized custom photography and video in addition to an updated design to help portray Dale as friendly, approachable, and professional. Not only was Dale happy with the results, website traffic increased by 50 percent over the course of 12 months after the launch.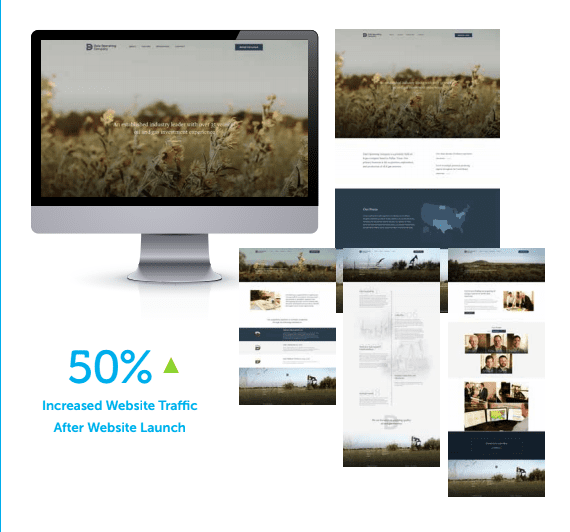 Overcoming Roadblocks With a Brand Refresh
A company rebrand isn't always the easiest option, especially for larger oil and gas companies with a well-established reputation and presence in the market. For many businesses, it's difficult to get upper management to agree to a complete redesign, even if it will enhance the brand experience. If a rebrand is out of the question, we often recommend a brand refresh, which is essentially like a personal makeover.
A brand refresh typically includes taking the company's existing logo, website, and collateral pieces and giving them a new look and feel by updating the visual elements, presentation, and tone.
So, how can this refresh help oil and gas companies? Whether it's a complete rebrand or a simple brand refresh, creating a strong, well-known brand can enhance a company's credibility with customers and in the industry. This can also result in increased customer loyalty, employee retention, and competitiveness — three crucial components for the oil and gas sector.
One of the most significant issues plaguing the oil and gas industry today is that much of the industry is retiring, resulting in an influx of younger employees. According to recent studies, up to 50 percent of skilled workers could retire from the industry within the next five to seven years. This talent shift is creating an age gap that makes it difficult for the company and its existing employees to adjust and adapt to a changing workforce.
While benefits and positive company culture are the top priorities for most new hires, a strong brand presence shows prospects and current employees that your business is credible and in the industry for the long haul. Just like customers want to purchase products or services from companies they like and know, people want to work for companies they can trust. Additionally, with a younger generation entering the workforce, staying relevant in a transforming industry is critical.
Stay tuned to our blog for specific marketing tips for oil and gas companies and to learn about the benefits of working with a marketing agency!