In anticipation of the Multifamily Social Media Summit, we caught up with a few conference-goers to paint a picture of the social media landscape in 2016.
Throughout the past year, we've seen big data become more accessible and analytics sharper. Top social networks like Instagram opened their doors to advertisers, while Millennial-powered platforms like Snapchat continued to redefine social communication and brand storytelling.
With the onslaught of new social networks, marketers in multifamily are constantly adding new tools and tactics to the marketing mix. Therefore, we will take an aerial view to examine where social media sits within a broader marketing strategy.
1. Social Media Is Only One Piece of the Marketing Pie
If you're on social media to "have a presence," then quite frankly, you're missing the point. While on its own, social media is a great forum for engagement, an effective strategy is always part of a broader marketing masterplan.
For development/management companies like Continental Properties and Cardinal Group, those marketing goals are focused on attracting and maintaining residents. Social media allows their teams to meet residents where they are and guide prospects through the sales funnel. Continental Properties uses social media to "augment their web footprint," said Continental's Marketing Project Specialist Prince Solomon.
Social media gives us a very flexible and living way to develop our brand. It allows us to develop relationships with our prospects, maybe before they even walk in the door, and always pushes them to our website (which contains certain vital and somewhat static information to help us close the deal).
2. Don't Underestimate the Value of Social Listening
Michael Huereque, Director of Marketing at Cardinal Group, further commented on the value of social listening. The two-way nature of social media provides unprecedented access to the target audience — both current and prospective residents.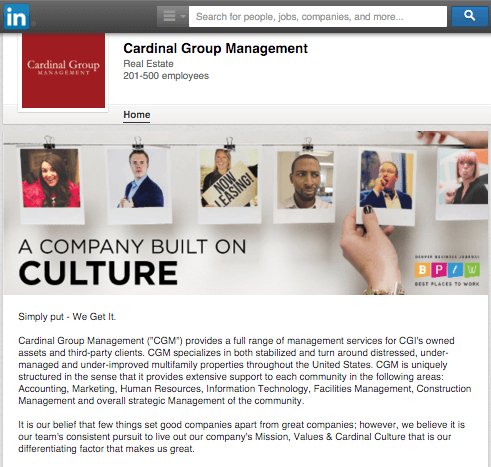 "This is the first time in the history of marketing that a business can be completely conversational with its audience," said Huereque. "Imagine how valuable billboards would be if they could actively respond to questions from inquisitive prospects."
From social media, Huereque gathers key demographic insights to inform a multifaceted marketing mix — one that integrates social media with SEM and the website journey.
Start with your business goals, which is the quickest way to be effective on social media.
"Whether the goal is to reduce resident turnover, increase brand awareness, or establish thought-leadership, the process has to start with clear goals from which you can set measurable benchmarks or KPIs," said Kerie Kerstetter, Director of Content Strategy at Criterion.B. "With this approach, social media allows us to do more than engage. Rather, we can build relationships with a purpose."
3. Content Is Becoming More Interactive
With goals and objectives in mind, we can focus on the intent behind each social media post: What's the message? What kind of action or emotion are we trying to elicit from our target audience?
It's one thing to outline your social media strategy. It's another thing to create social media content that resonates.
In today's cluttered world, the creation of scroll-stopping content is both an art and a science, said Kerie Kerstetter:
Compelling content may take the form of an interesting photo, a well-written blog title, or a stop-motion video. Sometime it requires us to zoom out (literally) and consider how a design might play across an Instagram feed or how a video inspires a call-to-action.
As marketers continue to think outside of the box, it's important to establish a consistent brand across all platforms.
"The user experience should be the same, no matter how the resident interacts with us," said Solomon. "We develop the brand online and affirm the brand when residents personally interact with us and see our communities."
Engagement from your audience is a great way to gauge the strength of your content. Further, it can guide your audience down whatever awareness or sales funnel you've tactfully developed. And once you've identified your strongest content, a few advertising dollars can go a long way.
4. Social Media Ad Dollars Are Stretching Far and Wide
Once we've established the role of social media in our customer's journey, we can begin to leverage content to reach a wider audience. Social media advertising can be a relatively cost-effective method for amplifying your reach.
"When everyone jumps onto the Google PPC bandwagon, we might miss new technologies that provide alternate solutions," said Huereque. "Facebook, for example, is a fraction of the cost for referring web traffic."
While it may be a smaller subset of the population, it has no bearing on the lead quality of the clicks. And yet, an effective social advertising campaign still requires just as much time and testing as traditional PPC.
"It's a rather tedious game of A-B testing," said Kerstetter. "Yet, when you strike gold, you can cover a lot of ground at a very low CPC (cost per click)."
Depending on the ad format, testing different versions of the same ad can reveal a clear winner. "Striking gold" can be the difference of anything from photo selection to comma placement.
While Facebook's advertising platform allows for the most granular targeting, Huereque encourages marketers to take calculated risks across platforms:
Have you tested an Instagram campaign yet? How about piloting a YouTube ad? I guarantee someone in your competitive set already has. The solution, for me, is continuous research and actively testing new platforms.
We look forward to diving deeper into these topics throughout the next few days.