We have said it before, and we will say it again: There is more to a multifamily brand than just a logo or company motto.
Your brand is both tangible and intangible. It's a way for residents to connect and engage with your community and differentiate you from competitors. Your identity and how residents perceive your brand are among the driving forces behind a resident's decision to lease.
In fact, nearly 60 percent of people prefer to purchase products from well-known companies, and 21 percent contend they bought a product because it was from a business they like and trust.
To create consumer loyalty, strive to be a community and not just a property. So, how do you turn your multifamily brand into a high-performing asset with loyal residents?
Why Does Your Multifamily Brand Exist?
First, determine your purpose and examine how your identity affects your business — internally and externally. Much of your success hinges on consistency, hard work, and a long-term strategy.
Keeping your message aligned with your mission and core values helps your residents gain a true understanding of your property. This helps build trust, optimism, clarity, and is integral to long-term success. However, to keep your message authentic, it's important to understand why your company exists. Who is your target audience? What difference are you trying to make for them? A purpose-driven message should be the foundation upon which your multifamily brand is built.
Making money is obviously an important goal for any business, but the companies who place more importance on service and community — rather than profitability — are the ones who foster the strongest resident experience.
Positive resident experience is one of the five development trends in property management this year, said Dan Doyle, SVP of Development at The Beach Company. "In order to attract and retain customers, multifamily companies need to recommit their focus toward delivering a fantastic living experience for their residents, both offline and online," he told Multi-Housing News.
For example, Chick-Fil-A emphasizes that the company is about more than its delicious breaded chicken sandwiches. The fast-food giant upholds strong family and Christian values and has a corporate commitment to putting the happiness of customers and employees before profits. In 1946, Founder Truett Cathy decided to close the restaurant on Sundays to allow employees to rest or worship if they choose — a practice Chick-Fil-A still upholds today.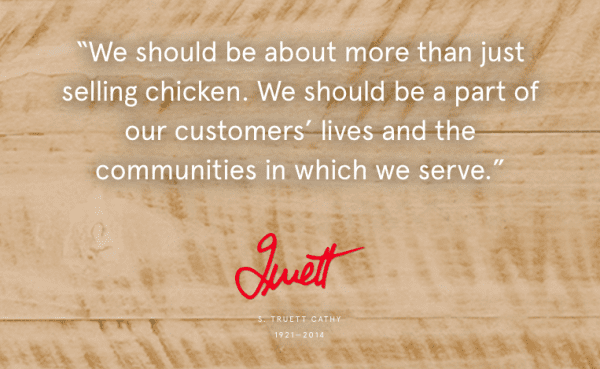 Chick-Fil-A's approach is appealing to many customers because it demonstrates the business' commitment to the communities in which it serves and to providing value beyond the point of sale.
Aligning Business Goals With Your Strategy
Before you can turn your multifamily brand into a high-performing asset, you must first set clearly defined business goals. They should be attainable, measurable, and focused on the big picture.
Do you want to position yourself as an innovative leader? Are you trying to attract more millennial residents? Do you want to increase one-bedroom lease-ups by 10% each year? These goals should give your multifamily brand direction for growth.
For example, if you want to attract more medium- to high-income millennial residents, your strategy would include a sleek and young design, a high emphasis on engaging with prospects via social media, and promoting your property's luxury amenities like spacious fitness centers and roof deck terraces.
Integrate Your Brand Into Everything You Do
The key to any successful multifamily brand is consistency, both internally and externally. In other words, you should integrate your messaging and vision into every aspect of the business. It should be visible and reflected in everything your customers and employees see, hear, or read.

If a resident walks into your property, your logo should be on display and leasing agents should interact with residents with your core values in mind. On your property website, make sure to incorporate your unique voice, personality, and messaging into the content.

As your property grows, your target audience will change and it's important to evolve in unison. Maintaining relevant, consistent messaging takes time, resources, and commitment. Your multifamily brand is an investment, and we'd love to help you maximize it.