We're here to tell you that you can't run, and you can't hide. Social media is here, and it's not just the millennials swearing by it — baby boomers, marketers, and more are using it.
A whopping 84 percent of B2B marketers use social media in some form, and 59 percent of marketers spend 6 hours or more on social media a week. Social media presents many opportunities for apartment marketing and we're here to explain how.
Be a Resource — Share Helpful Content
One of the first things to realize about social media is that it's not a microphone for self-promotion. While there's a time for that, interruptive promotion isn't effective. Rather, use social media as an opportunity to be a resource, a thought-leader, or a value-add for your audience.
We've mentioned before that social media is like a cocktail party. In other words, 20 percent of the conversation should focus on you while the other 80 percent should be about who you're talking to. Share articles, recipes, local events, restaurant openings, and quick reminders with your residents and they'll start coming back for more.
Resident Retention — Connect and Delight
Retaining current residents is often the best approach to fillings units. Your leasing team will thank you after adding extra ammo for retention, and social media is a great way to do it. When residents feel connected to an apartment community they have more motivation to renew.
Think of social media as an opportunity to delight these residents by sharing great happy hour specials, the top dog parks nearby, or community events like 5Ks, wine walks, or trivia nights. Fostering resident relationships ultimately translates into retention, so put their needs in the spotlight and you might be rewarded with their loyalty.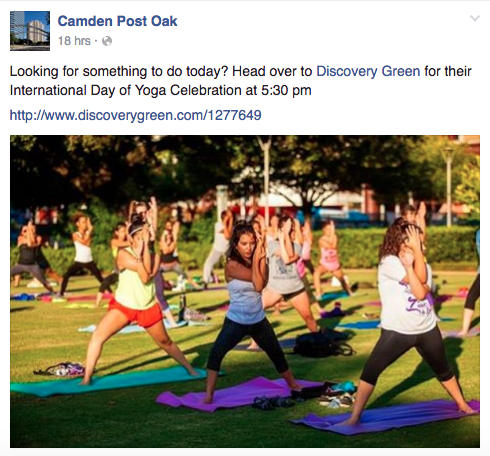 Community Engagement — Be Proactive
What's going on in your neighborhood? Are there any upcoming events that you can pass along to your residents — festivals, charity events, new restaurants opening? Reach out to the surrounding community to start building relationships with local businesses. It can be a symbiotic relationship for future events, promotions, or partnerships.
Partner with local farmers markets, restaurants, movie theaters, or fitness studios in order to arrange special discounts for your residents; this also provides great content for sharing on Facebook and Twitter.
Online Reviews — Listen and Learn
Renters are looking and residents are talking about you online. Online reviews can be a scary thing for property managers; an open source of commentary about your property. However, observation is a great source for marketing insight. Encourage Yelp reviews regularly, rather than waiting for an angry resident to speak up.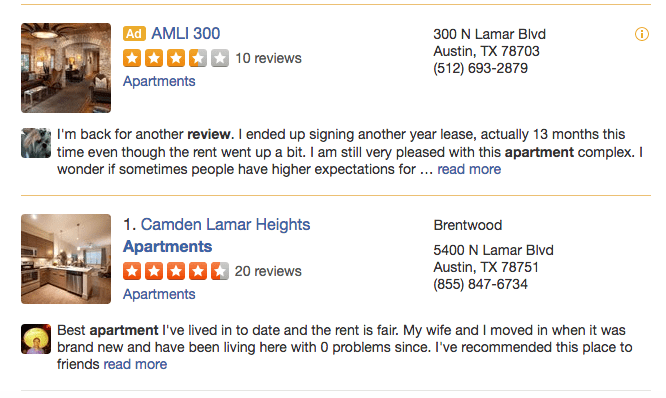 Filter through the delighted and disgruntled residents with an eye for improvement. If residents love the appreciation weeks, valet trash service, or prompt maintenance staff, then make these priorities to keep fresh and consistent each quarter. But what about the dreaded complaints? For instance, prove your security is tighter than a review from 6 years ago indicates. Over-promote things like your secure and gated community, police patrols, or neighborhood watch meetings to ensure the negatives are perceived as positives.
Customer Service — Monitor and Respond
Another way to leverage social media and improve resident happiness is quick, consistent customer service. What are people saying about your property online? Banter with the good. Address the bad. Think of any negative comment as an opportunity for a good impression and make sure to address it promptly.
Residents will notice the presence of property managers on Facebook pages or resident portals as a sign that they actually care about the issues. Trust us, no response is worse than leaving a negative comment unanswered. But of course they're not all bad; if someone comments on having a blast at the last community event, reply to those too!
Lead Generator — Attract the Renters
Surprising to some, social media can actually act as a lead generator. As mentioned above, renters are typically looking for an apartment with an active community, great customer service, and positive reviews. Social media can turn someone from the consideration to decision stage by simply providing answers to their questions.
Promote your blog content on social media and drive users to your website. From here, an inbound marketing function can start to take place driving leads into the sales funnel. Social media is a perfect avenue to first get in front of potential residents. Don't miss the opportunity!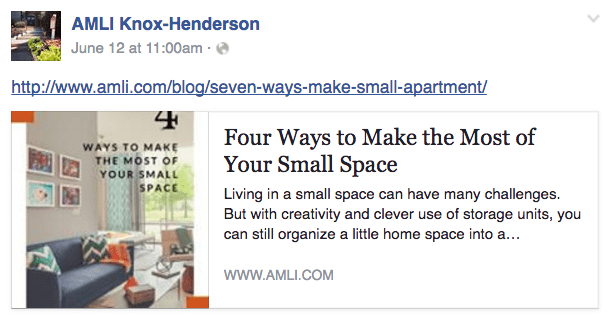 Social Advertising — Target Your Audience
Once you've amplified your social strategy, boost your blog content, social promotions, or apartment ads to the right audience. Facebook advertising offers detailed targeting capabilities to get in front of a specific group. Boosting content through social media advertising increases your reach, impressions, and engagement.