Today's marketing has evolved from interruptive tactics to a customer-oriented approach called inbound marketing. This route empowers your customer to be equipped with all the information they may need to make a decision, without feeling like they're being "sold to" from the first interaction. In the commercial real estate world, everything from leasing an apartment to occupying office space needs a marketing tactic that relies on warm leads, not cold calls or expensive billboards.
When evaluating whether inbound marketing is right for your business, there are a few things to understand first.
Time Is An Investment
The hardest thing for clients to wrap their heads around is the time it takes to get an inbound campaign in full swing. While everyone is looking for instant gratification for their marketing ROI, we like to remind our clients that time is an investment. We make sure to set expectations early on that inbound marketing isn't a quick fix, but rather a long term solution.
Let's say a multifamily property is looking to create buzz during lease-up for 3 months. A full-funnel inbound approach may not be ideal for this short-term need — a social media marketing strategy may be a better fit for this quick fix. However, if they're looking to maintain a marketing strategy that identifies prospective residents, targets content to them, and creates a steady lead nurturing system to attract and retain them in the long run — inbound marketing may be the right option.
Inbound marketing is built on steps that can't be skipped or left out of your strategy. A ramp up period for inbound may take the entire 3 months that the multifamily property above wanted for simply heavy promotional marketing.
Rather than short bursts of promotion, with inbound you have to build a solid foundation first or your entire inbound marketing process will be working backwards to fix the broken links.
However, when you give inbound the time it needs to get the working pieces in place, you start seeing your work pay off. According to HubSpot, 83.9% of companies using inbound marketing increased leads within 7 months.
Results Come from Strategy
Like many things in life, you can expect to get out of an inbound campaign what you put into it. When you're looking to see the magic of inbound marketing in action, you simply can't sit back and let it go on its own. It takes constant review, regular planning, and lead nurturing. This could be in the form of ready-to-rent leads showing interest in your property solely by viewing your content, social media, and emails.
By not taking shortcuts, you'll be pleased with the results your campaign brings in. But what takes so much time?
Buyer Personas
The first step is always research. The cornerstone of any inbound marketing approach is developing buyer personas — semi-fictional characters that represent your ideal resident or customer and go beyond just demographics. (See our previous blog on buyer personas to dive deeper into this step). Your buyer personas will help target all content and strategy surrounding the campaign. These can take a few months to develop, as it's important to interview current and potential residents or customers to get a clear and in-depth insight into who your target audience is.
Keyword Research
Much of the ramp-up period consists of research. Once you know your target, you need to know how you're ranking online for industry-specific jargon that your audience may be using to search for you. For instance, maybe your property ranks high in search terms for "Downtown Dallas Apartment Homes" or "Family Apartment Community". By using a keyword analysis tool like HubSpot or Moz, you can identify how you're ranking for very specific keywords, and optimize the content you create to feature those keywords.
Website Design
Before setting up a buyer's journey for your target resident to navigate online, your website has to be optimized for user experience (UX) and language that speaks to your target audience. A poor website can halt the effectiveness of a well-planned inbound marketing campaign. For instance, if people can't find the leasing page easily or have a hard time finding photos and floorplans, they'll more likely lose interest than continue digging. Don't make your audience hunt for what they're looking for.
Content Mapping
Once you've researched and optimized your website, you're ready to plan out the content you'll create in order to drive your audience through the inbound marketing funnel. You'll want to create different content types for each stage in the buyer's journey — awareness, consideration, and decision. (See our previous blog on buyer's journey to dive deeper into this step). Instead of publishing blogs on the fly or posting to social media randomly, planning out your content strategy will give your campaign direction, purpose, and organization.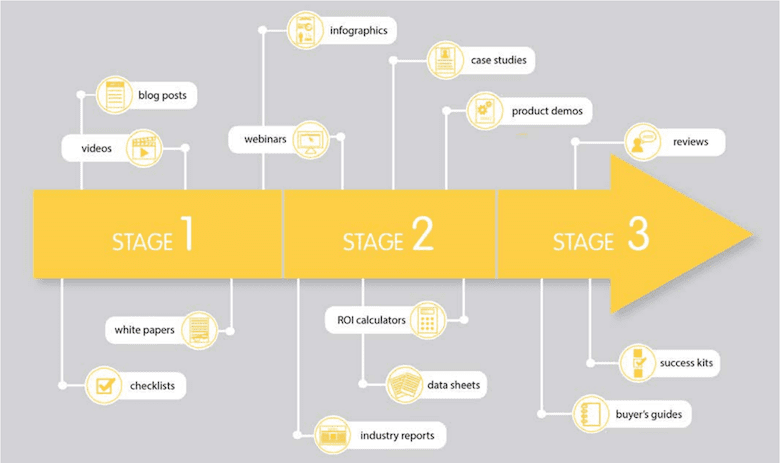 HubSpot Set-up
HubSpot is an amazingly effective tool for marketing automation. It helps build and automate workflows, email campaigns, social media scheduling, analytics, and more. Setting up your workflows, email templates, building out social media accounts and connecting them in HubSpot all helps create a solid foundation.
Goals and Analytics
Without this step, there's no way to assess the performance of the strategy you've put in place. Set SMART goals up front — Specific, Measurable, Achievable, Relevant, and Time-based — and establish regular checkpoints to see how your strategy is doing. Tools like HubSpot, Google Analytics, and Klipfolio are great tools for measuring the success of inbound marketing campaigns and allow the opportunity to customize metrics based on your business goals.  
Now that you have the groundwork set, here comes the hard part — staying fully committed and on track with the goals, campaign, and timeline you've set. To be successful at inbound marketing, you must have faith. Those willing to let the process work through its entirety will see higher levels of success more so than those who get worried and change direction because they don't see immediate results. Pausing your efforts or adding multiple layers to your pre-constructed plan will only lessen your impact. Be patient — we can't stress this enough.
Become the Expert
Inbound is a long, winding road of strategy, testing, retesting, and careful planning. While it may seem overwhelming at first, HubSpot supplies ample resources to teach new customers how to become inbound experts and more! However, when it comes to being an expert and leader in inbound marketing for your industry, there are options. You can take it on yourself — which will likely be an overwhelming feat. You can hire an inbound marketing expert to your in-house team, leaving the implementation, execution, and monitoring to them. If this isn't your business' specialty, you don't have to go at it alone. You can also leave the heavy lifting to an inbound marketing agency. As experts in inbound, already HubSpot certified, and gurus in marketing, outsourced agencies can put a business' mind to ease by handling the process from start to finish.
Not sure if inbound is a good fit for you in the commercial real estate industry? Check out our worksheet that helps you identify if your business is ready for this marketing strategy!