Technology moves fast, as do digital marketing trends. As we live and breathe real estate at Criterion.B, we know and understand where the market is headed from a marketing perspective. Here's our breakdown of the top digital marketing trends the real estate industry will see in 2017:
Content is Still King
Content marketing certainly isn't a new concept, and it certainly isn't going out of style. By now most companies know that they need to create content that engages prospective clients or customers. However, the question for 2017 is how to do it more effectively. As the year continues we will see more real estate companies creating more meaningful written, video, and visual content than ever before.
As the real estate industry turns to content marketing, the smart ones will be more targeted. The key here is that you don't need a thousand views per blog. Rather, you only need your target audience to view your content. Once you segment your audience base properly, you can launch individualized advertising campaigns and target those segments specifically. This approach will help you gain more leads and conversions from these retargeting ads.
Truthfully, there's no way around this. The success of your digital marketing campaigns will depend on your use of originally created, high quality custom content, as content continues to reign in the realm of digital marketing.
Pay to Play
Now is the time to focus your efforts on paid social media marketing. The organic reach across most social media platforms is dying. By investing in paid social media marketing you will not only increase your engagement, but you will also get high organic reach, as well as better search marketing as a result of paid social media marketing.
"The average organic reach for posts from Facebook pages from January 2016 to mid-July experienced a 52% decline. With an increasing amount of content and a finite amount of consumer attention, arithmetically there's no other possible outcome than each individual post on average is going to get less reach." — SocialFlow CEO, Jim Anderson
With paid social media marketing, almost all social media networks will give you clear metrics to measure your performance and overall ROI. Another benefit to utilizing paid social media marketing is the ability to reach completely new target customers and enhance your lead generation. By paying to promote your post, you increase the chances that people might share your content or engage with your organization.
B.Social
Social media has come a long way since its early days of simply being used to send a message, selfies, or favorite links. It has matured enough to become an effective tool in digital marketing for engaging with targeted customers on an interactive, informative channel. However, often times those in the real estate industry forget to actual be social on social media.
Sprout Social's Consumer Engagement index evaluated which industries receive the most engagement from customers on social media, and according to their data, the real estate industry is second overall in terms of inbound engagement relative to audience size.

Unfortunately many in the industry don't seize this opportunity. Many times those in the commercial real estate industry don't reply to the influx of incoming messages on social media, maintain a frequent presence, or put marketing dollars behind campaigns. While the industry ranks second for engagement, its rank drops to thirteenth for responding. This provides an untapped market for you to set your business apart from the rest, and can be the difference between turning a prospect into a lead.
Lights, Camera, Video
Video's popularity as a marketing medium continues to grow yearly, and 2017 will be no different. Particularly, live video is where we'll see social media platforms migrating, as it contains much more engagement and fares better with many social media algorithms. More and more companies in the real estate sphere are recognizing the power of video as an online marketing strategy, specifically on platforms like Facebook, Instagram, or Snapchat.
There are huge opportunities for real estate agents to really innovate and get away from traditional real estate marketing by utilizing Facebook Live to either conduct a virtual open house or answer real time questions from potential clients. Likewise property managers can get in on the fun, as they may use Snapchat or Instagram stories as a way to engage with current residents and alert them to fun events that may be going on around the community.
Virtual Real Estate
So far we've touched on how interactive is in and video is on the rise, but where do we see the future of real estate digital marketing efforts? Virtual and augmented reality. As our industry rapidly embraces technological innovations, integrating VR and AR can set you apart from competitors that lag behind.
Implementing virtual reality elements into your marketing scheme can prove effective when done correctly. Virtual reality opens the door to prospective clients, that may have otherwise not been able to see your property, as they digitally tour units and enter a lifelike simulation of your property. Moving forward, we see this trend taking off as we can expect more companies to begin designing 3D real estate models through virtual reality.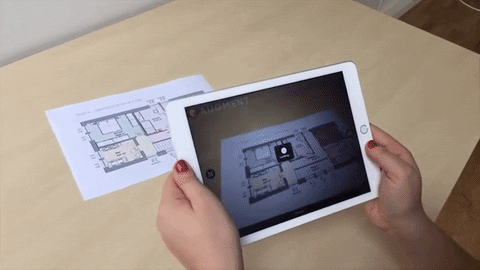 Augmented reality is being used by industry thought leaders today, bringing blueprints to life by taking a traditional flat printed layout and turning it into a lifelike 3D model that is completely interactive. AR will provide a unique opportunity at every level of the real estate industry as it continues to evolve over the next year. Professionals believe that augmented reality provides a great value at the early stages of a construction project, as well as at the final stages of selling and marketing as it can be a great tool when selling a prospective resident.